Ravenclaw minifigures have been tragically overlooked by LEGO. Cho Chang and Luna Lovegood are the only Ravenclaw students that have been depicted in minifigure form. This article is a comprehensive guide to help AFOLs recreate 10 Ravenclaw minifigures that would look great in any Hogwarts diorama.
This is the fourth entry in a series of articles examining how to make LEGO Hogwarts students. I've already produced guides on how to create your own custom Gryffindor and Slytherin minifigures. If you haven't already, I recommend going back and reading these. In this article, I will be specifically focusing on Ravenclaw students and all the parts needed to create them.
Warning: There may be some spoilers for the Harry Potter franchise in this article.
Hogwarts Uniforms
Hogwarts School had a strict uniform code. Students were expected to wear white shirts and ties. FireStar Toys custom minifigure team has made the perfect part for this. They even included an appropriate blue tie to represent Ravenclaw house. Hogwarts students are more commonly seen with a grey V-neck jumper over their shirts. LEGO has produced a great torso piece to depict this. This part was originally used for Cho Chang in the first Harry Potter Collectable Minifigure series.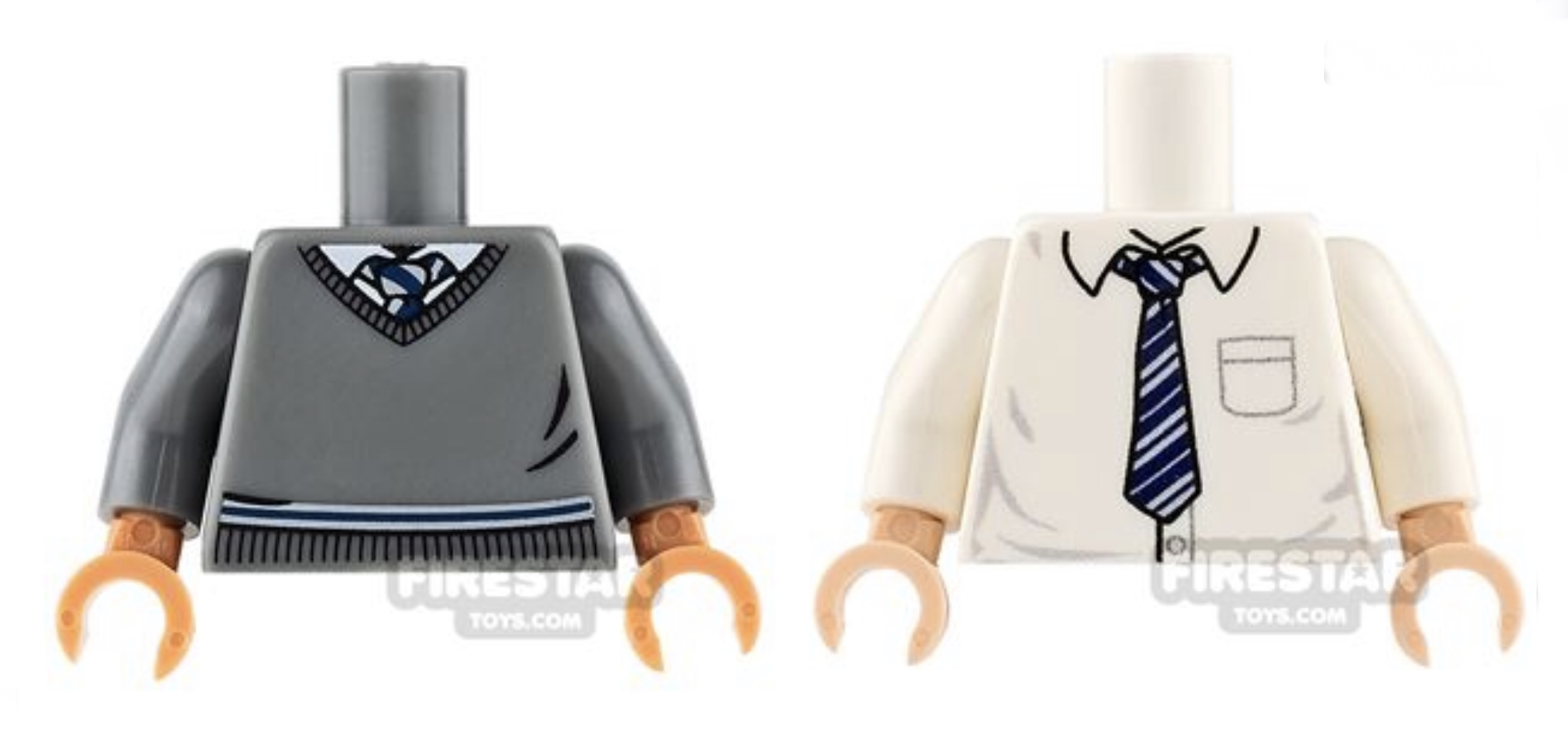 As well as shirts and jumpers, Hogwarts students wear black wizard robes. Unfortunately, LEGO hasn't produced a robed Ravenclaw torso piece yet.  Hopefully, they will make this piece at some point in the future.
Choosing the right leg piece for your minifigures is important. LEGO typically uses short black leg pieces to represent first and second year students. Black mid-leg pieces are normally used by LEGO to depict third and fourth year students. Students in their fifth, sixth and seventh year at Hogwarts tend to be given full-sized minifigure legs.
Ethnicity
Remember, lots of LEGO's Ravenclaw torso piece's use medium dark flesh hands. If you want to depict characters such as Terry Boot or Anthony Goldstein you will need to switch out the hand pieces. Fortunately, FireStar Toys sell a whole host of different minifigure hands.  This should make it easy to acquire the right hands for your Hogwarts students.

Recreating Characters
Before recreating characters it is worth establishing that not all the characters in this article are in the same year as Harry Potter. For example, Luna Lovegood was in the year below Harry. Other characters may be older than Harry. Fans who wish to be incredibly accurate need to bear characters ages in mind when choosing minifigure legs.
Having established the foundations for amassing Ravenclaw students, let's begin examining some of the students that are worth of recreation.
Cho Chang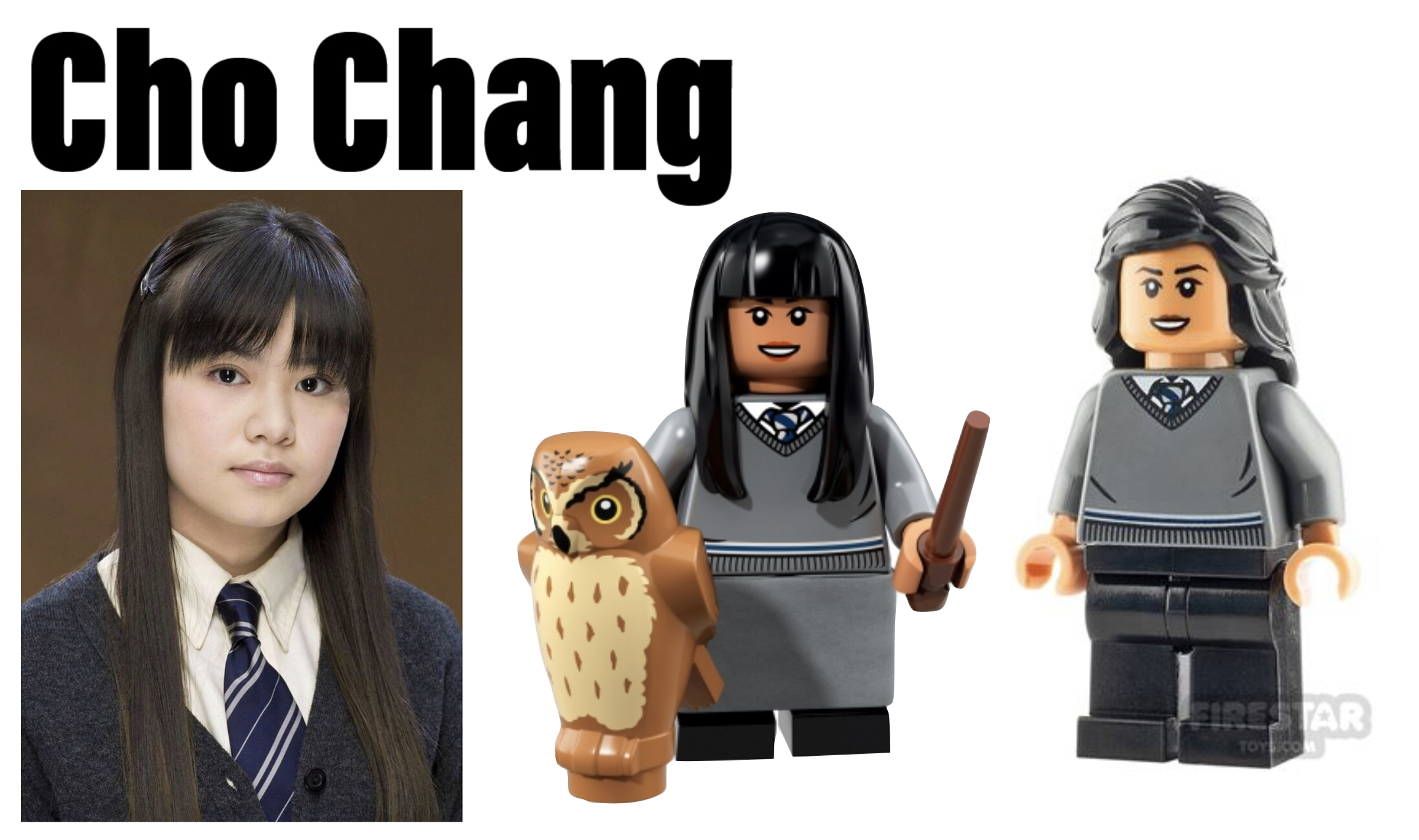 Cho Chang was a seeker on the Ravenclaw Quidditch team. Harry asked if she'd accompany him to the Yule Ball. Unfortunately, Cho was forced to turn Harry down as she had already been asked by Cedric Diggory. Cho became a member of Dumbledore's army in her fifth year at Hogwarts. Since 2018, LEGO has created two Cho minifigures. The first was released in the Harry Potter CMF series. The second was included in the Hogwarts Students accessory set. Some AFOLs have criticised the minifigures, arguing that a pale flesh tone would have been more accurate.
Luna Lovegood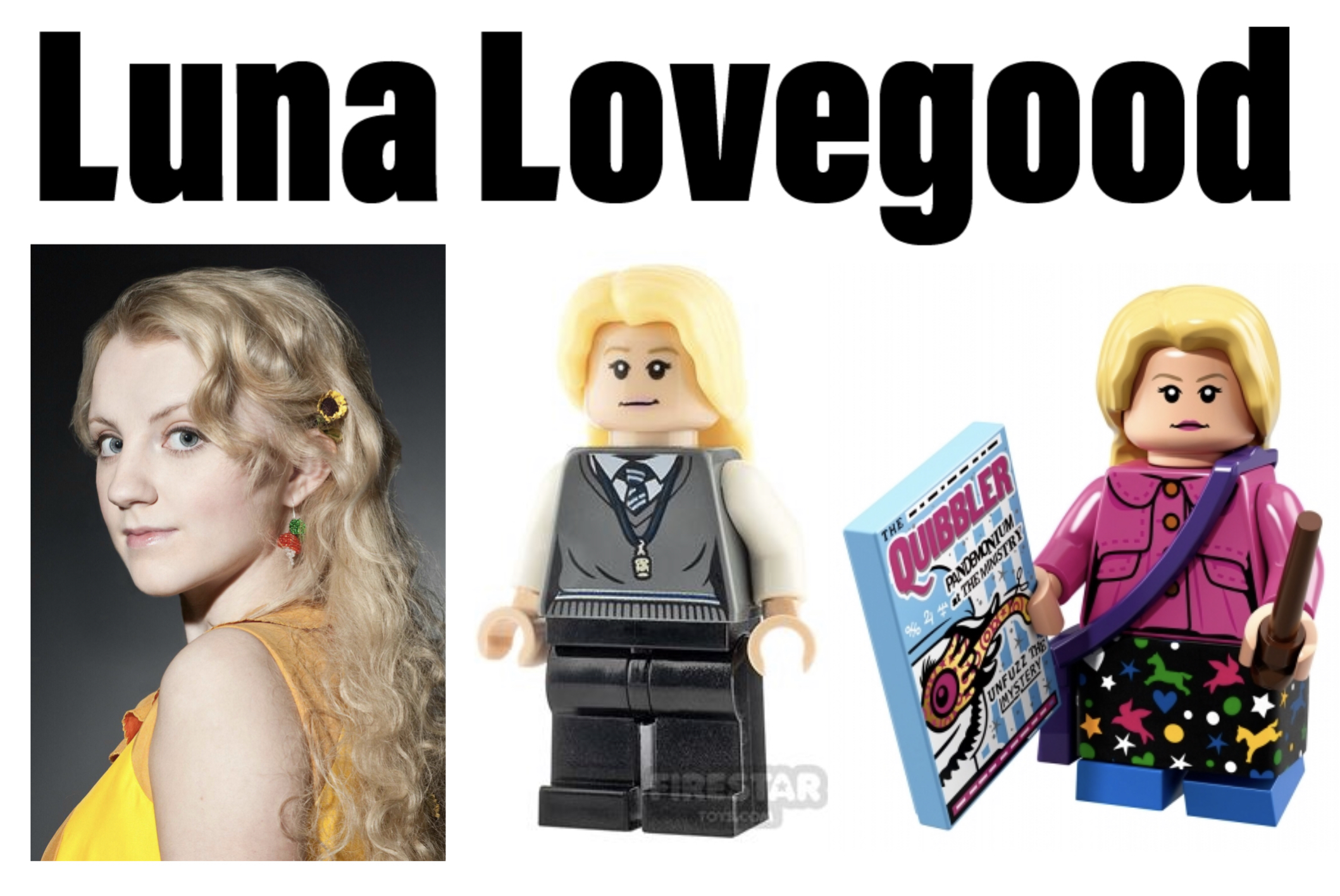 Luna Lovegood was a Ravenclaw student in the year below Harry. She joined Dumbledore's army in her fourth year and succeeded Lee Jordan as Hogwarts Quidditch commentator. LEGO has created 3 Luna Lovegood minifigures since the Harry Potter theme was rebooted in 2018. The first was released in the Harry Potter CMF series. The second was included in set 75966, Hogwarts Room of Requirement. And the last one was in the recent Hogwarts Astronomy Tower, set 75969. Also, a new Luna variant will be included in the second Hary Potter CMF series. If you want to create your own Luna minifigure I suggest using the head and hair piece that were included in the CMF series.
Padma Patil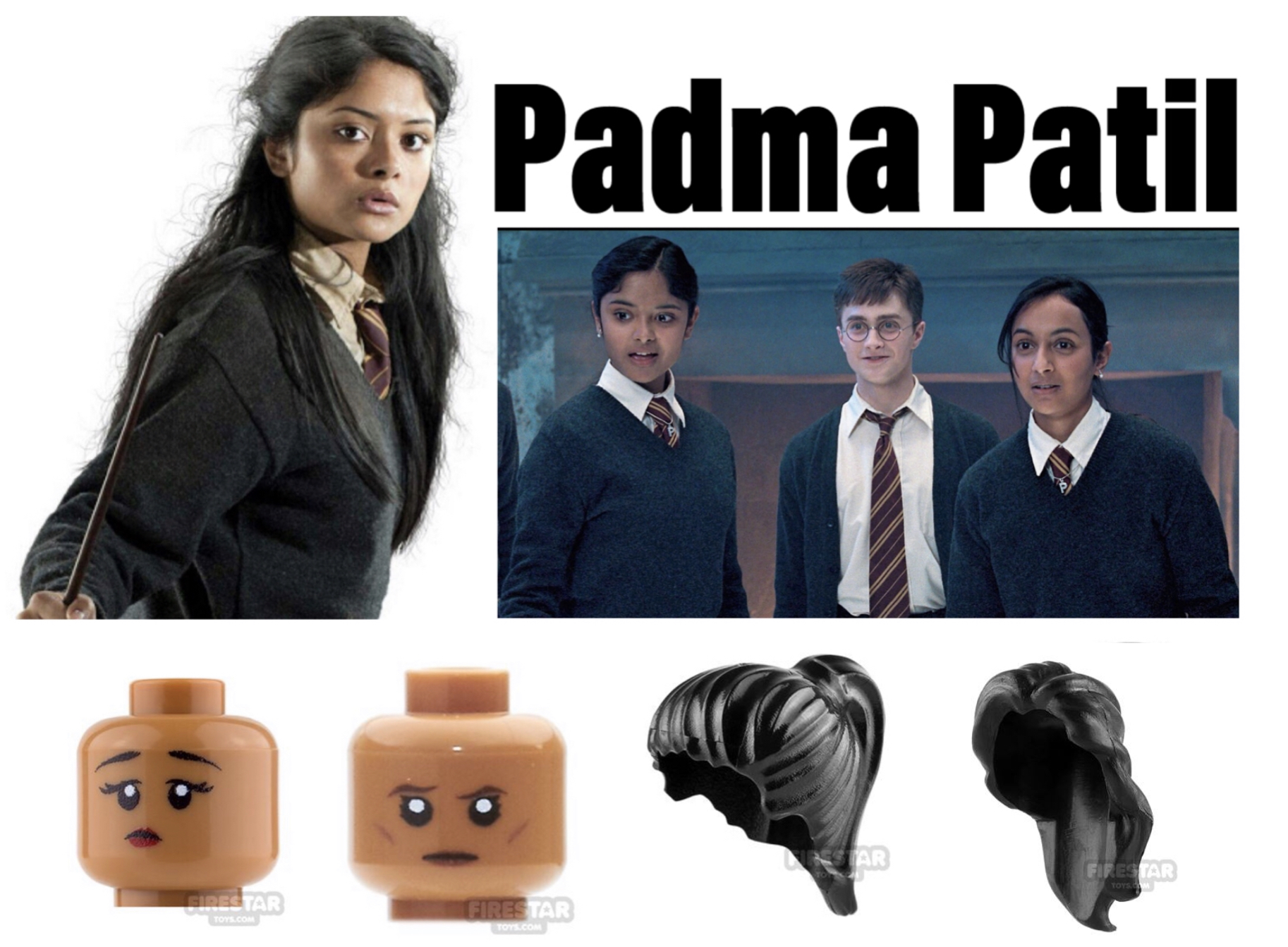 Padma Patil was Parvati Patil's sister. Although Padma and Parvati are identical twins in the books, they are played as fraternal twins in the films (the actresses weren't related to one another). In the books, Padma is a Ravenclaw student, however in the films she could be seen wearing a Gryffindor uniform. LEGO hasn't made a Padma minifigure yet although there's a rumour that she'll be included in this year's Harry Potter Advent Calendar.
If you want to create your own Padma minifigure I recommend the FireStar Toys perplexed face as it accurately captures her disgruntled appearance at the Yule ball. Alternatively, you could use a stern face but this face print may be more appropriate for Slytherin characters such as Pansy Parkinson. I suggest using a long swept right hair piece although you could use a black ponytail piece if you wanted to depict Padma with her hair tied back.
Penelope Clearwater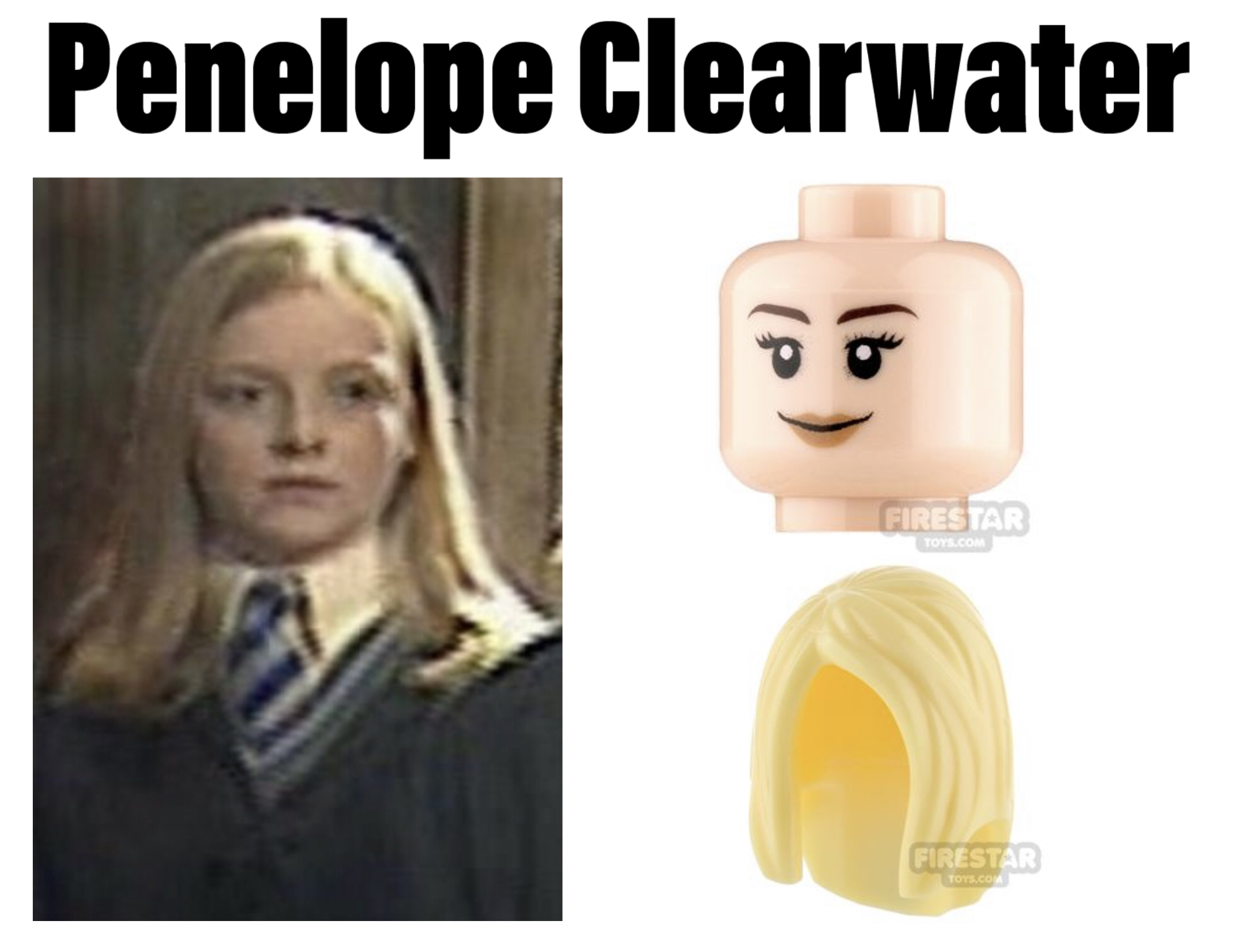 Penelope Clearwater was a Ravenclaw prefect who graduated Hogwarts at the end of Harry's third year at Hogwarts. She was petrified by a Basilisk in Harry's second year. She dated Percy Weasley for about two years. If you want to create your own Penelope minifigure I recommend using an annoyed head with a bright yellow hair piece.
Marcus Belby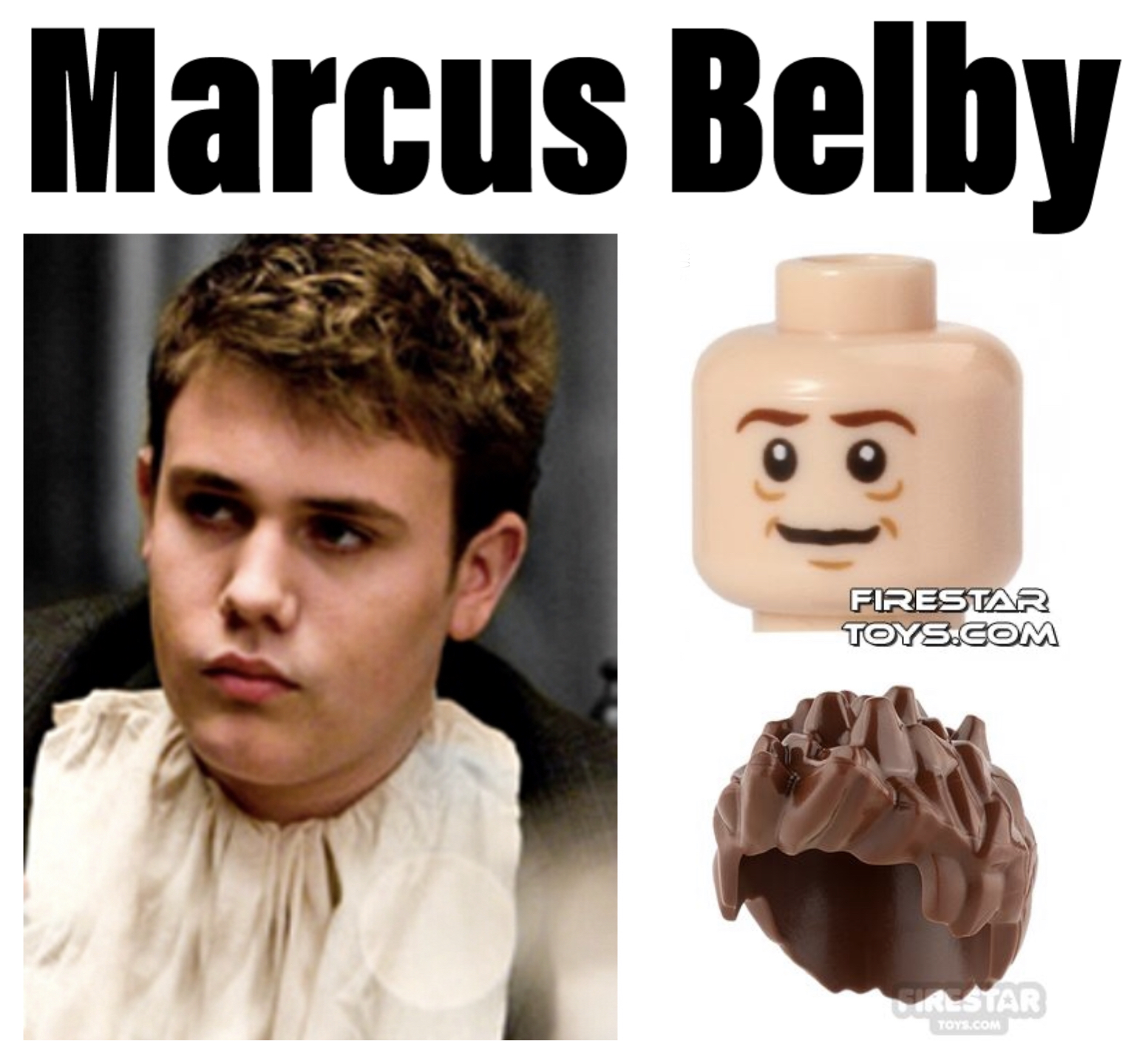 Get the Latest LEGO Sales & Deals
Marcus Belby was a member of Professor Slughorn's Slug Club. His Uncle Damocles was famous for having invented the wolfsbane potion. Creating your own Marcus Belby minifigure is really simple. I recommend using a baggy eyed face with a spiked brown hair piece.
Michael Corner
Michael Corner was a Ravenclaw student who joined Dumbledore's army in his fifth year at Hogwarts. He dated both Ginny Weasley and Cho Chang during his time at the wizard school. Creating a custom Michael Corner minifigure wasn't too difficult. I recommend using a serious head and a tousled black hair piece with long bangs.
Roger Davies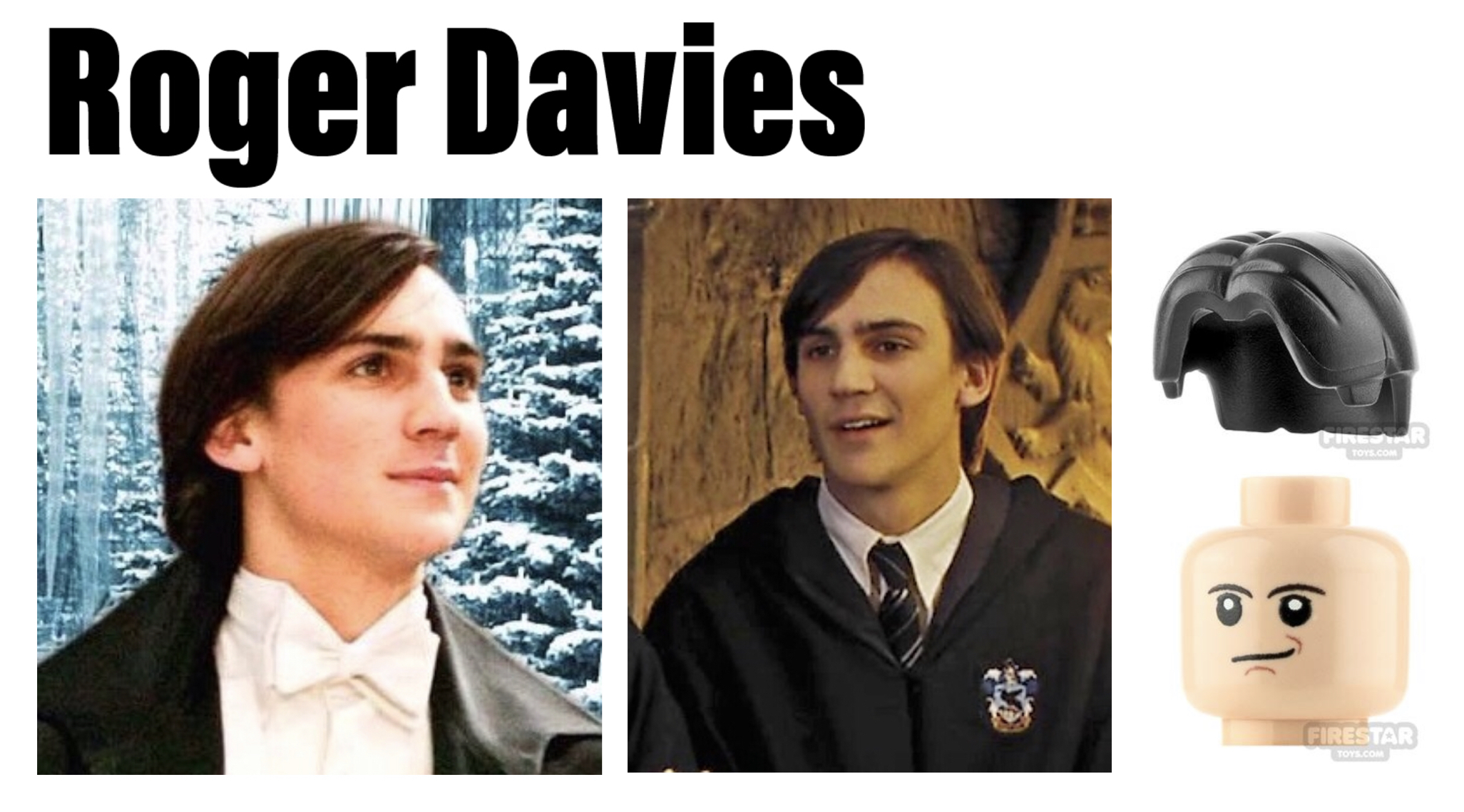 Roger Davies was Captain of the Ravenclaw Quidditch team. He accompanied Fleur Delacour to the Yule ball in his sixth year at Hogwarts. He asked Cho Chang out shortly after Cedric's death. Sadly, he was rejected.  If you want to create your own Roger Davies minifigure I suggest using one of FireStar Toys custom printed smirk faces. Then use a short black hair piece with center parting to complete the look.
Terry Boot
Terry Boot was close friends with Anthony Goldstein. He attended Gilderoy Lockhart's dueling club in his second year at Hogwarts. He joined Dumbledore's Army in his fifth year. Terry Boot was hardly featured in the films at all, making it hard to identify what he looked like. I suggest using Frodo's head piece and a short tousled brown hair piece.
Anthony Goldstein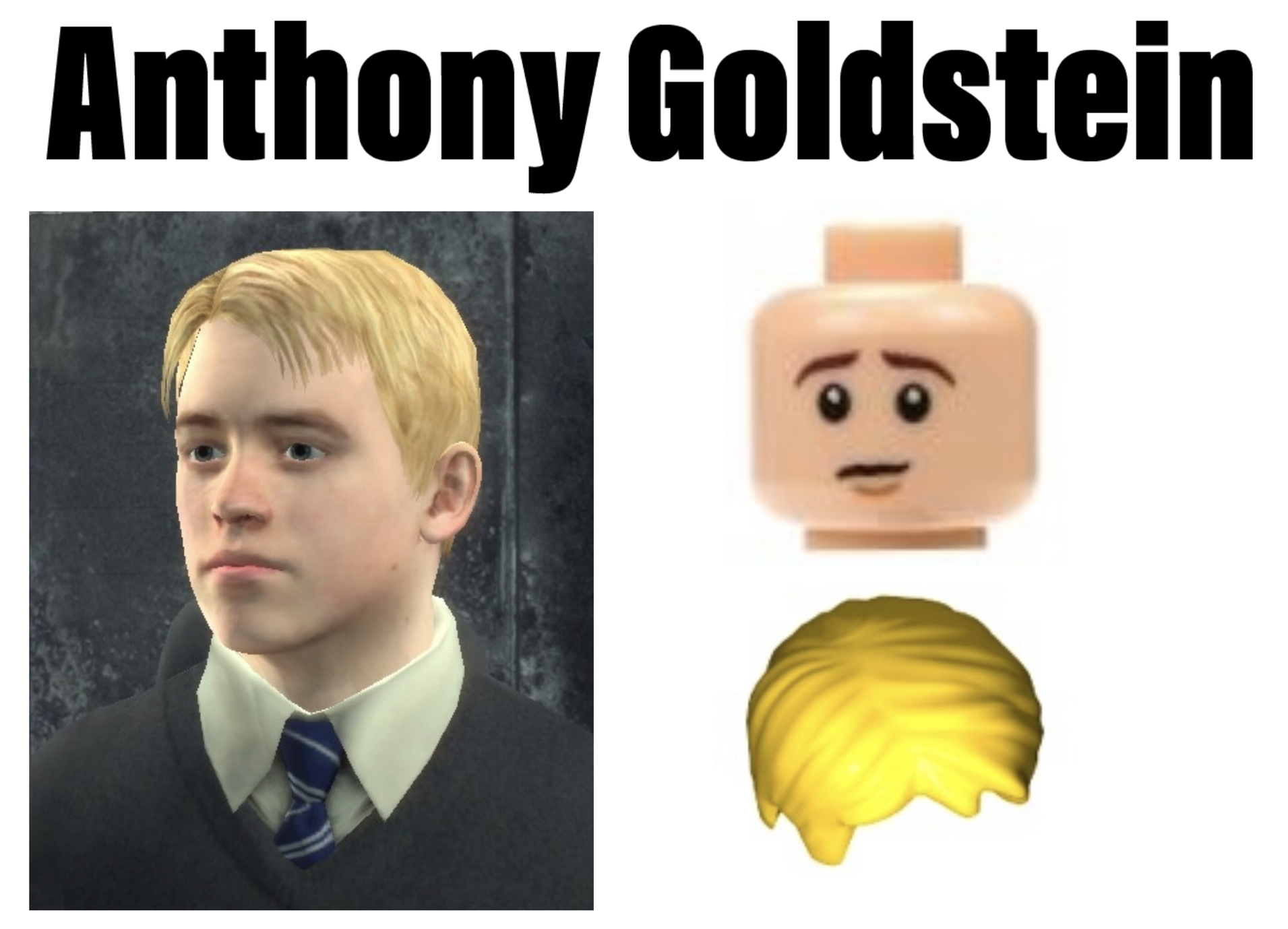 Anthony Goldstein was good friends with Terry Boot. He was a member of Dumbledore's army. Queenie Goldstein (the Fantastic Beasts character) was a distant relative of his. To the best of my knowledge, Anthony Goldstein wasn't in the Harry Potter films (although he was depicted in the Harry Potter video games). I suggest using a frowning face with a short tousled yellow hair piece.
Amanda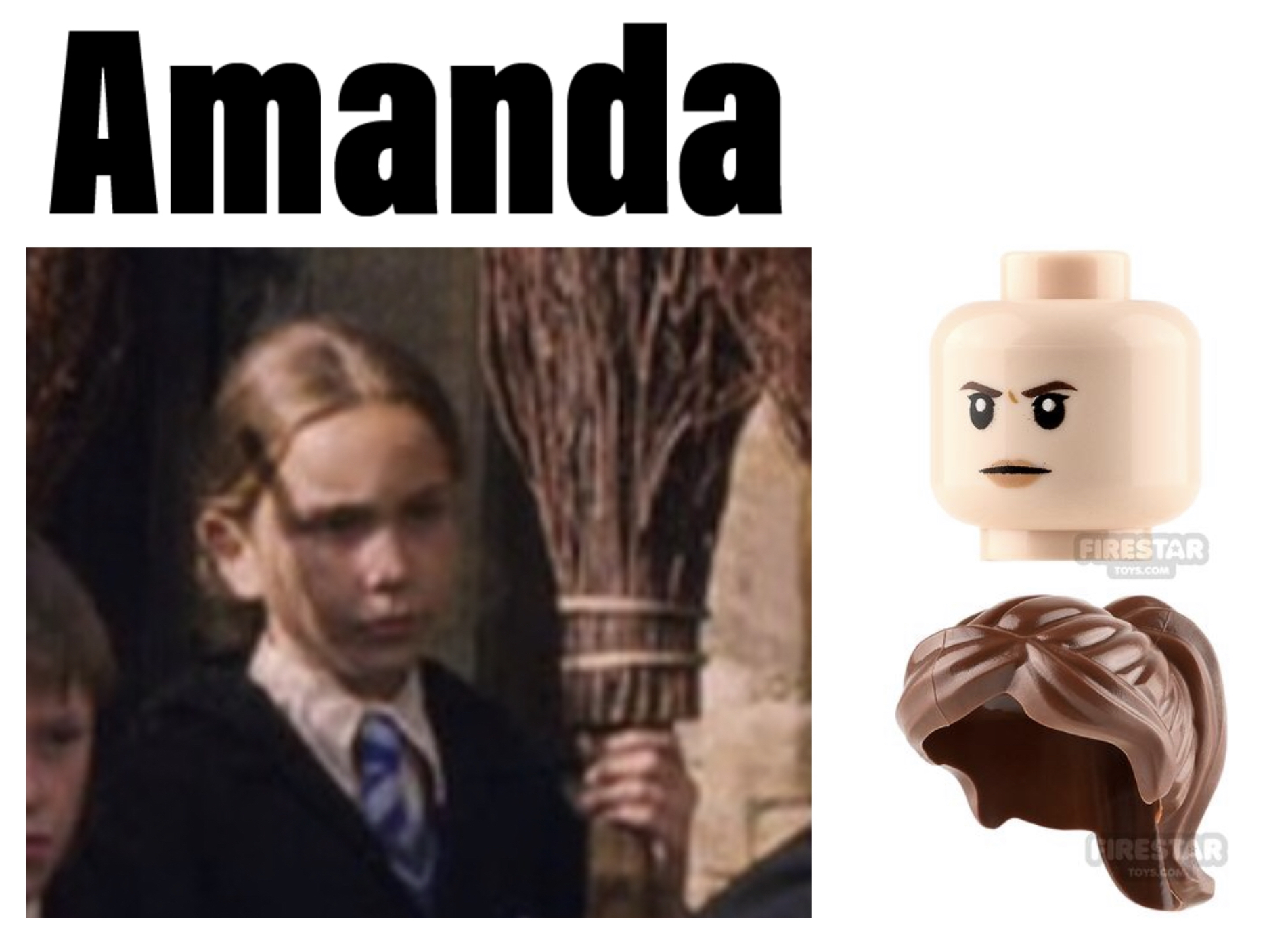 Finally, Amanda was a Ravenclaw student who took flying lessons in her first year at Hogwarts with Harry Potter and the rest of her classmates. Some have speculated that Amanda was meant to be Mandy Brocklehurst (another Ravenclaw student in the same year). That's pretty much everything we know about the character. If you want to create your own Amanda minifigure I suggest you use a neutral face with a reddish brown ponytail piece for the hair.
Conclusions
So, there you have it, 10 Ravenclaw minifigures to add to your LEGO Harry Potter collection. If you enjoyed this article keep your eye on FireStar Toys' blogs for more articles on creating Hogwarts students minifigures. In my final article on creating LEGO Hogwarts students, I will explain how to create 10 Hufflepuff minifigures.
Get the Latest LEGO Sales & Deals
Images from Brickset and Harry Potter Wiki. I also used these sites when conducting research for the article.