2015 for me, was such a nostalgic year, in terms of my LEGO collecting journey, especially in relation to LEGO Marvel. Even though special to me, I haven't really gotten the time or opportunity to go through and analyse the sets released this year. Now, I have that chance. So strap on your Quantum Realm suits, because today we're time traveling back to LEGO Marvel in 2015. LEGO wasted no time to start the year with its biggest Marvel wave yet: The Age of Ultron sets. There weren't even a few comic book sets released in January like the present day, so we started off with a bang!
Iron Man vs. Ultron (76029)
The $13 USD Iron Man vs Ultron set is the perfect Marvel battle pack. We got an exclusive Mark 45 Iron Man suit with cool grey cheek printing on the helmet. The torso and leg printing are also quite detailed. But the Ultron clones are the perfect bad guy army builder. They have such detailed head, torso and leg printing. The 2018 Outrider and the 2020 A.I.M Agent along with the 2012 Chitauri fail in comparison to the level of detail and effort put into this set of Ultron minifigures. The fact that we also got three is amazing, so it can easily be amassed. This set also came with a super jumper, which acted like a slingshot, launching Iron Man to knock the Ultron bots over.
The Hover Transport build (don't quote me on that – I don't believe there's an official MCU name) is an alright battle pack build. You can fix the Ultron bots in different positions to make it look wacky. But honestly, it's just a good parts pack. Overall, this set is 100% the best LEGO Marvel battle pack.
Avengers Hydra Showdown (76030)
This $20 USD set is the definition of the average cheaper to mid-range LEGO Marvel set. Why? These types of sets from Marvel either has a prominent hero vehicle such as a 4×4 or a bike with two heroes and a smaller villain build with one villain and is priced around $20-$30. This set ticks all of these check boxes but is still better than the modern-day version of these types of sets. Here's why.
This was my first Marvel set, along with the next set we will be discussing – The Hulkbuster. I mostly got this so I could collect two of the original six Avengers. The exclusive Hawkeye minifigure is probably the best version of him released to date. He has a dual-sided face – one with his shades and one with his regular expression. His torso and leg printing are done so well. LEGO went the extra mile to make specifically printed legs to this character, which is always awesome.

The Thor minifigure is also pretty decent with his updated dual face expression and torso printing, in addition to the softer-styled cape. However, his hair colour is a bit too bright, and he could also benefit from some leg printing. The Hydra Henchman was also quite a great figure; with intricate, high-tech looking head and torso printing. Again, he could have benefited from the same quality leg printing, too. We also got the super jumpers.
The build was new – especially during that time when this theme was in its early years. We got a realistic 4×4 vehicle for Hawkeye with a missile launching feature. The bad guy vehicle was also a semi-decent vehicle, that could possibly rival the 4×4. It had a stud shooter, to shoot at the heroes. However, Thor could use his strength to smash the stud shooter, which would break down. The reason I say this set is better than most of the modern-day $20 USD Marvel sets is because of the amount you get here. In a recent 2020 $20 set, we got a bike, a wing attachment, and three minifigures for this price. Here, we get two, full-blown vehicles for the same price, making this set a better buy at face value.
The Hulk Buster Smash (76031)
Age of Ultron was the movie which got me into the Marvel Cinematic Universe. In the same way, the $30 USD Hulk Buster Smash got me into LEGO Marvel in 2015. The second I saw this in a catalogue, I knew I had to buy it. It was close to my birthday, so I asked my parents to purchase this for me. In addition, I had saved enough money to buy the Hydra Showdown, so I was quite happy with the theme when I got these first two sets. But sentiment aside, I love this set.
The minifigures are amazing. The Iron Man Mark 43 is a great minifigure, although it came in two other sets this wave. It is, however, different from the Iron Man vs Ultron variant. The Scarlet Witch is also a pretty good figure with her red coloured outfit – a nod to her comic book counterpart, who has a full red silly outfit. Her head is a reuse of Supergirl's. One drawback of this figure is the power pieces she uses. They're supposed to be a pink/red colour, not blue. The Ultron figure is also very detailed, and probably the best of all the variants.

But that Hulk! An absolutely amazing figure with the perfect olive coloured base and purple pants. It was updated very, very well. The fact that LEGO was able to fit him into a $30 USD set without raising the price as they usually do for big figures, is quite amazing. Back then, the Hulk was one of the main reasons I bought this set.
The only thing that outclassed the Hulk bigfig was the Hulkbuster build. As I said in my other article The Ultimate Hulkbuster Showdown, where I reviewed all the Hulkbusters and ranked them, this build was revolutionary for its time. Its leg design is great, its body bulk is perfect and its ability to fit and conceal Iron Man is just amazing. The stud shooters on its arm, although off-putting, are great play features. The build can be posed in so many ways, adding to its playability. This set is the ultimate mech set for children. We got a trap build which the Hulk was captured in. Scarlet Witch was on a clear LEGO bar piece, hovering over the Hulk. You could use the super jumper from this set to knock her down. Overall, this 2015 set is definitely in the top 10 for best LEGO Marvel sets of all time.
The Hydra Fortress Smash (76041)
This one is probably one of the more forgettable, yet solid set from the wave. We get the same Hydra Henchman as in the Avengers Hydra Showdown set and an exclusive Baron Von Strucker minifigure. In addition to the bad guys, we also get Quicksilver. He has a rare coloured white hairpiece, along with a very detailed torso with mesh printing, although I wish we got leg printing. This set was also the cheapest way to get the new Captain America minifigure at that time with a newly printed shield, head and torso. Again, we need leg printing on this minifigure. We also got the Hulk, which is a nice inclusion.

The Hydra Tank is really cool. LEGO usually tries to stay away from army/war-related sets, so it's cool we get a unique tank in this set. It's big and bulky. It also has a ball shooter at its top, which when shot, sends minifigures flying across the room. There's a hidden play feature: The Hulk can smash two modified plates at the front of the tank, which explodes the top cannon. The Hydra fortress is also a great play-set build. On its exterior, it has such a beautiful castle-like design. There are two gates with a sticker saying "No Entry" which can be smashed open by the Hulk, with the use of plates attached to the pillars. The snow and the unique-coloured trees add to its beauty.
The inside also has quite cool play features. Loki's sceptre is protected by a shield. With the super jumper included in this set, you place Captain America to hit a lever on top of the containment which, when knocked, releases the sceptre. The top of the tower has a stud shooter which defenders can fend off the Avengers. This set is quite a surprise to me, re-reviewing it again. It's definitely one of the most underrated 2015 LEGO Marvel sets to date.
Attack on Avengers Tower (76038)
The one set that really rivals the Hulkbuster from this wave was the $60 USD Avengers Tower. We got a repeat of the same Mark 43 Iron Man and Thor from this wave. This set was also the debut of the Iron Legion suits which have great printing overall and newly coloured Iron Man helmet pieces. We also get the Ultron Mark 1 with a cool printed transparent head and detailed torso and legs.
To address the elephant in the room: Yes, the tower is definitely not to scale. However, what it doesn't make up for in size, it makes up for in play features. Firstly, the exterior has a clean, yet iconic movie looking design, with a grey and blue colour scheme. The bottom has nice storage for the Iron Legion suits, which can be deployed using levers which blast the glass open. The bottom layer also consists of a cleverly build med bay for the team. In the second level, you can create Ultron Mark 1, with posable mechanic arms and a spinning base.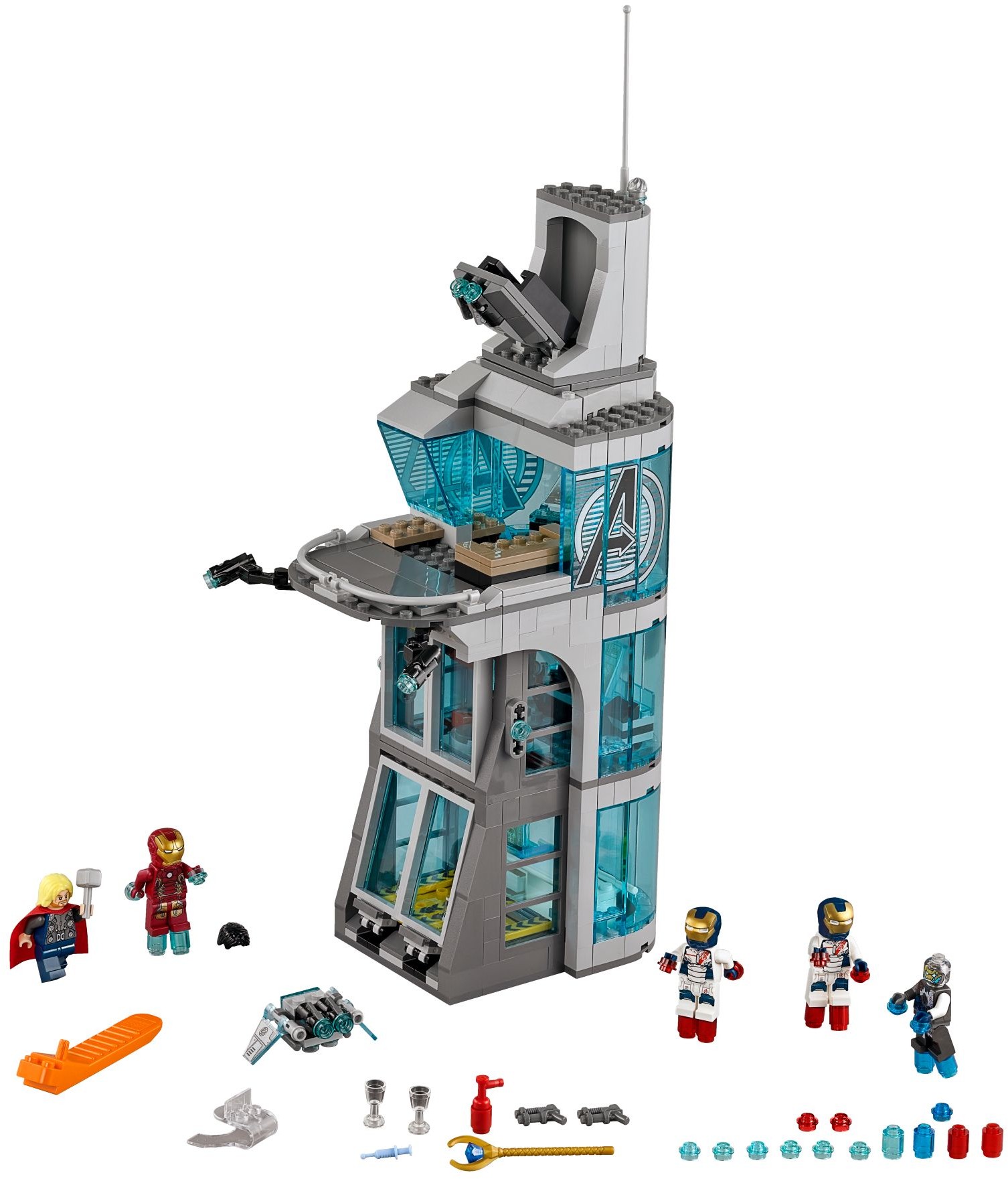 To its side, there is also a table, holding and analysing Loki's sceptre. The top-level has a meeting room with a secret weapon compartment under the table, and to its side, a few computers running diagnostics. Below the balcony are hidden stud shooters, which can be used to attack enemies. Finally, the top of the tower consists of a hidden, deployable drone with stud shooters. This set is packed with play-features, and still has a great look. The best feature of the set is the tower's ability to open and close up. Overall, this set is definitely one of the best, if not, the best from this wave.
The Avengers Quinjet City Chase (76032)
The final Age of Ultron set is the $80 USD Avengers Quinjet City Chase. This was my first large LEGO set I purchased. So we got yet another Mark 43 Iron Man, along with our second repeat of Captain America. However, we finally received a short-haired Black Widow, with a newly created piece for her hair, plus well-printed torso and legs, in addition to our final version of Ultron with two specially moulded and printed headpieces, combined with an orange, transparent head. The intricate printing, like other variants, continued on to this figure. Finally, we were given our first Vision. It's quite a movie-accurate with a near-perfect torso and leg printing. However, the head has the improper colour for the mind stone, making this figure inaccurate, but quite collectable.
The Quinjet, at that time, was our second one and was the best version of that vehicle. It had the usual adjustability of its wings, different flaps and an opening cockpit. It also had two stud shooters on top. On one side of the wing, there is a hidden dual stud shooter, and on the other one, a contraption, where you push down on the 'A' logo, and a minifigure will fall off, with a rope from under the wing.

The main play feature of the set was in its mid-section. There is a black 2×2 smooth tile. When you press down on it, a contraption opens the bottom doors of the Quinjet, allowing a bike to be quickly deployed. A van was also included in the set. The primary play feature was that Vision was being born inside a chamber you built, at the back of the van. What you had to do, was use the super jumper to launch a hero into Ultron, who would be on top of the van, and smash down on the modified tile, which would explode the side and top of the van open, revealing Vision. Although a side build, it was a neat play feature. This set is not only a great display piece but packed with play features, makes it a top play-based set.
That's it for now! I really hope that you enjoyed this look through the Age of Ultron wave for LEGO Marvel 2015! This wave, looking back, is so damn good, and is definitely the prime time of this theme. But wait! 2015 had more sets than just this wave. You're correct! You'd be reading this forever if I included them. So, another article will be published soon on the rest of the 2015 LEGO Marvel sets. Thank you for your time, and hope to see you there!
All images are from Brickset