One of the best-selling LEGO themes each year is Marvel. Beginning in 2012, this subsection of the brand launched its first few sets, and over time has vastly grown as a theme with an increasing fan base each year. When someone asks me "What was your favourite year of LEGO Marvel?", it is tempting to choose a recent year, such as 2018. Why? Two words: Infinity War. However, when looking back at the past eight years of the theme, one year really struck me: 2016. Although underrated, when actually looking back at it, 2016 is definitely the best year of LEGO Marvel. Here's why:
The Mighty Micros
The year began with a bang with the release of the new Mighty Micros line – basically a successor to Star War's Micro Fighters. This idea complimented the theme so well. Marvel is built on comics. And what better idea is there, than to make a line of wacky, comic-like sets. The minifigures in this line were just amazing. The extremely cartoony faces and torsos of these minifigures look like they are ripped straight out of a comic, or a child's show. The squinty expression of Spiderman and the comically timid face of Red Skull made this theme so fun. Paired with the over-the-top builds such as the Spider-copter and Captain America's mini tank, there is no doubt the year started out strong.
Avengers Assemble
LEGO also released two sets based off of the Avengers Assemble TV show. The Iron Skull Sub Attack (76048) was quite a unique $30 USD set. The set came with a new Captain America, an exclusive Red Skull and another exclusive Hydra Agent. These figures were quite good. But the real star of the set was the Scuba Suit Iron Man. Holy Moly! This was a beautiful figure. Till date, most of our LEGO Iron Man figures have been red and yellow. But this one was a game-changer. With a base colour of aqua and extensive printing all over, and with a secondary armour piece, this minifigure wowed everyone.

The build of this set was also quite great. The typical $30 Marvel set usually has a jet, a bike or a mech. But this was something different. The submarine was something that we had not really seen before. The black and red colour scheme along with the menacing-looking face, achieved through some clever building techniques, really made this an enjoyable, beautiful build.
In addition to the sub attack, we also got the Avenjet Space Mission (76049). Again, another unique, outstanding Space Iron Man suit with the addition of the earlier mentioned Captain America, started this set off strong. However, we got new characters. Behold, our first Captain Marvel and Hyperion minifigure. Nowadays, all we get are repeats of characters. However, one big, bad giant stole the entire show: Thanos. We finally got the mad titan himself and he was amazing! LEGO created a new mould for his body with printing, quite accurate to the source material. The Avenjet, too, was quite cool, with a new red and white colour scheme, even though we got many Quinjets already. You can tell from the effort put into both the minifigures and builds of each of these earlier sets. The LEGO designers clearly had a passion for these characters and wanted to do something amazing.
Captain America – Civil War
As our favourite Marvel heroes went toe-to-toe in the movie Captain America: Civil War, LEGO, too, decided to make sets for this film. Personally, this was one of my favourite LEGO Marvel waves of 2016. The Crossbones Hazard Heist (76050) was a good set. We finally got our first MCU Falcon figure and Crossbones figure (both of which were exclusive to the set), in addition to Black Widow from 2015. Although we have gotten many $20 vehicles similar to the build in the set, it still provided a great, 'rundown' looking 4×4, which is less common of a build.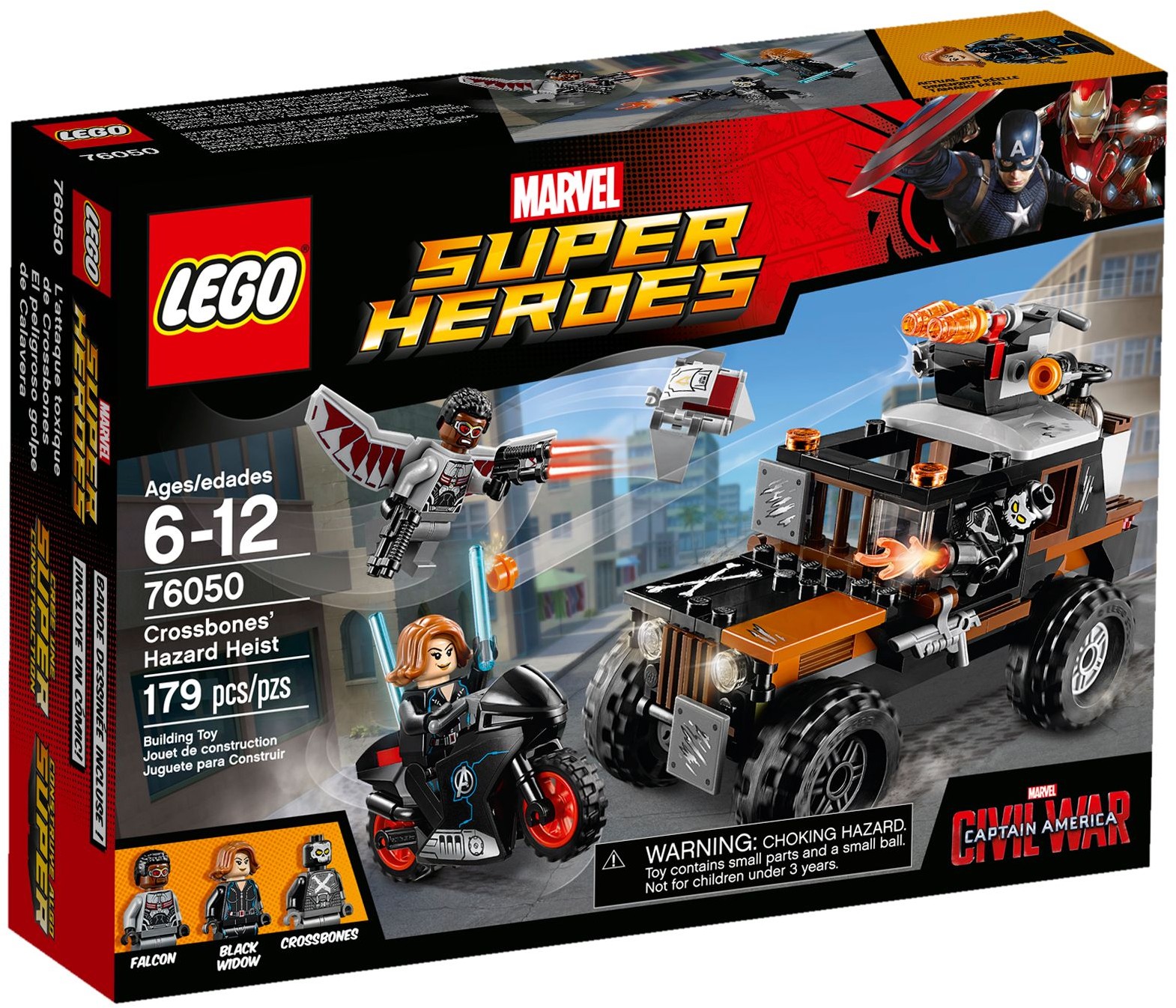 The Black Panther Pursuit (76047) was an amazing $30 set. Captain America used his 2015 counterpart's torso and legs, however, dawned a new head and hairpiece, making him different to the other masked versions. The Winter Soldier was also a great figure. The new arm printing was exceptionally done, although there was controversy, revolving around the headpiece (Star Lord's). Black Panther was the star of the set, with great printing overall, and a new head-attachment piece. A quality figure. Again, this set followed the trope of having another 4×4 vehicle, which wasn't special but cool to have. The jet, however, was amazing – sleek and low profile.

In late 2016, we also got a surprise Civil War tie-in, the Tanker Truck Takedown (76067). Not only did we get to complete our collection of characters from Civil War with an updated Hawkeye and Vision, but we also got one of the best Marvel minifigures ever: Spiderman. I can guarantee many collectors bought this set just for our first MCU Spiderman. And boy, it did not disappoint! In addition to the phenomenal torso and leg printing, we got dual-moulded legs and sidearm printing. This figure was near perfect in accuracy to the actual suit. And yeah… we also got another Captain America. The build of the set was also quite good. The tanker had a great play feature of catching on fire, and the side builds were also great additions.

However, the star of this wave was the Super Hero Airport Battle (76051). This set included 6 minifigures. Although Captain America and the Winter Soldier were reused, we got updated versions of Iron Man, an updated Scarlet Witch, and our first Agent 13. But damn, War Machine was the standout. The black base, coupled with the silver printing, made this figure superior to previous versions. It was an amazing figure for the time. But we also a micro-scale Ant-man, the cutest minifigure of the set. LEGO really took the time to carefully design the printing for Ant-man, and the final result is perfection.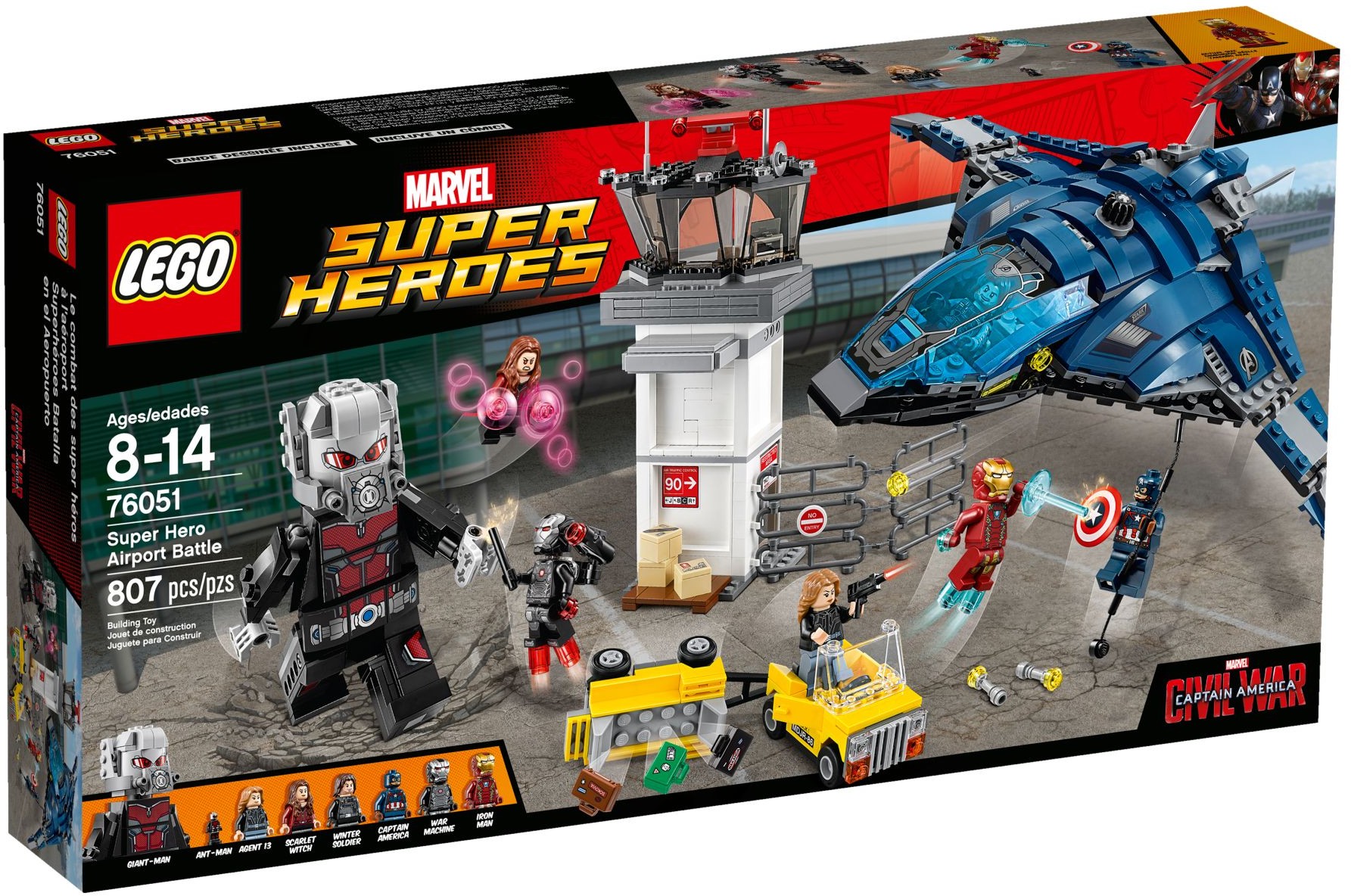 But what about the builds? Well, we got a solid Quinjet, although it had been done twice before. The play features of the airport control tower were quite fun, from the flying cargo to the smashing of walls. The baggage trolley was also quite a cute addition. However, the Ant-man build was revolutionary. LEGO managed to capture the look of the suit, while still "LEGOfied" it. It was and still is a beauty to look at and admire. Overall, the Super Hero Airport Battle has got to be one of the best Marvel sets of all time. Period.
Ultimate Spiderman
The year didn't stop at Civil War. LEGO also released three Ultimate Spiderman sets and they were the best in the entirety of this sub-theme. The Ghost Rider Team-Up (76058) was quite a good $20 set. Yeah, we got the generic Spiderman figure we had been getting for years, but Hobgoblin was a great inclusion with dual-moulded legs and a tattered cape. But really, the star of the set was Ghost Rider. A new moulded head was made, just for him. He too was timely – since Agents of Shield had just introduced that character to the show. The build for his bike was pretty decent, although vastly oversized and the side build was nice to add to a LEGO city. All in all, a great set.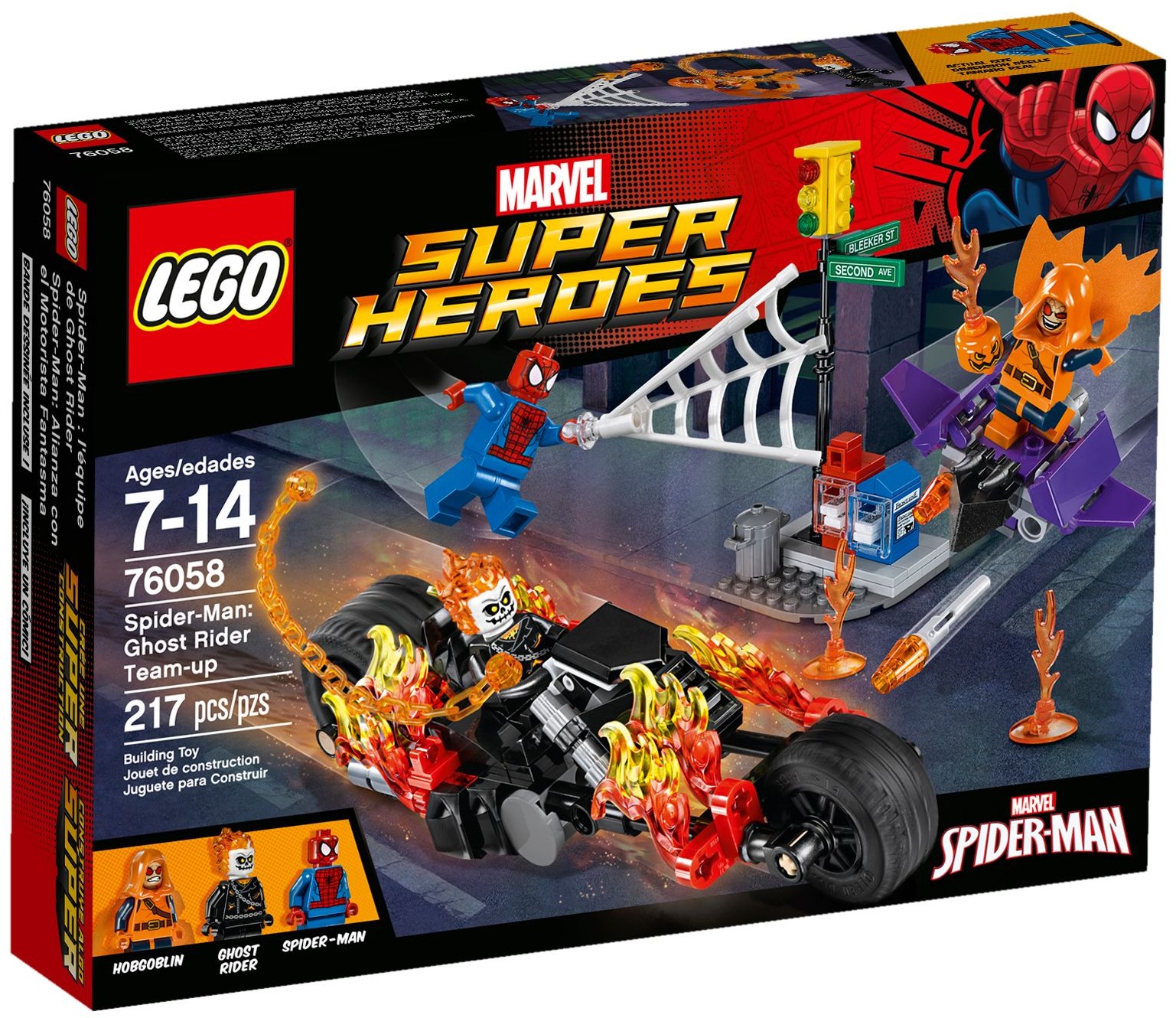 Doc Ock's Tentacle Trap (76059) was also a great $40 set. We don't usually get 'bad guy' focused sets, so this was quite a great change. In addition to the generic Spiderman, we got our first Vulture, our first Captain Stacy, and our first White Tiger, plus a great Doc Ock figure with dual-moulded legs. The build was fun and cartoony, with a giant body and tiny arms. It was very posable and the stud shooters gave great playability. The side boat build was also pretty decent. But it was truly awesome that we were getting a villain-focused set.

I know I've said this with so many sets, but the Web Warriors Ultimate Bridge Battle (76057) has got to be in the top three best marvel sets of all time, up there with the Airport battle. Again, another generic Spiderman. But gosh, the rest of the figures make up for it! We got an amazing, first, new Scarlet Spider, Spider-Woman, Kraven the Hunter, and Scorpion, along with probably the best Green Goblin figure (consisting of arm printing and dual-moulded legs).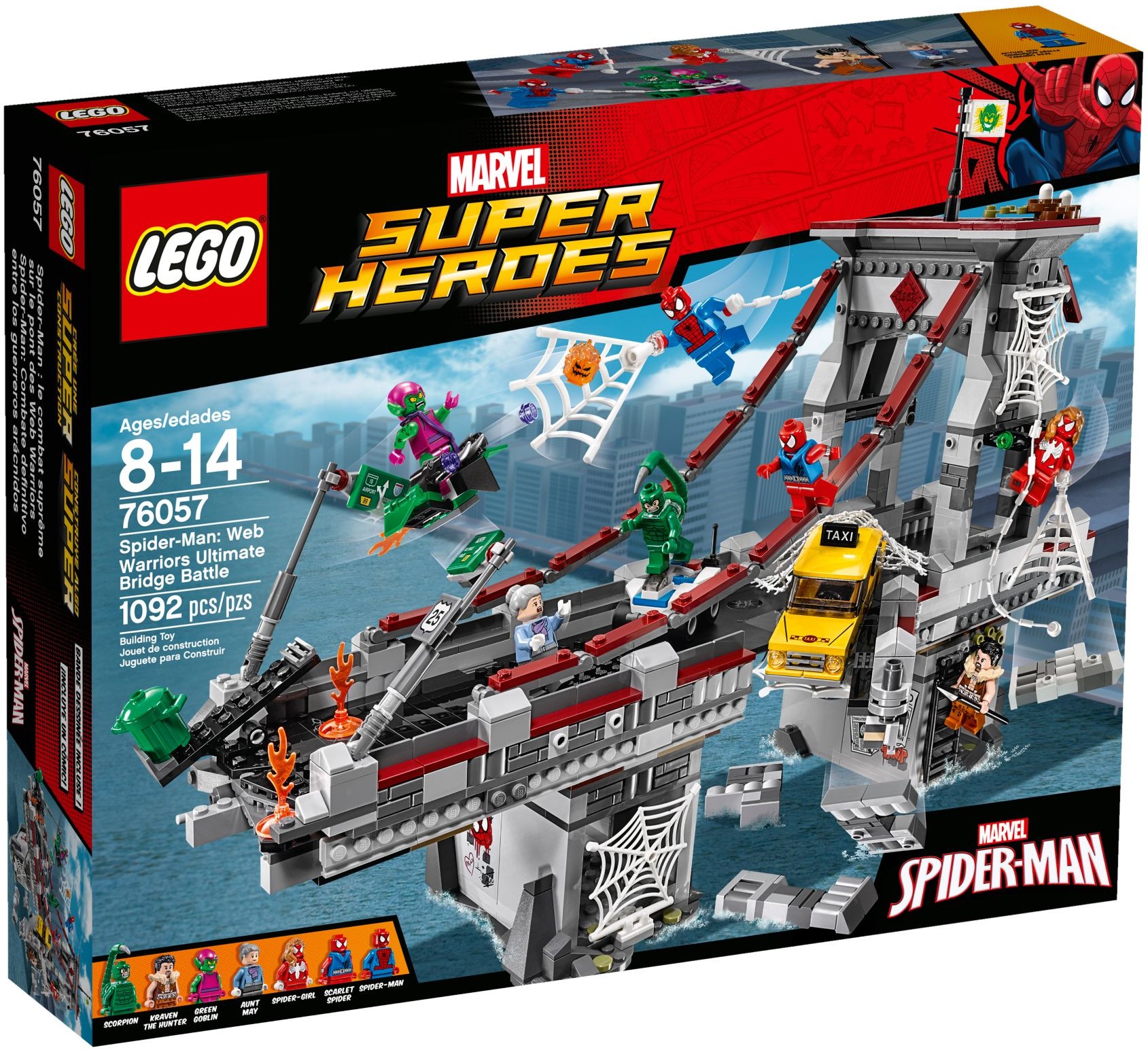 And don't get me started on the build… It is just magnificent. It captures comic New York beautifully. It's just perfect. The attention to detail is impeccable. The well-hidden play features just add to the glorious design. I'm already getting jealous of talking about this set. Man, I wish I could've bought it back in the day. I have no other words for this set. It's just amazing. If there's one Marvel set that gets 100%, this is it.
Doctor Strange
We also got Doctor Strange's Sanctum Sanctorum (76060) set in 2016. Our first Doctor Strange figure, in addition to the Ancient One and Karl Mordo was a real treat. The build is a perfect display piece. The portal beast/monster was a fun play feature, along with the levitating function. I have nothing but good words for this set.
2016 LEGO Marvel Exclusives/Promotions
The Captain America's Motorcycle (30447) was a good promotion LEGO had that year. Although the figure was just another copy, the build was nice and overall was pretty decent as a promotion with qualifying purchases.
The Spiderman vs The Venom Symbiote (30448) was also a great polybag where you could accumulate a large amount of Venom heads, along with Spiderman.

We also got quite an awesome San Diego Comic-Con exclusive Captain America figure during that year. The printing detail is exceptional, along with a new shield.
However, the best LEGO Marvel polybag of 2016 is the Silver Centurion (5002946), released as a free promotion when you pre-ordered the LEGO Marvel's the Avengers game. This has to be one of the best – if not the best – Iron Man minifigure, ever. The detailed printing of the torso and legs continue on to the arms and the side of the legs. An armour piece is placed on top of the figure with an exclusive printed 1×1 tile. This figure is absolutely amazing and a must-have for Marvel fans.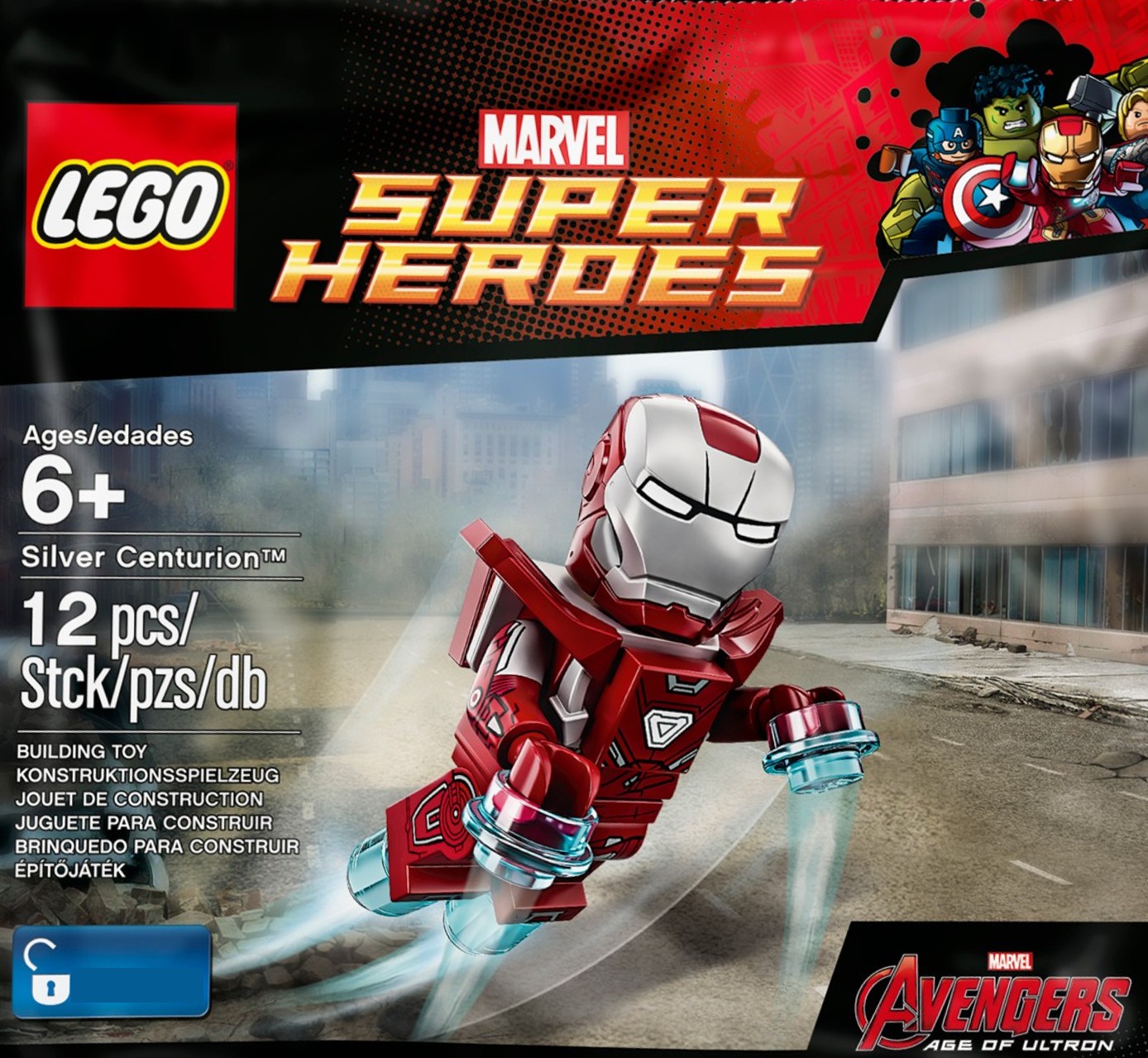 And that's it! That is everything LEGO Marvel in 2016. I hope that through this extensive review, I have convinced you that 2016, was truly LEGO Marvel at its best. Not only were the set builds exceptional, the quality of minifigures drastically rose, with the introduction of several new characters in LEGO form. Even the exclusives and promotional items were on point. Sadly, I own only some of these and hope to get more in the future. I know I may have repeated myself over and over, saying that this minifigure or set is the best. But I cannot lie. The quality of this wave was unspeakable and will definitely go down in history as one of the best, if not, the best year of LEGO Marvel.