2019 is the biggest year of LEGO Marvel as a theme to date. From the End Game line to the two Spider-Man waves, nobody was short this year of Marvel sets. Yeah, my 2018 retrospective consisted of three parts, but this… this will be another thing in itself. Today, we will be reviewing the new Spider-Man series
of sets that LEGO released. Since it's conception in 2013, LEGO had consistently released Ultimate Spider-Man sets until 2016. However, after a short break of non-MCU Spider-Man, LEGO decided to release a whole new take on this character. And poof! This line was born. So strap in, because 2019 will be a long ride!
Spider-Man Car Chase (76133)
2019 marked the first year of the 4+ LEGO Marvel theme, which was a replacement for LEGO Juniors. This $10 USD set gave us our new Spider-Man minifigure, which would be used in basically every 4+ set in this sub-theme. Its new face had blue-tinted eyes, and a new torso print. It was a cool new variant. The set also included an updated Green Goblin minifigure, using the same ear/hat mould. He had a cool head, torso and leg print. This was probably one of the best versions of this character ever released. He came with a $100 bill and a money sack.

Spider-Man doesn't need a buggy, but since this is a 4+ set, kids don't care. All detailing used was printed. Both the buggy and Green Goblin's glider were simple builds. The only reason to buy this set would've been for Green Goblin.
Spider-Man Bike Rescue (76113)
I want to be straight up. I don't like this set. And I am ashamed that I own it. Spider-Man from the previous set was re-used, however, this one came with dual-moulded legs. This figure has been used in every comic book Spiderman set since 2019, in sets that aren't 4+. The set included a pack of web blast pieces for both the Spider-people, and a new robot spider mould. We finally got another Miles Morales minifigure – a character who was released back in 2015. Due to his increased popularity over the years, it was nice to see him. It was a slightly different variant due to some changes printing on the head and torso. But, like always, we needed leg printing.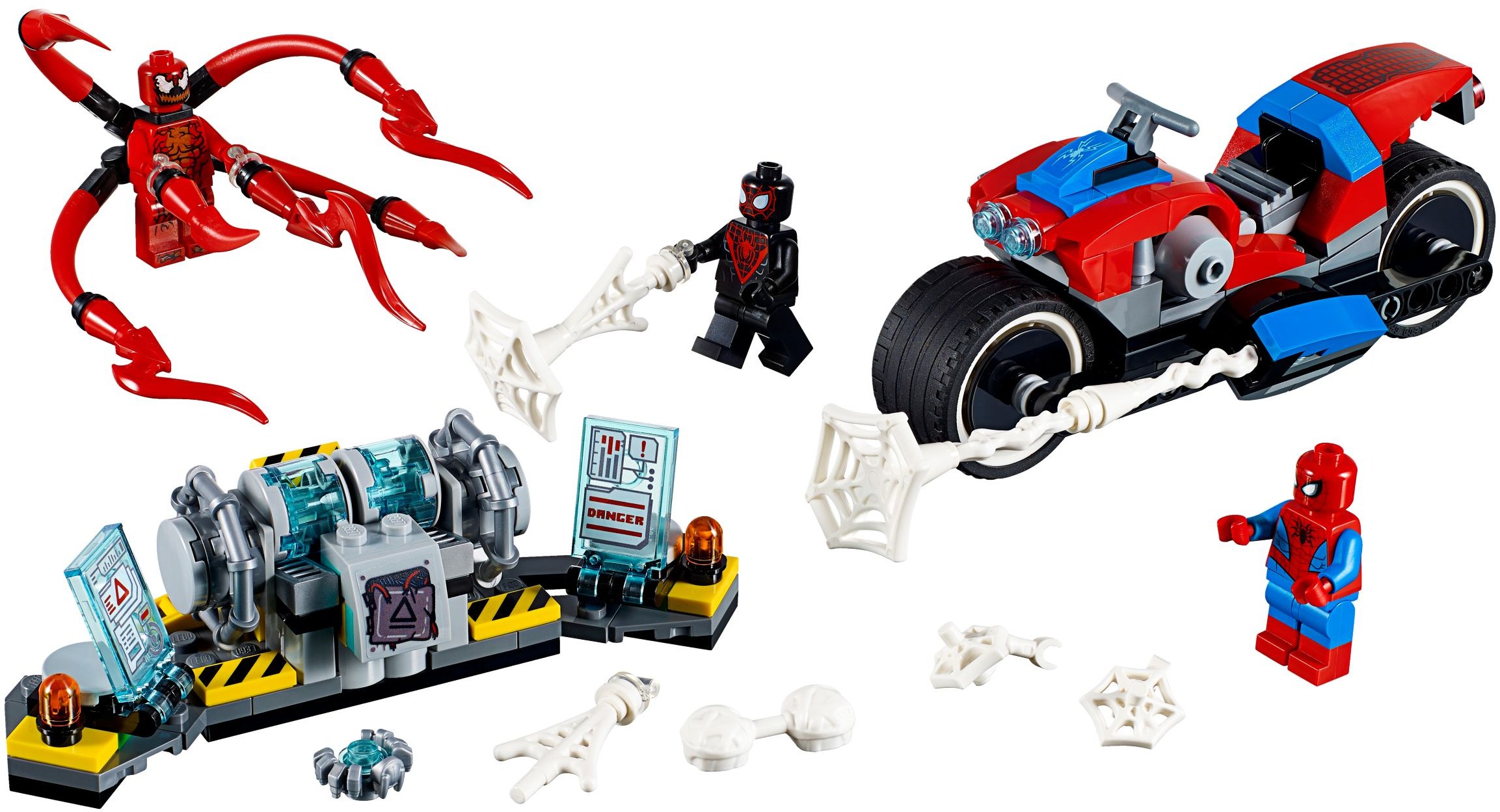 Carnage. It was cool to finally get him again, but this version was a disappointment. Referring back to the 2015 version, that one had arm printing, this one didn't. This set was more expensive than the 2015 one which had the exact same character, and you're telling me that we paid extra for a downgrade? It's just disappointing.
Great… we get another oversized bike for Spider-Man, which he doesn't even need, for $20 USD. What you saw what you got. There weren't any cool play-features, besides the ability to attach the new Spider-Man accessory pieces to it. The lab build was cool, I guess. Behind the main reactor, you could push down on a modified tile which would explode the centre of the lab. There were a few screens to the sides with stickers, but that was it. Yeah, I don't like this set at all.
Spider-Man: Doc Ock Diamond Heist (76134)
Our second 4+ LEGO Marvel set of  2019 was this $30 USD one. It came with the same Spider-Man from the Green Goblin 4+ set, a simple construction worker, and a Doc Ock minifigure with a new head and torso.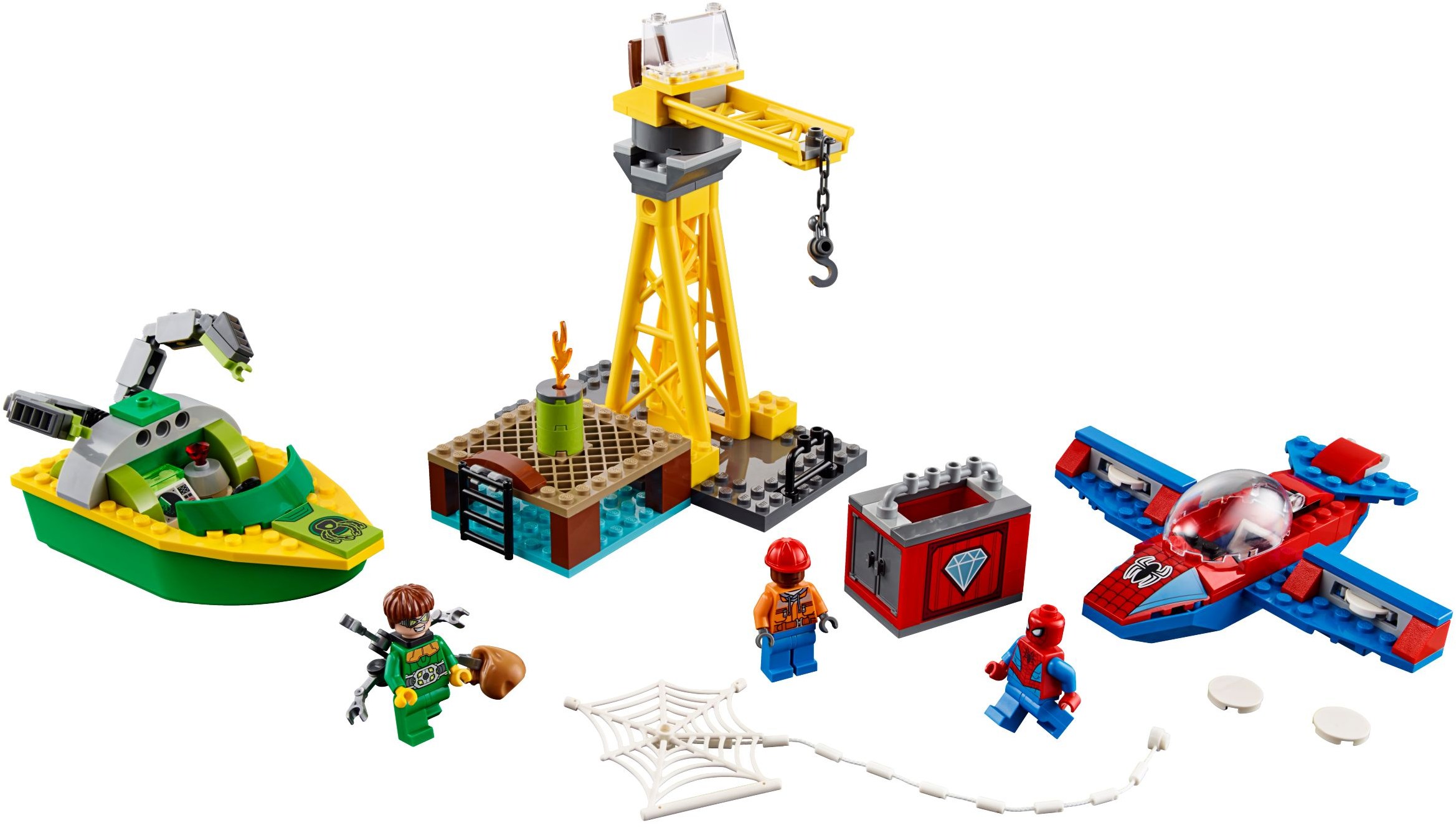 Get the Latest LEGO Sales & Deals
The dock build was the best build from the set, with a spinning crane. The platform was pretty cool, and the cargo crate, full of diamonds was a very simple build. And yet again, we got another useless Spider-Man vehicle. The jet had an opening cockpit, and a disc launcher to shoot at Doc Ock. Doc Ock had a boat with two movable arms. Finally, a few spider webs were included.
Spider-Man's Spider Crawler (76114)
Not to state the obvious, I loved the minifigures that came in this set. We got the new Spider-Man, who again came with the web blast pieces and the robotic spider build. We received another Vulture minifigure that was similar in design to the 2016 version, however, this time his outfit was in dark green. Finally, this set gave us our first-ever Spider-Man 2099 minifigure. This has been a character that I had personally wanted for a while, especially after seeing him in the LEGO Marvel Superheroes 2 video game. He had a great head and torso print. If you take a close look, he had mesh printing all over his suit, except his legs. This is what I want Marvel to do – give us more characters instead of just the main six Avengers.
Finally, the best minifigure of the set was Sandman. And holy moly, this was phenomenal. His face and torso were done so cool, and he looked so menacing and creepy. But, instead of giving him regular minifigure legs, LEGO decided to give him one of the Nexo Knights leg moulds. And it suited this minifigure perfectly. This has to be one of the best LEGO Marvel minifigures of 2019.

So, the build. I don't know what the designers were thinking when conceptualising the set. So you're telling me, Spider-Man, the hero known as the web slinger is going to travel around New York with a massive machine? Here's a rundown of what would happen. The villains would just go into an alleyway. Like, what was the point? Why? I don't understand. Although this could possibly have been the most useless build for Spider-Man ever, it was still pretty cool. The main play-function involves just dragging the vehicle back and forth. Using a series of Technic gears and pieces, all connected to one central wheel, it would push the legs up and down as it dragged across a surface, creating a spider-like walk. It was actually really cool, and the build was too very solid.
Vulture's wings were a cool build, too, and could be adjusted via ball joints. The wing tips could also move a little bit. He came with a stud shooter, which could launch a stud at the heroes. Finally, the Sandman sand build was also quite cool. After removing the minifigure, it could be hinged open for reveal a hiding spot for stolen diamonds. Speaking of, there was a capsule which held a diamond. This was a good set. Despite the fact that this mech was the most useless thing for the webbed warrior, it was a cool build, and I applaud LEGO for doing something more innovative.
Spider Mech vs. Venom (76115)
This was also another solid set, retailing for $50 USD. Again, we got the same Spider-Man minifigure with his web blast pieces. However, the other three were new. The updated Venom was nice to receive, with a new head and torso print, although it wasn't as menacing as the older version. We also got another Aunt May minifigure, after a while which was a cool inclusion. However, the stand-out of this set was Spider-Gwen, aka Ghost Spider. Following her popularity from Spider-Man: Into the Spiderverse, she became a beloved character. So it was nice to finally receive this character. Both her head and torso were new. Again, for all minifigures, LEGO should've gone that extra mile to give them more detailing such as leg printing, and other exclusive printing all around. If you want to hear me rant more about this, go check out my LEGO Marvel Rant article.
The Spider-mech was atrocious. It was garbage filler. I'm sorry, but that's my opinion. They could've thrown in a Hot-Dog stand or something, yet they chose to do another Mech – a trope that has been beaten to death by the team at LEGO Marvel. Again, go check out my LEGO Marvel Rant. And yes, kids wouldn't have cared, because this just added more playable-functions to the set. Spider-Man could be placed in the cockpit, and no surprise here, its arms and legs could be moved around. One hand had the ability to grab minifigure, and it used some of the web-blast pieces to do so. The other arm had a stud-shooter to shoot at enemies.

Speaking of enemies – the Venom mech. I just ranted about how I hate mechs being redone in Marvel sets. However, if they are done right, such as in this instance, I am happy. Honestly, it didn't have to be used as a mech – maybe it could be imagined as an extension of Venom. So yeah, that face was absolutely amazing. The printed dome was cool as the face. The mouth was absolutely amazing, with its sharp teeth and its tongue sticking out. The black curvy pieces protruding from the backside of the mech added a really nice effect, and was a direct reference to the look of the character, displayed in the comics and on film/TV. Again, like all other mechs before, its fingers could move to hold minifigure, and so could its arms and legs.
Finally, there was a hoverboard build made for Spider-Gwen, with two stud-shooters to launch at enemies. But yeah, overall, this was a really good set, and I wish I had the money to pick it up back then.
As I finish for today's LEGO Marvel sets of 2019, let me tell you that this wasn't the only Spider-Man wave of the year. In July, Spider-Man: Far from Home was released, another Spider-Man movie line. We will be looking through those sets released, but, next time, we will be reviewing the Avengers: End Game wave
, something that was quite controversial with AFOL Marvel fans. But that's for next time. See you then!
All images from Brickset
Get the Latest LEGO Sales & Deals