We're finally here! Part 5 of my 2019 LEGO Marvel Sets Retrospective! This will be the conclusion to the year – set wise. Today, we will be looking through the Spider-Man: Far From Home sets, which in my opinion, were a wave that gave me hope for LEGO Marvel. New moulds, new characters, decent builds – it seemed to fix my main gripes with the theme. So did it hold up? Let's check it out!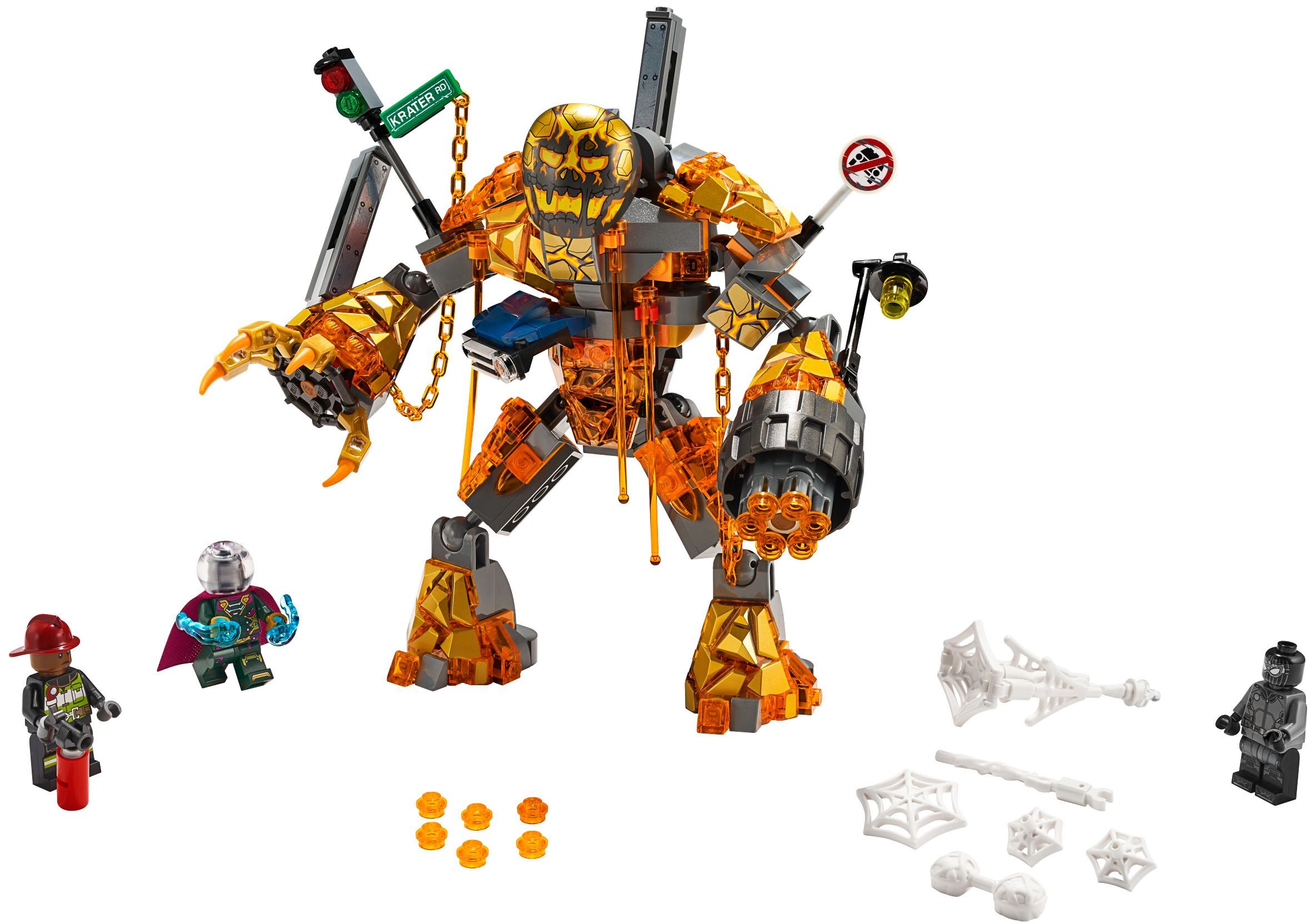 Molten Man Battle (76128)
This was actually quite a solid $30 USD set
. Yeah, I keep complaining about the over-saturation of mechs in LEGO Marvel. But this wasn't a mech – it was an actual brick-built character. First, let's look at the minifigures. We got a new Tom Holland Spider-Man minifigure in this set, most referred to as the Noir suit by the fans. It's black and grey colour scheme was refreshing for Spider-Man. It was quite accurate to the film costume, with the impeccable head, torso and leg print work. He came with the web accessory pack which was nice to receive.
This set also gave us Mysterio. And he was so cool. LEGO created a cool new fishbowl helmet piece for him. He too also had exceptional torso and leg print which was awesome, and he also came with a purple cape. Finally, LEGO also gave us a firefighter which was quite disappointing. But at this point, he has just become a meme in the community and is now widely accepted. He was composed fully of re-used prints. I would've preferred getting one of Peter's classmates instead, but I don't even care. This is one of the first 2019 LEGO Marvel sets that I've reviewed that every single minifigure has leg printing! Good start LEGO!

The Molten Man build was actually quite cool. Like other all-jointed build, it could rotate its elbows, arms, knees and legs. One arm also had fingers to hold a minifigure, and the other – a six-stud shooter. Basically, Molten Man was supposed to be portrayed as a massive piece of molten lava that is consuming the town as it spreads, and LEGO did an amazing job with this. It was full of detail – chains, signs and stores lights all part of the build. The rock-pieces, in addition to the transparent orange antenna pieces just created a really aesthetically pleasing build.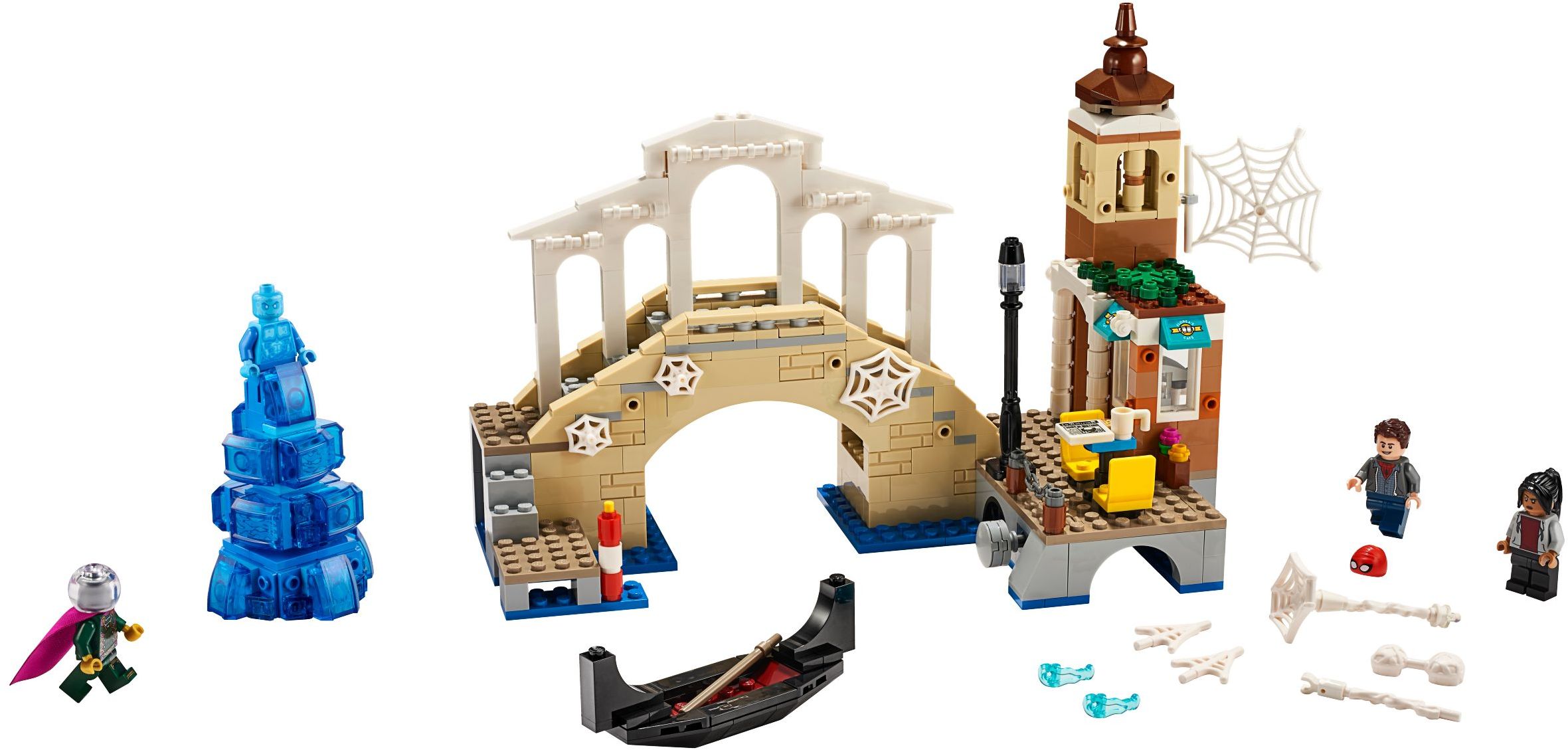 Hydro-Man Attack (76129)
This was probably the best set of the wave. Retailing for $40 USD, it came with four minifigures. We also got a very different Spider-Man minifigure. This one was a mesh between Peter Parker and his alter-ego. He re-used a face print that Ant-Man used in the Endgame sets which blows my mind, considering both actors are about 30 years old apart. I actually made a meme about this on my LEGO Marvel Rant, if you wanna check it out. He came with a beanie piece, printed with the Spider-Man mask print, to make it look his mask was half on. In the same wa, his torso consisted of casual attire. However, there was a Spider-Man torso print that was revealed underneath. This was such a cool minifigure, and definitely our best Peter Parker variant. He received the web-blast pieces.
MJ was disappointing as all her prints were common re-uses. However, the head could've been new, but I'm not too sure. Hydro-Man was a cool minifigure, with a new head and torso print. He looked a lot like the previously released Electro minifigure and Doctor Manhattan from Watchmen. Finally, the set came with the same Mysterio as previously mentioned.

This set was the definition of the ideal Marvel set
. No oversized bikes, and similar looking jets. This was as perfect as you could get. Hydro-Man came with a water build that was shaped as a mini hurricane, which was quite accurate to the movie. There was also a unique-looking canoe build in this set with a stick to guide it. They just had to include the paddle piece instead of a stick. I genuinely don't know what went through their mind. The bridge was a beautiful build, and resembled Venice extremely well (the location this scene was set and filmed in). A jetty led up to the small bridge. Behind the bridge hid a button, and below, a rat hid under the walkway. By pressing on the button, it would launch the mid section of the bridge to create a destruction effect.
The walkway was also really well-made. Details such as the lamp, the fence and the table, all added to the aesthetics of this set. The second play feature also involved pushing a button. On the side of the table set up, by pressing on the brick-built button, it would push up a trapdoor and would launch many minifigures sitting loosely on the chairs. The building was a coffee shop with a coffee machine, with a web hanging off a side. There were also bar sized holes all over the build in which you could attach the web blast pieces to, to create awesome dioramas. This was an amazing set, and one I regret missing out on.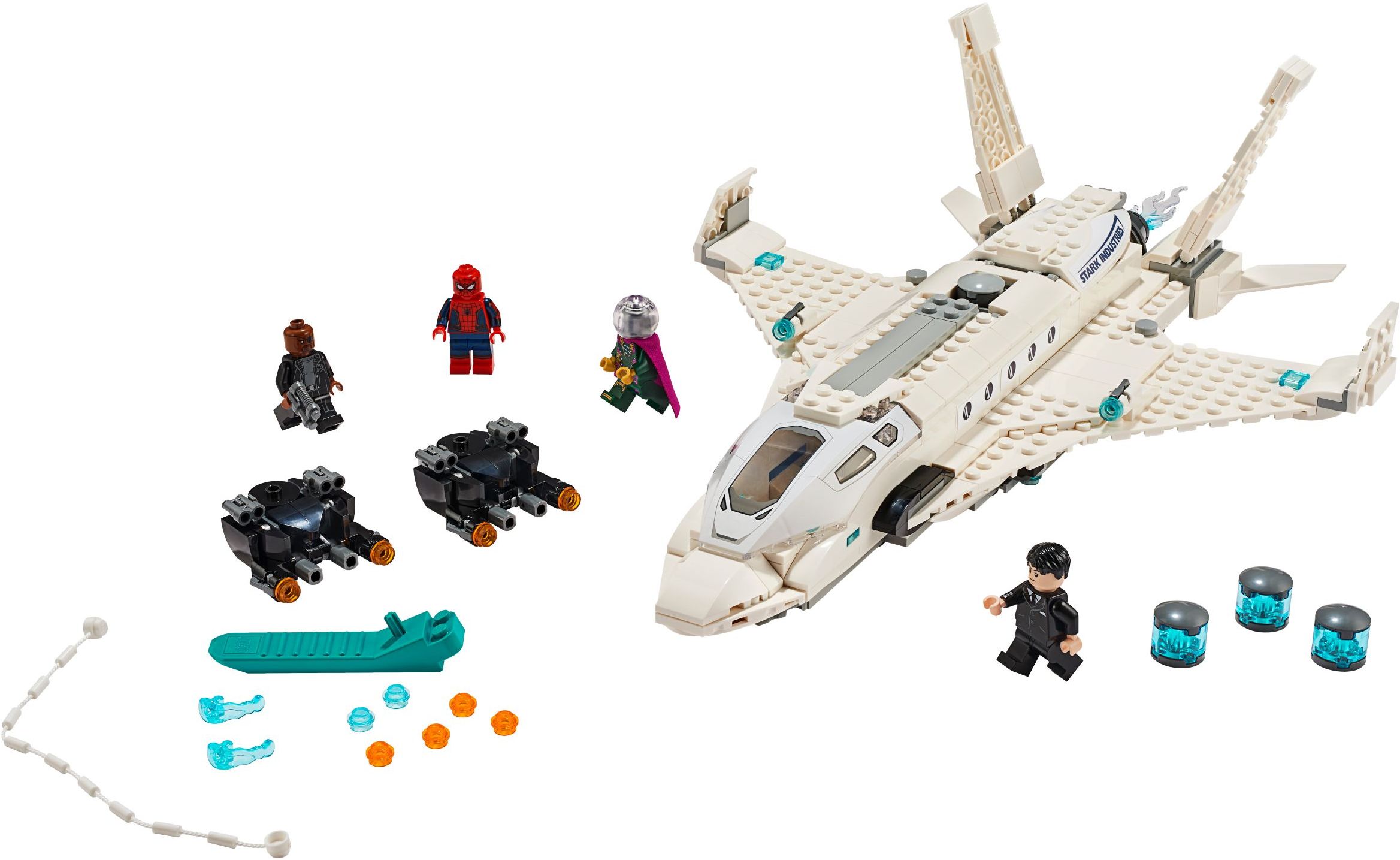 Stark Jet and the Drone Attack (76130)
Let's just start off by saying, what a disappointing minifigure selection. The first two sets of 2019 reinforced my faith in LEGO Marvel, and this set just slapped me in the face with a sike. We got a re-use of the Spider-Man: Homecoming Spider-Man suit. However, in this movie, Peter wore a similar one which was black and red instead. All that LEGO had to do was swap out the palate and add/remove the extra details. However, they were just lazy. Don't get me wrong. I love this minifigure, and I believe it is one of the best Marvel minifigures of all time. But it shouldn't have been in this set. Period.
We got another re-use of Mysterio which was fine, I guess. However, this set gave us our first Happy Hogan minifigure, which looked horrific. It didn't capture the actor at all. Both the face and hairpiece were just objectively and subjectively wrong choices. Finally, we got a new Nick Fury, who had a new head, torso and legs which was quite nice.

Get the Latest LEGO Sales & Deals
The set itself was a pass. To get it out of the way, the drones were a cool build, with two stud shooters on each arm. Anyways, the jet. The canopy could be opened to reveal two spaces (one behind the other), to store figures in the cockpit. Behind that was a space to hold weapons, and a table with jars of some sort of liquid, and a control panel. There was also a massive space behind to throw in bombs or Spider-Man, who could be attached by his web to a jumper plate. Above the jet was a massive button, which could be pushed down to open up the bottom of the jet, which would release the bombs or Spider-man. Behind that was a storage space for the bombs. Finally, there were two stud-shooters on each side of the jet, and it could adjust some of its winglets. In my opinion, it was an average $70 USD set.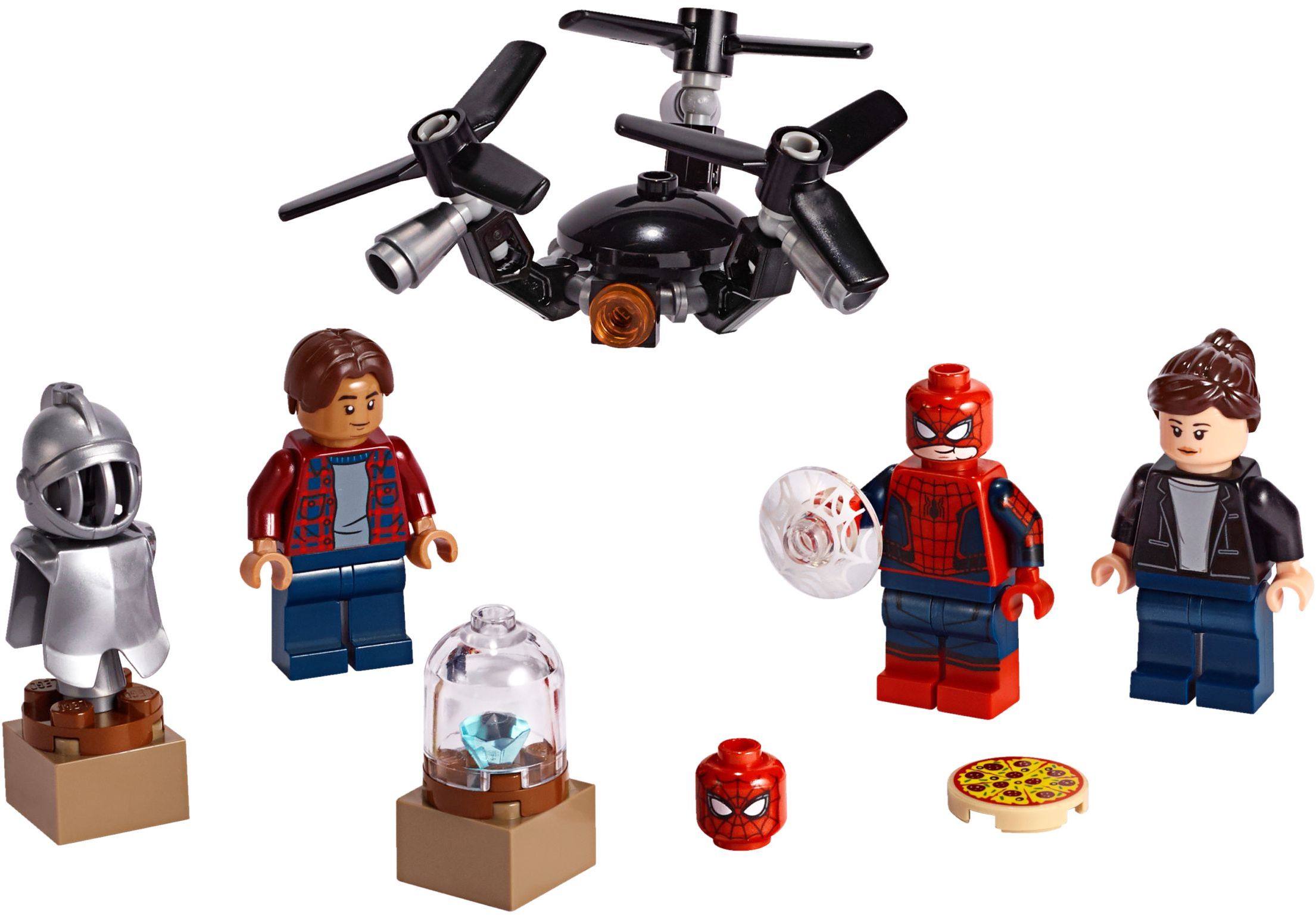 Spider-Man and the Museum Break-In (40343)
This was the final Spider-Man: Far From Home set, and the theme's first accessory pack. It came with the long-awaited Ned Leeds minifigure, and another Maria Hill minifigure – this time using no new prints for the outfit. The same Homecoming Spider-Man suit was included in this set, but this time, we got an extra head – one where his mask is half off, and you could see his mouth. He also came with two printed dishes to resemble spider webs, and a printed pizza.
The set came with another drone which was different to ones in the Stark Jet. Its propellers could spin. Finally, there were two museum artefacts included in this set – a knight's armour and a jewel. The armour was actually present in the movie. Anyways, this was a great pack to get some Marvel minifigures cheap.
Exclusives/Promotions:
30451 Spider-Man's Mini Spider Crawler was literally a mini version of the $40 USD Spider Crawler set released earlier that year – no surprise there. However, many were surprised to see the older Ultimate Spider-Man minifigure make an appearance, opposed to the new standard one.
30452 Iron Man and Dum-E polybag was also great. We got the Iron Man Mark 85 in the Quantum Realm suit, although none of the prints were new. He came with a few pieces to resemble his thrusters. The Dum-E build was also quite great. It could articulate its arm via two hinges.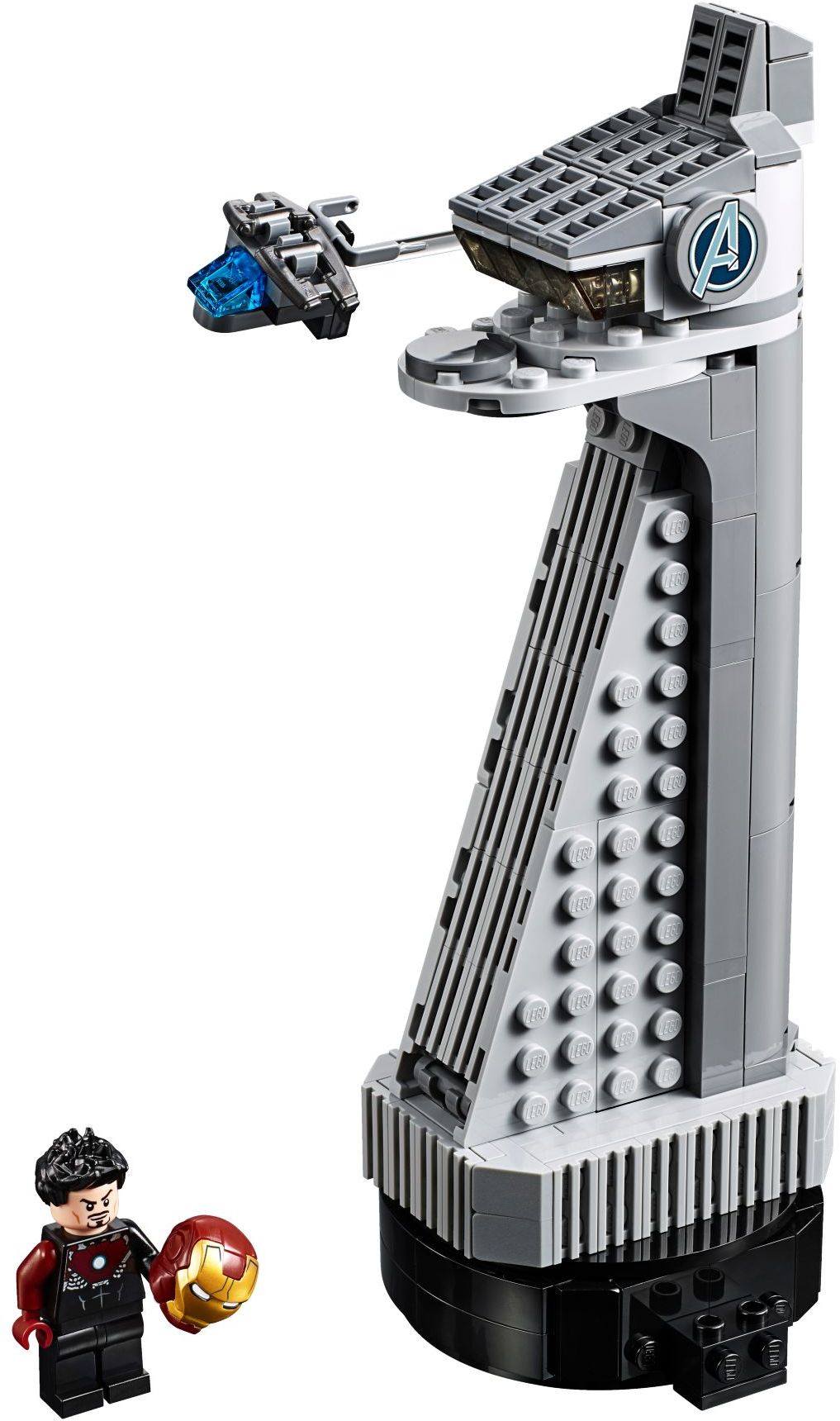 40334 Avengers Tower was another free promo when you purchased LEGO Marvel sets over a certain amount in 2019. It came with an exclusive Tony Stark minifigure. The print work depicted the armour attaching to him, which was really cool. The helmet and head weren't new. The Avengers Tower was a nice micro build, using the printed Avengers logo tiles.

The 77902 Captain Marvel and the Asis was a cool set, which ultimately in the end became not-so-cool. Here's why: The Captain Marvel was different to her set appearance, as she had a similar torso print, but in cyan blue/green instead of red. The Maria Rambeau figure was also cool – however her face print was the only thing exclusive as her torso and legs were used in Star Wars sets. The set also came with Goose the cat which came with a tentacle build – as it is revealed to be an alien in the movie. The jet was an OK build. Its cockpit could open to seat a minifigure. There was also a stand build to display the set and mini figures. So why did this set become not-so-cool? Well, the Captain Marvel minifigure was released in a cheap polybag the next year, making the SDCC figure worthless.
Coming straight out of left field, LEGO also decided to release the Spider-Man suit from the newest Spider-Man PS4 game. It was exceptionally accurate and is extremely collectable now.
Finally, there was a free LEGO exclusive Stormbreaker in-store build for customers.
And… we're done! Thank you for sticking with me through this five parter of my 2019 LEGO Marvel Sets Retrospective! This thing all together probably has a total of 10,000 words, so I'll try to not have any more five-part articles in the future. Speaking of the future, I have completed a retrospective of each year of LEGO Marvel. However, after 2020 ends, I'll make sure to do a retrospective of this year. So do look forward to some new, different articles! Anyways, I'll see you then! Bye!
All images from Brickset
Get the Latest LEGO Sales & Deals