Hello everyone! Welcome to my first ever LEGO DC retrospective! To switch things up a bit, I will be writing DC retrospectives. So I might as well start with the latest year of LEGO DC – 2020. Ever since 2018, this theme has really been put on the back burner. Hardly a few sets come out each year which is sad. I hope LEGO revives this theme soon!
Batboat The Penguin Pursuit! (76158)
Starting off with the first set of this 2020 LEGO DC retrospective is this $10 USD gem. It came with a new Batman figure with a great head and torso print. To add something new this year, LEGO equipped the Batman figure with a new cut of cape – something quite different from the past. The Penguin figure was also new, with a nice face and torso print. I loved the use of lavender for his legs.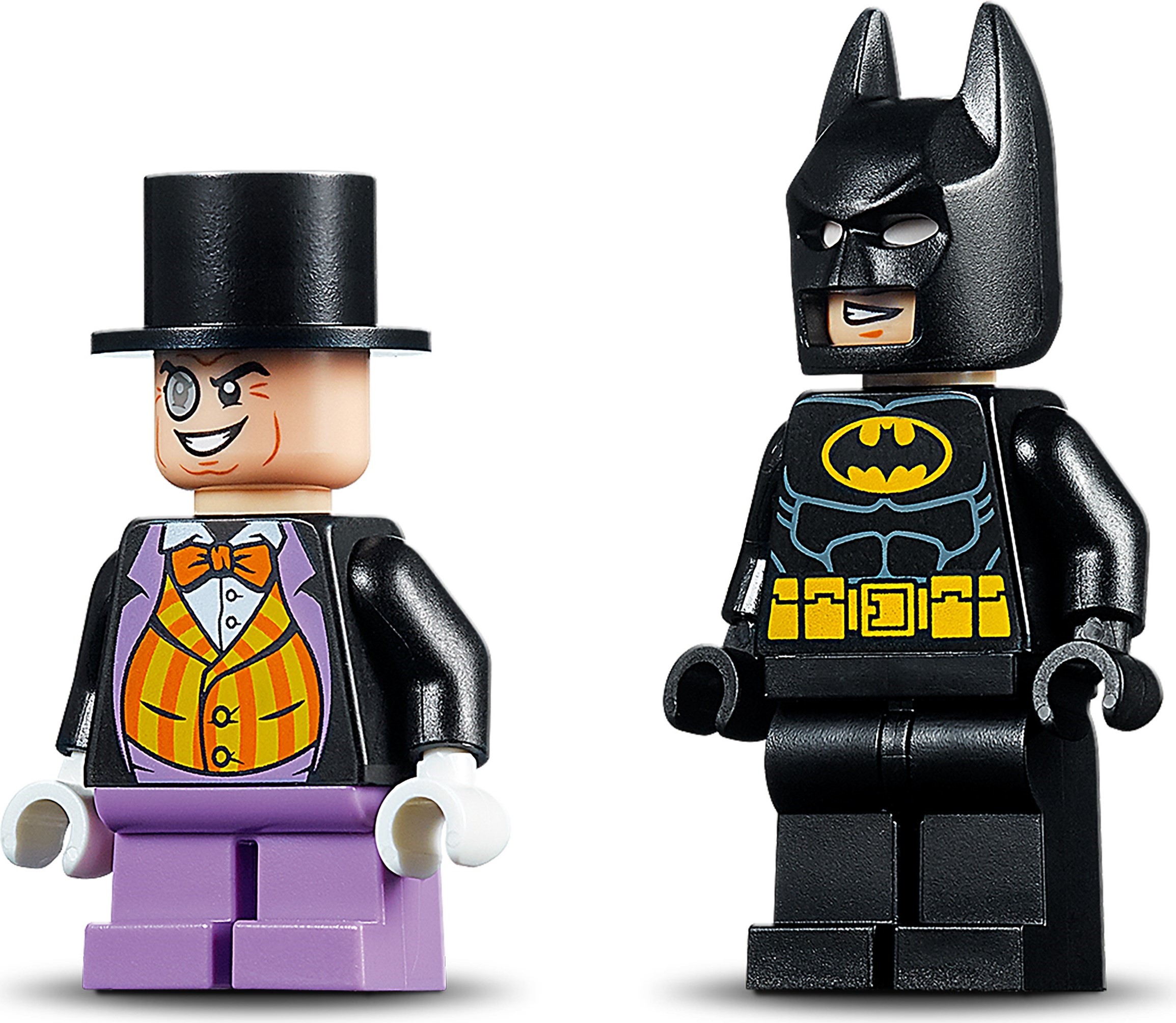 The Batboat was a nice build but was a very simplified design from previous versions. The only play function was that Batman could sit inside. Penguin's floaty was a very small build – again based off much more complicated designs from the past. He could also be placed in it. Yeah. There was literally no play features in this set which is crazy!
Joker's Trike Chase (76159)
Retailing for $50 USD, this was quite a solid set. The Batman figure was a repeat from the 2019 wave of sets. LEGO gave him three capes – two of which were new, and one of which was exclusive to this set. Robin was also a repeat, besides the fact that this version got medium legs as opposed to shorter legs. Joker was also a repeat. Yes. Basically three repeats in one set. What a bland figure selection. The final figure was a new Harley Quinn. She received new prints for her hair, face, torso and legs. If you didn't like the builds, this would be your reason to get this set. She was very well done!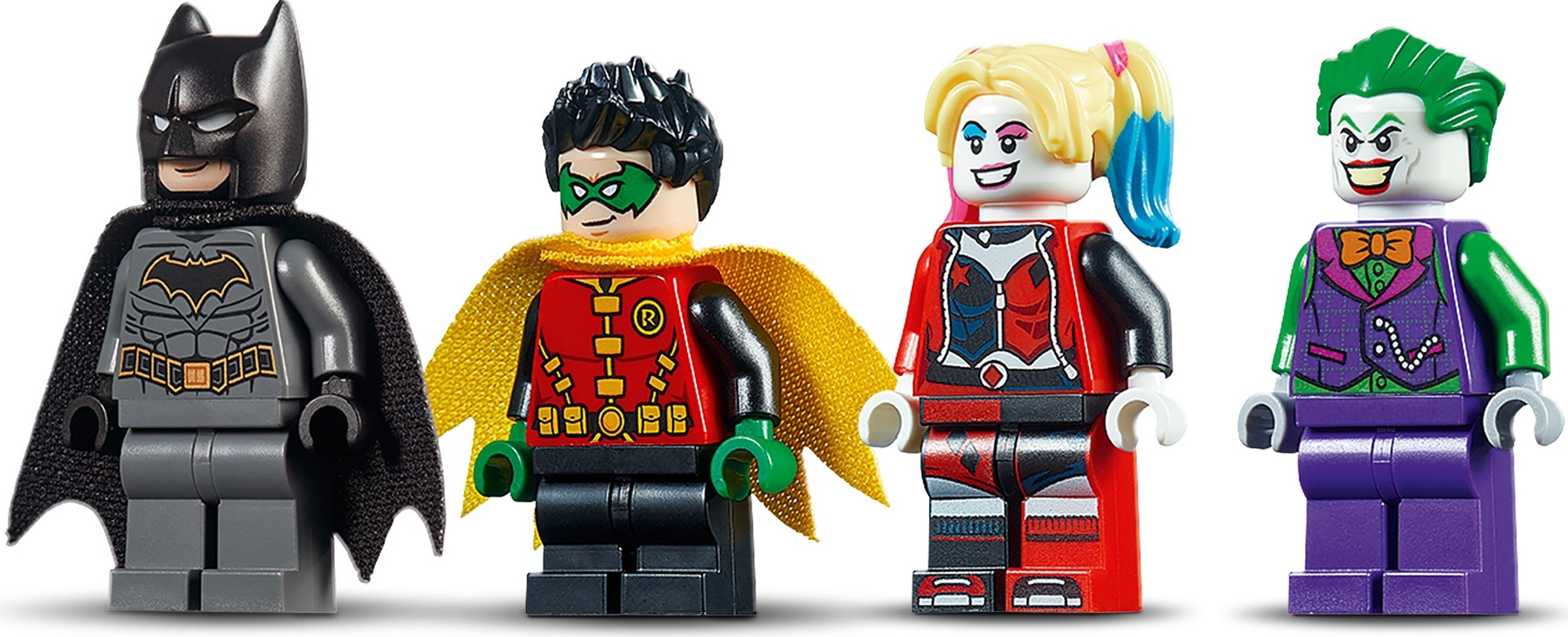 As much as I hate LEGO making more Batman and Joker vehicles, the builds in this set were quite solid! The Batmobile's design was heavily inspired by the Arkham Knight version – especially with the wheel wells. The design was quite cool – and looked very tank-like and heavy-duty. There were stud shooters at the front, and the canopy could be opened to seat Batman. The back had an opening panel that showed engine detailing. It was an overall cool design. Robin came with a basic bike.
The Joker trike was a very unique build – I especially liked the front design with the teeth, and how they used tan colouring to make it look discoloured. There was a standing place for the Joker, and beside him was a six-stud shooter. His trike had a function where the mouth moved as the wheels spun. It was a cool play feature. Overall, this was a cool set, but I never bought it because of the bland Minifigure selection.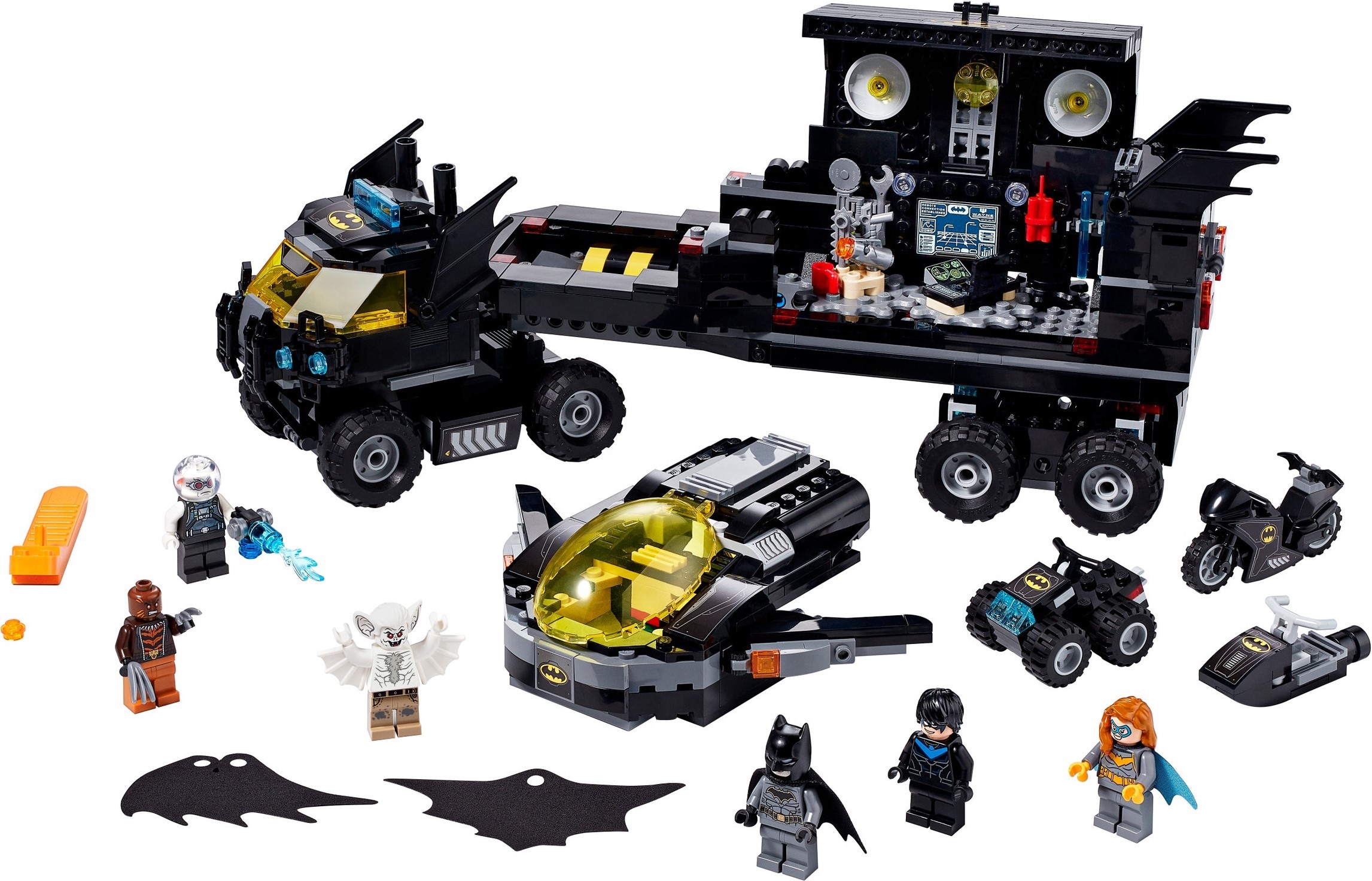 Mobile Bat Base (76160)
This $90 USD set was a low-key banger. I was pleasantly surprised when I first saw it. Batman was again reused, but he came with the new cape designs. The new Nightwing was quite nice with his face and torso print. LEGO included a new variant of Batgirl, with a grey, blue and yellow design. The new Man-Bat was phenomenal, and definitely the highlight of this set. He used the same hair and wing moulds as the previous version – but in white this time. He also got the full printing treatment with his head, torso and legs. Mr. Freeze was also included in this set – but had no new printing. And finally, this set debuted Bronze Tiger for the first time, with his iconic claws. I just wish they gave him leg printing.
The main reason to buy this set though was for the actual build. It was awesome!!! I loved the elevated design of the Bat Base, with the large wheels. The front had such a menacing and heavy-duty design. The cockpit design could seat one minifigure – but had the potential to seat way more. The trailer could be detached from the front and then could be held up on its own. Underneath the front was a hidden storage space for a mini bat boat. It could be pushed out by a Technic bar.

Get the Latest LEGO Sales & Deals
The front of the trailer could also detach, and could be used as a sort of hovercraft. That too could fit one minifigure. The wings could be opened but were very narrow and flimsy. Underneath was a hidden storage space for a brick-built buggy but overall, it was a waste of space.
Speaking of wasted space, the actual interior consisted of a spinning platform, involving a set of gears. Basically, by spinning one, the rest would spin. It was quite useless and wasted a ton of floor space. One of the walls consisted of a large array of tools and accessories – with many clips to store them. There was a mini bat computer, a control panel and a mounted stud shooter. The back of the truck was a small jail cell to store a villain. Built into the back were 4 places to store more accessories. But the set didn't stop there. Below the back trailer was a small cargo hold for a Bat-Bike included in this set. This was an amazing set. I surprisingly loved it! It was a perfect display and play piece.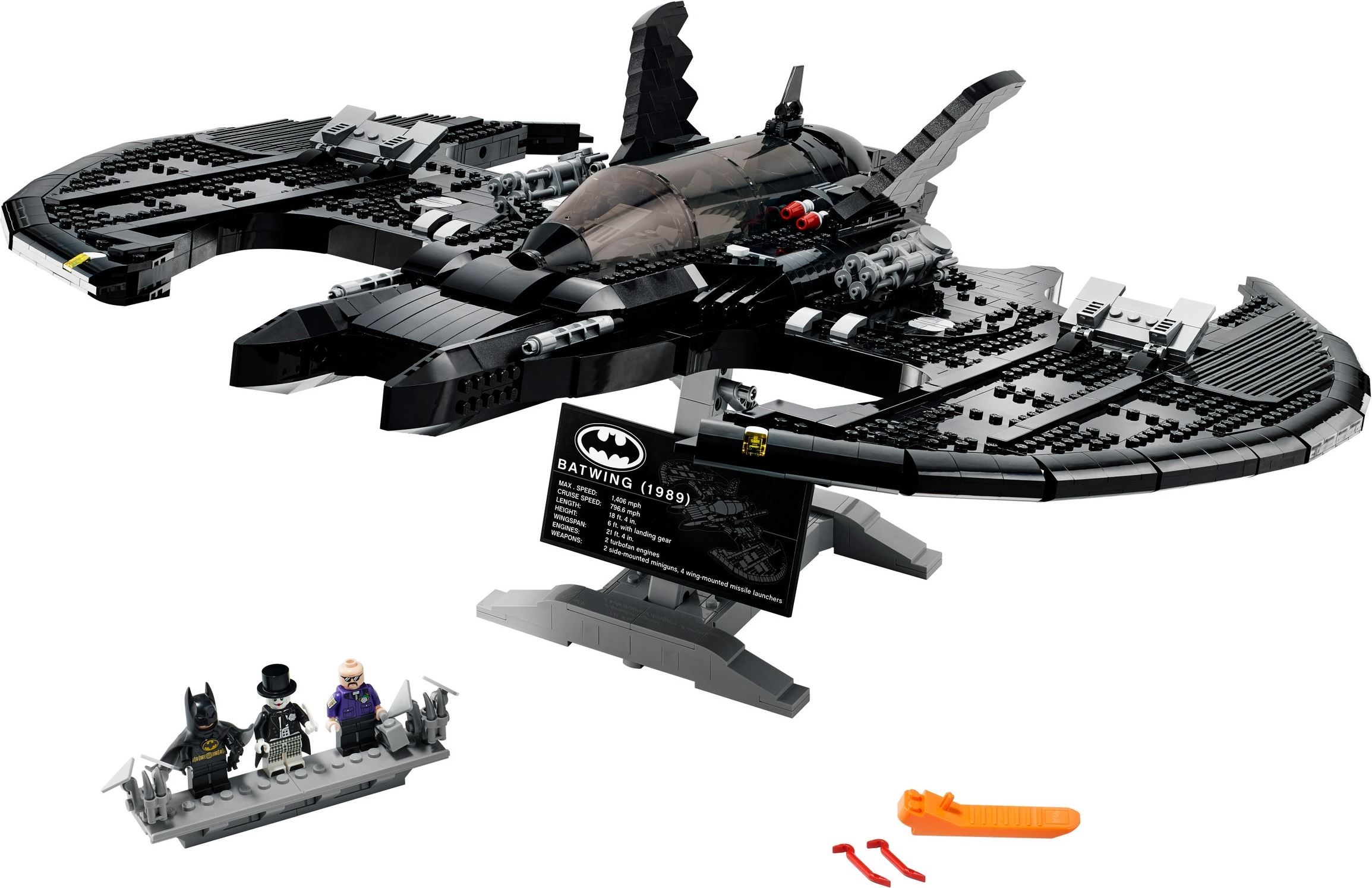 1989 Batwing (76161)
Following the success of the 1989 UCS Batmobile from the year prior, LEGO decided to capitalise on that success and make this $200 USD behemoth. The minifigures were the 1989 Batman with the rare cowl/cape mould introduced the year prior in that UCS 1989 Batmobile set. His face and torso printing were quite simple. The Joker was also included in this set but in a different design. His clothing was only black and white – something that was quite obscure for the character. The Joker goon was an exclusive character from the set and an actual character from the 1989 Batman movie. He came with a goofy faceprint and a cool torso with a card detailing for the side of his arms.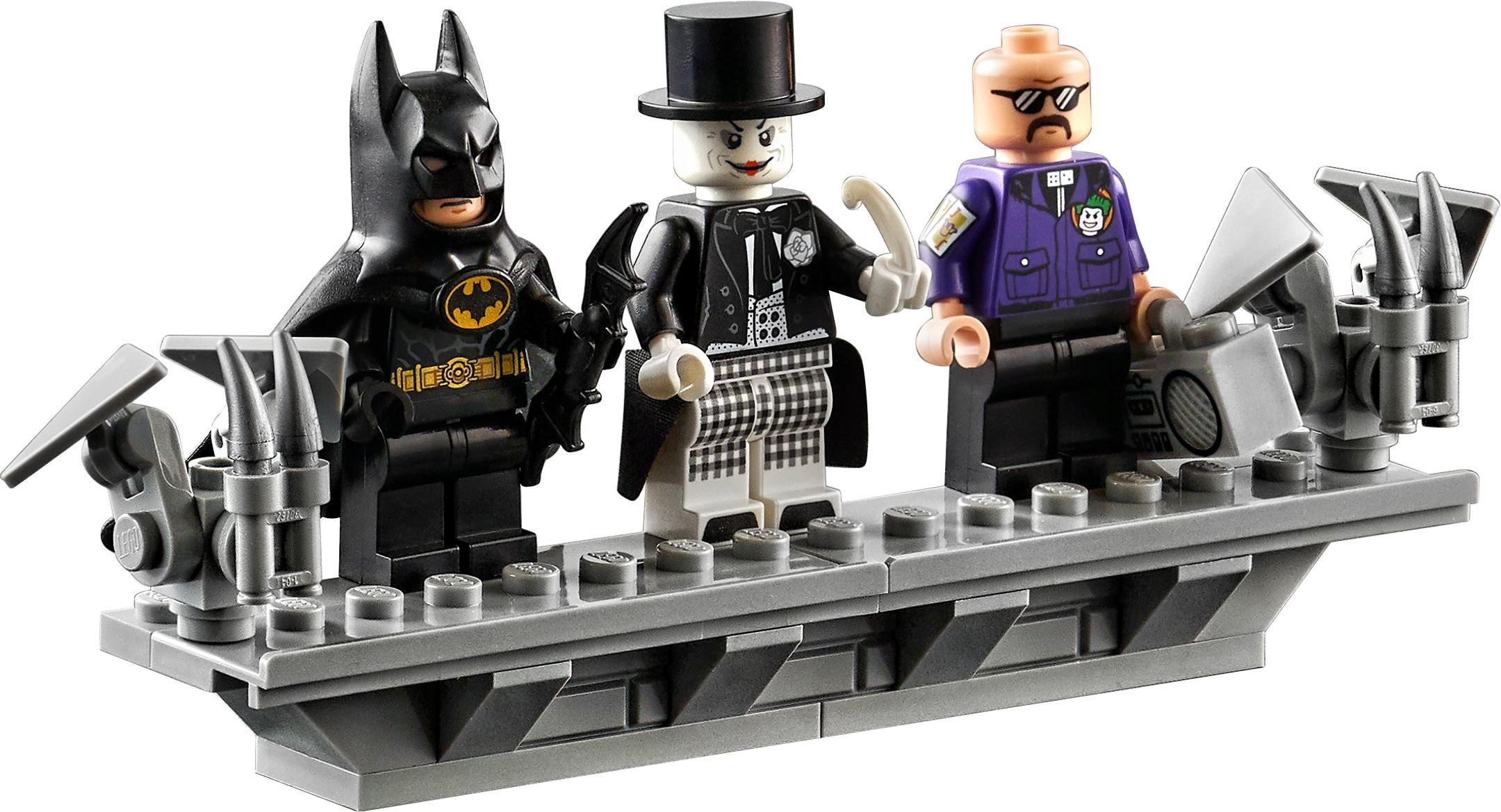 The set itself was magnificent! It was extremely movie accurate. The curvature and the detailing all over – was just done so well. There's not much to say about the set as it was just a perfect display piece. It also came with a stand to rest on, and a plaque that had all the information for the vehicle. The minifigures even had a display stand that was very Gotham inspired. Overall, this was an amazing set, and I wish to own it soon!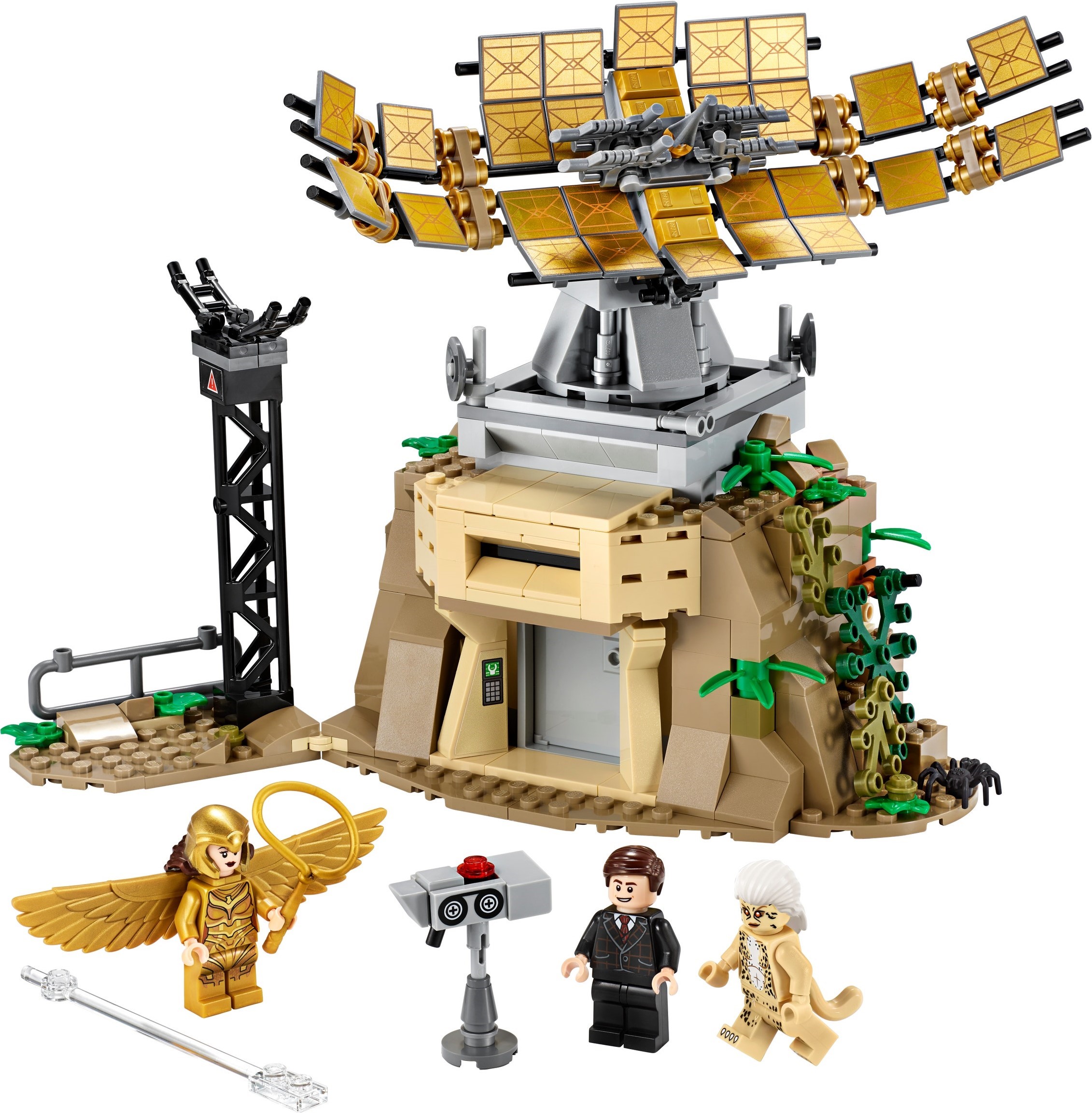 Wonder Woman vs. Cheetah (76157)
The final wide-released set on this 2020 LEGO DC set list was this $30 beauty. Many people disregarded this set for some reason, but I think it was arguably the best one from DC in 2020, besides the Batwing. The Wonder Woman figure was so unique, as she wore her golden armour. A new hair/helmet mould was created for her which looked so amazing. She used Falcon's wing piece in gold for her wings – although LEGO should've moulded a completely new piece or given us a thin plastic wing-like Hawkman and Hawkgirl. Maxwell Lord was easily the worst LEGO DC figure of 2020. His hairpiece was totally inaccurate, his faceprint looked nothing like the actor, and LEGO reused a Bruce Wayne torso for his suit printing – and even the colours were inaccurate. Cheetah was amazing! She came with a newly moulded hairpiece, and a very movie-accurate head, torso and legs.
The build was phenomenal! It was so unique! It was a satellite base – based off the final act in the movie. With the greenery growing around the rock formation, it was well designed. Behind was a knob that could be spun to turn the entire satellite around. Behind was a stage to keep a built-up camera. It was such a good set and I am really proud to have this in my collection.
Wonder Woman (77906)
The Wonder Woman figure from this $40 USD SDCC set was the same one from the DC CMF series. She had a really cool face, torso, skirt, leg and sidearm printing. Same thing with the Cheetah minifigure – She was from the DC CMF series and again, was amazingly detailed. The final figure was an exclusive character – Etta Candy.
The build was just a vignette of a background. The clouds were done so well, and the tree was also done so well. It was such a sick looking vignette and so well built. There was a printed 4×2 tile which really rounded the set off.
Supergirl
Based off the Supergirl TV show, this figure looked so cool! She was so accurate, with a new face, torso and dual moulded legs.
And that's it for today's article! This is my first article in a while that I haven't done multiple parts, so I'm proud of myself! I'm gonna take a much-deserved sleep now, so I'll see you tomorrow! Peace!
What do you think about the LEGO DC sets of 2020? Let us know in the comments!
All images from Brickset
Get the Latest LEGO Sales & Deals