Well, I am back! I decided to take a week off from article writing after the past 30 odd weeks. Now I feel refreshed and ready to tackle my next massive load of article ideas. So today, we will conclude the LEGO Marvel Retrospective saga, with Part 6 of my 2020 retrospective! Of course, we will hopefully do a 2021 retrospective this year towards the end, so don't worry. Just to give you a heads up, in the next few weeks, I shall hopefully be able to write articles on a ton of the CMF series – kinda like a LEGO CMF Retrospective. However, before we do that, let's hop onto my final article on me trashing the 2020 Marvel sets.
And for the last time, the disclaimers. Just because I think that 2020 was a bad year for LEGO Marvel, doesn't mean you have to agree with me. We can all have different opinions, and that's ok. I just believe that compared to 2016 (in my opinion the best year of the theme), 2020 matches that quality in no way. And that is no disrespect to the designers. What they do is hard, and especially with budget constraints and other requirements, what they produce is a quality product for the mass market. However, as a consumer of their product, I get to criticise it, so it can hopefully be improved. Anyways, let's just jump into this retrospective.
Black Widow's Helicopter Chase (76162)
I have mixed feelings about this USD 30 set. It was pretty solid and lazy at the same time. Sadly, the movie was set to come out in May 2020, but a little virus known as COVID-19 tormented earth, inevitably delaying the film's release for a whole year. So the set was released with no film to go alongside, sadly. The minifigures were the draw, of course. The new Black Widow figure was extremely accurate to what we had seen in promo images and concept art. I do wish they gave her arm printing, as the next version of Black Widow, released a few months later got this treatment. It would've rounded out the figure overall.
The Yelena Belova figure was a nice addition – with a cool green vest torso print and some more printing on her white legs. Taskmaster was disappointing. His face and torso print were awesome. However, the lack of printing on the legs and the hood made this figure inaccurate to the movie, and just terrible. He also came with a trashy sword/shield built-up accessory.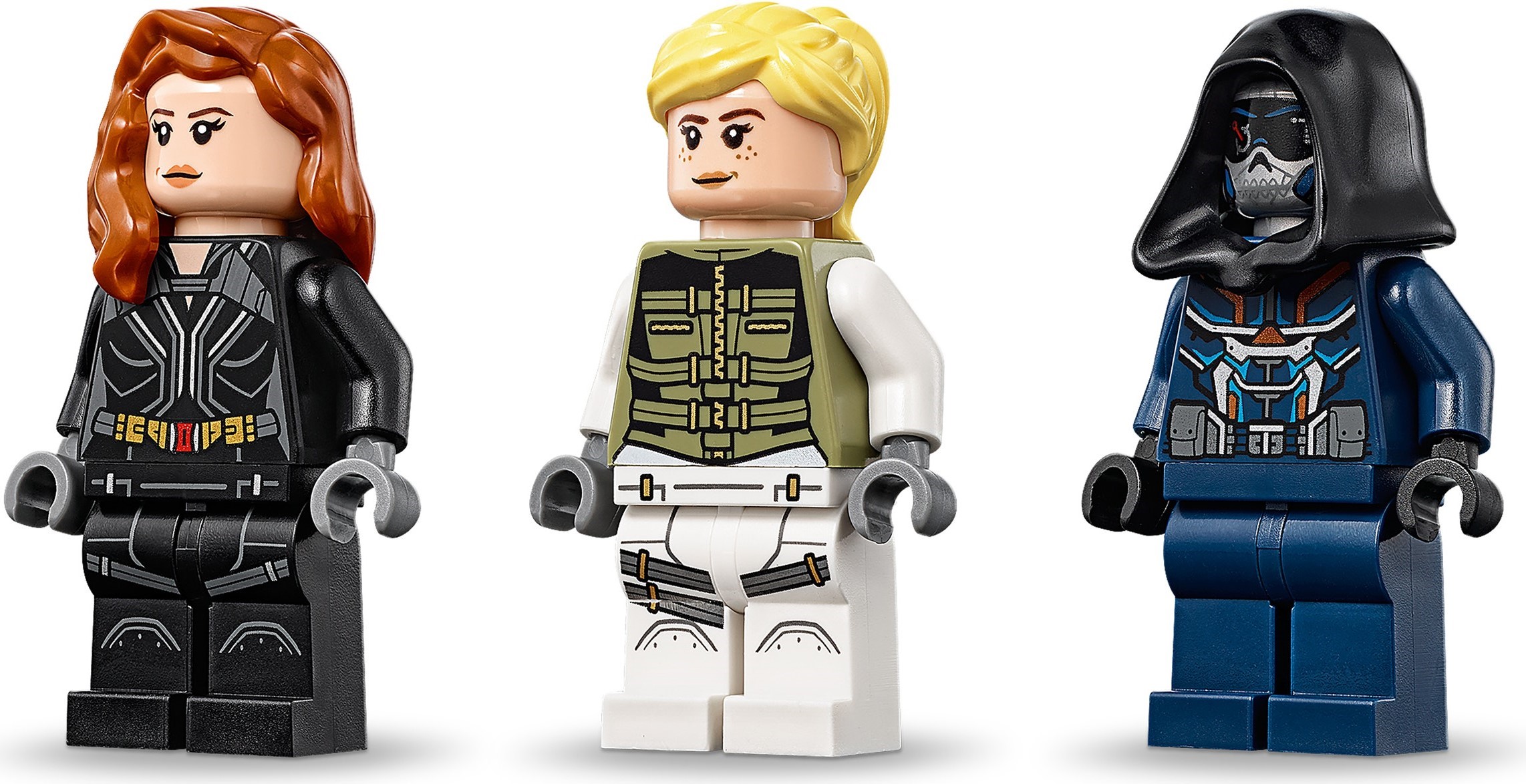 So why was this set lazy? Well, it was a recolour of an older city helicopter set. Guess 2020 wasn't their year for ideas? The cockpit could fit one minifigure, with the rest of the helicopter, having ample room to sit many more figures via the removable roof. Both the propellers could spin, and two stud-shooters were attached to each side as a defense mechanism. Finally, there was a cool bike for Black Widow and a no-effort quad bike for Taskmaster. It was a mixed bag – literally.
Iron Man (76165)
As part of their new 18+ line, LEGO decided to release a USD 60 Iron Man helmet set. From this picture, it looks pretty weird. However, is you were able to get your hands on it, it would've looked better in-person. The designers had a difficult task to get all the edges and angles right, and for the most part, succeeded. Sadly, it wasn't perfect, so this set looked a bit strange. Also, it came with a printed plaque.
Marvel Studios Iron Man (31199)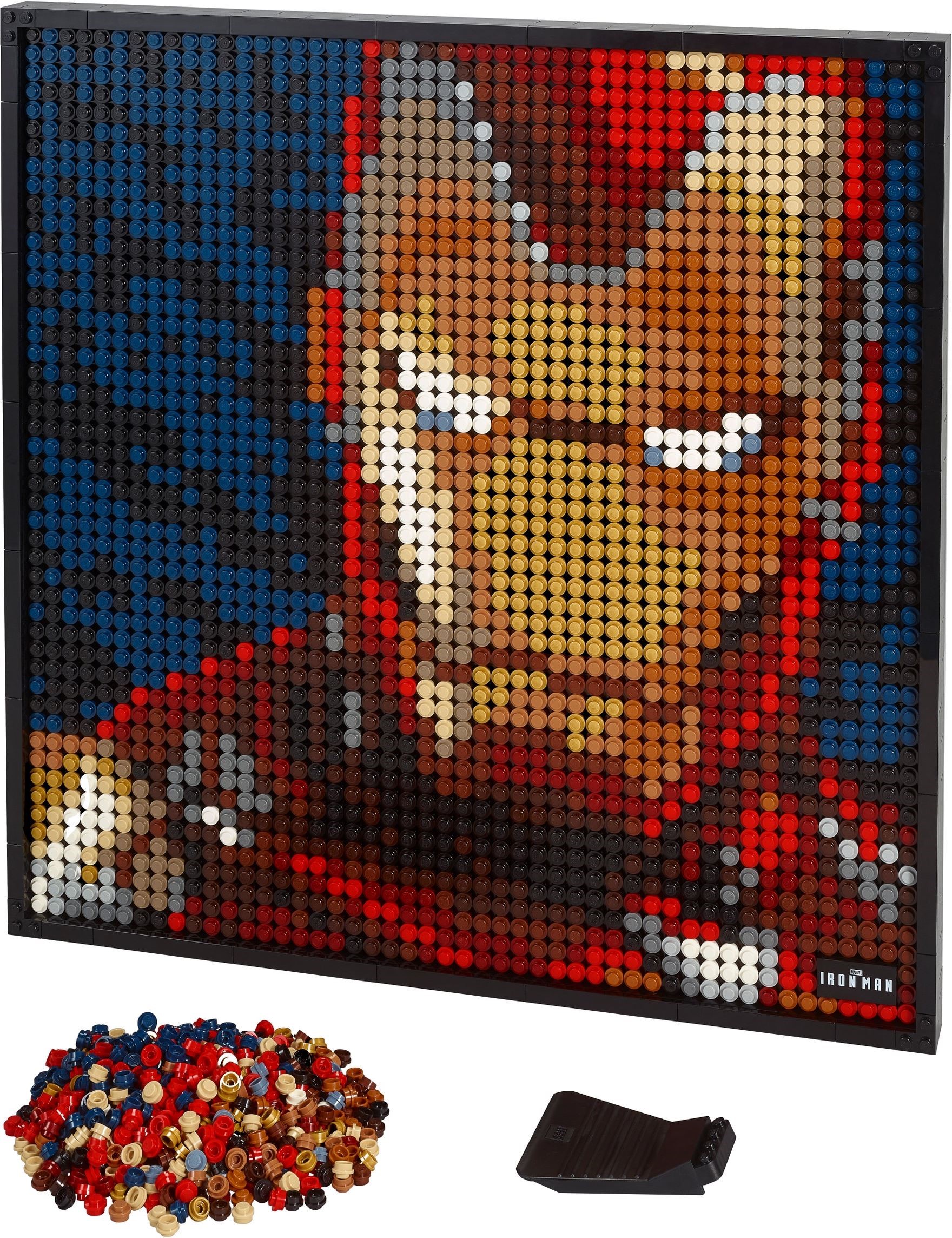 On the other hand, LEGO knocked the USD 120 Iron Man mosaic art out of the freaking park! Also, part of the 18+ line, this set consisted primarily of 1×1 circular tiles. They even made new, large pieces to give this thing a strong structure, in addition to a new LEGO designed, wall hanger piece. This set had three configurations – Iron Man Mark 85, the Hulkbuster, and another Iron Man suit. However, if you bought 3, you could combine them all into one, large Iron Man wall art, which looked amazing! They printed the Iron Man logo onto a 2×4 tile which was cool. Oh, and did I mention that LEGO made a completely new brick separator piece, just to remove studs at a large scale like this set?
Iron Man Armoury (76167)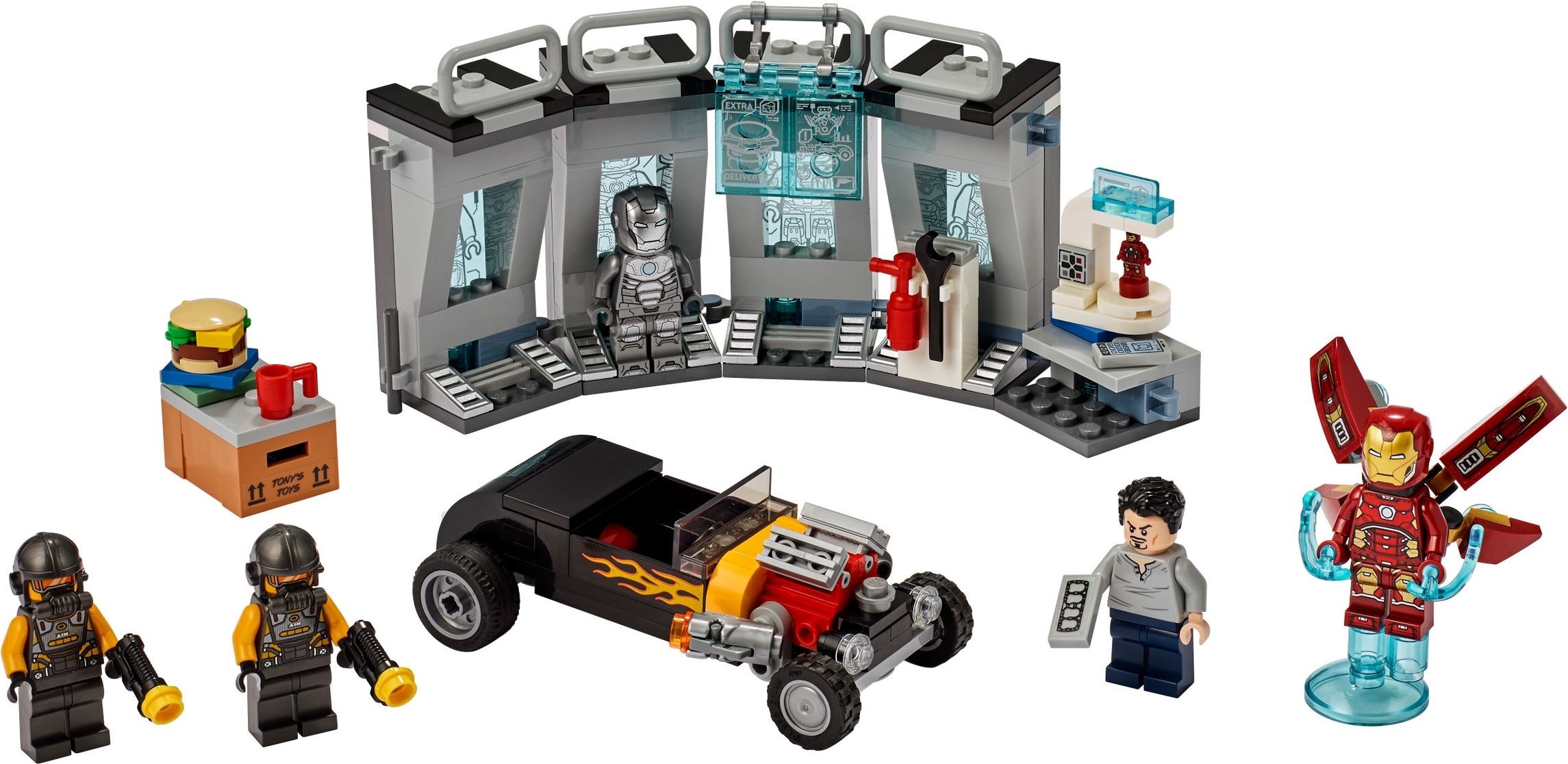 Get the Latest LEGO Sales & Deals
This was a fun USD 30 set! Following the 2019 success of the Iron Man: Hall of Armour set, LEGO decided to release an expansion set, to capitalise on their previous product. This time, it was half the price. It came with the same Avengers Game Iron Man, a new Tony Stark, who used Owen's torso and legs from Jurassic World, and two A.I.M agents from earlier on in the year. However, the main draw of the set was the Iron Man Mark 2 figure! We had never gotten this suit in LEGO form before, so it was amazing to get.
The armoury was the same build as the 2019 version, although there were a few minor differences in the build. The set came with a docking station for a Micro Iron Man figure that was released in this set and a toolbox with a Burger and coffee mug. Finally, we received the infamous Hit Rod from Iron Man – although it was a terrible recreation, especially with the engine and the use of stud shooters as outlets. Overall, it was a great add on to its predecessor, but I would still recommend the original one on sale as it was a better deal for the build if you wanted to expand your hall of armour.
Taskmaster's Ambush (77905)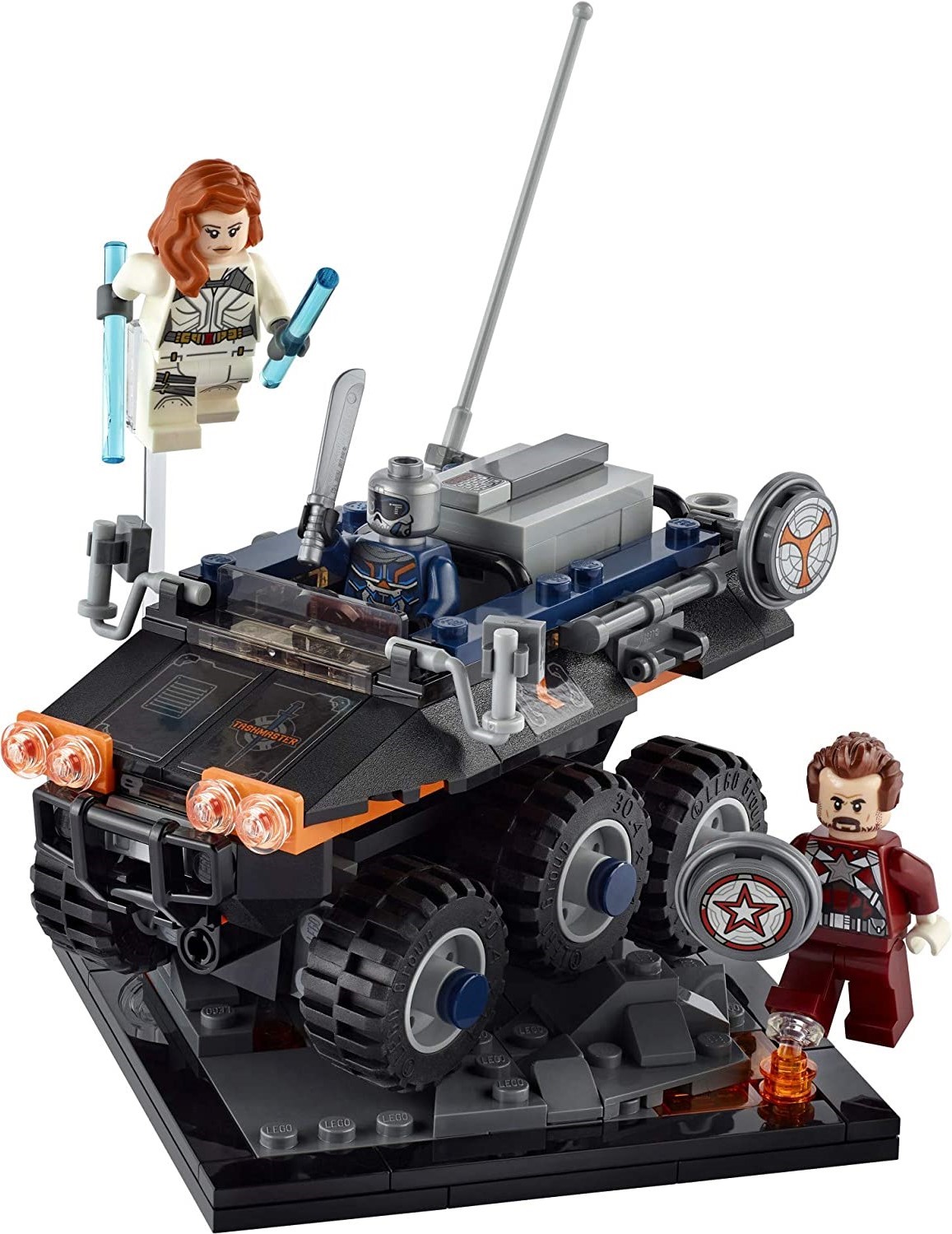 Following the cancellation of Comic-Con, LEGO decided to release their SDCC sets to the entirely of the US on lego.com. As much as I want to rage on how unfair this was for the international market, like myself, I shall only discuss the set.
Black Widow was completely new, with an exclusively printed white torso and legs. The other primary draw of this set was Red Guardian, which used Hopper's face from Stranger Things (as they were played by the same actor), and a new torso print. He also came with an exclusive, printed shield. I'm so mad at LEGO, they did not give me a chance to get these figures.
The tank build was average. It had suspension and a place to hold the driver. It was attached to a base for display. There was also a clear rod for Black Widow to pose on – making her look like she was leaping. Anyways, I will be forever sad that I was not able to get this.
Captain Marvel and Nick Fury (30453)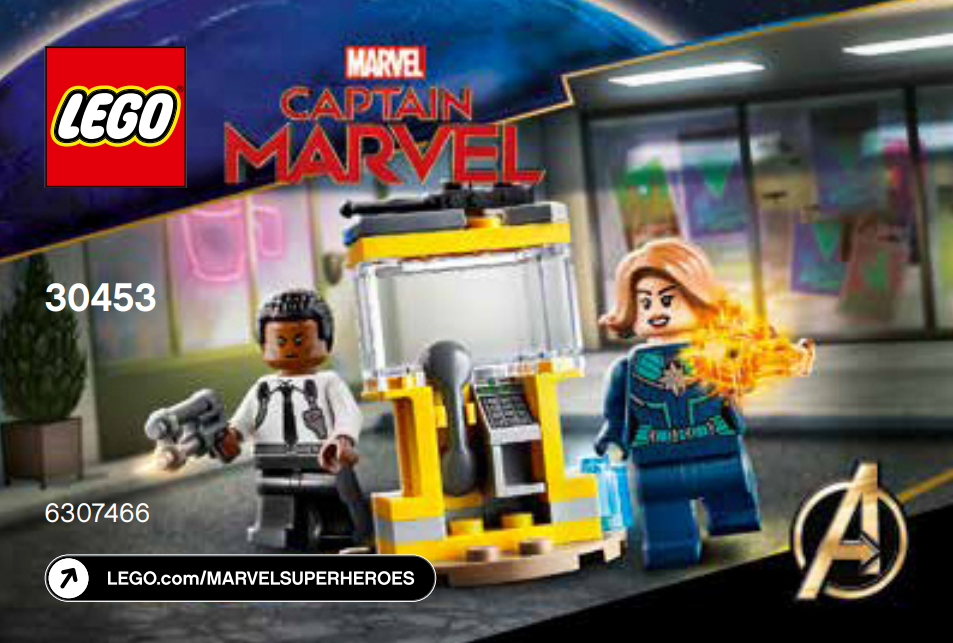 I feel like LEGO gave the middle finger to many scalpers with the release of this set. Why? Well, LEGO decided to release the exclusive SDCC 2019 Captain Marvel figure in a USD 5 set. You heard me right. Nick Fury was also a re-released figure from the 2019 Captain Marvel set.
The phone booth was a cool build, but let's be real. We wanted this for the figures, not for a LEGO phone booth.
Falcon & Black Widow Team-Up (40418)
This was LEGO Marvel's second-ever accessory pack, and it was terrible. The 2 AIM soldiers weren't new, and neither was Black Widow. The only new figure was Falcon. He had an amazing face and torso print, alongside his dual-moulded boots. However, his wing build was terrible. Literal garbage. It looked like something a 5-year-old would build from their imagination. It was so lazy. The other build was just a mounted six stud shooter which was nothing too cool.
So the following three figures were released as promotional gifts along with the sale of a magazine. From what I found out, you could get these magazines at a newsstand where you could subscribe to get a hold of the magazine.
Spider-Man (242001)
The Spider-Man figure was the same one from all the 2020 Marvel sets. He also came with his web blast accessory pack.
Iron Man (242002)
Same thing with Iron Man. He was a reuse of the one in so many Avengers sets that year. He also came with four pieces to represent his repulsors.
Captain Marvel (242003)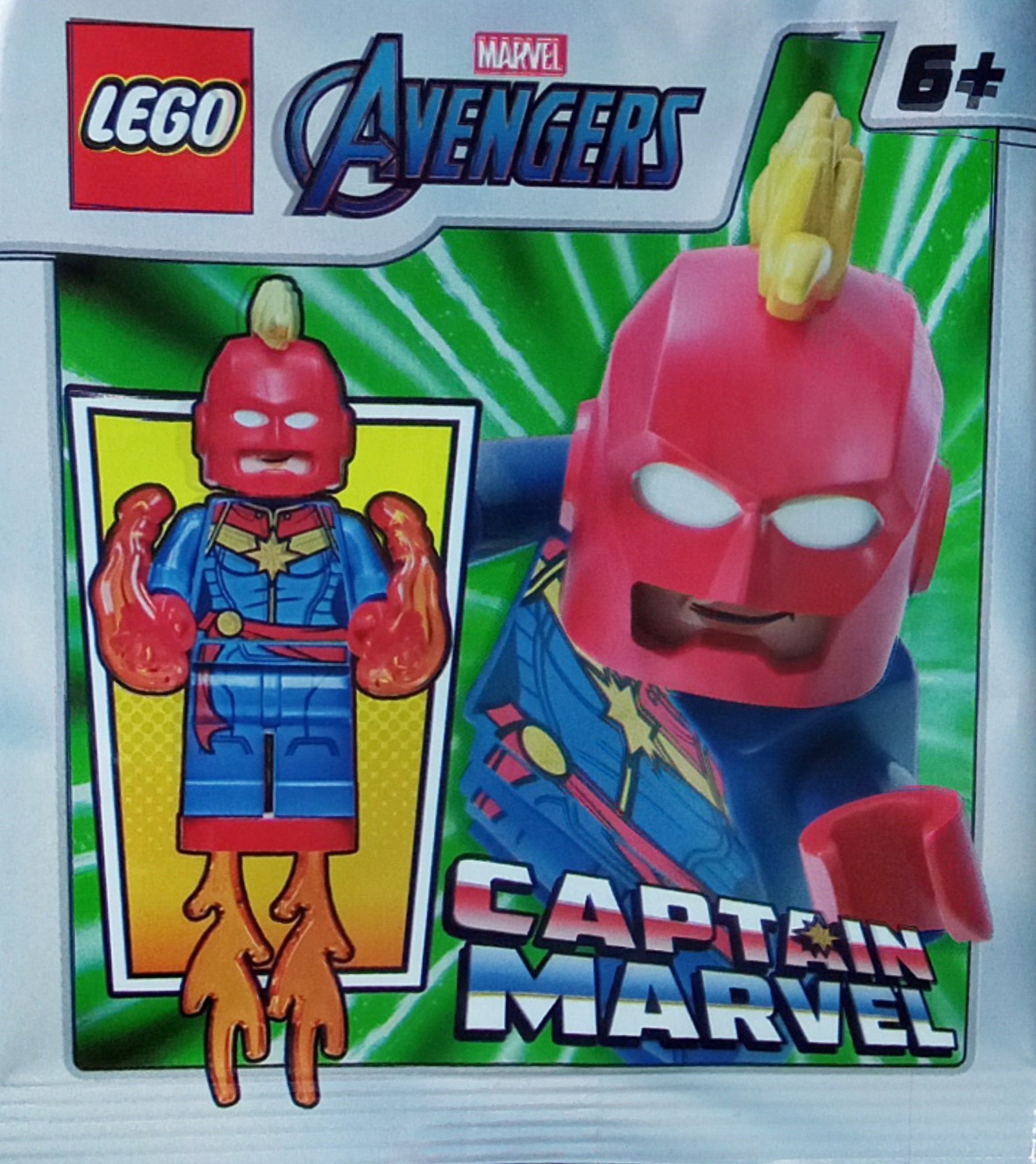 Again, this was the same Captain Marvel released in two previous sets in 2020. She came with extra pieces to represent her powers.
That's it for my LEGO Marvel retrospectives for a while! Hoped you enjoyed them! In the upcoming weeks, I'll look at the worst Marvel sets ever and then move on to other themes, so stay tuned for that. Anyways, I'll see you guys next time! Peace!
Images from Brickset
Get the Latest LEGO Sales & Deals