He's Worth A Lot To Me
For what little screen time he gets in the original Star Wars trilogy, Boba Fett is very popular. His ship, the Slave I, is just as popular, I think because of it's unique design. Whatever reason, Fett proved so intriguing that he became part of Attack of the Clones and the backstory to the Galactic Empire.
LEGO has produced a total of seven larger Slave I's. The first was in 2000 and contained only 165 elements. The next was in 2002, and was a larger version based on Jango Fett's version of the ship from Attack of the Clones. Next followed what was essentially a re-colored update for Boba Fett's version for 2006, and another update in 2010.
Then there was an Ultimate Collection Series in 2015. Finally a smaller scale version was included in 75222 Betrayal At Cloud City before the 2019 20th Anniversary set. Whew! There are almost as many Slave I's as X-Wings made by LEGO! (Not quite.) This does not include mini scale or other polybag versions.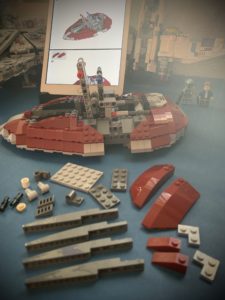 They Call It A Firespray
Wookieepedia says that Jango/Boba Fett's ship is a Firespray-31 patrol and attack craft. It's profile resembles an elephant head and trunk. This new LEGO version is about one of the best I've built. To date, I've built the Jango Fett blue and white version (7153), and the second update of Boba's version (8097), and now the 20th Anniversary (75243). Brickset has a complete listing of all the LEGO Slave I's ever offered.
Of all the Slave I's, save perhaps the Ultimate Collector Series, this current version is my favorite. It fits nicely in scale with other non-UCS ships such as the 75257 Millennium Falcon or the 75218 X-Wing and 75249 Y-Wing. Also, it just looks great. A nice variety of colors and parts perfectly create the shape and styling of Boba Fett's craft.
20th Anniversary
For the 20th Anniversary of Star Wars LEGO, last year in 2019, LEGO produced a range of sets that were original offerings back when LEGO first licensed the brand. The Slave I was one of those. The instruction manual includes a few little blurbs about that first LEGO Slave I, and how it has been modernized for builders 20 years later.
Also included, in each of five sets, were a special recreation of an original Star Wars minifigure. The 20th Anniversary Slave I includes Princess Leia Organa, complete with blaster and display stand, just as she appeared 20 years ago (albeit with a logo on her back this time).
I personally think this was a missed opportunity. Sure, make Princess Leia, but I think LEGO should have recreated the original Boba Fett. Back then he had a black head and a single molded helmet and jetpack element. I think it would have been nice to have a new release of a classic minifigure, along with the minifigures that were made available (Vader, Han, Luke, Lando, and Leia).
Finally, new to this version of the Slave I is a sloped brick in burgundy, to help re-create the sloped edges of the bounty hunter's craft. It is a combination slope and triangle edge brick, and will be quite handy for MOC (my own creation) building I imagine.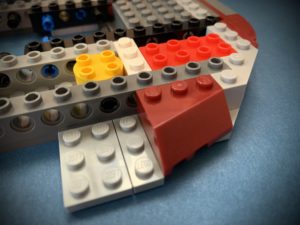 Get the Latest LEGO Sales & Deals
The Build
The build is fairly straight forward, and easy to follow from the instructions. A bit of Technic framing in the beginning gives way to bricks and plates. This allows for the creation of curves and adds details. There is a nice array of LEGO elements in burgundy and sand green, as well as your obligatory spaceship grey, with the odd orange and other colors thrown in for weathering.
A very nice inclusion to this model is a Technic handle out of the back – or bottom – of the ship (depending on orientation). This allows for plenty of swooshing and play, but also folds up when not in use to allow the ship to land. I rather like that LEGO was thinking of the younger builders. Children may wish to re-create scenes from the films, while the handle has also been engineered to be unobtrusive for older builders.
My only gripe pertaining to play features are the flick fire missiles built, it seems, into every single Star Wars ship. I personally find them annoying and lazy. The Jango Fett Slave I had bombs that dropped out of the rear, and others have had hidden missiles and whatnot. The flick fire missiles just seem uninspired to me. But you get two of them, right in the middle of the "trunk" of Boba's ship, anyway.
A second critique is the cockpit. Inside it is very bare bones, and without much detailing. Two stickers placed on the inside walls are all you get as regards computer displays. There isn't even a chair or seat, just a plate on which to set Boba Fett. It does rotate for flight, so that is something, but I would have preferred a bit more inside the windscreen.
The Minifigures
Along with the design of the Slave I, which really sings despite one or two nitpicks, the included minifigures are fantastic. Aside from the 20th Anniversary re-issue Princess Leia, you receive the most recent updated Boba Fett. He's got helmet, cape, and jet pack and really nice printing, though it is lacking on his arms. LEGO utilizes a brick built gun for Boba that isn't so accurate, so I would recommend FireStar Toys' version of the Mando Carbine if you want something closer to the film version.
Next you get a standard Han Solo with the new printing that has been available for a while now. Of course you also get a Han Solo in Carbonite molded element. This one, as all of this design, have room to place the minifigure in the back. Finally you get 4-LOM and Zuckuss, fellow bounty hunters. Zuckuss is unique to this set, and has a curved "dress" piece for his lower half (the character is dressed in robes in the Empire Strikes Back.)
While only Zuckuss is new, and Boba lacks arm printing, they are a fine group and a great addition to your collection. If you don't already have them from other sets, this is a nice way to get them. Other versions of the Slave I have included Bossk or IG-88, so it is nice to get different minifigures in this one.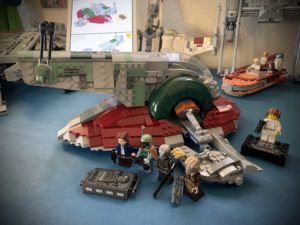 Final Thoughts
As a parts pack the Slave I has 1007 pieces and costs US $119.99. That works out to about US $0.12 per piece. It's a little high, and except for the new slopes there aren't too many unique pieces. The sand green still seems relatively rare, but I have to think if that's all you need, there are cheaper ways to acquire them. All in all, I wouldn't recommend buying this set for the bricks.
It is a wonderful display and play set, though, so don't hesitate to pick it up for that reason. It looks great next to other Star Wars ships in the same scale, or just by itself. I can't wait to photograph it and find some way to mount it for display in flight mode.
All in all, I had a relaxing time building this Slave I, and as I said earlier, it's one of my favorite versions released to date. Go get yours today and complete your LEGO Star Wars collection!
Get the Latest LEGO Sales & Deals