Judge Me By My Size?
The LEGO Star Wars 75255 Yoda is a fantastic set. Though not billed as an Ultimate Collector's Set, it is nonetheless a large, intricate build. Get ready for a mountain of tan bricks and plates, though, as Yoda's Jedi robes are the main build here. All 16 inches (or 41 cm) of Yoda looks great from any angle, even the reverse, and it is a challenging few hours of LEGO fun! Let's get into it!
My Ally Is The Force
The Yoda build begins innocuously with a few Technic pins and square beams, and this becomes a common theme of the build. What you are currently working on doesn't look like anything at all. It isn't until you assemble sub builds together into large panels that what you are building begins to look like something.
At any rate, the main frame beneath Yoda is all Technic and is relatively quick to put together. His size becomes apparent early on, as well. Aside from his head and feet, the Technic scaffolding is most of Yoda's height.
After pinning and beaming, the first actual parts of Yoda that you assemble are his tridactyl feet. Lots of cool sand green elements make up Yoda's slightly reptilian skin, and the first elements are used in his feet. The feet pin into the bottom of the Technic frame you just built, and then you are off to the tan builds of the Jedi's robes!
Never His Mind On Where He Was…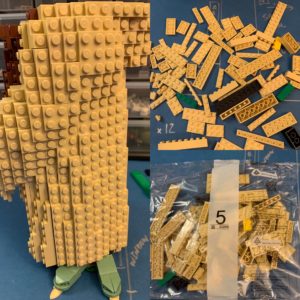 I cannot overstate enough how exacting and painstaking Yoda's robes truly are to build. I am new to this sort of building, and maybe it takes practice, but the majority of the robes took my full attention to construct.
Nearly everything of Yoda's robes, except for a few hidden odd colored bricks, are in the exact same shade of tan. The instructions deal with this by highlighting each added brick in red so that you can kind of tell where you are adding each new element. I still had to double check that I was adding the correct number and type of brick, and then double check their placement.
Each panel of robes, of which there are five, are generally divided into two sub builds. The front of Yoda also includes his dark brown tunic and the beginnings of his arms. At least the tan here is broken up with some other colors and a bit of Technic underpinning. After the front panel, though, there are three other panels to build for the left, right, and rear parts of Yoda.
On What He Was Doing…
Honestly, all the tan almost drove me to give up on the build process. It was challenging, as I've said, but also frustrating. A few times I built incorrectly, and had to disassemble and then reassemble the section I was working on. Twice I went to combine two sub builds into one, and found that I was a stud or two off of the correct placement of plates.
In the middle of the sub builds for the robes, there is no way to tell the orientation of, or even what section, you are building. There are no contextual clues or sense of the overall whole. It is all 1×3, 2×6, 1×6, 1×2 et cetera ad nauseam.
Finally, though, things do start to take shape as you connect each panel to Yoda's Technic frame and the Jedi Master begins to appear out of the tan chaos.
Luminous Beings Are We
Finally, just when I couldn't handle any more tan, I opened a bag full of sand green bricks. In contrast to the tedium of the robes, Yoda's head is fun, interesting, and a delight of SNOT (studs not on top) techniques and sideways building with slopes and curves galore.
I love Yoda as a character, and think his overall design is very cool. Sure, there is quite a bit of Kermit the Frog in him, but his little elfin ears and impish spirit are a delight each time I watch a Star Wars film that includes him.
It should be no surprise that I enjoyed showing off each sub build and addition to my wife as I was constructing Yoda's head. I am sure I received more joy than she did at that point, but I appreciate her humoring my child-like delight.
Get the Latest LEGO Sales & Deals
Not This Crude Matter
Something else I should mention: I remember a point of contention when this set was first introduced. Yoda's peculiar eyes got a lot of critique. People thought they were creepy, off putting, or just strange. I will grant that in most pictures they do seem that way, but in person, I find there emerges quite a bit of character in Yoda's eyes as they are built.
The Jedi's eyelids are even moveable, to a point. This helps give Yoda expressions ranging from anger, surprise, all the way to amusement and sadness, depending entirely on the tilt of the lids. It is a testament to our own perception, and the ability of humans to perceive a face from abstract bricks made of ABS plastic assembled just right. My overall point is that in person, his eyes aren't strange. They are quite nearly the best that could be designed, in this scale, in my opinion.
Y0da's head is assembled in several sections, with the top and back done last to create a terrific looking cranium. Unfortunately, Yoda's ears are fixed in place. I would have liked to be able to re-create Yoda's expressive ears at least. That said, there is a small ability to rotate Yoda's head to the left and right.
Why Wish You To Become Jedi?
Finally, Yoda's three fingered hands and little green lightsaber are constructed. Unlike the previous Yoda set, UCS set 7194, which was based on the Empire Strikes Back version of the character, this one resembles Yoda as seen in Attack of the Clones. This means he needs his famous laser sword. The lightsaber itself measures about a foot, or 30 cm, in length. I'll admit I swished it around a bit before I connected it to Yoda's hands.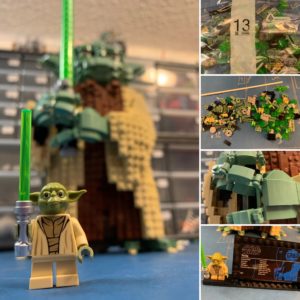 I wish that this set included parts, and alternative instructions, to build Yoda's cane so that the more benign version of the character could be displayed. While lightsabers are cool, as the Jedi himself said "Wars make not one great" and I rather like the Yoda of Empire or The Last Jedi, where his weapons are wisdom and gentleness. However, a lightsaber there is, and it certainly is spot on.
After connecting Yoda's left hand, the build lacks only one bit: the display plate. Like I said, this isn't an Ultimate Creator's Set, but it has all the hallmarks, including the minifigure Yoda and display plate. This is an amusing part, because most plates give the facts of the ship or character. Here, though, there are unknowns, such as Yoda's species and planet of origin. In fact, the most stats that are listed are "Notable Apprentices" which features Luke, Obi-Wan, and other Jedi. I just think that it is funny that with a character with such mysteries as species that LEGO bothered with a fact plate, but there you have it.
Final Thoughts
Yes, the tan brick built robes are painful to assemble at times. However, the completed Yoda is quite awesome. I just looked at him for a while once I had finished. Finally I moved him to a small end table for display, and he brings a smile to my face every time I walk by. For me, that is why I build with LEGO. I (mostly) enjoy the process and I love the finished results.
For Star Wars fans, and lovers of challenging builds, this is the set for you. It will have plenty to engage you during the assembly, and will look great once done. For the uber collectors of pieces for their own mocs, you get tons of tan and lots of sand green, a relatively rare color. Worth adding to your parts bins, especially at about six cents ($US) per piece.
Yoda retails for US $99.99 and is for sale now on shop.lego.com and wherever else most LEGO are sold. If you can, I would recommend you pick one up today and get a place of honor ready for it in your collection.
Get the Latest LEGO Sales & Deals