LEGO produced 16 different Marvel sets
last year (I don't count polybags and exclusive products here). Five of them were, more or less, linked with the final Avengers movie, Endgame. They were released in the first part of the year because Endgame started showing in cinemas in April. In November, LEGO made one more Avengers set – 76144 Hulk Helicopter Rescue. Let's take a closer look at this set. Please note: This review contains spoilers for the film Avengers: Endgame. If you haven't watched it yet, please return after watching.
Box content and price
76144 Avengers Hulk Helicopter Rescue set contains 482 pieces packed in three bags which allows you to find the parts easier. Instructions are in one book with exactly 100 pages. Unfortunately, the sticker sheet with 14 stickers is here too. I always prefer printed parts, however, I think that golden details look very nice. You can see the picture of the sticker sheet from Bricklink below. Recommended retail price is £54.99 / $59.99 / 59.99€ which means you will pay 11.4p / 12.4c / 12.4c per piece. That price sounds reasonable, especially when you have in mind that this is a licensed set.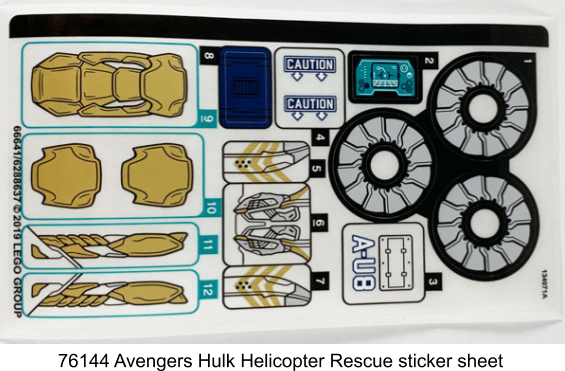 Figures
LEGO Avengers Hulk Helicopter Rescue set contains five minifigures: Rescue, Black Widow, Hulk and two Chitauri.
Rescue (Pepper Potts)
The second appearance of Pepper Potts, Tony Stark's fiancée, was one of the main reasons why Marvel and LEGO fans bought this set. Not because of her character but because of her Rescue armour. The minifigure is mostly in dark purple colour with golden details which perfectly represents suit we have seen in the movie. The figure comes with additional repulsors, this time in a different shape than we have seen in Infinity war sets on Iron Man minifigure.
All the parts from the figure are exclusive except head (the same part was used in two different Hermione Granger figures from Harry Potter and Carina figure from Pirates of the Caribbean). Iron Man got a new helmet design recently, and we can see it here too. It is made from only one part and you can't open it too see the minifigure's face without completely removing it. Some AFOLs (Adult fan of LEGO) started to complain about this helmet, but I think it is very nice and allows LEGO to add more design details on it. Hairpiece for Pepper is included too, so you can use it if you want Rescue without the helmet.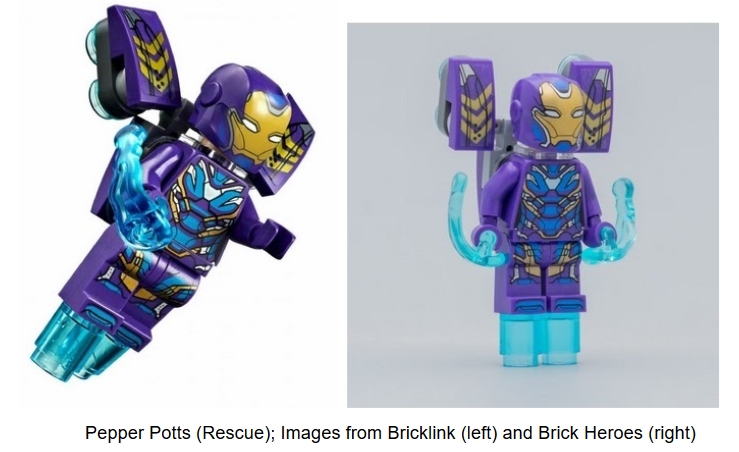 Black Widow – White Jumpsuit
Another figure in the set is Black Widow (White Jumpsuit). She wears the Quantum Realm suit, one of the most common parts in Endgame sets. Her double sided head is used in nine figures before, including herself in the Infinity War set. Although she is recycled with known parts, I think her representation is very well. You can easily make this figure if you have any set with Quantum Realm suit and in my opinion, she isn't necessary for this set. During the final battle, she wasn't there and Avengers Ultimate Quinjet set contains the same figure too. We saw many characters in Endgame final battle and any of them can replace this figure. For example, Howard The Duck would be a great addition to this set. (Yes, he was in the movie, take a closer look and you will see him with other characters recovered from the snap!)
Hulk – White Jumpsuit
In my opinion, this is the second most interesting figure in the set. Although we have seen a lot of Hulk big figures in the past, I think this one is a must have. The Quantum Realm suit looks great and contains the same details as normal (minifigure) suit. Hulk wears gauntlet on his right hand. This time, according to the movie, the gauntlet is dark red because it represents Tony Stark's device developed with the help of both Bruce Banner and Rocket Raccoon. The gauntlet is the same as we saw in the previous wave of sets, so it can hold six infinity stones. Unfortunately, you will get only four infinity stones here: mind stone, reality stone, soul stone and space stone. It is possible to replace the gauntlet with additional Hulk hand provided in the set.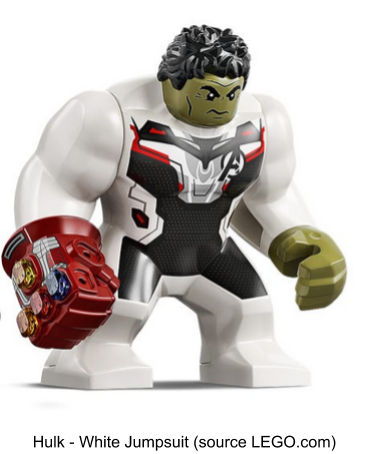 Get the Latest LEGO Sales & Deals
Chitauri
And the last but not least, two Chitauri figures! According to MCU Fandom, the Chitauri are a sentient species of cybernetically enhanced beings operating under a hive mind intelligence. Figures are completely the same and are containing three main LEGO parts without any additions – head, torso and legs. Head and torso are exclusive to this figure, although you can get two of them in 76126 Avengers Ultimate Quinjet set too. I am a little bit disappointed with their unprinted legs. The whole armies of them were presented in Marvel movies, so it is nice to have at least two in our collections.
Chitauri Vehicles and the Helicopter
Little craft for Chitauri and their creature Leviathan are added here too. Both of them are represented using dark tan and pearl gold colours which looks very nice. The little craft is equipped with a laser cannon and two stud shooters. Stud shooters are always interesting for kids, so this is one big plus to the set's playability. Leviathans are the big flying creatures which you probably remember from the New York battle. They were a big problem for the Avengers team (fortunately, Iron Man and Hulk were there to help). This Leviathan model measures only 19 cm in length so you will never say that it is so huge on the big screen. Due to its size, it can carry only one (Chitauri) figure. Nevertheless, some recognisable features are included, like four pearl gold teeth inside the creature's mouth.
The helicopter from the set has some unusual functions. It's colouring nicely correspond with Avengers Ultimate Quinjet. Despite its size (23cm in length), you can put only one pilot in it. I am personally a big fan of a trans-orange canopy. It looks so futuristic. Additional ammunition is stored inside the light bluish grey crate which is a very efficient usage of space. There is a lot of space for Hulk. His feet connect to the aforementioned thrusters very well and he can be released into battle easily by pressing the trans-orange button behind the main rotor.
Conclusion
Overall, I think this set is must have for every LEGO Marvel fan. Pepper Potts (Rescue) and Hulk in Quantum Realm suit figures are brilliant, while the addition of two Chitauri is very welcome. The helicopter, the little craft and Leviathan are giving this set high playability value. The only minus for me are stickers. There is a lot of them and you need to be careful when putting them if you want your bricks to look nice. Price for this set is reasonable because of license. If you are looking for the best set in last LEGO Marvel wave of sets according to figures/complete model/price I think you just found it!
That's it! Hope you find some interesting facts in this blog post. Do you already own this set? Are you planning to buy it? Tell me in the comments section! Don't forget to check FirestarToys Instagram page while waiting for the new blog post. 🙂
Wish you bricktastic day,
Your legofan_4
Get the Latest LEGO Sales & Deals