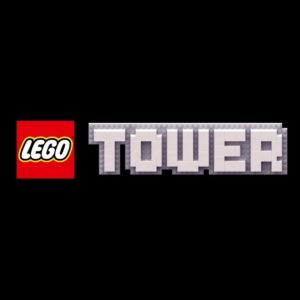 A few months ago The LEGO Group announced that they were working with NimbleBit, the company who brought us Tiny Tower, to create a LEGO themed idle game: LEGO Tower. While the game is available for pre-order in the App Store, the beta testing is now open for both iOs and Android users. You can click this link which will take you to the beta test page, and then you can follow the on-screen instructions to take a sneak peak at the new game.
Being a fan of both LEGO and video games, I took the courtesy of downloading the beta version of LEGO Tower. Just for you. That's right, I only downloaded it so I can let you guys know what it's like. Nope, no other reason. I'm a very busy woman, you know, I don't have time to play games! (yeah, even I don't believe that one :))) )
So let's take a closer look, shall we?
The LEGO Tower Game Opening Screen
When you first launch the game, a few helpful tips appear, like how new minifigures move into residential floors and how they can be employed in business floors to earn you coins. As soon as the tips are done, Gail from the LEGO Movie greets us, and tells us what to do.
Each tower starts with a lobby, a random residential floor, and a random business floor. You hire your unemployed minifigures, who are already living on the residential floor, and start stocking the store. Stocking time varies depending on the floor and the complexity of the order. For example, on a Fashion Design floor, you have three choices: Pattern, Sewing and Fitting. Stocking time is 3, 5 and 8 minutes respectively, and the longer it takes to stock, the longer it takes to sell out. The same thing applies to all the business floors, and as you go up in the tower, so does your stacking and selling out time. Also, you can only stock the items on the same floor one by one. 
There's a nice little elevator on the left side of the building. Minifigs get in from time to time, asking you to drop them on a certain floor. If they go to a residential floor, they become residents of the tower, and then you can hire them when necessary. When you tap the apartment, you see all its residents, and from there you can change their appearance using the pieces you collected, change their job, even evict them. If the minifigs want to go to a business store, you earn coins.
As with most mobile games, there are two types of currencies: Coins and Bux. You earn coins as you play, and Bux can be purchased with real money – although from time to time you get silly quests like "Someone stole my lunch" or "I've lost my pet", and need to find a certain object within the tower. These quests earn you Bux. What's so silly about losing a pet, you say? Well, I just had to find someone's shark, so… yeah 🙂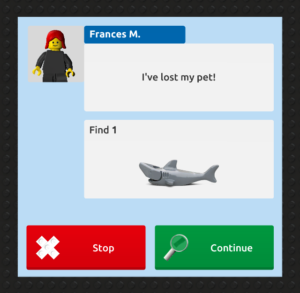 Floors and Pieces
Building a new floor costs 5,000 coins at first, and as you go up, so does the price. There are six different types of floors you can build: Creative, Residential, Recreation, Retail, Food and Service. Every floor except the Residential ones need minifigures to run them, so make sure you have enough residents to hire before you go building businesses.
As soon as you build the 5th floor, the menu changes, allowing you access to things like Bux Shop, Customize, and – wait for it – BrickBook, where everyone can share their piece of mind. Some of these features are exclusive for Tower Club members, which you can purchase from within the app. The club membership gives you a number of days, in which you can access more cool stuff like choosing a certain floor to build or changing the decoration of your lobby. What I love about it is the first 5 days are free, and they only count down when you play. In other words, if you download the game, join the club, but something comes up and you can't play it for a week, then you still have 5 days of your membership (or more, if you make a purchase).
What can I say, I love games that don't force you to play.
As you play, delivering visitors to floors and re-stocking your businesses, you find "pieces". These are headpieces, heads, torsos and legs, which you can use to change both your appearance and the appearance of your residents. You have an infinite number of some generic pieces, but the ones you find are numbered – meaning if you use it on one minifigure, you can't use it on another. If you want, you can send your spare friends to your friends, too.
Get the Latest LEGO Sales & Deals
Adding Friends
Oh. My. God. Can this be any harder? My friend and I spent 15 minutes trying to add each other as friends. Two smart women, both accustomed to games, and we couldn't figure it out. Wow.
This is one of the features that appears after you build the 5th floor. You get a nice screen, asking for the nickname and the player ID of the person you want to add. Sounds easy, right? Except there's no indication that you need to write BOTH the nickname and the ID! If you only write one, you get the "Invalid nickname" error.
Fortunately for me, my friend was much smarter than me, casually mentioning that I should fill in both fields. After that, the problem was solved, so keep that in mind when you try to add your friends.
Edit: I just learned that you can fill in the nickname with anything you like, the only thing that matters is the code. Thanks to my fellow blogger Alan for that info!
LEGO Tower Club Membership and Customizing Floors
Like I mentioned before, you get 5 free days of premium features when you start the game. After that, you'll need to make a purchase. Personally, I'd wait until the game is released for any purchases, since I don't know whether my purchases will be transferred or not. Better safe than sorry, right?
However, you do have the option to login with your LEGO Id, and save your progress on the cloud, which allows you to play on different devices with the same tower. When you open the game on another device, it tells you another LEGO Tower has been found under the same name, and from there you can either use that tower or ignore it and start fresh.
When you become a Tower Club member, you can customize your lobby, roof and elevator, choose the shop or the apartment you want to build, and get reduced prices for things you purchase in-game with Bux. Otherwise, a random apartment or shop will be chosen for you. As for the lobby, the different designs are available to purchase with Bux without a membership.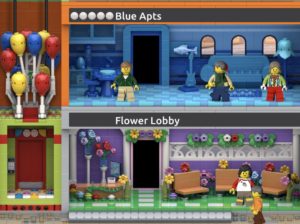 Once you build the 5th floor, you are able to change the appearances of separate floors, too. You tap the floor, tap the little wrench on the upper right corner, and tap brick color. From there you can pick the color you like, which changes the frame of the floor (the default color is light gray). The same can be done for the lobby, and you can also change the color of the top floor, which is the "Build New Level" floor.
The Residents of LEGO Tower and its Special Guests
Each apartment houses 5 residents, and when you tap on them, you can see their detailed information. From there you can change their appearance and their job like mentioned before, evict them, or send them to a friend. If you want to see all of them, you tap the "Minifigures" section under the menu.
Now in the detail screen, there are 4 entries next to the minifigure. Where they work, their dream job – which triples their rent and gives you some extra Bux if you match it -, the apartment they live in, and how much rent they pay.
From time to time, you get 'special' visitors. So far I've encountered three of them. One of them reduces construction time by 3 hours, the second fills a residency with residents, and the third buys the whole stock of a random product on a floor of your choosing. You have the option to send these to your friends as well.
Yes? No? Maybe?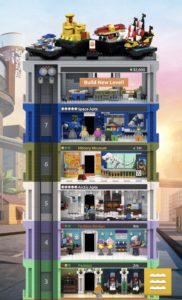 Personally, I like anything related to LEGO (no surprise there), and games that don't require too much concentration. On that note, LEGO Tower will be staying on my phone, both during and after the beta phase. The graphics are pretty good, and it's amazing to see so many cool builds, even on a small screen. Don't expect too much action, it is, after all, an idle game. But the silliness of the residents and the look of the floors managed to capture my heart.
If you install the game, let me know what you think about it in the comments section. And if you need a friend to add, my nickname is Pinar and player ID is 1F1J. Remember, you'll need to write both to add me!
Super special thanks to my friend for letting me know about the beta phase. This article would not be possible without her! Give her some love by adding her in the game, too. Her nickname is LadyPopularWu (she's very popular in certain circles) and her player ID is 15QH.
All the images are screenshots taken from the LEGO Tower game and belong to NimbleBit and The LEGO Group. Not the one below, obviously. That's me giving some love to my friend.
Get the Latest LEGO Sales & Deals