After writing my first blog on LEGO Steamboat Willie, it made me more excited for this set to finally be released on 1st April 2019. So when that day was almost here I planned ahead and made sure I had saved up my money and had the whole day off to enjoy this set.
I was so excited on the 31st March, so much so that I sent an email to my local LEGO store so that it would be read by the store team before I set out on my journey.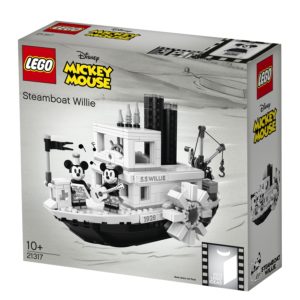 I received my reply early when the store opened, and to my delight they had it in stock and it was a limit to two per customer, I did not question the limit because I knew I was only going to buy one or I would face the wrath or my other half.
So this was it, I embarked on my journey to the Lego Store!
When I arrived 15 minuets after the store officially opened to the public. There it was Steamboat Willie set number 21317, it was beautifully displayed on its own stand with plenty of them to buy, I stayed composed and picked up one set, yet the voice inside my head was screaming "BUY EVERYTHING IN SIGHT!"
… sadly I did not.
I proudly picked up the set and took it to the till, I was greeted by the wonderful staff member who told me he had restocked the display shelf twice in the 15 minutes they had been open!
Then it suddenly dawned on me the error on the box that made its way to production. The error being that LEGO Ideas sets are numbered in sequential order and this first run of the Steamboat Willie set had be wrongly numbered 24 where it is actually number 25 in the 'Ideas' line.
The Flintstones set 21316 was officially set 24, so could this error on the LEGO Steamboat Willie box potentially be a collector's item in the future? Possibly yes… if the original Millennium Falcon set 10179-1 has taught us anything is that LEGO sets do have a collectible value.
I had completely forgot about the misprint and being a hoarder of flat packed LEGO boxes the thought of a Collectible LEGO box was second nature to me.
Once I had the set in my hands I rushed home excitedly to get building and enjoying the Disney magic that this set held.
What is in this box of Disney Magic?
Opening this lovely monochrome box was a joy… I mean opening any LEGO box is a joy but this on just felt extra special. I was greeted with seven bags organised in to three parts, a small instruction book and two boat pieces.

In my previous post I speculated that LEGO may use the date of Steamboat Willie airing in 1928 as the piece count, sadly I was wrong. However the jump from 156 pieces in the original idea all the way to 751 for the official set was very welcomed by me.
Looking at the bags, I had a feeling LEGO would use their colours somewhere in this set but I was not sure how, seeing the first set of bags was a pleasant surprise, there was green, blue, red bricks galore! There was also quite a few Technic parts which I was not expecting.
Inspecting bags two and three seemed to show they were for the exterior of the boat with a lot of black and white parts. Now I struggle to find bricks at times when I am faced with single colours, and if you have built the Ideas Ship in a Bottle set number 21313 you will know the pain of finding all of the transparent bricks in that set. All of the black and white pieces seemed daunting at the time but I was also really excited to start building, so off I went!
Beginning the build
Opening bag set one was a treat, my first bit of excitement was finding the parts of the new Mickey Mouse Minifigure, which I will talk about further down the page because I feel like the LEGO Minifigures in this set are so special they deserve their own paragraph!

Beginning building this set was not an immediate jump on starting the ship but was building a nice display piece with the Mickey Mouse logo and the date '1928' which I thought was a nice touch to include the date of the air date for the cartoon, and what was better is that it was a printed piece!
As a LEGO fan I love printed parts and fear the responsibility of putting a sticker on a brick without it being wonky, I have to go to a happy place in my mind when I apply stickers to LEGO. One of the great things about the LEGO Ideas sets is that they never seem to use stickers and always add that little extra special touch with official printed parts and this set does not let me down.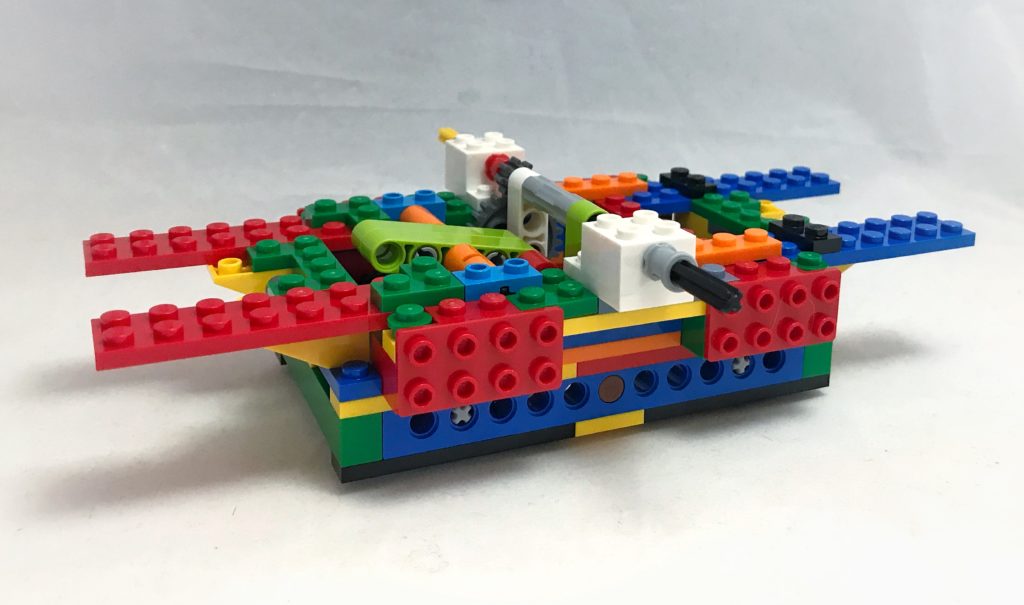 Building up the interior of the boat was great, so many colours and I felt so curious as to what I was building… it did not look like a Steamboat.
The interior because of it having functional abilities has a very square skeleton with gears and technic parts, which I found very interesting. I love LEGO sets with these special secrets where the inside is mechanical and the exterior is a work of art, it all adds to how unique and special this set is.
In my experience of opening bags in larger sets of LEGO is always fun because you usually get a minifigure for each set of bags. I was excited to move on and pair Mickey with his love Minnie.
But Minnie was not there! Poor Mickey would have to wait a little longer to see his girlfriend.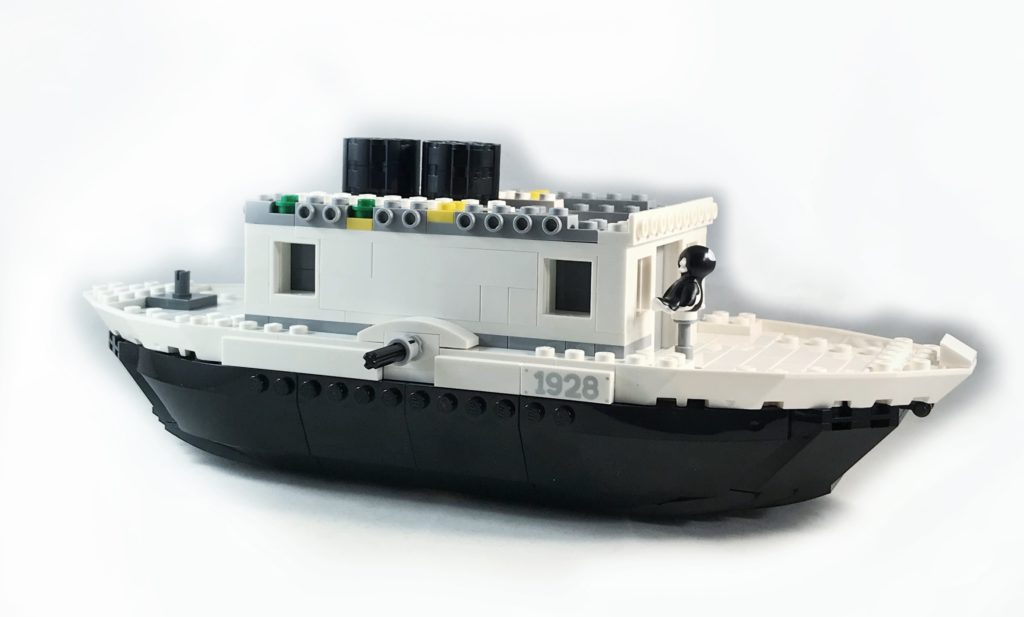 Looking at bag set two, it was filled with less coloured bricks and more black and white so I could tell this was the start of the exterior boat shaping up. And I was right, piece by piece the curves of the bottom of the boat began to form. The ship deck became a nice area for Mickey to supervise the build.
The last coloured bricks that are used are hidden in the final build, using techniques with SNOT (Studs Not On Top) black and white bricks neatly cover the bright primary colours of LEGO.
The exterior built up was becoming a really nice looking set and also larger than I expected. It also cased the functional elements which I found fascinating. The inside was gears, cogs, poles and wheels, it was more of a car than a boat, but the outside screamed "Oh Boy! I'm LEGO Steamboat Willie!"
Coming to the end of bag set two brought the set to life with functionality. Using the animation of Mickey whistling his tune, while the chimney stacks dance up and down from the cartoon was a brilliant way to make a functional set, it also gave it great playability. It echoed the cartoon perfectly which I think is a great effort made by the LEGO Ideas design team to bring this feature to life.
On the instruction page before I began building bag set three I was introduced to Mickey's Parrot which is a re-colour of a bird part that has been in quite a few LEGO Friends and LEGO Elves sets, personally I think the choice to use this mould instead of the normal classic parrot was a great decision. It adds to the cartoon feel of this set and brings a little more life to the set.
Back together again
On to bag set three and Minnie finally joins Mickey on the LEGO Steamboat Willie, but before they can embark on their adventure together,
I should really finish building the rest of the boat.
The final bags consist of black, white and grey bricks, finishing the build by adding a roof to Captain Mickey's Cabin, two boat wheels either side of the ship, the crane for loading the potato cargo and a few other details.
After building some of the last few details the ship looked… well… shipshape. So I decided I could play with it a little. I hadn't built the crane yet but the chimney stacks were finished and they were taller which meant it was more fun to roll back and forth to watch the chimneys dance while I whistled Mickey's tune.
After playing with the unfinished boat for a short time, I decided I should really put the finishing touches on it. Building the crane and feeding the LEGO thread through the tiny hole and adding the last few accessories to the ship…

Get the Latest LEGO Sales & Deals
LEGO Steamboat Willie was ready to embark on its first adventure!
But first I needed to add those lovely Minifigures for the voyage.
Meet the Minifigures
I adore the LEGO Architecture sets but I always feel like I am missing something when I build one and that is the Minifigures. I always feel like they complete LEGO sets.
LEGO Steamboat Willie is a beautiful piece on its own but adding the two Minifigures really bring it to life.
The new for 2019 Mickey and Minnie Mouse Minifigs are very cute in their monochrome colours and what makes this a little bit more special is that LEGO have made use of the animations grey tone and changed it to a lovely silver for Mickey's shorts and Minnie's Skirt piece.
Minnie comes with a cute guitar accessory and a printed tile with the music notes for 'Turkey in the Straw' where Mickey's accessory I would say is a whole steamboat!
Mickey and Minnie both come with new moulded hat pieces. This is very unusual and caused a little stir in the LEGO ideas community as LEGO does "not allow suggestions for new LEGO parts"
So how does this set get new moulds? How is that fair on other designs I hear you ask…
Well, the original design did not include the use of any new suggested parts and only used the 2016 CMF Mickey Minifigure edited to be monochrome using photo editing tools.
After the official announcement of the Disney Collectible Minifigure Series 2, The LEGO Group's very own Design VP Matthew Ashton revealed on twitter that LEGO had been planning on releasing the vintage style Mickey and Minnie for quite some time before this set was chosen to be a LEGO Ideas set.
So this worked out well that the Ideas set could have some special new moulds that were technically not made for the purpose of the Ideas set.
Now with the announcement of Disney Collectible Minifigure Series 2, this caused more of stir as this meant that this Ideas set does not have exclusive Minifigures, where a lot of other Ideas sets do, such as the LEGO Flintstones sets or the LEGO Big Bang Theory (Set 21302)
Fortunately LEGO had already thought ahead about this. There is actually a few differences between the CMF and the LEGO Ideas Minifigures. The differences are subtle colour changes such as on Mickey's hat, the CMF has a black top of the hat where the ideas set is silver. Mickey's CMF counterpart also has white shorts instead of the Ideas silver shorts.
Minnie on the other hand has few changes where her skirt piece is grey in the CMF but the Ideas Minnie has a silver skirt piece. And again the hat piece has a slight monochrome change, swapping the silver flower on the hat for a whit flower.
I am glad they made these small changes, making the Ideas Minifigs special with silver seems more collectible than the possibly mass produced CMF variants. Personally I would have preferred different characters all together in the CMF series such as Goofy, Pluto or even Belle and the Beast in minifig form instead of being Friends style minidolls… Maybe in the future we will see a Disney CMF series 3 including my wishlist minifigs.
Bon Voyage!
I thoroughly enjoyed this build and all of the little surprises. I think LEGO Disney sets are a great theme and it has such a vast variety of options the LEGO Group can experiment with.
This month sees the release of the Disney Collectible Minifigure Series 2 and the Toy Story 4 sets have just became available to buy too, so I should have quite a happy building month ahead!
I am off for a journey on my LEGO Steamboat Willie now. If you have built the set yourself or have want to tell us about your thoughts on the set, please leave a comment below!
In the words of a famous Disney bouncing Tigger…
TTFN 😉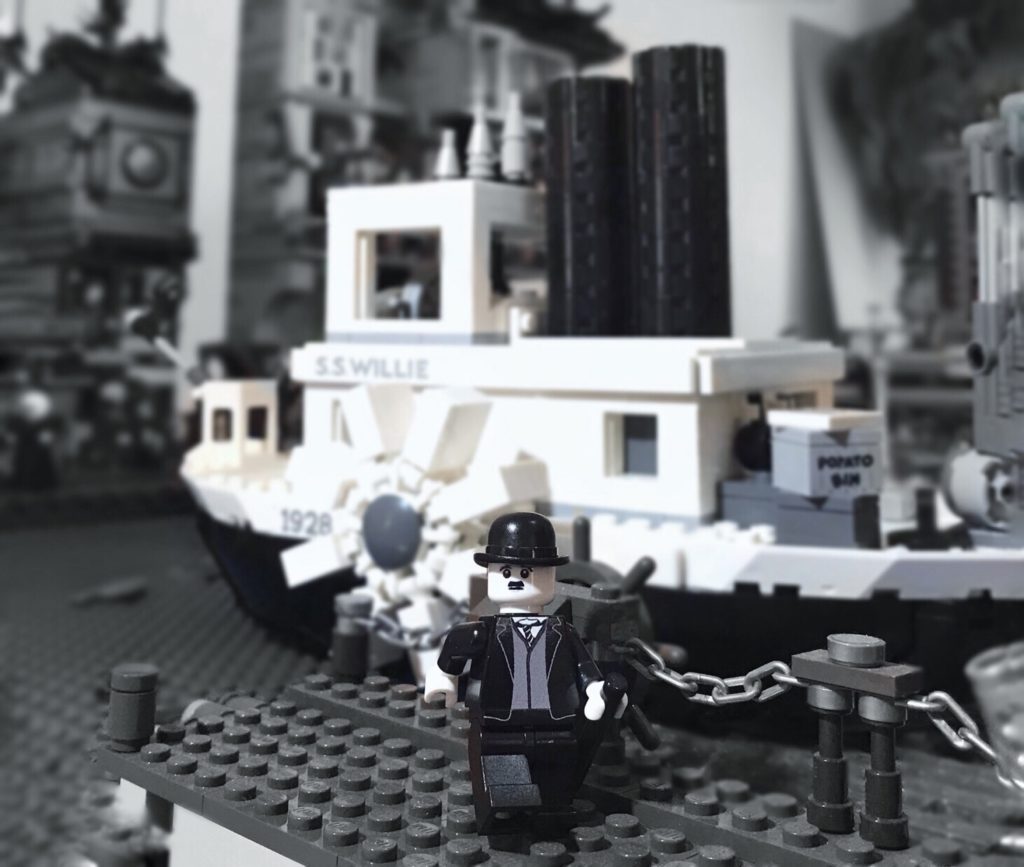 All images are my own unless stated otherwise.
Get the Latest LEGO Sales & Deals