Whether you're looking to safeguard some capital or provide yourself with a lucrative nest egg for retirement, LEGO is certainly worth looking into when it comes to investment potential. LEGO has been a popular playtime favourite for decades, with the brilliant building brick brand only soaring in popularity in more recent years thanks to its broadening appeal to adults. Away from its emergence as a universally beloved brand, LEGO has also become enticing to those looking to make some serious money on the resale market. In fact, recent reports have proven that LEGO offers more reliable returns than gold for investors. So today, we'll discuss whether LEGO sets are a good investment or not.
How Much Money Can LEGO Make You?
Before we get into the finer details of LEGO investing, let's tempt you with some statistics to demonstrate just how much money you can make. Remember that impressive Millennium Falcon set that LEGO released as part of its Star Wars range back in 2007? This popular set originally retailed for just shy of 500 US dollars upon its original release. Today, you can expect to resell one of these sets for up to $7,000. Need more convincing? Another Star Wars standout, the Death Star II, was released in 2005 at an RRP of £299.99. Nowadays, you can expect upwards of $1,700 if you're reselling a pristine set.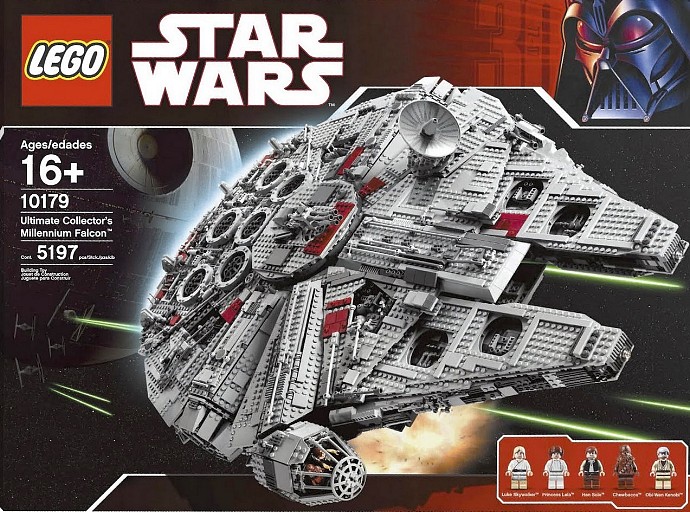 Look into Licensed Sets
The sheer range of LEGO sets currently available is dizzying. Even an everyday buyer looking for a new LEGO challenge can find the choice daunting, so it's no wonder those seeking something to invest in are left scratching their heads. One potentially lucrative line of enquiry for the would-be LEGO investor is the selection of licensed sets. When we talk about licensed LEGO sets, we're referring to the likes of Harry Potter's Wizarding World, Star Wars LEGO, Jurassic World and so on. Some of the biggest television and movie franchises of all time have seen their iconic characters and big screen moments transformed into mini brick form in recent years.
With licensed sets, you've got the best of many worlds. For one, these sets are usually from shorter manufacturing runs and are therefore more limited in number. As a general rule, the fewer there are available, the better the potential return on investment when it comes to reselling your sets in the future. What's more, you've the added benefit of a specific markets with real appetites for specific characters and franchises. A potential buyer needn't necessarily be a LEGO lover to pay big money for your set. Of course, there's plenty who are, so you can expect to command steep asking prices or starting bids for your sets thanks to these incredibly healthy markets that aren't likely to diffuse anytime soon.
Grab It While You Can
A particularly savvy investment strategy is to look for LEGO sets that are soon to cease production. A soon-to-be-retired LEGO set is a good indicator that there'll be a future appetite for this particular product. What's more, it's a clear sign that you're looking at a limited number of available sets on the market. You don't even need to do much legwork in order to identify these potentially valuable sets, either. Simply head to the official LEGO website and head to the relevant section to see which sets are retiring soon.
Once you've made your last minute purchase and tucked your set away for safekeeping, it's simply a waiting game until you've decided your investment has accrued enough of a return before you release it back to the eager pool of LEGO buyers. There are, however, some things to keep in mind with this buying tactic. One of the main ones is that LEGO is known to recommence production of particularly popular sets and lines at a later date. As such, if your investment is still safely tucked away awaiting resale, you may be find the resale value is temporarily affected before production ceases again. That being said, all this means is you're dealt a longer wait before values hit a desirable level.
Common Misconceptions
When it comes to LEGO investments, there's plenty of contradictory advice and misguided insights out there. To safe you the disappointment of offloading your capital in the wrong places and coming up short upon resale of your sets, we'll identify some of the biggest offenders in this respect. For one, don't be duped into thinking older sets make for a meatier return. LEGO sets aren't like a good vintage of wine that commands larger sums just because there's more dust gathered on the bottle. In fact, when it comes to LEGO, you'll find that a great deal of the manufacturer's back catalogue goes for relatively paltry small amounts on the resale market.
Why? Well, it's worth remembering that the LEGO millions know and love today is a relatively recent invention. Sure, those colourful building bricks have been around for decades now, but the elaborate licensed sets and marvellous legions of minifigures devoured by the market today are a more modern phenomenon. Older LEGO sets tend to be very simplistic in nature, with little appeal to the adult buyer. Of course, there's the devout LEGO enthusiast out there who may have an appetite for the early building brick sets, but unless you've got your hands on a pristine, unopened product, you're not going to be able to yield a sizeable return.
Another thing to keep in mind is that a second production run needn't be a negative. Your first-run release can still be advertised as such to buyers, with that first-time factor yielding considerable clout when it comes to attributing value to your LEGO valuables.
For a Limited Time Only…
LEGO is also known for putting out very limited releases. These can be short-run productions of particular sets or seasonal products restricted to holidays or periods of time around special events. Similar to the strategy of seeking out 'Retiring Soon' sets, focusing your investments on these limited runs will almost certainly pay out dividends in the future.
What Era to Invest In
As a general rule of thumb, you want to be looking at LEGO sets manufactured and released after 2000 if you're seeking investment potential. This is the advent of the licensed LEGO set era, with the likes of Star Wars LEGO being a particularly prolific line from this period. Even more recent releases from LEGO are worth purchasing for safekeeping and resale at a later point. However, don't feel the need to cling too tightly to that turn of the century marker when looking at potential investments. There's plenty of sets from more recent manufacturing runs that offer a more affordable choice for the investor. Sets that ceased production only a year or so ago can still yield sizeable profits, even if resold today.
Buy at Retail Price
This is a very good tip for those keen to make the biggest returns possible. In short, don't be tempted to pay out a small fortune on the secondary market for LEGO sets that have already accrued significant added value already. Continued value growth is definitely likely in these cases, but the climb could be slow and might not pay out the wealth you're hoping for. Instead, focus your attentions on the retail market. Strike while the iron is hot, snapping up those desirable sets at RRP while you can get them. This way, you ensure your potential windfall is as impressive as possible.
Keep Your Investments in Mint Condition
If you're investing in LEGO, chances are you're a LEGO enthusiast. Even if you're not, it's hard to avoid the temptation to peel open the plastic, tear off the box lid and start building. Avoid these urges at all costs. Even the slightest wear and tear to the outer packaging can put a major dent in resale price.
To keep the outer packaging of your LEGO set in pristine condition, avoid stacking them on top of each other. They might feel relatively light, but those poor boxes at the base of a pile will undoubtedly suffer dents and creases over time. If you've got the space, keep boxes individually stored. If you're short on space, flip boxes on their ends and store them vertically on bookshelves or other surfaces.
In Summary: Making a Smart Investment
Always buy complete sets in their original packaging. As a general rule, opt for the more specific sets available on the market. Keep within licensed themes and limited runs, avoiding more generic building sets from the likes of LEGO City ranges.
Don't make the mistake of spending a small fortune on older sets that have already grown in value. You will almost certainly make money here, but the further value increases can be gradual. Instead, make savvy investments by buying sets currently in circulation. Always buy at the recommended retail price, or as close as possible to it, to ensure the biggest potential returns on your investment.
Finally, time it right. Keep a finger on the pulse of the market and decide the best time to flip your purchase to pocket the best return on your investment. Sitting on an investment for longer than necessary might harm your profit, especially when you consider additional fees from online marketplaces. Ultimately, sell at a price that works for you. If you've cleared your profit and don't foresee any substantial increases, it's probably the right time to sell.