LEGO has exploded in popularity in recent years, with licensed sets and inspiring build ranges bringing millions more eager fans into the fold. With so many more sets on the market, bespoke builds have never been easier and, with legions of iconic minifigures now available, LEGO fans have been looking to push the boundaries of their builds even further. With smartphone cameras a standard commodity and the likes of YouTube providing the potential of a worldwide audience, home-made LEGO movies are one way of breathing new life into your builds.
Looking to make your own mini masterpiece in LEGO brick form? While it's tempting to simply reach for your smartphone and get started, you'll want to take some time to ensure you've a few key ingredients to make your movie the best it can be. A colourful set of characters and a bundle of bricks and builds should be the core of your project, but investing in some technical equipment is also advisable. One area worth investing in is lighting. To help you make a good investment in this area, we've put together a brief guide on what to consider when shopping for LED kits for your LEGO movie creations.
Your Shooting Space
Your LEGO builds and movie scenes might seem small fully built, but you'll need to account for extra square footage to accommodate your lighting and camera arrangements. If you've room to play with, you can easily add LED lights with adjustable stands and umbrellas. However, if you're limited to a simple desktop or dining room table, you may be best to opt for a collapsible softbox tent that dramatically reduces the amount of space required to set-up your movie-making kit and can be packed away for storage once you're done recording.
It can be hard to find a space to shoot in with conditions best suited to movie-making. In an ideal world, you'll want a windowless space where you can build layers of light artificially. At the very least, you want to be able to block out sunlight and other unwanted light sources sufficiently. A pair of blackout curtains or a thick.
Shadows and Softboxes
If you're new to the world of photography and video lighting, you'll probably encounter some trouble with shadows. When you're looking to light busy builds with multiple characters, you'll have countless small shadows cast in all directions. If you're hoping for a more natural aesthetic, you'll want to limit these as much as possible. A softbox is an incredibly useful tool to help minimise the appearance of shadows produced by artificial light sources. Most LED lighting kits available on the market will include some version of a softbox, but make sure you're buying something of decent quality as this is one lighting accessory you don't want to compromise on.
Don't Forget the Dimmer
You want to be able to make minor adjustments to lighting output when shooting LEGO movies. It's not practical to move lights back and forth in a room to reduce or increase output levels when shooting something as small as LEGO builds and Minifigures, so getting your hands on a dimmer adapter is a must. This way, you can make small refinements to lighting output quickly and easily without disturbing your carefully constructed scenes. Buying lights with integrated dimmers makes life even easier.
Essential Lighting Extras
Nowadays, decent LED lighting kit is very affordable. Lighting accessories are even more budget-friendly, so it's worth building an inventory of indispensable extras to ensure you're well-prepared for every lighting eventuality. Gel filters are one such extra worth looking into. These can be used to change the warmth and tone of light output with next to no effort. Another affordable accessory worth buying is a handheld reflector. These can be used to focus light onto smaller areas and individual subjects without having to add further lights to your setup.
LEGO Lights Buying Guide – Product Reviews
Now we've discussed some key things to look out for when purchasing your lighting equipment, let's delve deep into what's available on the market. Below, you'll find a selection of some great value sets we think could really raise your LEGO movie lighting game.
Get the Latest LEGO Sales & Deals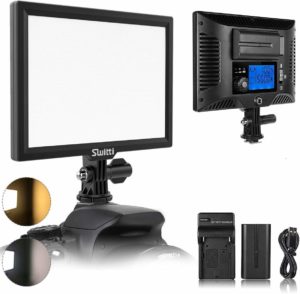 This LED video light kit is both comprehensive in its contents and incredibly user-friendly. The bi-colour high brightness light is particularly handy, with no need for you to swap out filters thanks to easy colour temperature adjustment. The LED light panel is also dimmable, with a natural light output and a gradual dimming effect. You've a power adapter and 4440 mAh battery included, providing you with two different power modes. Choose to go with battery power and you can expect a 3-hour operation after a full charge. The HD LCD display also scores top marks, displaying current brightness levels, colour temperature and battery power in an intuitive manner. If you're relatively new to the world of video and lighting principals, this LED lighting kit is definitely worth the investment.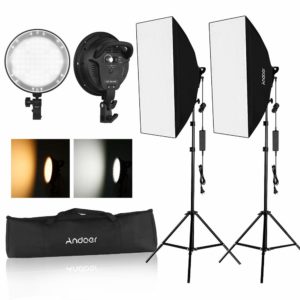 Here's another great value LED light set to add some real atmosphere to your LEGO movies. The heart of this set is a 45W high power light head, but there's plenty more to get excited about. There's two 20 inch by 28 inch softboxes included that can be used to ensure light emitted from your LED is both even and diffused. This is particularly handy if you're looking for a softer light character and to remove unwanted shadows from your LEGO scenes with minimal effort. There's also an adjustable light stand included, with a max height of two metres possible. A sturdy 3-leg design ensures lighting setups remain stable and consistent once finalised, which means continuity isn't something you'll have to worry about when shooting mini LEGO movie masterpieces.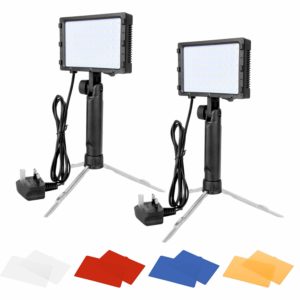 Here's an incredibly budget-friendly option you'll have no trouble getting to grips with. Included in this portable lighting kit are a pair of 15W high output photography lights with stands. You'll also have no need to stock up on gel filters, with two each of orange, white, red and blue. This set is particularly handy for use in lighting smaller stages like LEGO scenes, with handheld operation possible and easy adjustments. The lighting output you'll get from these lights is also ideal for illuminating smaller subjects.
You've everything you need to get started with this great value LEG photography lighting kit. Included in this budget-friendly package are two LED fill lights and light stands, along with two adjustable adapters and a carry bag for all your kit. Each of these lamps include 90 individual LED lights, totalling 24W of output each. The result is a high level of brightness that's clear in character, providing you with a large fill light range. Brightness is easily adjusted with simple knob operation, with a wide dimming range from 1 percent to 100 percent. You can also pick perfect lighting angles with this LED lighting kit, with an 180-degree adjustment possible.
This comprehensive lighting kit is packed full of LED essentials to get you started with your LEGO movie projects. It's an ideal starter set for the beginner, with an easy setup and simple operation. Included are two 20 inch by 28 inch softboxes, two 33 inch umbrellas, an extendable steel stand, an 85W photography bulb, plus an umbrella switch. You'll also find three cotton backdrop rolls in black, white and green, as well as an extendable steel stand to hang them. Clamps, a width extender and a gold/silver reflector are also included. This set is a good fit for those seeking a more substantial home studio arrangement for their LEGO movies, with extras like the umbrellas and reflector providing you with everything you need to make manual refinements to your lighting setups.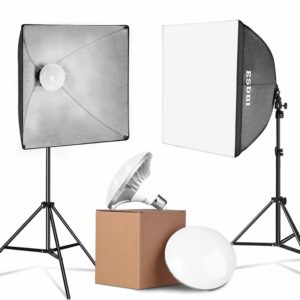 This set might look minimal compared to others on this list, but look again and you'll see a top selection of staples that will greatly improve your LEGO lighting game. The energy-efficient LED bulbs are a robust alternative to conventional filament ones, with no waiting around for them to achieve full brightness output. The softbox material is also worth mentioning, with the buzin cloth making for a softer, lighter and incredibly flexible alternative to traditional variants. You can expect a very soft and uniform output as standard. The softbox stand is also designed to accommodate angle adjustments, with the high-quality aluminium alloy ensuring sturdiness and durability.
If you're looking to keep things simple, this light box tent lighting kit is the way to go. In addition to a pair of 55W LED lights, you've no less than four cotton backdrops and a dimmer adaptor thrown into the mix. The softbox studio tent is the star of the show, however, providing you with an incredibly simple way to ensure beautifully balanced lighting with minimal effort. The outer softbox tent is also foldable, allowing you to pack it away after use. If you're looking to shoot LEGO movies in a tiny space, but don't want to compromise on lighting quality, this is the way to go.
Get the Latest LEGO Sales & Deals