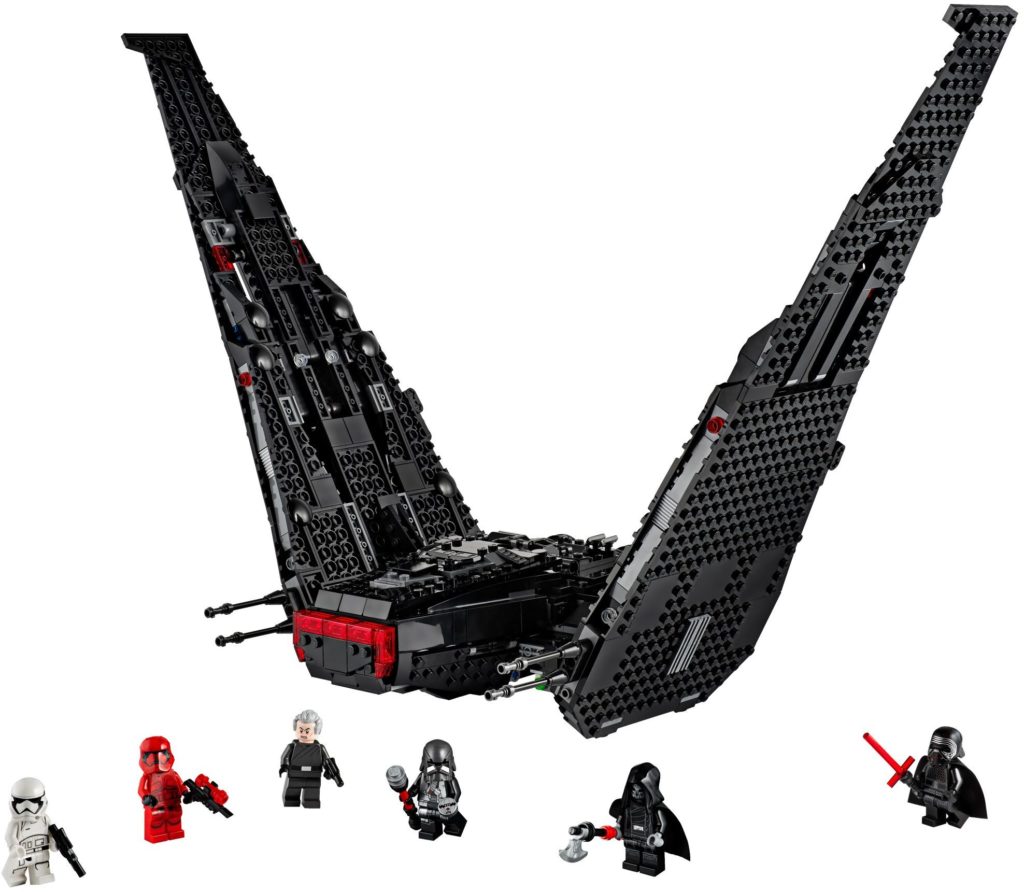 LEGO Star Wars made its debut in 1999 and over 20 years later it's still going strong. With the last film in this series, The Rise of Skywalker signalling the end of the tale, it is fair to say LEGO has produced some interesting sets to cover each of the films, and that being said, some fared better that others. It is these sets I'm writing about today, the best LEGO Star Wars sets.
Now it goes without saying that UCS sets will always be better looking than the original LEGO Star Wars sets, as they have a lot more detail / bricks to contend with, but some sets, as you will read, fair better. Not because of how many bricks they have, but how LEGO designers used them.
Note: These are my opinions, if yours are different, that's fine by me.
1999 First Edition X-Wing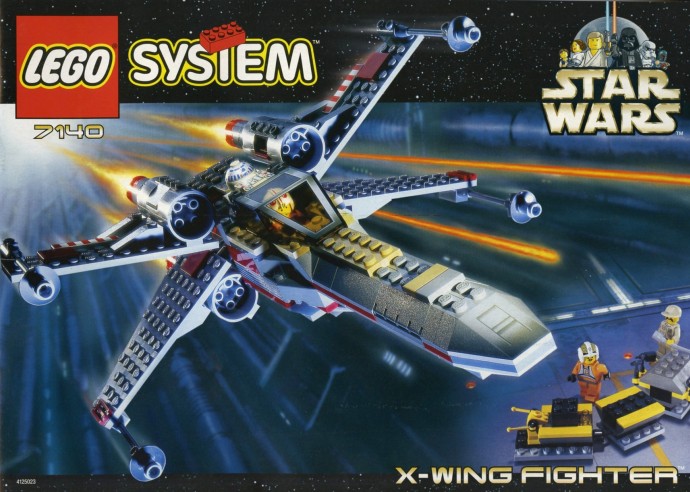 In 1999 there were four sets released to the public. Of these four, only one stood out, and that was the 266 piece X-Wing (7140). It did so because it was the one LEGO model everyone wanted to have that year. LEGO has promised Star Wars sets and that year they delivered. That, and the blacked out silhouette of the Millennium Falcon, but that was a year later down the track.
In the early days of Star Wars LEGO, a lot of the models were very blocky in looks. What else would they be, being made of bricks? But as the each year passed so did many different versions of these ships take shape, and with the manufacture of better rounded, printed and modified elements, the sets started to look more like the original movie ships. Though, this came at a price, as the sets themselves got more expensive to cover the cost.
To say it improved things, a resounding "Yes!" would be right, but it also took the fun out of it. They no longer look like LEGO, but more like the well made model of what they represented.
So the first set among my list of best LEGO Star Wars sets, I would have to say it would be the original 7140 X-Wing. It had character. You also got the minifigures of Luke, R2-D2 & Biggs included. What else could you want?
Jabba's Palace & Rancor Set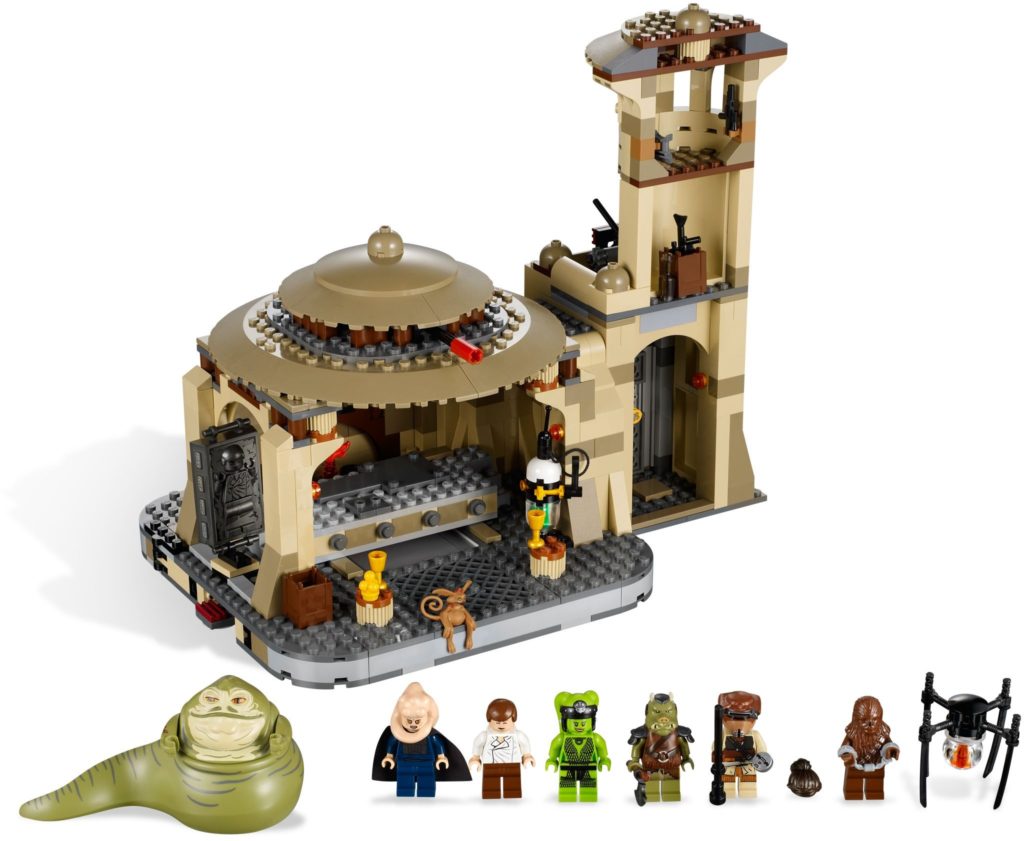 Another set, or sets I should say, were that of the Jabba's Palace (9516) and Rancor Pit (75005). Hey! You can't have one without the other, so it was a pretty smart way for LEGO to make this into a double set, and the play value for this was excellent. It had all the characters, along with some we'd never seen before. To add to to this, if you bought Jabba's Sail Barge (75020) and Desert Skiff Escape (75174) sets, which many of us did, you got to show the entire scene of the movie! All the play elements from the scenes were there, and although LEGO had released a version of the palace set before, this one fared much better.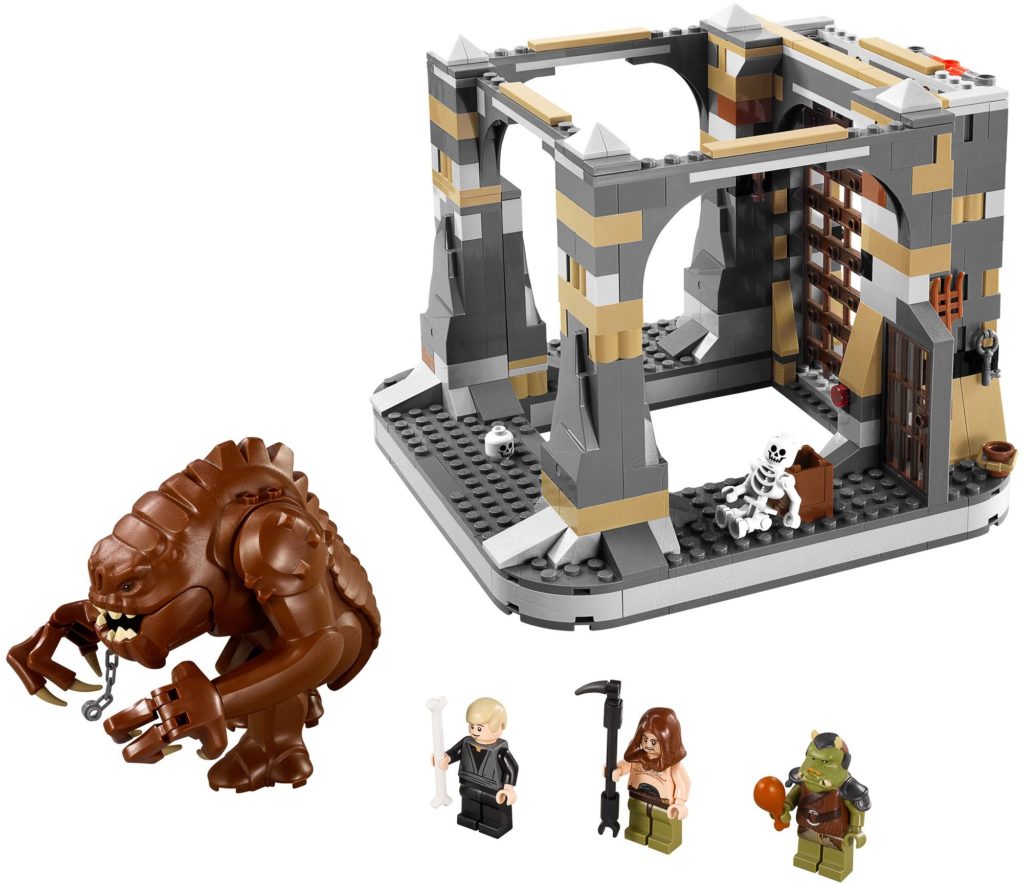 Death Star
Now as sets go, the next set on my best LEGO Star Wars sets list has to be the most long awaited one, the 10188 LEGO Death Star. Although expensive, $400 AUD when first released back in 2008, the 3,803 pieces was the most sought after set that Christmas. What kid didn't want this? It had everything, all the iconic scenes from the movie were in there, plus all the figures you could want, except maybe a few more Stormtroopers would have helped.It was big and after 4 days of building, it was impressive. Now, where to display it?
There has, of course, been remakes of this where LEGO has sought to improve, but at the end of the day you can't improve on perfection.
Millennium Falcon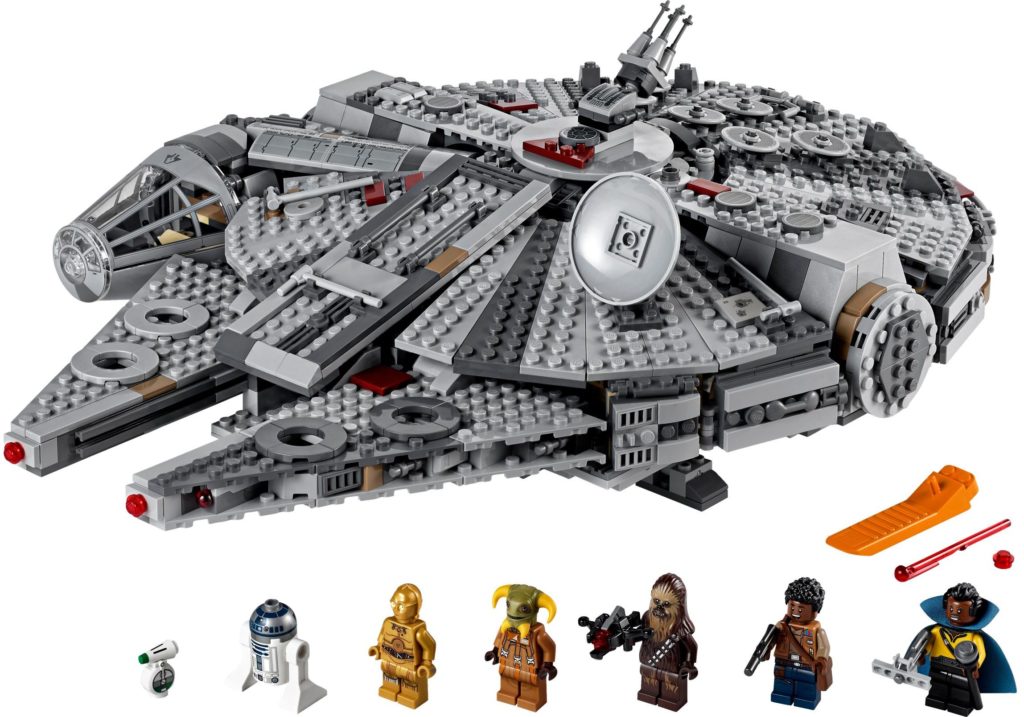 Another set I should also include is the Millennium Falcon, but which one?
There were so many made from the earliest version to the UCS series, which at this moment in time is the considered to be the largest & most expensive LEGO Star Wars set ever created.
So is it fair to say that although this is a great looking set, it's out of reach for most kids & parents?
As for the other Falcons produced, these were unique in one way or another and most captured the way the ship looked. But if I was to rank just one "the best" in terms of looks and value, then I'd have to say the latest version from the Rise of Skywalker (75257) is looking pretty good, whereas from a detail and collectable perspective, you can't go past the UCS Falcon (75192). Very expensive, but has a WOW factor that's second to none.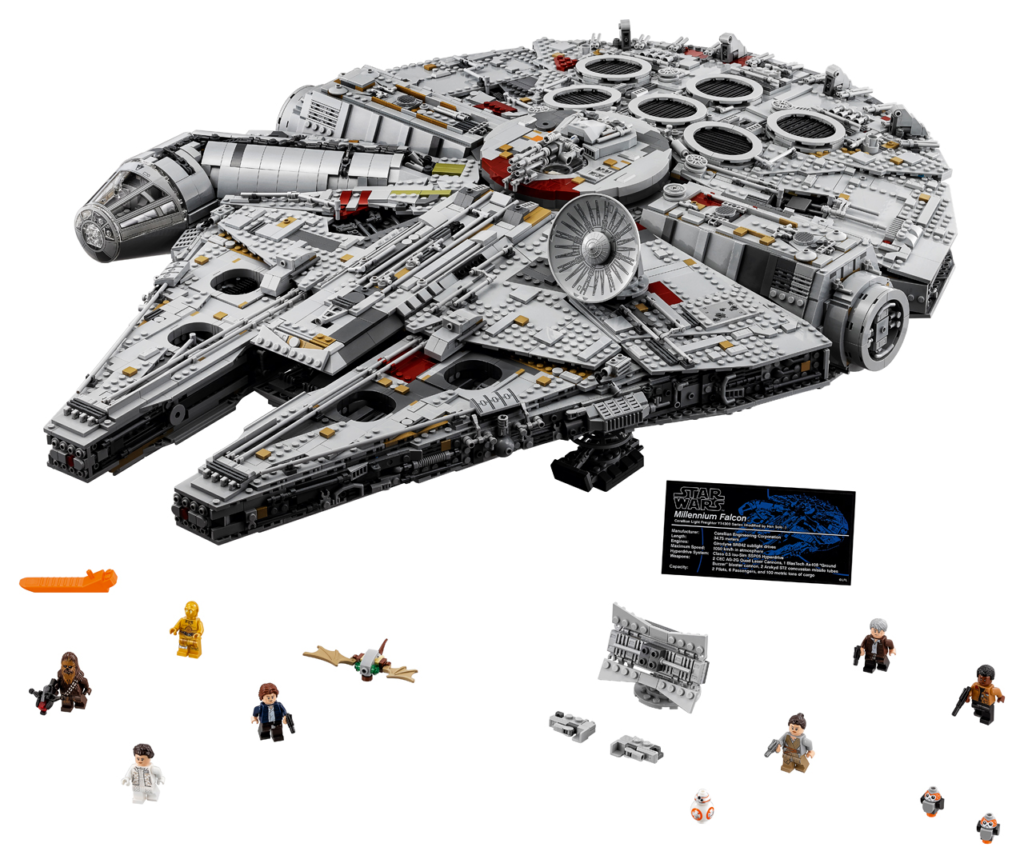 Slave 1 20th Anniversary Edition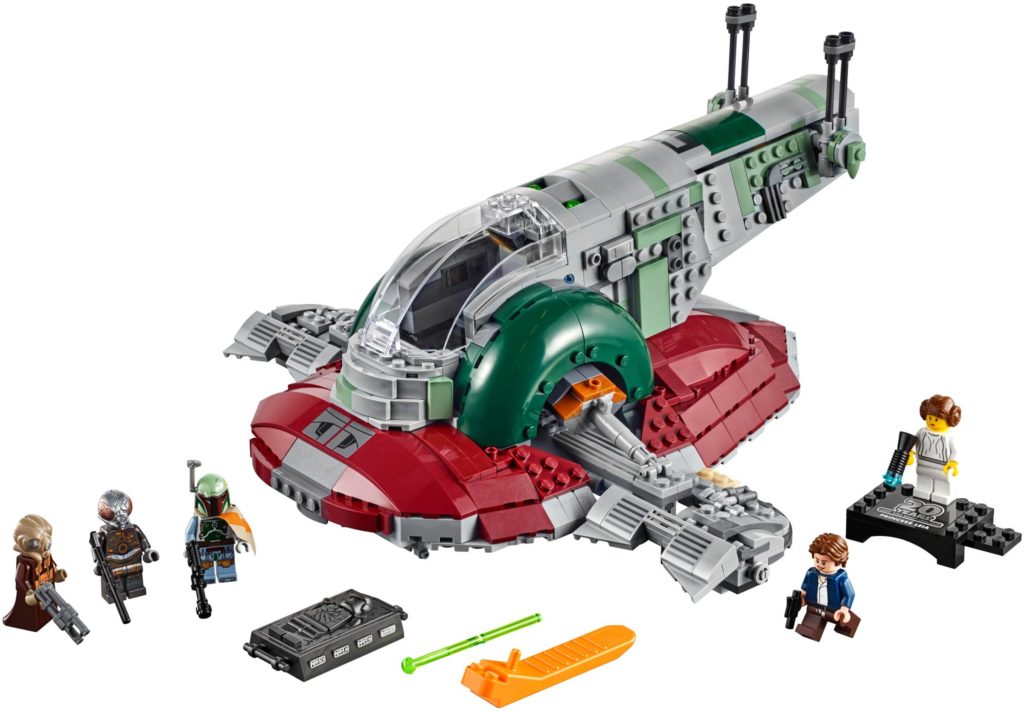 Get the Latest LEGO Sales & Deals
Other Star Wars sets in the making followed the more later movies. One such set is the Slave 1, but again there are so many to choose from.
The 20th anniversary one (75243) has got all the looks in terms of what the model is supposed to be, and the scale is about right, too. Features and playability is very good, and the swoosh handle makes all the difference.
The only downside that I can see is LEGO should have included the rest of the bounty hunters. I mean, with each new release we also got a "never before" released minifigure, so it was only fair that the last Slave 1 set should have the full set.
Okay so it may have set the bar a little high here in hoping this, but in doing so it would have made it more memorable.
Destroyer Droid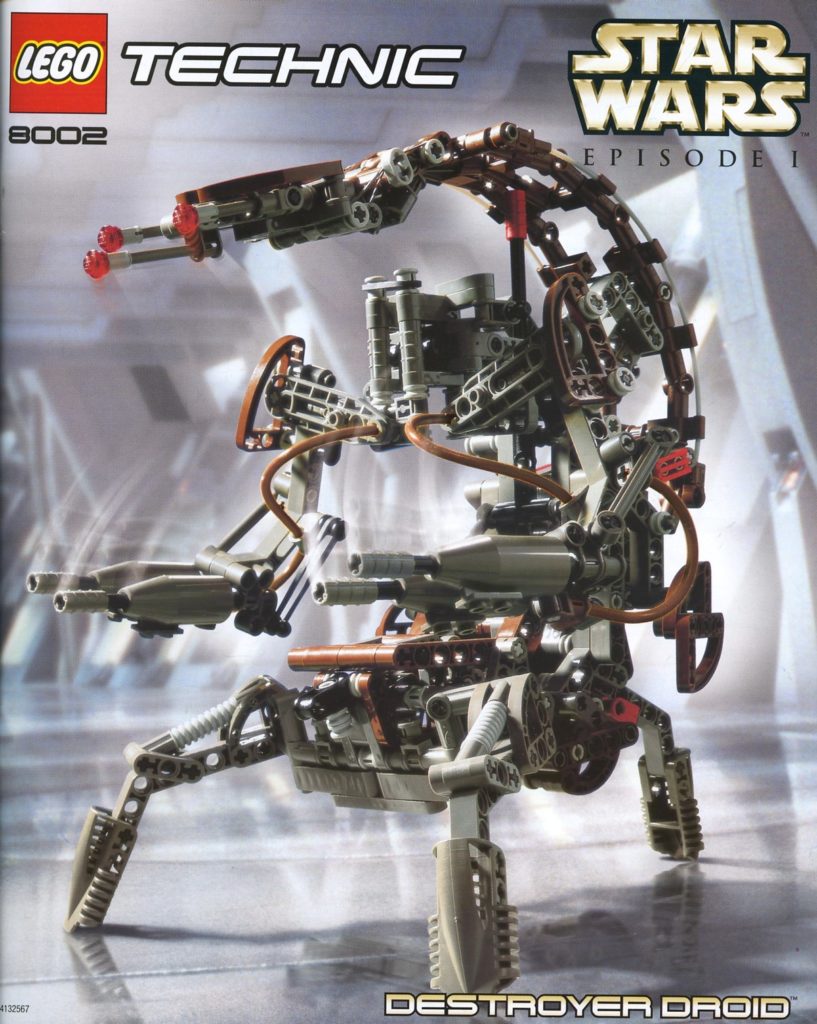 One of the most unusual sets on this list would have to be a Technic version of the Destroyer Droid (8002). Unusual, because it was the first Star Wars Technic set that actually looked like the model it was supposed to be. That, and the fact that it had the really cool feature off springing to action (which was something I missed entirely when I bought it!)
I just thought it was a cool looking model at the time. But after building it, there was a big surprise, the neat trick of going from a ball to the droid in seconds!
The designer of this seriously did his homework as this thing actually worked, and the first time I tried this out, I freaked our cat, so it worked its magic.
I was very impressed. Using the instructions, you could also make another model of one of the droid carriers, which I never built. I just couldn't bear the thought of breaking this apart. Unfortunately that was the last real Technic Star Wars set I was interested in, so I thought it was worthy of this list.
Rebel Blockade Runner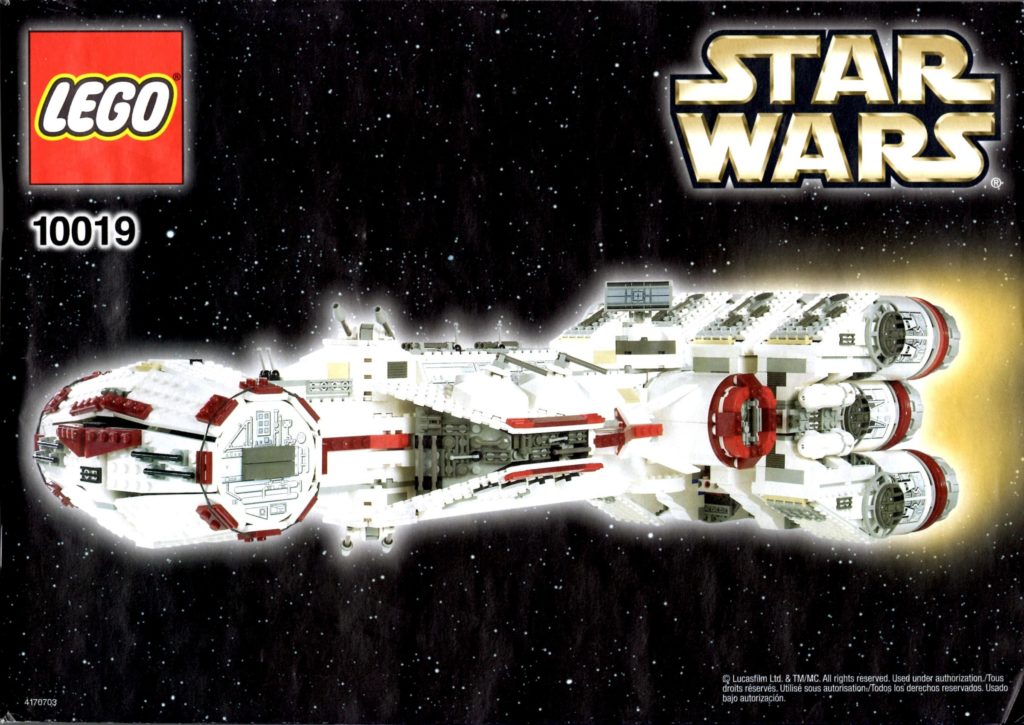 Now as Star Wars LEGO progressed, the next set on this list improved dramatically, it was non-other than the Rebel Blockade Runner (10019). Even though it has gone through a few remakes and some, not all, for the better, it has stood the test of time as one of the more easily recognised ships in the Star Wars range.
This current version (10198) is the one that has proven the most stable to build. While I wasn't a big fan of the stickers, they make the model look the part, as does the new improved design.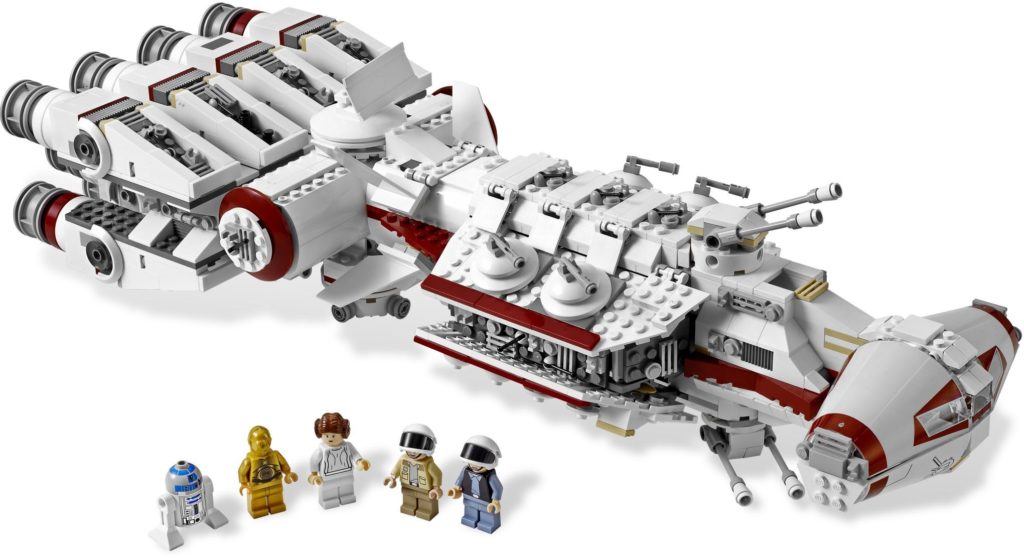 Being a fan of Star Wars for many years, I was lucky enough to get the UCS version of this, and to be honest I wasn't impressed how flimsy it actually was. I could only admire it from a distance, which is why when other versions of this came along I was cautious about buying them in case the flaws were still there. With the new version, most have been fixed. It is a great model for one's Star Wars collection, and deserves a mention.
UCS R2-D2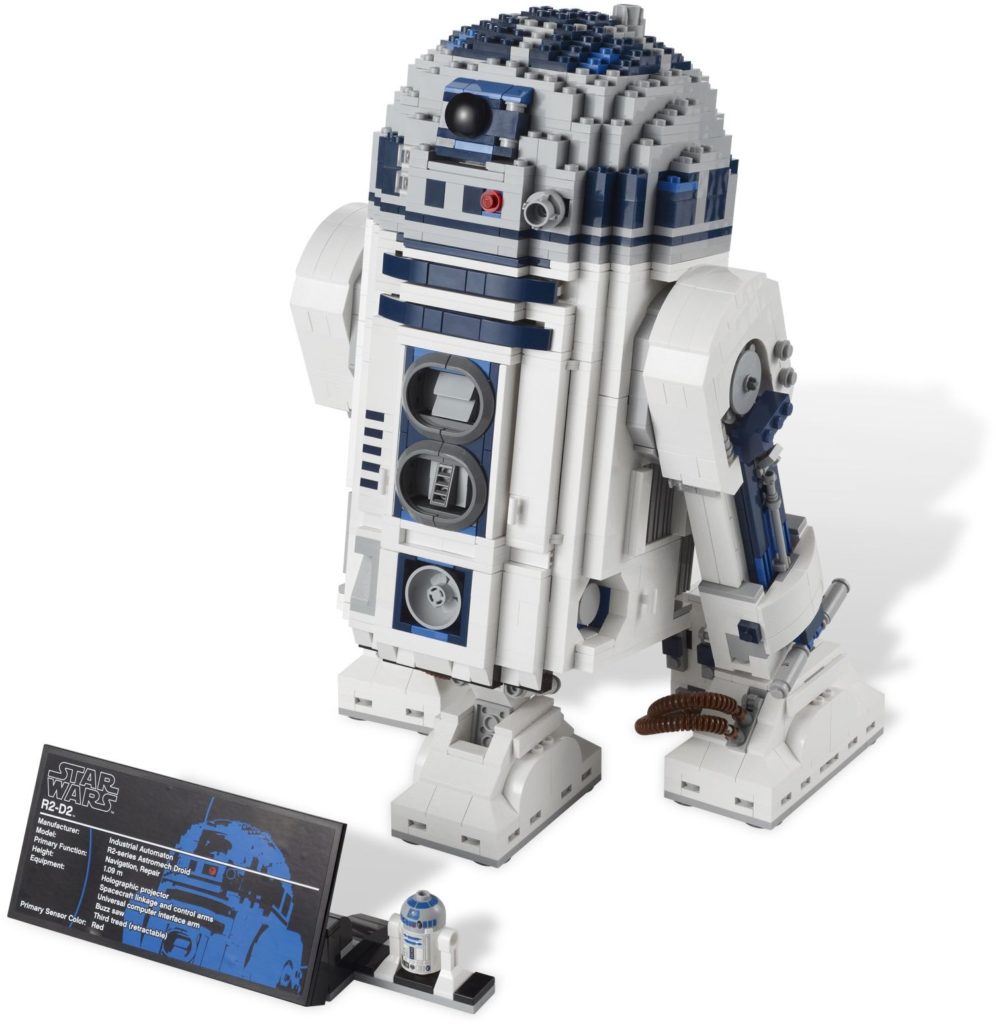 While I don't say this often enough, there are some models you hope LEGO makes above all others and this was one of those sets. I managed to get a 7194 Yoda early in 2002, and while I was disappointed with the model, I was hoping LEGO would improve on the material. They didn't until earlier this year.
It wasn't until 2012 that R2-D2 (10225) was released, that my interest in these sets started picking up again.
It was one of those sets you had to have. R2 was a main character, and it was iconic enough to sit on your desk and let you say "Yes! I'm a Star Wars fan!" without looking uncool. He had a reasonable size without being huge, and he had a few cool features that had the WOW factor, one of them being that he was fully poseable and had a third leg.
While $200 AUD was a tad expensive, a lot of quality was in the building and enjoyment you got out of putting something like this together. And unlike Yoda, when you got to the end result, you weren't disappointed.
Imperial Star Destroyer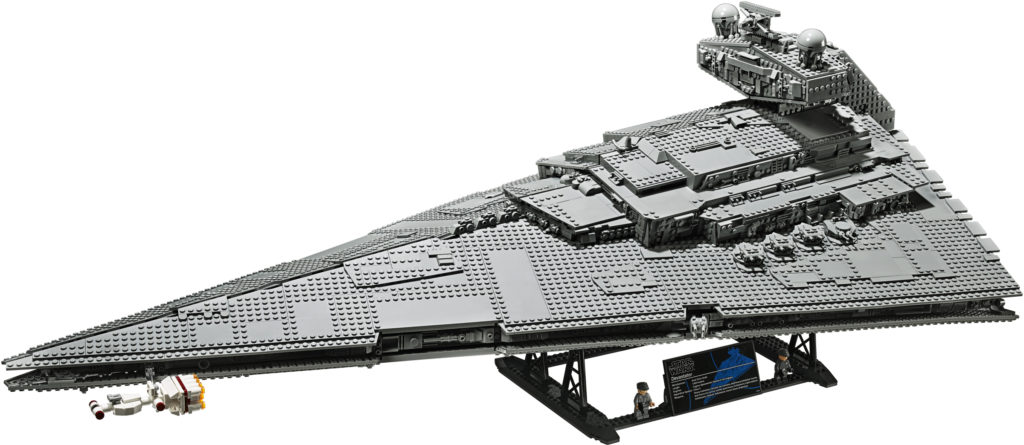 This next set had been on my waiting list for sometime now. Its previous cousin made in 2002 (10030) I missed out on, due to demand being so high at the time.
I often regretted not getting the set. Though the more I hear of the newest version (75252), the more I'm glad I'm getting this one instead of the older one.
There is something to be said when you see the UCS Star Destroyer set, "just awesome" springs to mind. This set is much bigger than its predecessor, as the original had 3,104 pieces compared to the latest with 4,784 pieces and it shows it, too. It also comes with better thought out build, in that it has fixed the magnet problem. Those of you who had the original set will know what I mean.
It is a display model only, so you will need room as at 110 cm long it's even bigger than the UCS Falcon, but at a cheaper price, though not much.
Jedi Starfighter with Hyperdrive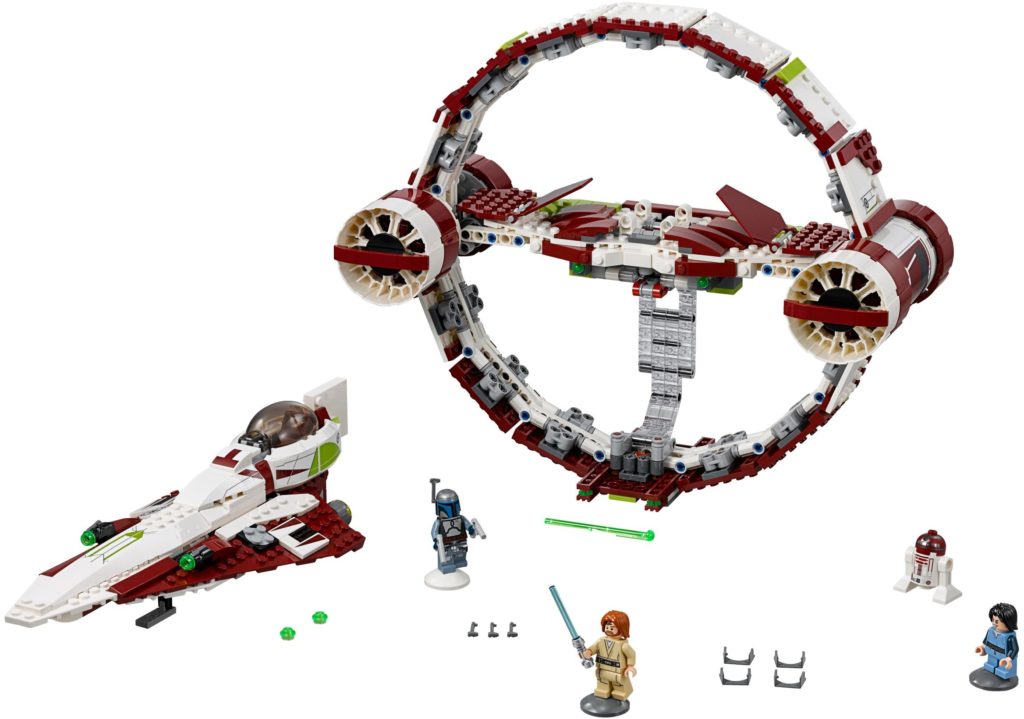 The last set on this very short list of best LEGO Star Wars sets has to be this one.
The Jedi Starfighter with Hyperdrive (75191) was an unusual set in that it was half Technic, half System bricks. But when it came together, it made an excellent model.
At 20 cm in height it was not a small set, but it was expensive when it was released. Truth be told, I wasn't a big fan of the Clone Wars, but this was a really good representation of the movie version. You could release the ship from the drive ring at a flick of a switch which added even more to the play value. It came with a built-in handle as holding the model without it would have been difficult. It also included some unique minifigures which have added to its cult status as an excellent set.
Conclusion
There were many LEGO Star War sets that deserve a mention here, but I kept the list down to 10 for what I think where the best in this series. Some honorable mentions would be the Battle of Endor (8038), Ewok Village (10236), Y-Wing (75172), Imperial Shuttle Tydirium (75094) and my favourite, The Death Star Final Duel (75093).
The list is endless, and with new sets arriving each year, it just grows and gets better. LEGO has at times exceeded our expectations of what these models look like. Some you have to look twice just to see that it's made out of LEGO, and that is a credit to the designers.
I picked these sets because at one stage or another, I had most of them. I have seen the models firsthand or knew people who had them. Some, for me, deserved to be on the best LEGO Star Wars sets list, and I had to reluctantly leave out the rest as they weren't as popular as some of the more well-known sets. Sets like the UCS Snowspeeder (75144), or little ones like Luke's Landspeeder (7110) from the original 1999 series still hold value. I still have this by the way, so it's unfair to choose one over the other just because they have more bricks or better looking.
Collecting Star Wars LEGO is a passion, and as long as LEGO keeps making decent models, I hope to continue it.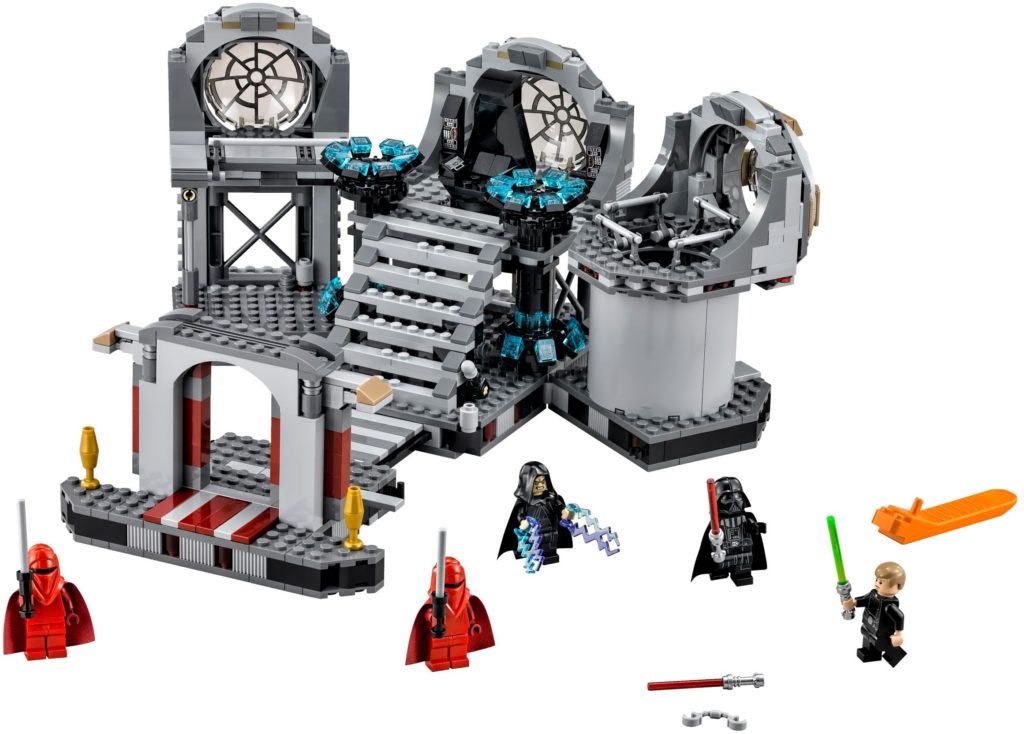 Get the Latest LEGO Sales & Deals
All images are taken from Brickset.