Looking to bring your own LEGO creations to life with a stop motion movie? If the answer is a resounding yes, then you'll want to take some time to consider what kind of kit is available to help you realise your movie-making dreams. Stop motion photography is without doubt the best way to animate your LEGO builds and minifigure characters, with the animation method bringing together the benefits of film and photography to produce spellbinding videos.
If you're unseasoned in the world of stop motion, it's perhaps best to think about the animation technique as something akin to time lapse photography. With time lapse, a series of individual images are captured by a camera at set intervals. The difference with stop motion however, is that you're not looking to capture the motion of a moving object. Rather, you'll be affecting the movements yourself.
With conventional film-making methods, you're dealing with a succession of still images that are captured, then played back at speed. Imagine a shoot recording at 60 frames per second (FPS). In this example, the camera you're using to record is capturing 60 individual stills a second. Stop motion photography works in much the same way, with some key differences. The crucial one is that you're not having to put the effort into capturing that high volume of individual frames. Instead, with stop motion animation methods, you're capturing an image, but making changes to the focus of your recordings (in this case, your LEGO figures or creations). Further images are captured after every change is made. The ultimate goal is to piece together all these individual images in the edit, giving the impression of motion.
Below, we'll take a look at what kind of camera equipment you can invest in to produce stop motion masterpieces.
Budget-Friendly Kit for Beginners
If you're looking to keep within a tight budget, or you're simply looking to dabble in the world of stop motion photography, webcams are well worth looking into. In short, webcams are both user-friendly to even the most inexperienced, while also being very compatible when it comes to utilising software to processing your stop motion movies.
Unlike more advanced equipment such as digital cameras, webcams don't bog you down with lengthy processing times. As such, you can simply shoot and review what you've captured as you go along, making impromptu revisions to your shoot schedule as you go. This makes it ideal for those who don't want to put too much planning into their shoot.
As previously mentioned, webcams are also the go-to if you're looking for fuss-free software compatibility. You'll find a wealth of software available online to service your stop motion movie-making efforts, ranging from freeware solutions to very affordable paid-for alternatives. Even cheaper webcams record at decent enough resolution, meaning you'll have nothing to be ashamed about when it comes to uploading the finished article for YouTube channels and other online platforms. The downside of opting for webcams is that they're very limited on a technical level and can't be customised. Unlike more proficient digital cameras, you won't be able to swap out lenses for a more precise view. What's more, you're limited to shot setups with a webcam. In most cases, the body of the camera will have to serve as your tripod, meaning you've a very restricted scope of angles and perspectives.
Advanced Options: Take Stop Motion to the Next Level with DSLRs
When it comes to perfecting more professional movies, DSLRs are definitely worth considering if you've the budget to spare. Indeed, many in the professional industries might turn to DSLRs for an equipment choice considering the technical prowess they provide.
Novices and experienced users alike will find plenty to enjoy with DSLRs when producing stop motion animations. Unlike the limited scope of webcams, DSLRs can be readily adapted for various shooting requirements. For one, picture quality is generally far better than what you can hope to achieve when shooting with webcam. What's more, there's a wider suite of controls allowing for manual adjustments and more refined settings. Finally, lenses can be swapped out readily for something better suited to individual shot requirements.
DSLRs require a more substantial investment, but they needn't cost the moon. A DSLR body can be purchased for a reasonable amount if you go for a slightly older model, with the huge swath of available accessories allowing you to refine the overall setup to secure premium results from your stop motion efforts. Some things worth remembering if you're looking to invest in DSLRs are the extras you'll need to buy. Firstly, you don't want to be running solely off battery power. Purchasing a power adapter is an absolute must to ensure continuous operation as you shoot. Other extras like lens adapters may be worth considering as well, especially if you're keen to expand your accessory line-up at a later date.
Stop Motion Cameras: Key Things to Consider
Now we've summarised the two key types of cameras you might want to consider, let's run through some spec-specific criteria you'll want to bear in mind when buying your movie-making equipment.
Focus Control
No matter what type of camera you're hoping to work with, you'll want to ensure focus control is ready and accounted for in order to produce stop motion animations. With webcams, you can expect autofocus as a standard. However, autofocus isn't really suitable for stop motion applications. Constant changes to your LEGO scenarios will require constant refocusing on new subjects, so the limitations of autofocus will hold you back substantially. That being said, not all webcams are low scorers in this respect. At the more premium end of the market, you'll find webcams boasting impressive focus capabilities that might accommodate your shooting needs perfectly. If you're working with a bigger budget, the digital camera market largely negates focusing concerns, with both manual and autofocus offered.
Resolution Requirements
If you're opting for digital cameras as your shooting option, resolution isn't something you need to worry about. However, when shopping from the webcam category, you'll want to keep resolution specs in mind. As a minimum, you'll need to be looking for ones that offer resolutions at a minimum of 640×480. Go for specs lower than this and the resulting resolution will compromise your finished movie, with the final film too small to adequately fill screen sizes.
Complete Control
We've talked about focusing capabilities being a paramount concern. Certainly, you'll want to be able to enjoy manual control over focus, regardless of what type of camera you're using. Other elements that you'll want to maintain control over include white balance and exposure, as well as gain.
Other Essential Technical Features
To produce the best stop motion animations, you want to refrain from touching the camera setup as much as possible. Therefore, features like electronic shutters and remote control capabilities are absolute musts. You'll find these specs as standard when browsing the DSLR market.
Stop Motion Cameras for LEGO: Our Pick of the Best
Now you've some technical specs to consider, let's look at our pick of some of the best stop motion cameras currently available on the market.
Get the Latest Camera Sales & Deals
We've waxed lyrical about the benefits of professional-level DSLRs, so let's look at one of the best you can buy. Included in this bundle is the Canon EOS 4000D Camera Body and the Canon EF-S 18-55mm f/3.5-5.6 III Lens. Here, you've got all the technical proficiencies you'd want to produce premier stop motion movies, with a wide raft of manual adjustments available for you to perfect perfect frames for shooting. What's more, you've the adaptability of a top-tier camera body to work with, allowing you to alternate lenses and incorporate various tripod bases. A particularly handy feature here is the ability to shoot remotely via your smartphone thanks to wireless capability. Perfect for keeping those precise camera setups as still as possible.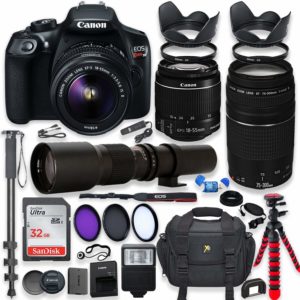 Here's another great bundle based around the Canon EOS Rebel T6 DSLR Camera. Included in this brilliant package you'll find both a Canon EF-S 18-55mm f/3.5-5.6 IS II Lens and a Canon EF 75-300mm f/4-5.6 III Lens. A 500mm Preset Telephoto Lens and T-Mount Adapter are also included as standard. Everything you could possibly require to shoot stunning stop motion movies with rich resolutions is included here, with a terrific line-up of additional accessories thrown in for good measure.
Here's one more first-rate bundle with the Canon EOS 4000D Camera Body at its core. Included in this premium package, besides the body itself, is the Canon EF-S 18-55mm f/3.5-5.6 III Lens and 58mm UV filter, allowing you to capture some quality content. A 32GB SD Memory Card and USB SD Card Reader are also included for essential extra data storage, while a Spider Tripod provides you with plenty of options for when it comes to staging interesting shots with a range of engaging angles.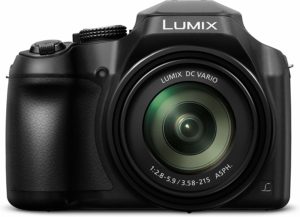 Taking a break from Canon, we've the Panasonic Lumix FZ80 4K Digital Camera to consider. Incredible technology is on offer here, allowing you to capture combined 4K photo and video content. Other first-rate specs include premium low-light performance and innovative "Post Focus' capabilities. This latter detail might appeal to the more inexperienced user who's looking to delve straight into capturing content, without having to worry about being too precise in the staging.
This Nikon D3500 24.2MP DSLR bundle fits the bill for those looking for a relatively affordable digital camera option with impressive technical spec. Aside from the DSLR camera body, you've some premium lenses to put to good use when capturing dynamic images in fine resolution. Furthermore, the dual focus capabilities of this camera should provide you with the flexibility to secure sharp images of your miniature scenes with minimal fuss. A generous raft of accessories makes this a very worthwhile investment for those prepared to part with a few hundred pounds.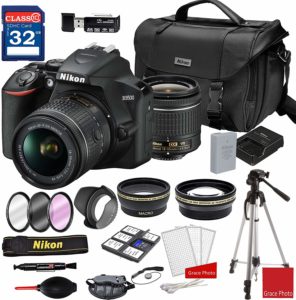 Here's another quality Nikon D3500 bundle to consider, although unlike the previous one, you'll find plenty more to get excited about. First and foremost, the Nikon D3500 is a user-friendly camera body, providing an accessible choice for the less experienced with DSLRs. That's not to say it skimps on technical prowess, however. Manual and autofocus capabilities allow you to secure sharp images for stop motion movies, while an ISO range of 100-25600 allows you to work in a wide variety of lighting conditions.
Here's a more compact and user-friendly option than the Nikon and Canon options we've looked at. The Sony Alpha A6000 is about half the size of bigger DSLR models, yet the technical spec holds up well against its more sizeable cousins. You've still got premium APS-C image sensor capabilities, as well as the option to swap out lenses. There's also some impressive autofocus capabilities on offer here, while wireless and NFC connectivity make this ideal for shooting delicate stop motion animations.
Get the Latest Camera Sales & Deals