I love to browse Instagram for new, exciting Lego builds. A diverse and prolific LEGO MOC (my own creation) community thrives on Instagram. Discover it for yourself by following a few builders or hashtags. One day while scrolling through my feed, a snapshot caught my eye: a seemingly innocuous, tiny build. I immediately flagged it for further examination, and contacted the post's author with questions.
Discovery
The picture? A micro car. A small child had abandoned his LEGO car in the hustle and bustle of public transport. Orange, it stands out in the grass. A newspaper, tossed by the wind, settled against the bus stop glass. The micro LEGO car consists of exactly two parts: a 1×1 orange tile and a black "roller skate" brick. Together they comprise a genius build that completely evokes the intended real world object.
Interview
Dan, an AFOL (adult fan of LEGO) from Sweden kindly answered a few of my questions about his build.
Redbeard: Tell me about the little car in the picture.

Dan: In 10255 Assembly Square, the roller skate piece was used in a mini train. I knew this would work great! I first used a white 1×1 tile but changed to orange to give the bus stop come color. To be honest that detail was done hastily. When the whole scene was finished, I realized its potential. My imagination started to run wild. I love giving everything a story in my city. I started to wonder who left the car there. What kind of toy car is it? Black and orange, I immediately thought of the 42056 Technic Porsche 911 GT3!

Redbeard: How do you approach a new build?

Dan: I have used LEGO Digital Designer for a couple of builds, but what I enjoy the most is to just build freely and find inspiration from the pieces I have on hand. I often have an idea of what the building will be used for and the atmosphere I want. That sets the tone for the build. Certain pieces fit together, sparking an idea for a building, bridge, terrain feature, or any other detailing in the city.

Redbeard: What is your LEGO background?

Dan: I was a huge fan of LEGO as a child. I played with LEGO up till I was about 17. I discovered the AFOL community in my late 20s and found some amazing builders. From that moment, I've been hooked! I concentrate mainly on City, Creator Expert, and UCS Star Wars. There's just so much great LEGO! Right now, I focus on building my city. It is slow, but steady work. I enjoy showing the techniques I use, and little ideas I get, even if they never end up in my city. I just hope others will be inspired. That's my whole philosophy about Instagram: inspire and be inspired!

RedBeard: Thanks! Before I wrap this up, what sets are on your "Must Buy" list?

Dan: I have my eyes on 75181 Star Wars UCS Y-Wing, 10260 Downtown Diner, and the new 10264 Corner Garage.
My many thanks to Dan. Please follow his Instagram @allyouneedisbricks. You will discover awesome builds, technique breakdowns, and plenty of pictures. Dan just posted a picture and breakdown of an incredible sales counter he built for a store. I will definitely be copying his design on that one. Below you can see the bus stop on the right of a picture showing a power station and his new power lines. Always nice to provide electricity to your LEGO Minifigures!
The Story of Your LEGO
Many years ago, LEGO offered a LEGO Master Builder Academy subscription. While more expensive than a similar sized set, it included a large instruction manual. Inside were traditional instructions for a build, but also education in creating builds without instructions. Each tier of the subscription included more pieces and more advanced building techniques.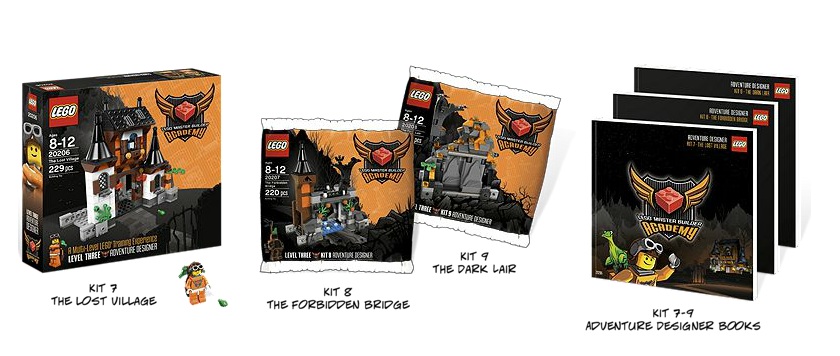 I wish that LEGO had continued the Academy because learning how to build yields more value than what to build. Give someone instructions, they build for a day. Give them education, they build forever! On the LEGO website, I found this excerpt from an article:
"When you open a box of LEGO bricks, at first, maybe you only see the bricks. That's okay – that's how all LEGO stories start. Allow yourself to watch them for a few minutes…to help you imagine what each little brick is capable of. When you…see a skyscraper, a moose or an underwater castle, that's what's real…! Don't worry about the "right" colors, shapes or sizes of what you build – you can rebuild or rescale anything, anytime. If you let them, bricks can travel through time, space, and endless stories as a wing on a space ship, a duck in a pond, a seat in a race car, a foot of a giant who just saved the princess, a leaf on a tree in an enchanted forest, and everything else in all universes you can think of."
That is what we all do when we build, photograph minifigs, or create our next MOC. Whether we realize it or not, we are telling a story. Somewhere inside us the story of the spaceship, the castle, or the city exists, and we bring it to life by building that story. Dan "started to wonder who left the car" next to his bus stop and a new story began!
The Next Build
Under construction in my LEGO build room? A custom Millennium Falcon. Whenever I struggle to construct compound curves from rectangular and triangular LEGO plates, I take a break and browse FireStar Toys for bits I want to build into the interior of my Falcon. I recently picked up a custom Jawa Juice, in case my Falcon passengers get thirsty.
Given that the Falcon always seems to have engine troubles, I added a custom Emergency Shutdown Button.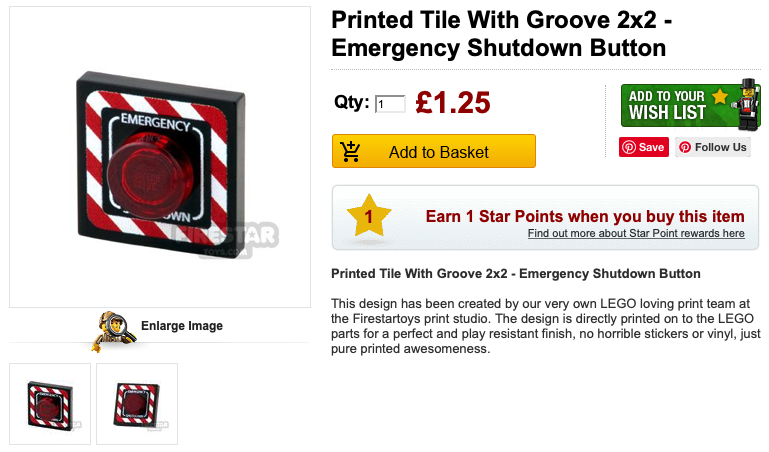 I am sure that will come in handy. However, whether you use existing LEGO bricks in a creative way like Dan did, or whether you avail yourself of custom parts as I sometimes do, the key is to keep building! Add as much creativity and story to your build and you may be amazed at how awesome everything truly is.
I look forward to what we can build together!