With Chinese New Year rapidly approaching us on Friday, the 12th of February, we thought it would be a great opportunity to take a look back across one of LEGO's most unique product lines – and also to highlight some of the unique pieces available to celebrate this holiday on Firestartoys.com.
Join me as I break down some of the most unique and interesting LEGO sets to join the vast portfolio of sets on the market. What started off as a couple of out-of-the-blue sets has become one of LEGO's most popular and diverse sublines to date – LEGO Chinese New Year! Big thanks to Bricklink for providing the images in this article.

The first set we have is set 80102-1 – the Dragon Dance. This is a really unique set which creates one of the more traditional float-style Dragons which are frequently seen within Chinese Culture, complete with a display base which actually allows you to move the Dragon to create the simulation of movement. The build here uses some really ingenious pieces which help to perfectly capture the shape and texture of the more traditional dragon design – and I love the inclusion of a pig minifigure, which is a reference to the fact that 2019 was the Year of the Pig, according to the Chinese Zodiac. Some fun minifigures and a truly unique build make this a must-have for any LEGO fans who enjoy collecting the weird and wonderful – even if this set is hard to track down on the modern market.

Next up is another 2019 set – set 80101-1 Chinese New Year's Eve Dinner. This set follows a trend which we saw LEGO introduce with sets like the IDEAS Big Bang Theory set, creating a more intricately detailed build for a home complete with detailing and greebling for furniture and other elements. This build is beautiful – with some unique elements like those found in the Ninjago line used to capture the appearance of a stunning traditional Chinese home.
I love the inclusion of so many printed food pieces, too, and also think the cobbled pavement leading up to the building is a really nice touch for some extra depth to the details of the build. Combine this with some great torso pieces (although I am not sure how many are unique!) and you have another wonderful build which packs in a lot of detail and captures an aesthetic which is rarely communicated in LEGO with such intricacy.

Moving on from this we have a smaller set which released in January of 2020 – Set 40385-1 Chinese Dragon Polybag. Whilst this set doesn't capture the aesthetic of the Dragon in nearly the same way that the prior mentioned Dragon Dance does, it is a nice small set and a fun addition for fans who may not have much space for larger models. The key indication with this polybag, however, was that the LEGO Chinese New Year theme would clearly be continuing into another year.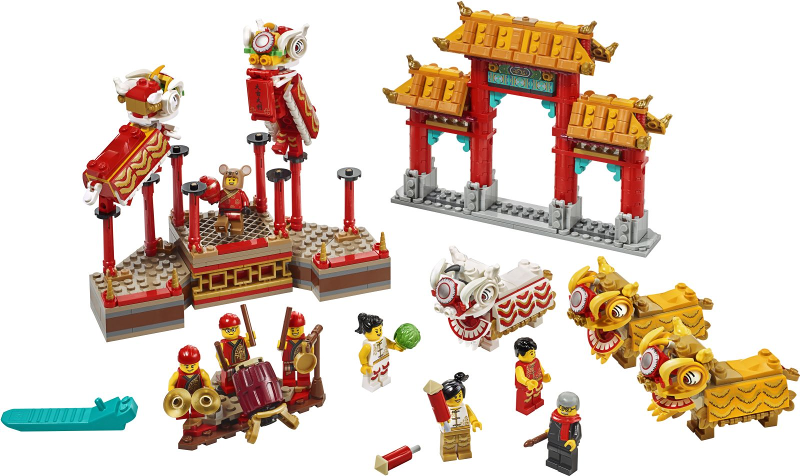 Talking of the theme continuing – we have another large set released in 2020, with 80104-1 Lion Dance – a really unique set which combines some traditional Chinese Architecture with the idea of larger-than-life traditional animals which people operate like puppets. I love how the builds for these lions use LEGO Minifigure legs to capture the idea that people would be underneath them, and also love all the unique graphic designs used to add extra detail to these characters, too. The stage area is cool, too – with some nice details packed in, and even the small architectural build of the archway goes above and beyond to add some extra detail to an otherwise small build. I am impressed to see so much attention to detail in these sets as it feels as though they have a lot more depth and detail than other, more run-of-the-mill, LEGO sets.

Up next we have an even bigger set – set 80105-1 the Chinese New Year Temple Fair. This set packs in a lot of unique builds including a gorgeous build for a traditional-style Chinese temple, complete with lots of details around the room build to help to capture the unique shape of these architectural wonders. Lots of details around the trees and stalls help to really flesh out this unique build – adding some charming details which fully ground it in the more traditional background it is aiming to appeal to. There are also a lot of minifigures packed into this set, although there are less unique elements than those found in other sets. You get a lot of scenery in the Temple Fair set, however – something which I think LEGO fans are bound to enjoy as it allows them to build out unique parts of their LEGO cities.

2020 was not the end for the Chinese New Year sub-line, however, with 2021 having brought four more sets so far! LEGO went as far as to branch the line out even further – with a set of unique Pandas constructed as a part of the Brickheadz line in set 40466 Chinese New Year Pandas. These adorable animals come with some fun elements and create a unique trio of characters which I am sure will be popular with LEGO fans who have been collecting the various BrickHeadz released so far. This wasn't where the unique expansion of the Chinese New Year sub-theme ended, however – as 2021 also saw the line delve into Duplo territory!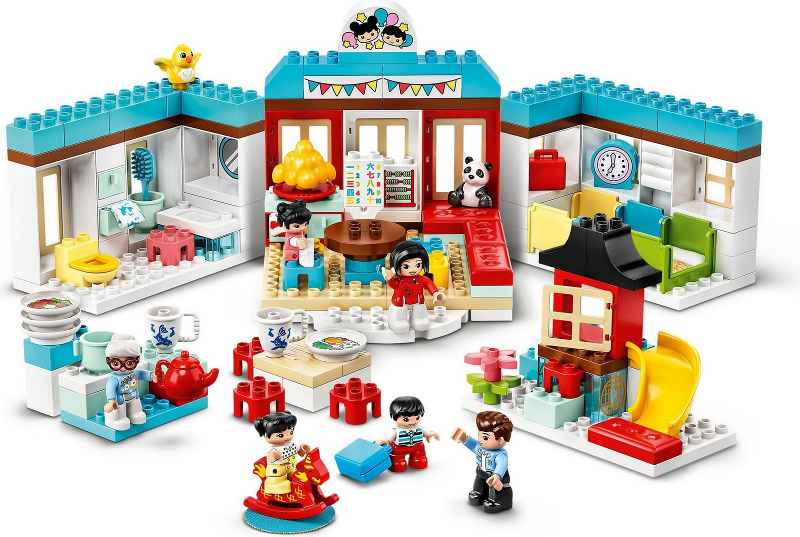 Set 10943-1 Happy Childhood Moments is a unique set as it introduces Duplo into the LEGO Chinese New Year line – suggesting that LEGO may be intending to continue this theme, and it's associated sub-lines, for some time to come. The build here is a unique home-type building with various elements sprinkled throughout to add more cultural elements than your more traditional Duplo set. Whilst it is an interesting decision to go down the Duplo path, I can see this set being a fun way of encouraging young LEGO fans to learn more about Chinese culture. It is certainly interesting to see LEGO doubling down on this line to such a great extent!

Lastly, we have two minifigure-scale sets for 2021 – the first of which is set 80106 Story of Nian. Whilst I am not familiar with this story myself, I believe that it is famous within Chinese culture – and the build included here can be admired for its aesthetically appealing design alone. I love how there are fireworks built into this set – using some really ingenious part placement to create the shape of a six-pointed star. I also love how the build here simulates snow and icicles along the wall in really naturalistic looking ways. The inclusion of an Ox headpiece for one minifigure is a nice addition considering this is the year of the Ox, too! Overall this is another example of LEGO using this line to innovate – experimenting with more complex building techniques and more detailed ones, too!

The second minifigure-scale sets is one of the most beautiful LEGO sets I think I have ever seen – 80107 Spring Lantern Festival. This build has a gorgeous piece garden type structural build complete with a small structure and a bridge over a stream – and it even packs in a brick-built model of an Ox. This model takes the phrase 'aesthetically pleasing building' to a whole new level, with lots of effort made to capture curves and angular elements whilst packing in lots of beautiful and contrasting colours. I know these sets have been quite hard for LEGO fans to track down but this is one which I may have to try and snag for myself as it truly is like nothing LEGO has made before, and is my favourite set to be released under the LEGO Chinese New Year sub-line.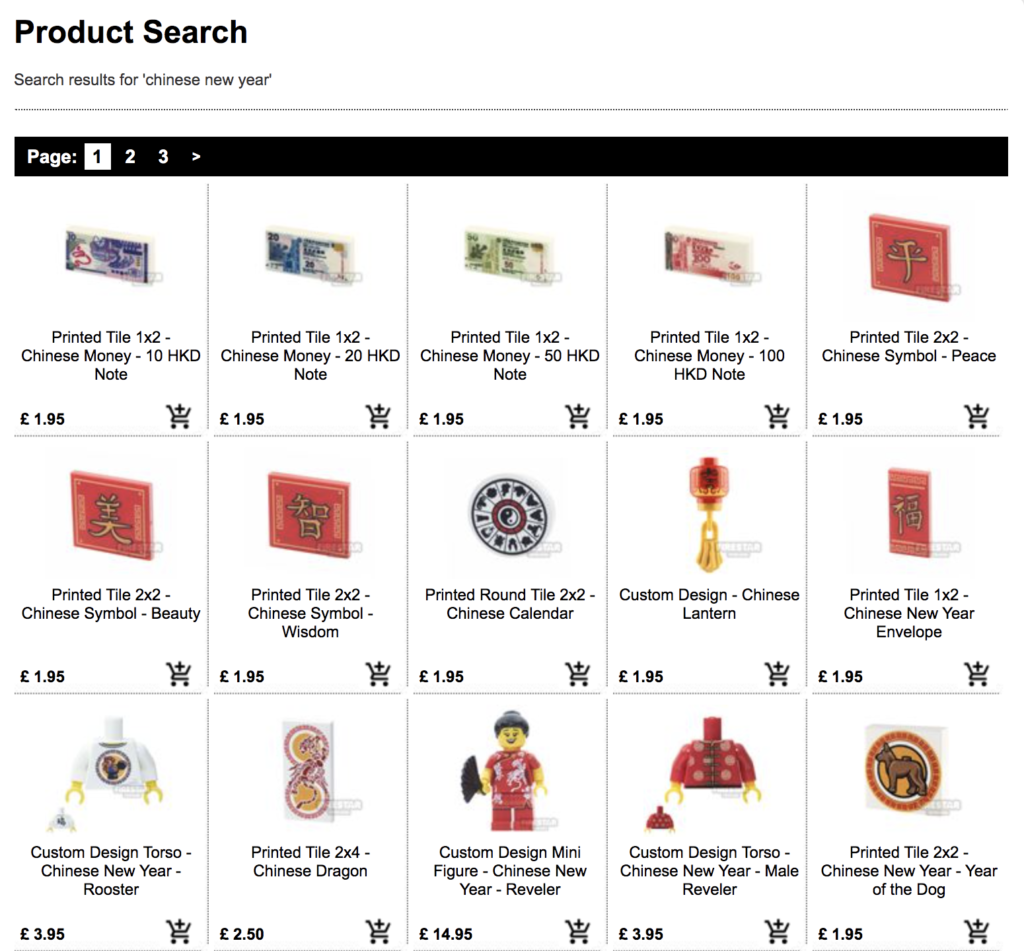 That brings us to the end of our look at the official LEGO sets – but don't be disheartened by how hard they are to track down! Firestar Toys has an assortment of great Chinese New Year parts to choose from – allowing you to build some of the magic for yourself. Click here to check out some of their selection.
And, if you enjoyed this article from me, then you can check out the rest of my writing by clicking here!