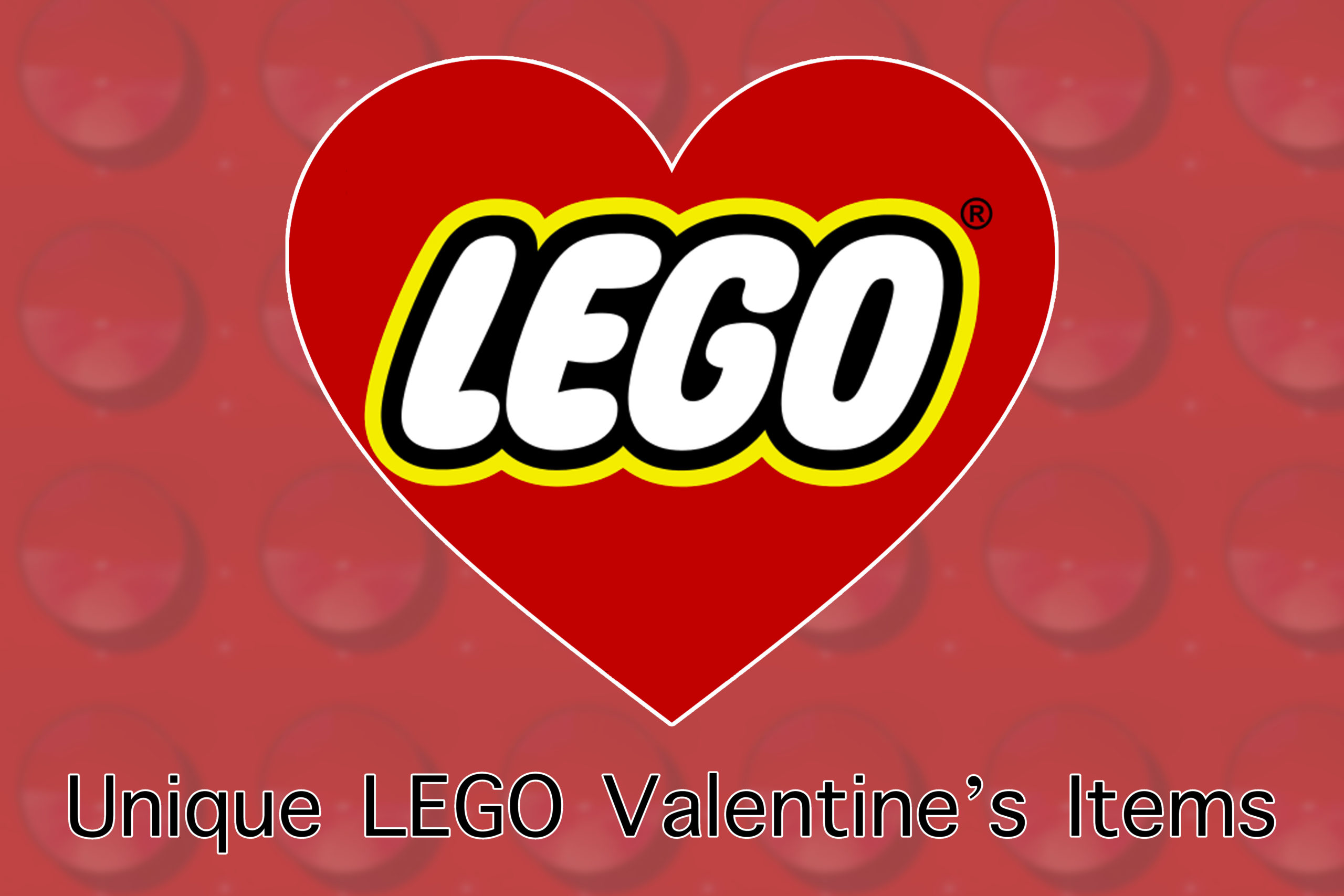 It feels a little bit hard to believe it, but we find ourselves rapidly approaching another February – and that means that Valentine's Day is once again just around the corner! It's no secret that many of us our LEGO Lovers, so today we wanted to take a moment to highlight some of the great Valentine's Day products available for LEGO fans! Whether you're building a strong baseplate for a future relationship, or are strengthening an existing relationship, LEGO can be a wonderfully unique way to celebrate the special day and to show someone that you are thinking about them.
This article will mainly be focusing on items available on Firestartoys.com but there are lots of great LEGO options out there – and you could even build your own, too! Without any further ado, let's take a look at some of the items I picked out for today's article!

Up first I wanted to take a look at some of the great minifigure-scale accessories which are out there – as there are a few elements, from both official LEGO sources and from our favourite third-parties, which help to capture the most romantic time of year! On the LEGO front there are lots of great pieces which LEGO have released over the years. These include things like Heart Jewels, which can be used as decorations for builds or as minifigure accessories, but also elements like their ring piece – which can be used as a gesture of commitment when not being hunted by a Fellowship!
It is worth noting that there aren't many LEGO pieces out there specific to Valentine's day, and so those of you looking for a more simplified approach may find yourself having to get a little bit more creative with your parts usage. With that said, the LEGO palette of parts is ever expanding – so there are likely to be plenty more accessories added in the future to build out the options for people choosing to express themselves through LEGO!  Of course, there are third-party options out there if you're looking for something more unique, and that is where elements like the Poison Rose from BrickWarriors can factor in! It doesn't HAVE to be poison…right?

Alongside some great official and custom LEGO elements, the FST team have also put together some fantastic printed elements which you can use to add some extra detail to Valentine's-day related models or minifigures. Some of the Valentine's Day Card prints available (click here to see my favourite one) add some nice unique elements to a LEGO gift, and go a step above and beyond to create something bespoke and special which a loved one is bound to find extra appreciation from. Alternatively, if you're working on more than just a minifigures, then unique elements like the Printed Panel Piece or the Printed 1×8 Brick can be great additions to your builds.
You can always mock them up in LEGO Digital Designer and then swap out blank elements for the more unique elements at the end – creating a complete build which has more unique character than other LEGO builds. A lot of the items I'm highlighting may not stand out on their own, but are more likely to stand out as one element used as a wider-part of a gift for a LEGO Lover! Of course one of the more unique elements of any Valentine's Day is the people who you choose to spend it with, and FST have a great assortment of different parts which you can choose from to create your own LEGO minifigure characters, too!

If you're looking to create your favourite person as a LEGO minifigure, then FST have a range of great unique custom-printed heads which you can choose from for the special occasion. One of my favourites is the male head aptly titled 'Kissa-Nova' as I love the comedic expression on this characters face to accompany the lipstick marks adorning it. Another really cute face is the one title as 'In Love Female' – who has a charming smile accompanying some adorable blush marks which helps to add some unique character to this figure. I absolutely love how expressive these custom prints are as they help to add more to the charm of this special day. Alongside these wonderful face prints we also have some lovely torso prints which help to add a little bit more charisma to your potential Valentine – including LEGO's official Large Red Heart torso. Between this and some of the custom-printed options available, you have the chance to create some wonderful minifigures which are bound to delight any would-be valentine.

Of course, if so much variety is stressful, then you could choose from one of the Custom Minifigures which the FST team have lovingly created – giving you an assortment of great options to choose from. The Romantic Guy and Proposal Female are two adorable examples – and I have to confess, I really love how the Proposal Female found a unique way to repurpose the CMF Cake piece! However, my favourite of the Valentine's themed figures has to be Sexy Rexy. The Clone Wars fan in me laughs every time I see this figure – purely because it is so comedic to see a Clone Trooper donning armour and an exposed sixpack at the same time. Maybe it's just my sense of humour, but I love how unique this minifigure is when compared to all the others out there.
Of course, if you wanted to bring a little bit more of the comedic side into your Valentine's Day, then you could get a unique minifigure in the form of Cupid – complete with a crossbow which fires hearts! I love how much detail is packed into this minifigure – from the heart-shaped arrows in his bandolier, to the white wings, and even the printed tiles with hearts which can be shot from the crossbow. Of course, if you're looking for something a little more 'mature' then you could always replace Cupid with a Brickkergram – available in both the Male and the Female varieties! Don't forget that FST have a range of great custom card-backs too – meaning you can add a unique message to your gift to help to make even more of a special day.

That's it for the roundup of our LEGO Valentine's Day bits and pieces! It's safe to say that there are lots of great options for unique gifts out there – with something for everyone. However, it is worth remembering that you don't JUST have to limit your shopping to Valentine's Day related, items! FST stock a wide range of custom minifigures and official LEGO minifigures – meaning you could show a loved one how you care about them by helping them to fill a whole in their LEGO Collection, or by buying them a comedic gift – like a LEGO Minifigure of Joe Biden or Boris Johnson. Gifts like these can be great in their own right as they are unique characters who LEGO are unlikely to ever release in an official capacity – meaning that you can buy a loved one something which they are unlikely to own!
However you choose to celebrate – we hope you enjoy building together, and enjoy sharing a joint love for LEGO! If you'd like to continue to share in that, you're welcome to check out some of the other blogs which we have here on the FST site – including some of my other blogs, which can be found here. Thanks for checking this post out, and keep loving LEGO!