When it comes to fighting crime or fire there are abundance of sets in LEGO.  But it seems LEGO folk are exceptionally immune to diseases or extremely sturdy against physical challenges, because there are very few LEGO hospital sets.  Actually, before I started my search for these sets, I knew that there weren't that many of them. Yet somehow I was still surprised to find out that TLG made only a handful of hospital sets.  Without further delay, here they are:
6364 Paramedic Unit (1980)
First set we're going to see is not really a "Hospital" per se, it is a small medical center.  But I think it's still worth mentioning. TLG didn't use that many accessories inside the buildings back in the day.  Not that they didn't have the pieces, but I guess they didn't want to overcrowd the interior (I don't want to say lack of imagination because that is impossible).  All we had was a patient bed, and a doctor's desk. Medical decorations were only a couple of stickers. I especially liked the cube design, indicating it was a medical facility.  Only problem was this sticker was on multiple pieces and I'm not a fan of it. I lost too many stickers that way. The car had a classic design but you could seat a second passenger, or a patient in need, which was nice and useful.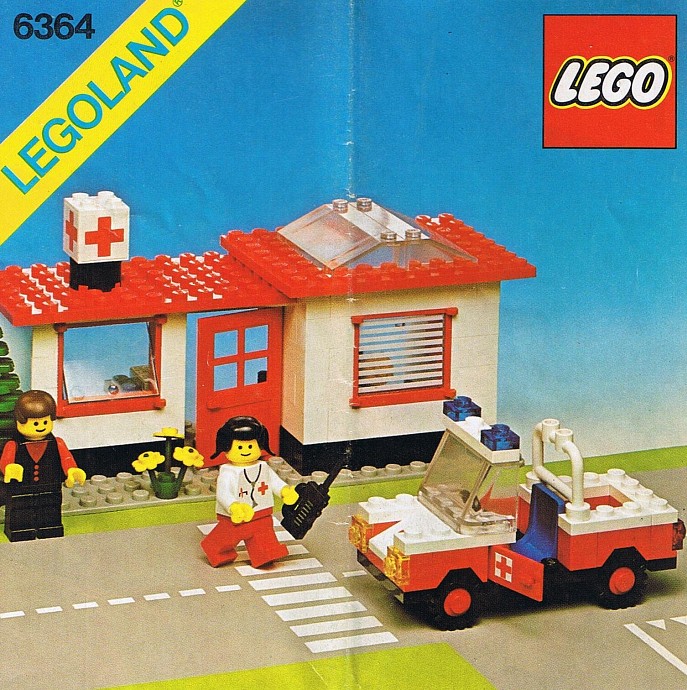 6380 Emergency Treatment Center (1987)
This was the LEGO hospital set that we were dreaming about, even before we knew such a thing existed.  The design was in line with other public buildings of the era, simply beautiful. I love how this set shines with vibrant colors.  Even the figures were colorful, not even a single black pants. Much like the building design, more attention was given to the interior design with more medical equipment and daily accessories.  The ambulance was also looking neat with all white with a red stripe all around.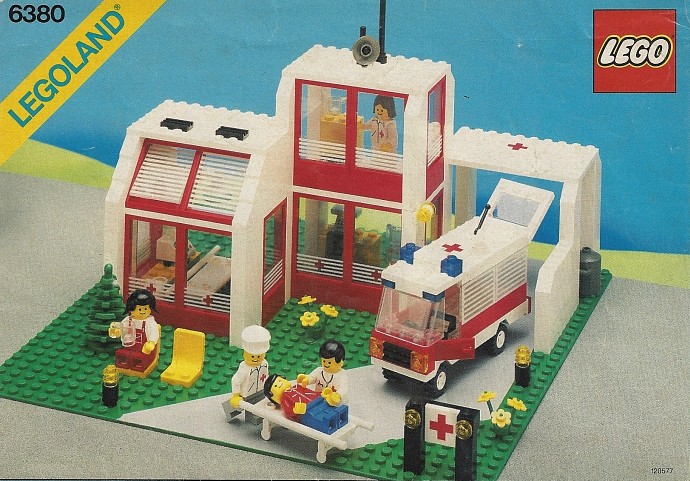 9364 Hospital (1993)
TLG is truly a unique company.  They always try new things, start new lines, get in touch with customers and fan groups all the time.  I don't know if other big toy companies are as involved as TLG is. In the 80's I had seen some of the sets from Dacta line, not on the shelves but in the catalogs.  I'm not an expert on TLG's educational affairs of the past and present, but it seems Dacta was created for one such purpose. This set displayed many aspects of a hospital in good detail, including lots of hospital beds, many equipment and gadgets, physical treatment center and even a couple of medical vehicles.  Perfect example of education in play.

7892 Hospital (2006)
We have only a handful of LEGO hospital sets and one of them is this monstrosity.  Do you remember the 7237 Police Station? Well, similar deal except worse, because this is a hospital.  There are ramps and stairs everywhere. What on earth were they thinking while designing this hospital? There are no ambulances, the helicopter can't carry a patient, so how do critical patients get to this hospital?  You'd think inside the hospital is exceptional… Nope, very standard actually. Maybe they used the raised platform for some hidden purpose? Nope! Then again, this is a hospital, why would they? Although the juniorization period was well behind us, I can't stop seeing the design similarities, both in the hospital and the vehicles.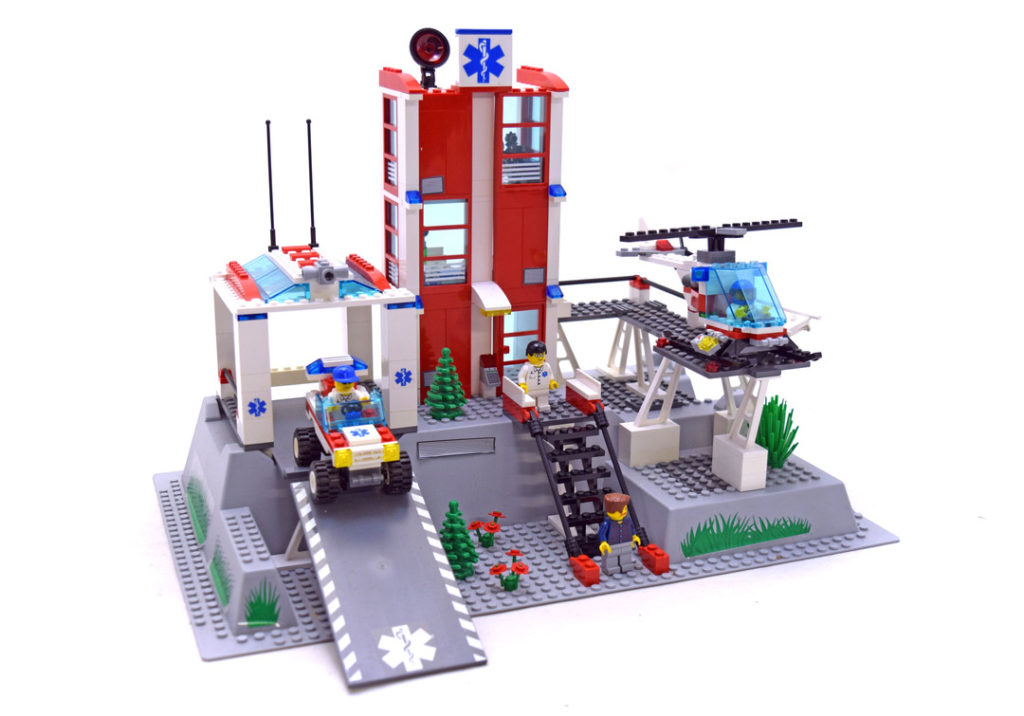 4429 Helicopter Rescue (2012)
It is very amusing to see that every LEGO hospital set has a different characteristic.  This hospital seemed more vehicle oriented to me. The hospital had a nice modern look with its large glass front, but on the inside there were very few medical details.  Mainly because the vehicles were comprising half the set. Ambulance was nothing special, pretty generic actually. I hated the bulky tires on standard cars and vans for some time.  The helicopter, though, looked very nice and effective. If I had this set, I would probably send the ambulance to the parts bin and use the garage as an operating room or something.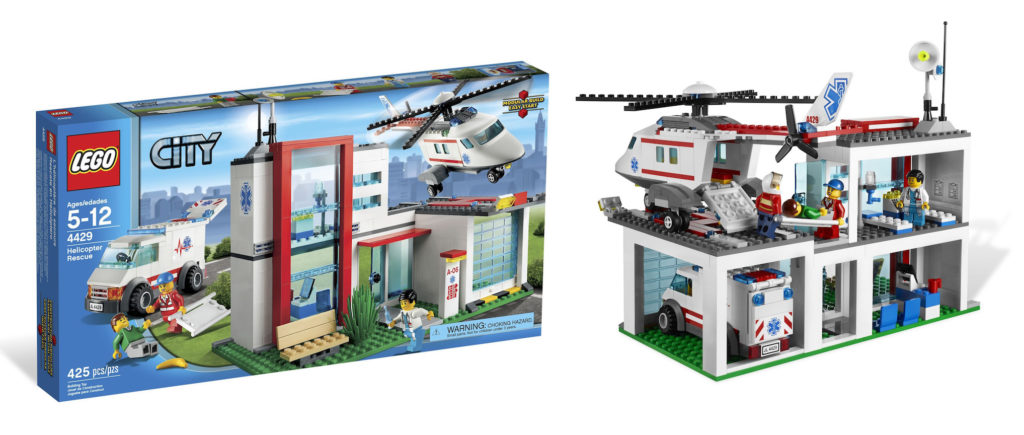 Get the Latest LEGO Sales & Deals
60204 City Hospital (2018)
Our final hospital in City theme is a crowded one.  There are total of 13 minifigures, from a baby minifigure to a skeleton. Wow.  Design of the other elements are not too bad either. We have more glass walls in the hospital now, making it look even more modern.  Ambulance is also had an upgrade in the looks department. I'd dare say this is the most realistic LEGO minifigure scale ambulance ever.  Helicopter is clearly an extra, maybe an afterthought judging from the helipad. Inside the hospital is cramped with details, too many to count here (Besides I don't want to make a fool out of myself by making a mess of medical terms).
These are all the hospitals that I could find in Town/City theme.  It seems the release interval for a hospital sets is around 6 years.  So, we may expect to see the next one around 2024. I must say, as a civil engineer I like the new look of the hospitals.  Not that I disliked the classics, I actually love them, but new designs are certainly more up to date. As to which one I'd prefer, as an AFOL I like the overall design of the 6380.  I can easily see myself improving the interior, had I had this set.
But the story of hospitals doesn't quite end here.  There are a few sets I'd like to mention, one new and a couple of really old ones.
231 Hospital (1978)
Before minifigures there were brick-built figures like the ones you see here.  This line was called "Homemaker". Same system bricks were used but the sets were built in a larger scale to match the figures.  Shortly after the success of minifigures, these figures were discontinued (Years later we will see Technic figures). Many of the interior elements were brick built, and some were just stickers.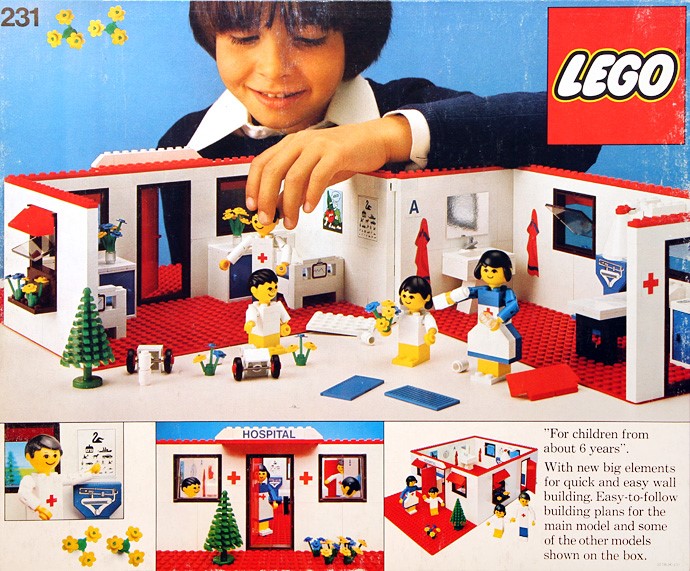 347 Hospital (1979)
One of my deeper regrets is not having even a single Fabuland set.  Similar to Sylvanian Families toys, the characters were various animals.  I loved those cutesy figures! Big building blocks were used to build the hospital, but the studs were regular size, not like Duplo pieces.  Interior was even simpler than the town sets with brick built chairs and beds. Ambulance was also very basic with older car look. However, neither building techniques, nor the various accessories mattered.  Overall cuteness of this set was the selling point, and it was truly a beautiful sight to see.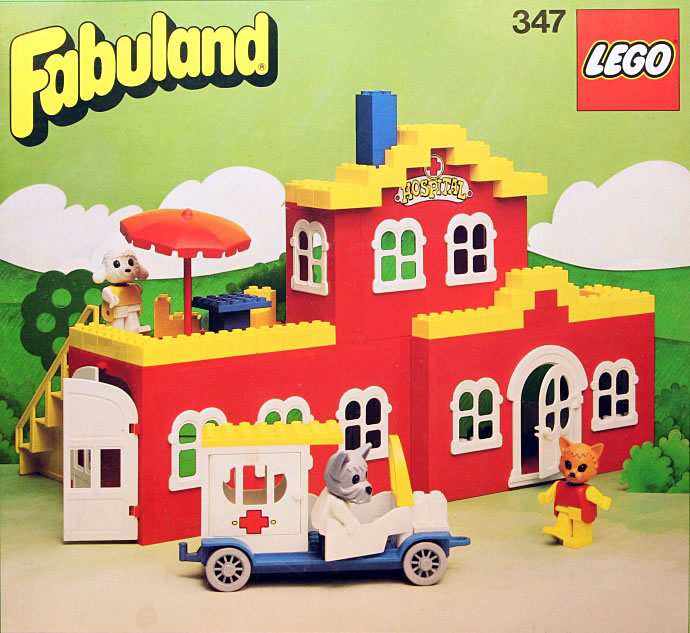 41318 Heartlake Hospital (2017)
I used to love Friends sets when they initially released.  I actually got a few, using my little girl as an excuse in the process.  Those subtle pastel colors were so easy on the eyes. The planes were pastel blue, the beds were pastel pink, the lemonade stand was pastel yellow.  Then for whatever reason colors in the Friends theme just went POP! And there were so many of them, like in your eyes pink, vibrant cyan, darker than dark blue and so on, and all at the same time, too…  Just like in this LEGO hospital set. Look at all those colors, can you guess how many colors used in this set? If you have guessed less than 25, you lost. I counted 26 including the transparent pieces. On the other hand, this is the largest hospital for sure.  Not only that, it's filled to the brim with accessories and equipment, much like other Friends sets. Ambulance is just there, you may even call the design boring for a Friends set. Helicopter design is on the cutesy side, not my favorite but not that bad either.  I think this set would have benefited from more muted colors like faint pink and white, but that's just me.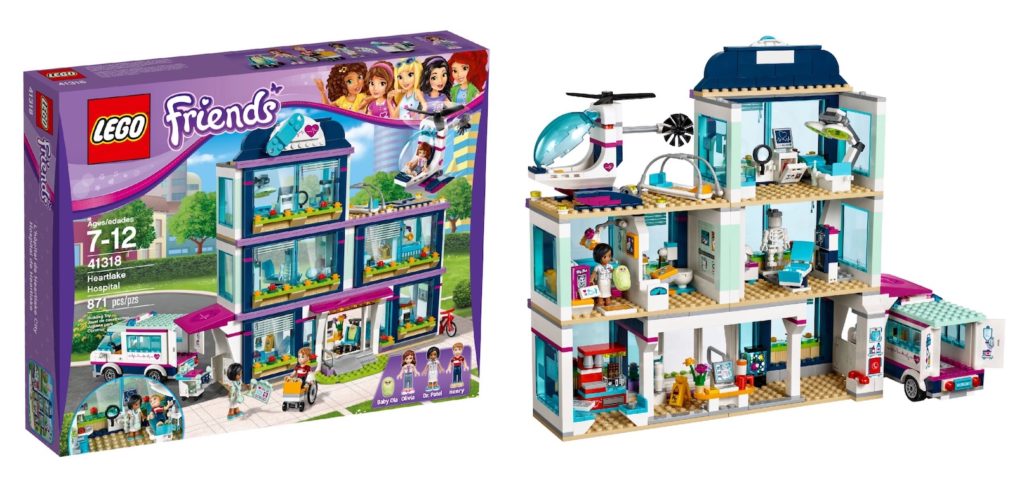 Get the Latest LEGO Sales & Deals