When I started writing blogs for FireStar Toys, I thought I could interview some notable members of the LEGO community, starting with Felix Mezei. Felix Mezei is a Romanian AFOL. He worked as an engineer and sales director before taking a break from his career to focus on LEGO. As well as building dioramas, Felix has accurately recreated buildings such as the Casino Cluj. In this interview we discuss how Felix became an AFOL, how he created his MOCs and what LEGO projects he would like to make in the future. He is an extremely talented MOC builder and it was great to ask him some questions about our shared passion.
So, unlike most fans, you didn't discover LEGO until much later in life. How did you become a LEGO fan?
I grew up in the 1980's under the worst form of European Communism. Whilst we had lots of toys, none of them were produced by Western companies. I was 12 when I first played with LEGO. Some of my friends in Hungary had LEGO sets that I was allowed to play with when I visited. It wasn't until 2009 that LEGO became widely available in Romanian Toy shops.
I rediscovered LEGO in 2010. I was friends with a local toy shop owner who reintroduced me to LEGO. At first, I congratulated myself on not diving into the expensive passion, but six months later I was deeply into it.
Do you remember what your first sets were? What do you collect now?
My first set was 4432 Garbage Truck followed by all the City sets of that period.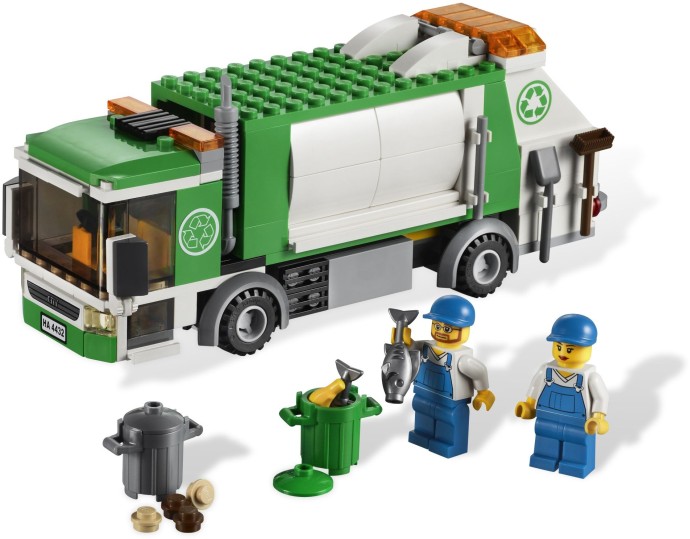 At first, I collected all the City sets. This helped me when I began to build dioramas for the window of my friend's local toy shop. Soon I started to buy all Technic sets because I am an engineer. I have continued to collect the more interesting LEGO City sets, almost all the Technic sets and all the Architecture sets (some of which I had to piece together form parts). I'm not overly devoted to certain themes; I just buy the sets that interest me.
I am not into Star Wars or other licensed themes but I am happy LEGO is filling this need for my fellow AFOLs.
Your website highlights some LEGO flag key chains you made for your friends. Why did you decide to make these?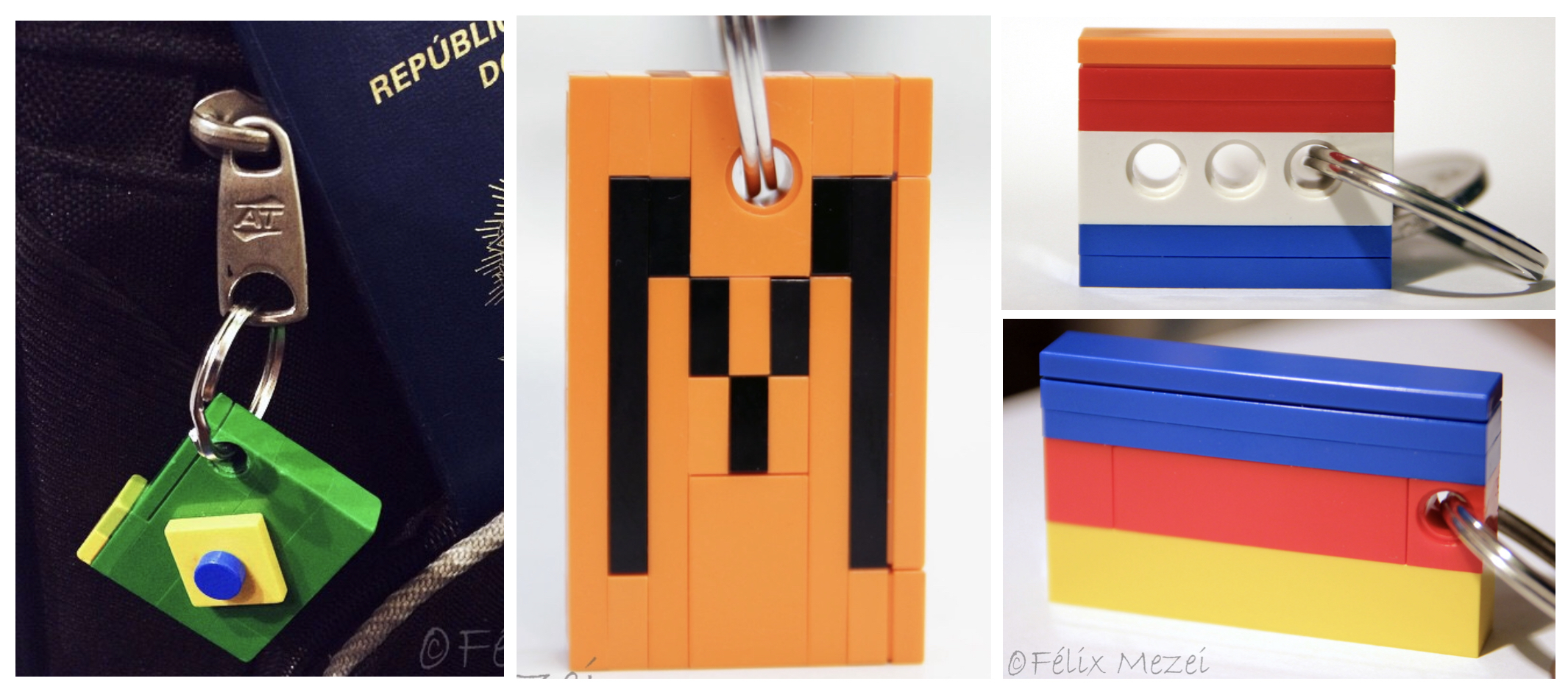 A few years ago, some famous handball players came to play in my hometown club. I became friends with them to help them adjust to our way of life. I wanted to create something for them and key chains proved to be the perfect gift as you don't have to love LEGO to appreciate them. They also serve as a nice reminder of our friendship. I attempted to make flags based on their nationalities.
Out of curiosity, which is your favourite key chain? Was it particularly challenging to create?
I have no preference although some of the flags were very hard to create. Chile's flag was especially challenging as I needed a part to replicate the star. It was difficult to think of a suitable piece. I eventually found the perfect part although acquiring the piece proved to be even more challenging.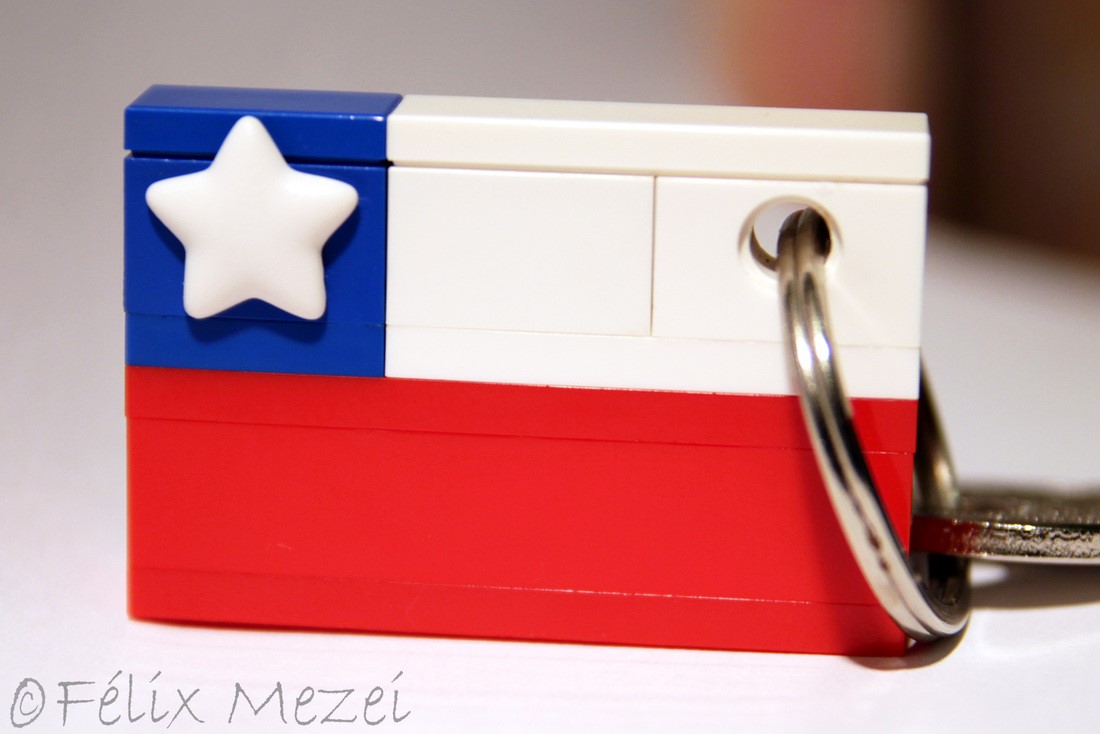 The Norwegian flag also proved to be near impossible. Recreating the double cross at such a small scale just wasn't possible without using SNOT and I'm not a fan of that building technique.
Rather than give in, I decided to create the flag as a furniture ornament. The larger scale enabled me to accurately recreate the white and blue cross. Ultimately, the flag gifts were perfect souvenirs.
You've made some incredible MOCs over the years including Casino Cluj and Citadel Square. When creating your MOCs do you prepare using computer software like LEGO Digital Designer or do you prefer to dive in and build with real LEGO bricks?
My dioramas would be impossible to build on a digital program due to their length (all 8 of them have been 3 metres long).
I used LEGO Digital Designer (LDD) when creating my Cluj Casino MOC. Because the MOC was due to be exhibited I only had two months to recreate the building. LDD was invaluable as it enabled me to create the building when I didn't have time to experiment with real bricks.
The project proved to be nightmarish, I was working nonstop with brief sleep pauses. The MOC was finished a mere day before the exhibition was due to take place. I felt like I was "bewitched". I have no memories of building it due to stress and a severe lack of sleep.
Now, I've started using STUDIO to create my own Neuschwanstein Castle MOC. The software proved particularly useful as it enabled me to source over 25,000 parts (although in reality that number maybe closer to 50,000).
I prefer using real LEGO bricks although digital building programs can save a lot time as you don't need to spend ages sourcing the right parts. Because I like to recreate real buildings in LEGO, I often try out several different building techniques and parts to make the MOC look as accurate as possible. It's easier to do this on a digital program because it allows you to "delete" one part and replace it. If you attempted to do this with real LEGO bricks, you'd have to break your MOC apart to switch out the necessary pieces.
I used to have a job sorting millions of LEGO parts so I don't really miss touching real LEGO bricks (unlike other people who use digital building software).
Do you you have a favourite MOC?
My favourite MOC is the Citadel Square because I was fortunate enough to "live in it" for a period. It is a replica of the nicest square in my hometown and a 15th century tower is its focal point. I spent three years reading books in the square. I've even spoken to tourists about the building and its history.  The architects who refurbished the square in 2015 kindly provided me with plans for building. Archaeologists and historians from my local museum also advised me on the build.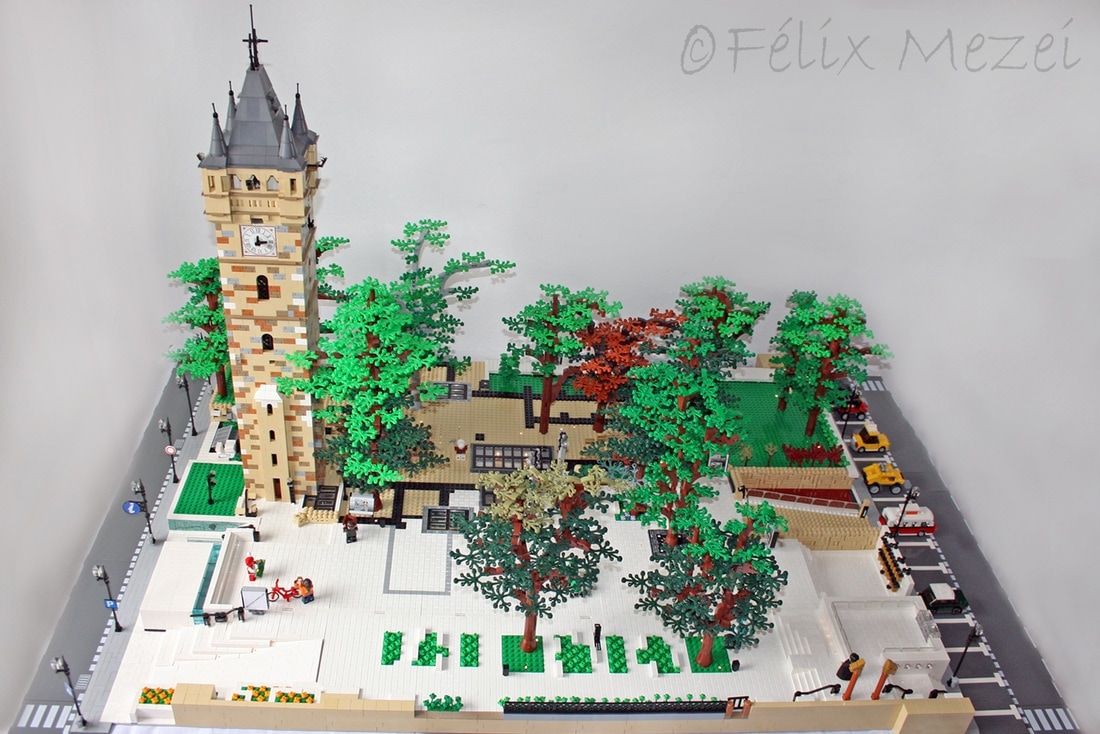 Although my dioramas were hard to make, I think replicating real buildings like The Cluj Casino or St. Stephen's Church Tower is much more difficult.  Lots of people create LEGO buildings from their imagination but very few attempts to replicate real buildings in LEGO because building real locations is arguably more challenging.
Why did you start building LEGO aquarium displays?
I've created 2 aquariums because I was curious to experiment with submerging LEGO underwater. I really wanted to see fish weaving in and out of LEGO parts. The hardest part was working out which pieces floated and which would sink to the bottom of the tank.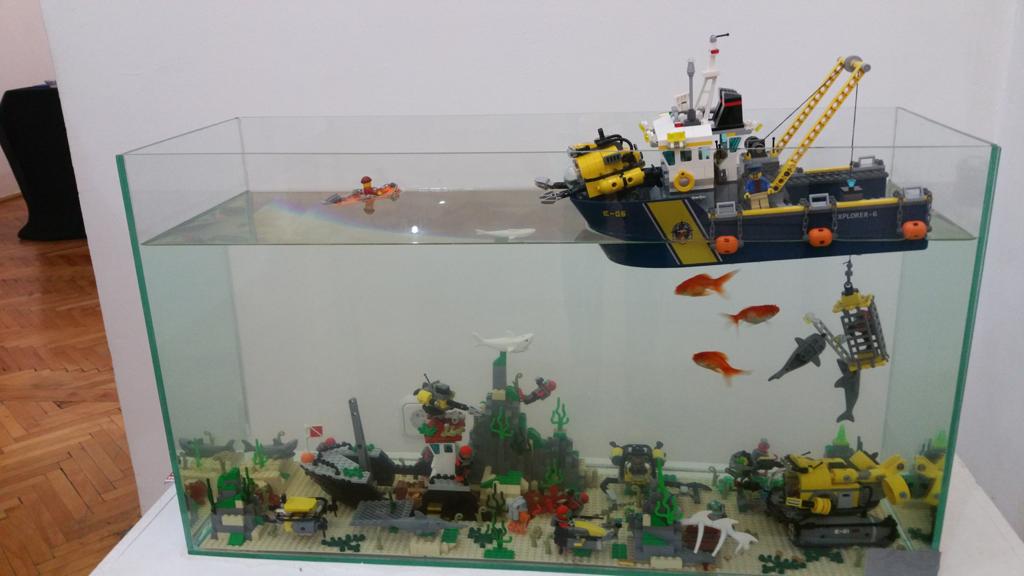 Did you encounter any other major problems with putting LEGO in an aquarium?
Some form of heavy weight needed to be incorporated into my builds to prevent elements of MOC floating to the surface. At the same time the weights couldn't be visible to onlookers as they would detract from the display. Working out how to embed weights within my builds so they couldn't be seen was fairly challenging.
Cleaning the fishes waste off the LEGO proved to be a total nightmare. I had to scrub the surface of each LEGO brick clean using a tooth brush. Still, it was nice to see kids go crazy when they saw the aquarium in my friend's local toy shop.
I'm not an aquarium specialist. Other people have done them better.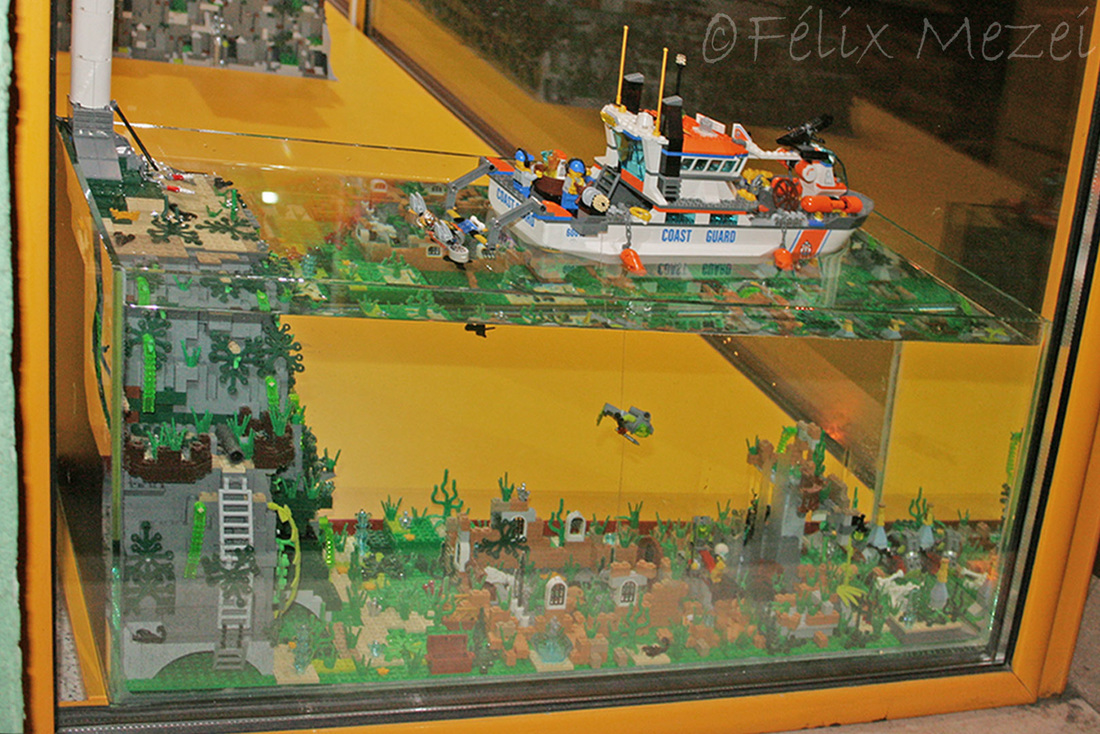 PhilReadBeard recently wrote an article on putting LEGO in aquariums. I recommend it to any readers who found this interview interesting and want to give it a try themselves.
Is there anything you'd really like to build with LEGO that you haven't yet?
I'm currently working on my own bigger Neuschwanstein Castle MOC. I probably need three to four pandemics more time to finish it. Working on the castle is my priority for the next few months.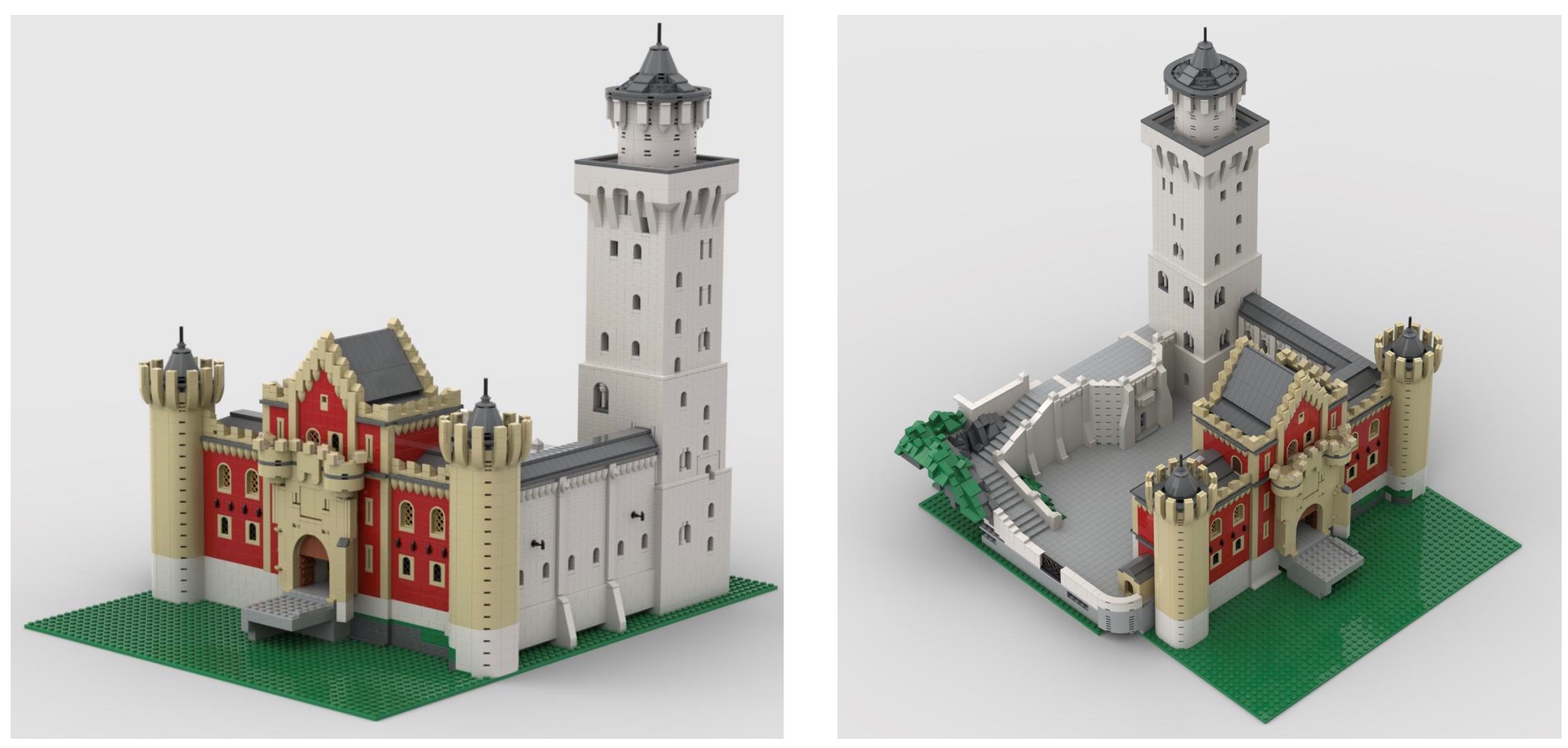 My other dream is to make a Western Diorama. I've acquired hundreds of thousands of parts for it over the past three years but I don't want to build it in Romania. We will have to see where my life leads.
Thank You Felix, it's been a delight interviewing you.
If you found this interview with Felix Mezei fascinating make sure to check out his website. Also leave any thoughts you have in the comments below.