To be honest, I've never bought one of these LEGO Advent Calendars before. I've been tempted by the LEGO Star Wars ones, but the price didn't seem to justify what I was getting in it. I'm not really majorly on Christmas and all of its associated merchandise, but I just had to pick this one up when I saw it on the shelf in Smyth's! I had the LEGO Speed Champions set I went in for in my hand, but the Harry Potter Advent Calendar won. I guess now we will see if I'll regret that decision or not. 
The box
As is the case with other LEGO Advent Calendars, this one comes with a sort of display box. As you can see, we have a gorgeous picture of the Great Hall and a cardboard base with what looks like the floor of Hogwarts on one side and snow on the other.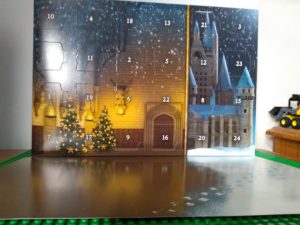 Day 1 
In the first door of the Harry Potter Advent Calendar, we have Mr. Harry Potter himself. This figure is an exclusive to this set. The head, the hair, the legs and certainly the wand piece aren't exclusive, but we have the lovely H torso that represents the jumper that Molly Weasley gifted him for Christmas. It is a great addition to this set and for me was definitely a selling point. This door gets a score of 10/10.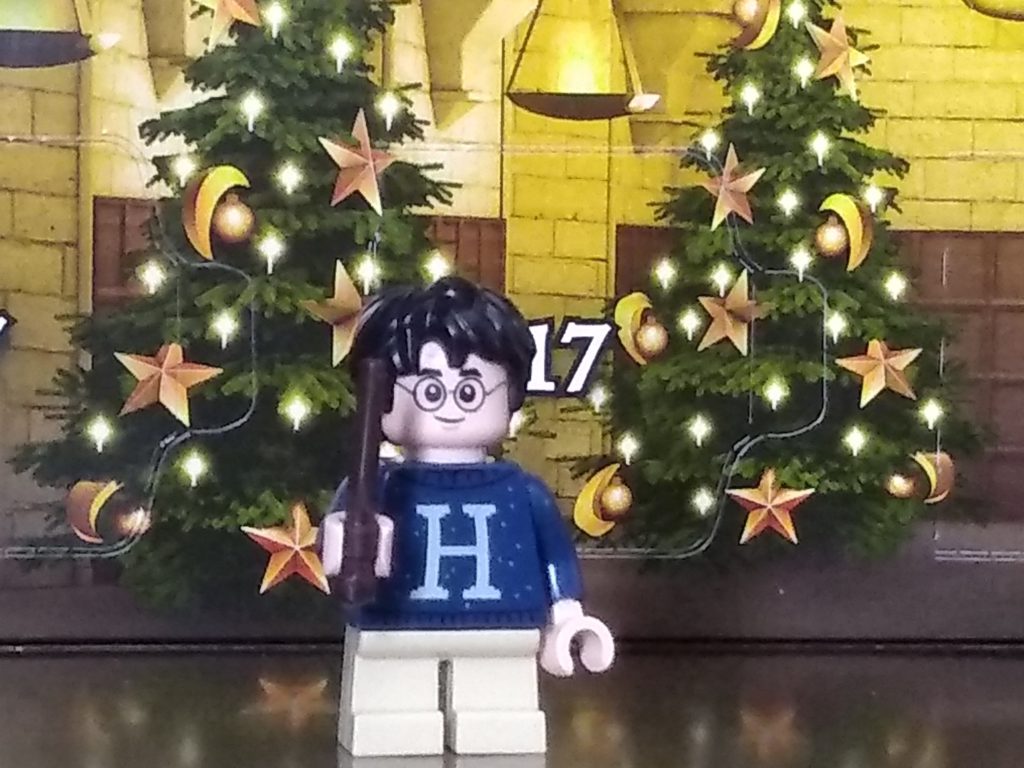 Day 2
We have a mini Hogwarts Express. Whilst building this one, I found the fact the instructions are printed onto the cardboard doors. That's a bit annoying, but I do like this little build. I like that we get some spare pieces and I can see myself using this as a toy for a LEGO kid to enjoy as a Christmas present. This door gets a score of 9/10.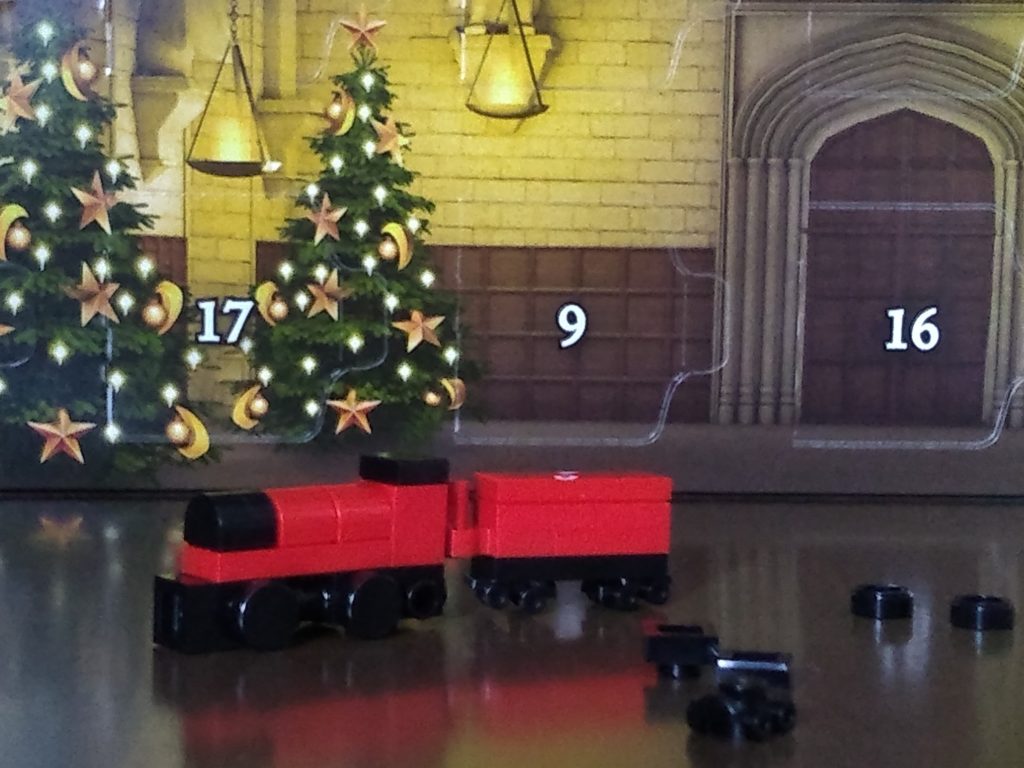 Day 3 
Day three and we have two Christmas trees. I do like that two are included, that was nice of LEGO, however I do not like these builds. I don't like that these Christmas trees start off green at the bottom and then are completed by a white cone piece. It looks weird and while I understand it's intended to represent the snow on the trees, I think it had been executed badly! This door gets a score of 2/10.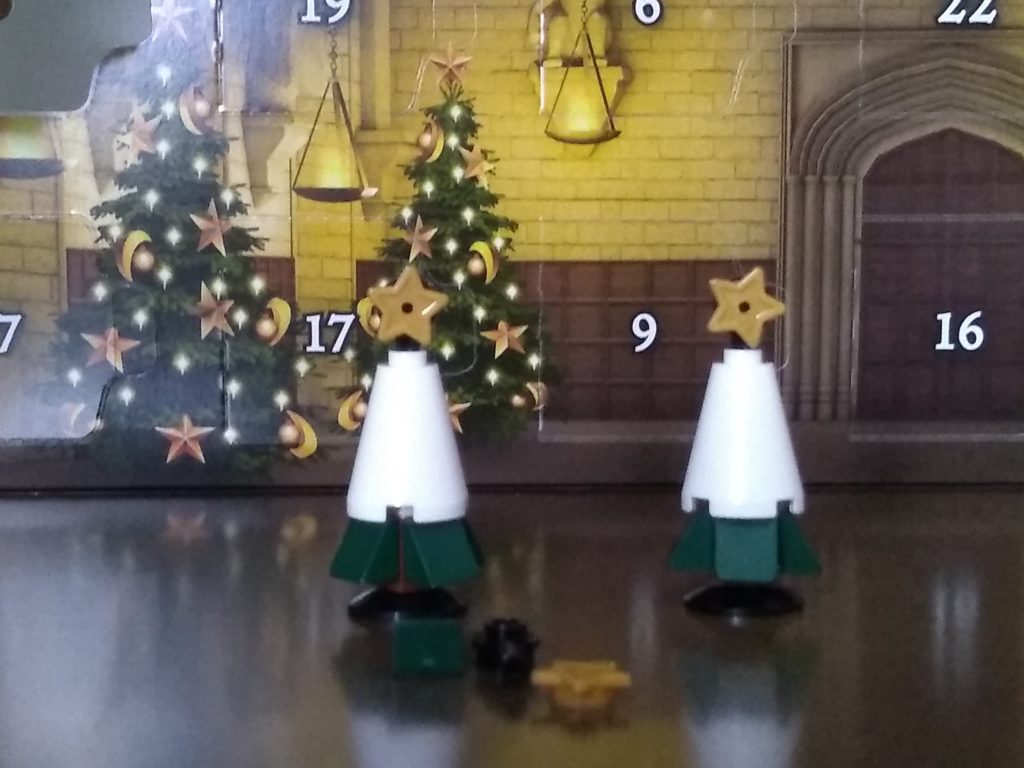 Day 4
See LEGO? You can do it! This is how you make a mini Christmas tree! This build is nice. It's mostly green with hints of snow and it doesn't look like a Christmas buoy. However the calendar as a whole loses points for having Christmas trees for two days in a row! I reckon some kids or AFOLs will be quite annoyed at having to wait a day just to get the same thing, but if they are anything like me, they will be glad to get a Christmas tree that looks a lot better than whatever day three's was supposed to be. This door gets a score of 8/10.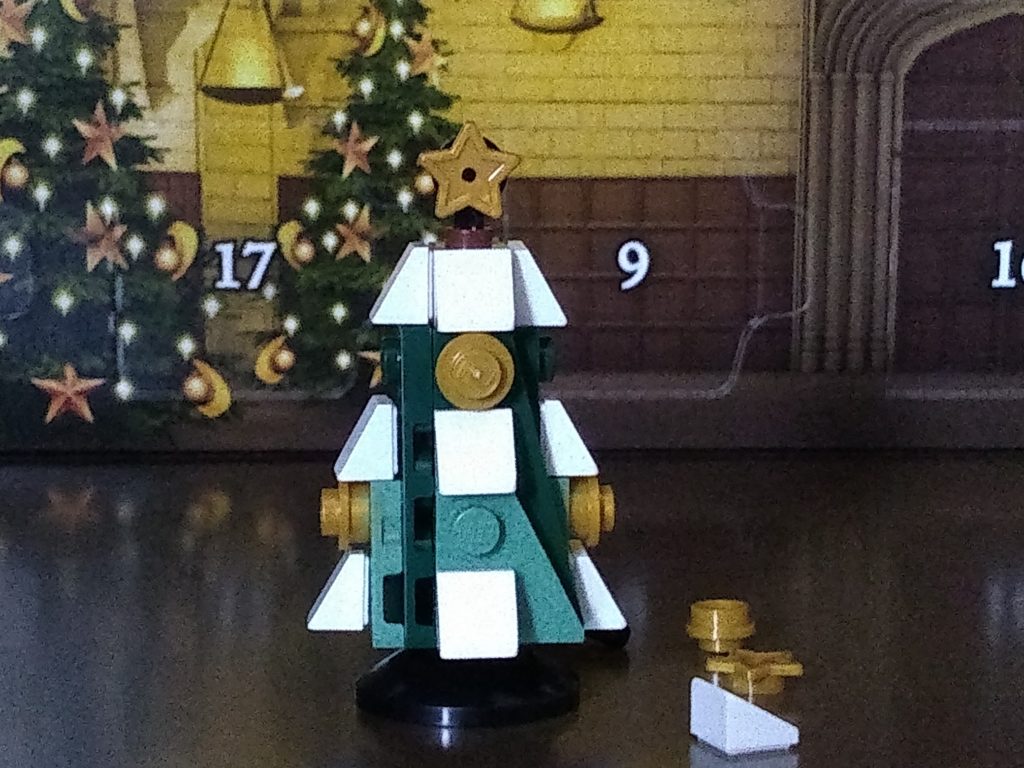 Day 5
I don't really got a lot to say about this one! It's a flag pole that's supposed to represent Gryffindor House with its gold and red flags. Not particularly Christmas related, and not all that interesting but may be useful for people's Hogwarts MOCs I suppose. This door gets a score of 4/10.
Day 6
We get our second minifigure of the Harry Potter Advent Calendar: Professor McGonagall! Although not really exclusive to this set, as you can see. It's the same as the one from the Great Hall set minus the double sided face. This doesn't annoy me though, because it's a nice cheap way of getting Professor McGonagall. It is not only a great selling point for this set, but a reason I might buy another! So even though it isn't exclusive and it isn't particularly Christmas-y, it's a great value way to get this figure. So for its inclusion in this set, this door gets 9/10.
Day 7
It is a Great Hall table. It's a nice build and includes 2 cups. I actually like this table more than the ones we got in the Great Hall set. As you can see in the picture below, your minifigure kids can fit quite nicely at the table.This door gets a score of 6/10.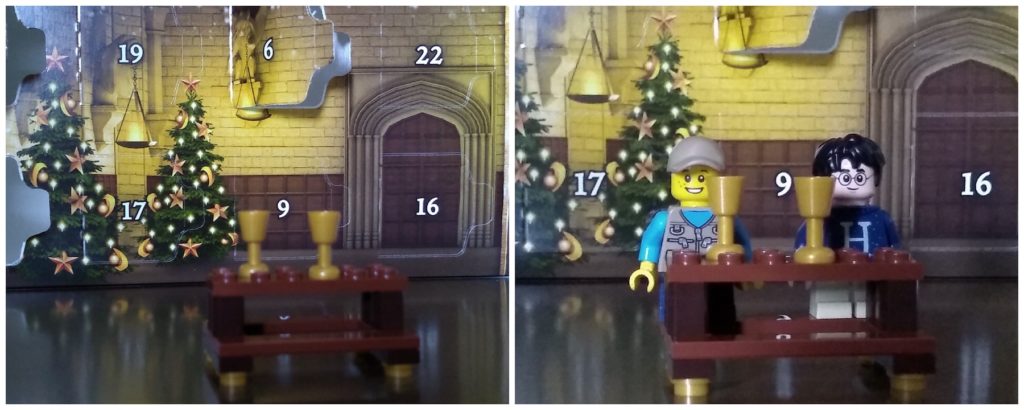 Day 8 
This door has admittedly a really nice turkey piece. I don't know if it's exclusive but I've never seen it in a set before. I also like how the turkey legs come off so you can put them in a minifigure's hand. You get a plate and three yellow ice cream pieces. I don't know what they are supposed to represent, but I could see myself making use of the parts. This door also comes with a plate piece which, again, will be useful for other things. The turkey and its plate fits nicely on the table. This is a Christmas-y thing that doesn't have to be used for Harry Potter. It can be used in any theme that has characters around for Christmas dinner. This door gets a score of 10/10.
Day 9
Ok, so we have another flag stand. It's the same as the one before but it's of the superior house! 20 points to Slytherin and this door gets a score of 4/10.
Day 10
The third minifigure of the Harry Potter Advent Calendar is Ronald Weasley. It's like the Harry Potter figure, the only thing that is exclusive is the jumper that was gifted to him by his mother for Christmas. This is another great addition to the set and it's a nice wee exclusive that's also Christmas-y. This door gets a 10/10 as well.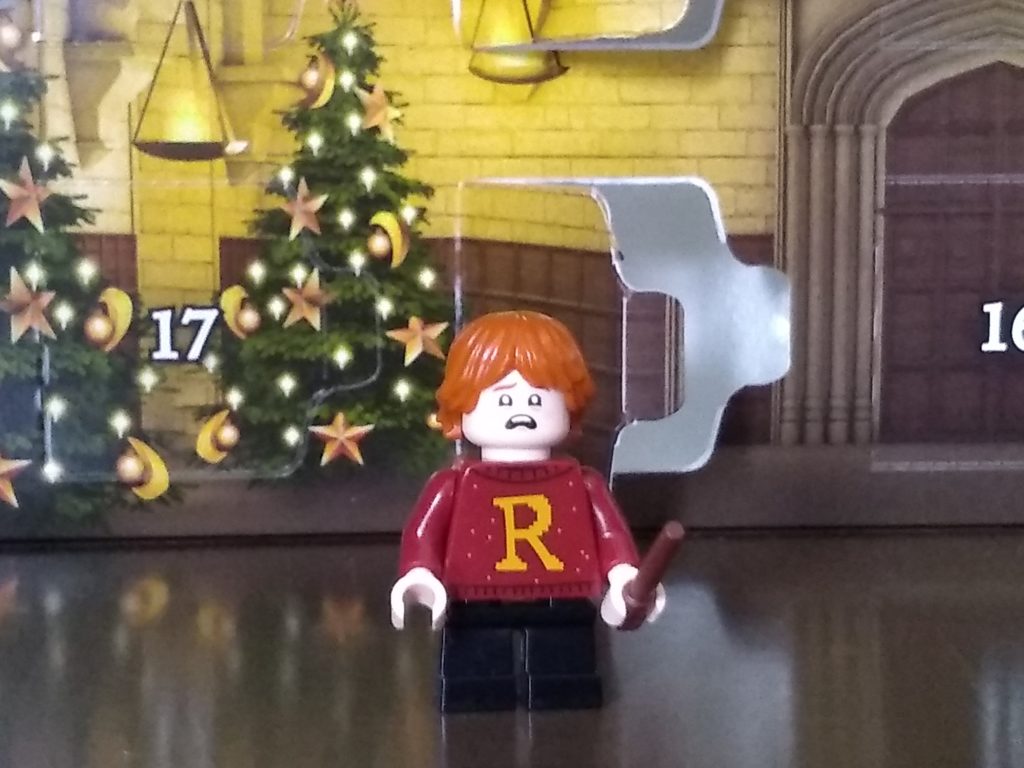 Day 11 
It's another table that is the same as the one before, but this one comes with a nice candlestick build. It is a nice little addition which can easily be held by a minifigure and looks authentic. I don't mind getting a double of the table as it's a useful build to have more than one. This door gets a score of 6/10.
Get the Latest LEGO Sales & Deals
Day 12
This door has a few food pieces. It has cups, another plate, cookies, a croissant and a pie. None of these are particularly Christmas-y or Harry Potter related, but they are useful pieces to have. This door gets a score of 7/10.
Day 13
Again, another flag build, this time for Ravenclaw… yeah that's all I've got to say about it. This door gets a score of 4/10.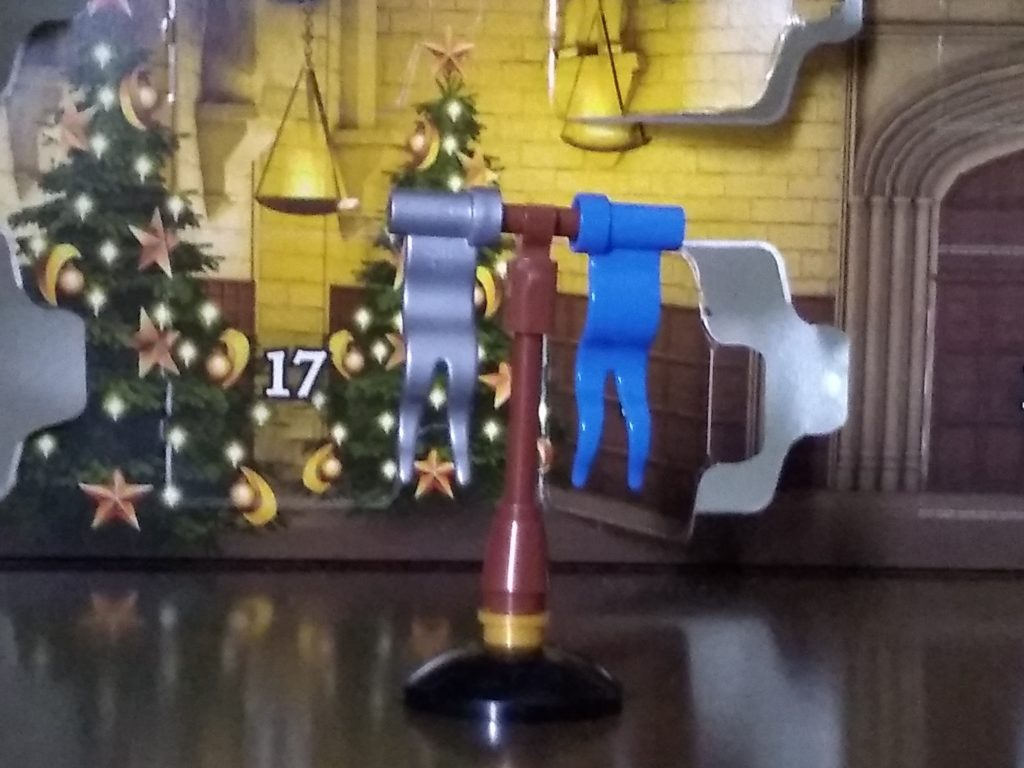 Day 14
And it is miss Hermione Granger! As far as I am aware, no parts are exclusive and the torso previously appeared in the CMF series! The head and the hair for Hermione is the same one we have got in a few sets before. However, I do appreciate the minifigure, since the Harry Potter Advent Calendar would be incomplete without the "insufferable know-it-all" of the trio. It's a variation of Hermione we haven't got before, and she has a scarf so she's dressed for winter. So this door gets a score of 7/10.
Day 15
We have a delightful little snow wizard which is quite a simple build. I don't know why but I really love this build! I think it's cute and it may very well be my favorite build that isn't a minifigure. It's certainly Christmas-y and Harry Potter themed enough, too! This door gets a score of 10/10.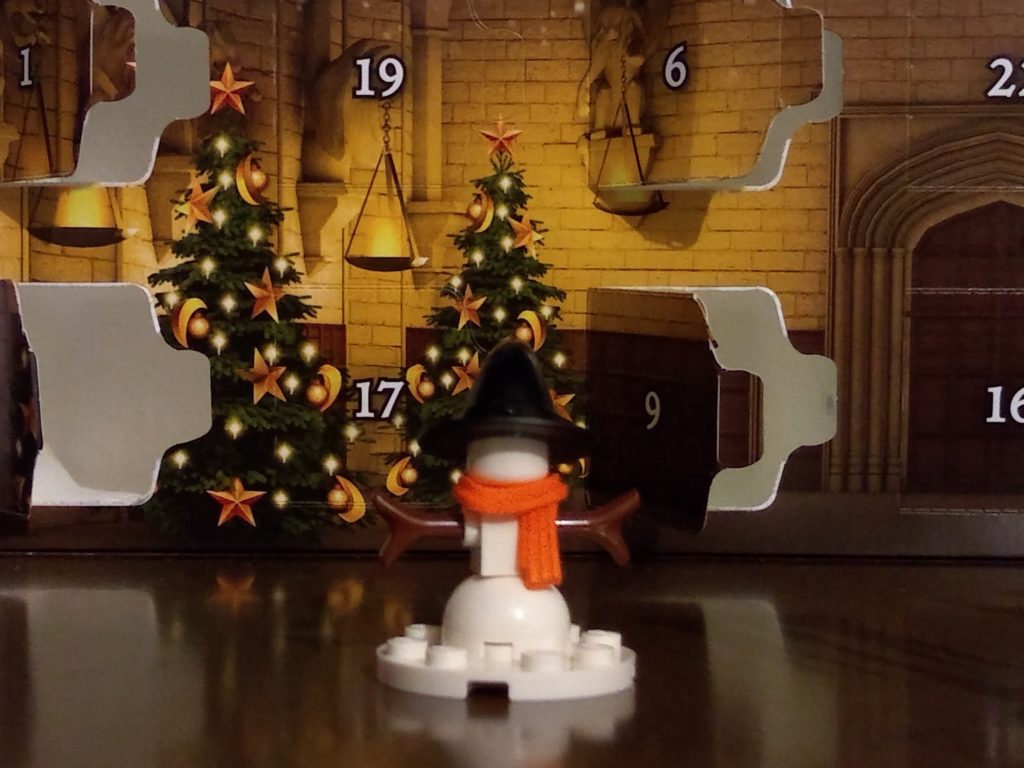 Day 16
This build is supposed to represent wizard's chess as played by Harry and Ron in the… you guessed it! The Great Hall! This set could easily be the Great Hall Christmas accessory pack. It's a very nice inclusion, as again it was a Christmas present for Ron. The spare pieces you get include two of the nano figures which are always nice to have spares of. There isn't really a lot to say about this one, apart from the fact it's good they included it so this scene can be recreated in LEGO form. I score this door at 8/10.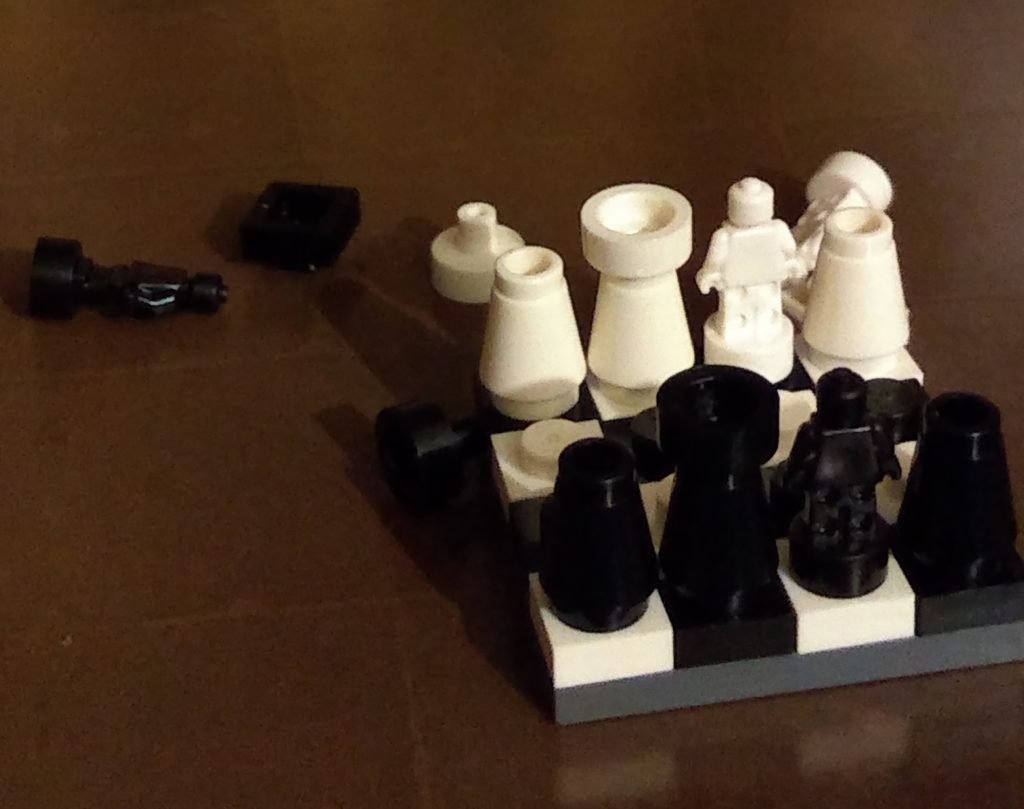 Day 17 
The last of the flag builds – unless there's a house I'm forgetting about ! Again a rather dull inclusion. This gets a score of *yawns* 4/10.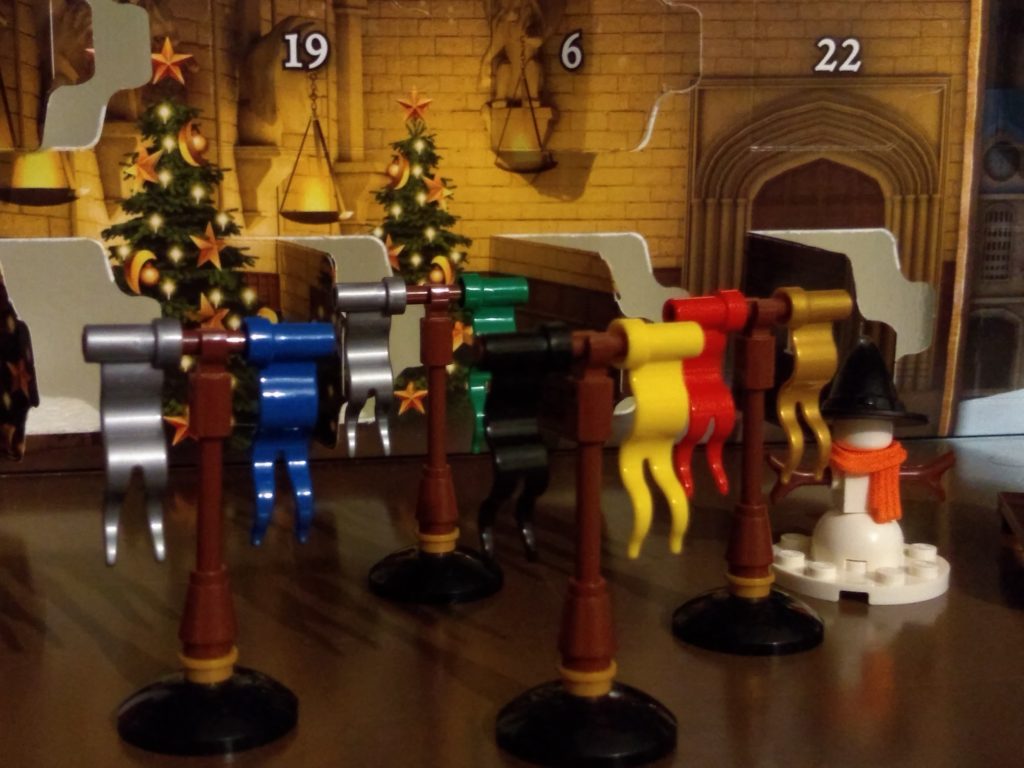 Day 18
This door makes me giddy like a kid again! The torso and the head of Professor Flitwick are both exclusive to this Harry Potter Advent Calendar. This is a character we've only got in the new CMF series. The face is different because there's a shocked facial expression and the normal smiling face on the other side. The CMF version only had the smiling face. It also has a lovely waistcoat torso that you will notice appears to be the same one he is wearing underneath his jacket in the CMF series, which is a lovely bit of detail! I also love how you get not one but two spare bowties! Bowties are cool! This door gets a score of 11/10.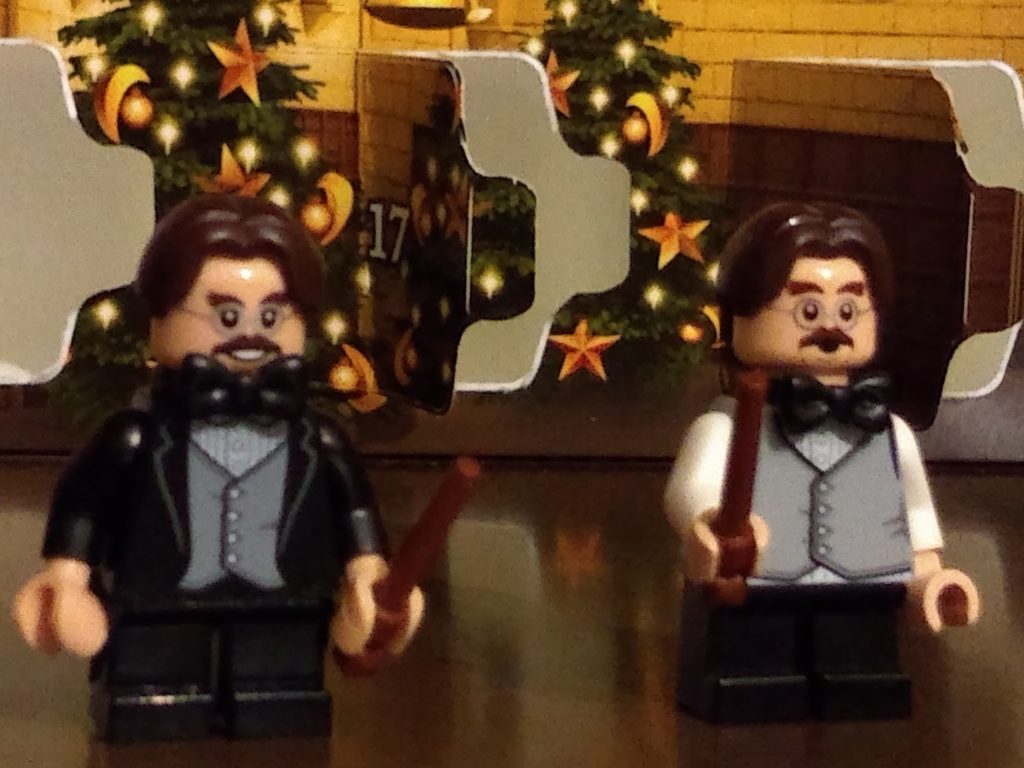 Day 19
This next build is a lovely little Christmas fireplace! It would be a nice wee detail to add to a LEGO house or a Gryffindor dorm room build, or to a Great Hall MOC! Not only does it look nice on its own, but it also looks great when minifigures are posed beside it! Out of all the other builds, this, to me, is the prettiest. Put together all these little builds and it could look really nice in a little scene. This door gets a score of 8/10.
Day 20
I believe this build is a podium for a statue build that I think is in the next door. The tile pieces of all the houses in this aren't exclusive. I believe they are in the "build your own adventure" set, but it's nice to get them here too! I wish they had done more printed house tiles in this set instead of those silly flags! The build itself apart from the tiles is a bit too grey for me, so I will score this door at a 6/10.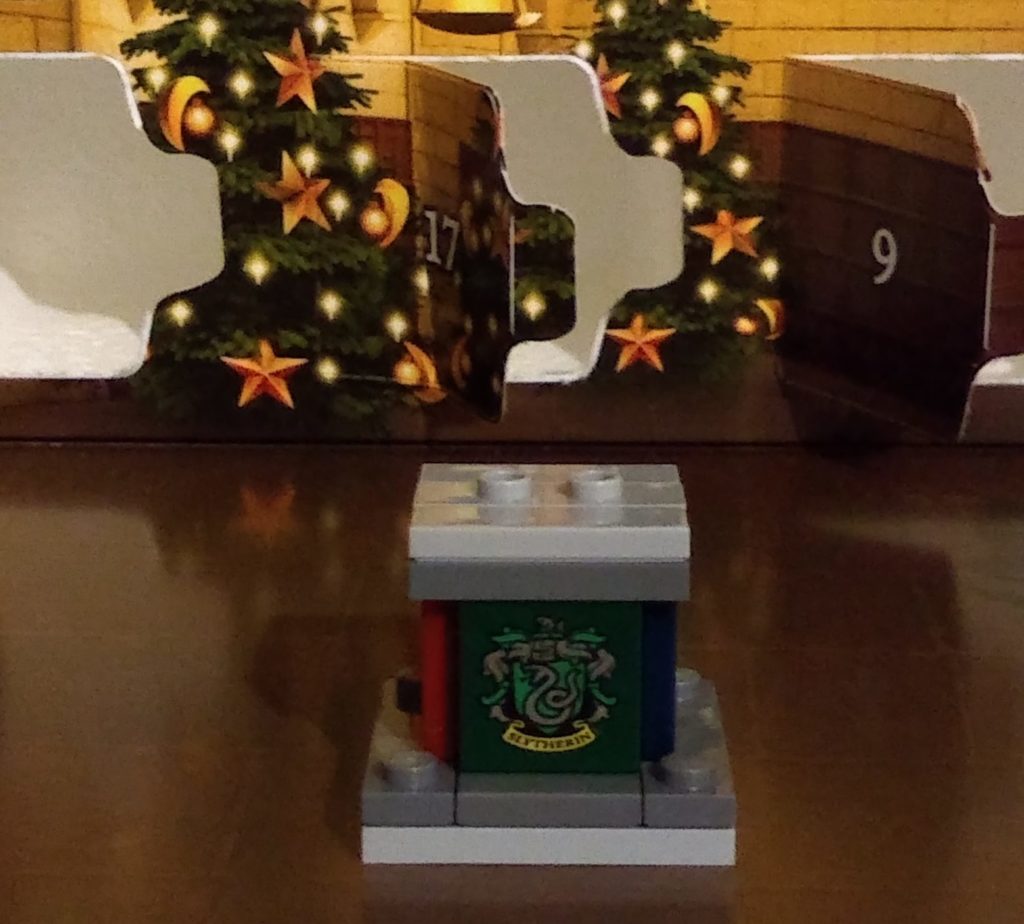 Day 21
This is a gorgeous little statue build! I love the color and it also has a few exclusive pieces including a golden beard and a golden fez! I don't know how you'd use these pieces outside of this context, but I'd love to see what people come up with it! This is probably supposed to represent the Hogwarts architect and I do love the little mini Hogwarts in his hand. I wish the black sort of claw piece that had been made in an exclusive color so that it matches. However it's a small gripe as you can't really see it. Now I have the statue on top of the podium, I'm even less impressed with it. It just looks ugly! However this door gets a score of 9/10.
Day 22
This door of the Harry Potter Advent Calendar has little presents. They represent each house with their colours, which is a nice addition reminding us that this is a Christmas Advent Calendar. They are nice little simple builds that can go underneath the Christmas tree provided and can stay clear from the Christmas buoys from door 3. Nothing exclusive about them, but they fit in with the theme and they are cute little builds. It's also a nice way of getting the Hogwarts letters! This door gets a 8/10.
Day 23
In this door we have Albus Percival Wulfric Brian Dumbledore! This is the same Dumbledore as the Great Hall set in every single way, but as with the Professor McGonagall figure is nice. It's also a good way of getting him cheap. This door gets a 10/10.
Day 24
We have five items here. First, we have Hedwig! I have a small owlery of clones of her and I'm sure most Harry Potter LEGO fans do! We have a spell book which, again, I have loads of but no harm in having another I guess! We have a chest, which is always handy to have, but again, I have loads of. There's a nice little chocolate with a bow on it, so your minifigures can have some chocolate after their dementor encounters! BUT this door also has an exclusive Hogwarts acceptance letter print with professor McGonagall's signature on it. It is a lovely wee touch, but I can't believe this is the last door. If you ask me that's a bit anticlimactic. However this door gets a score of 7/10 with the Hogwarts letter getting a 10/10.
Would I recommended it for kids?
Absolutely I would! Not every parent can afford the Great Hall set from 2018. This is a great way of getting figures and parts of the Great Hall that are enough for your little ones to recreate their favorite scenes from Christmas at Hogwarts! I don't know about some of the days, especially the last one. It might disappoint the little ones who wanted something a bit bigger in the end. 
Would I recommend it for adult fans of LEGO?
Absolutely! As an AFOL myself, I delight in not only the minifigure selection, but the accessories that come with this set. The little builds and things will be great for me to use in other sets.
Final thoughts 
Some of the doors in this calendar are honestly not my cup of tea at all, as you probably gathered. But overall, this is a great set! It's priced at about £25 and a great value for your money! If this set consisted of the minifigures alone it would be worth it but it comes with many little accessories and builds to top up your collection and create some really lovely scenes with. I will definitely be picking up another one of these to dissect it for parts and I'm very glad I bought this set when I did! 
If you've read this to the end thank you very much I hope you have a wonderful Christmas when it comes and that you buy this calendar and enjoy it in whichever capacity you choose to. 
Happy building !
Get the Latest LEGO Sales & Deals