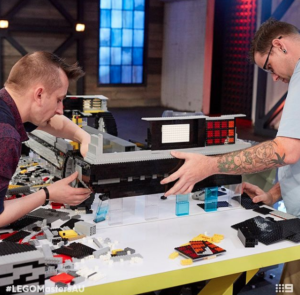 A few months ago, strange images started appearing on my Instagram feed. You see, most of the people I follow are fans of LEGO, and they post pictures of their builds or minifigures, but almost never themselves. I started seeing people along with their builds, and after a while, I got curious. That's when I learned about the existence of LEGO Masters. Apparently, one of the people I was following was a participant! How exciting it must have been. I watched the whole show through his images, and when the opportunity presented itself, I decided to write a little bit about it.
LEGO Masters is a British TV show that aired in August, 2017 on Channel 4. In the show, teams of amateur LEGO builders compete against each other by using their creativity and construction skills to build the best project. In 2018, a sister-show was commissioned by the Nine Network in Australia, and its first season aired between 28 April-14 May 2019.
Today, we are here with Kale Frost, a.k.a. Frostbricks, who has agreed to answer a few questions regarding his experience about the LEGO Masters show.
Before anything else, let's get to know you a little bit. Can you tell us about yourself?

I'm known as Frostbricks online. If you're an AFOL, you've probably seen my work, but to give a little insight behind it, the motivation is always about making people smile and bringing beauty into the world.
Mostly it's the experience of play and whimsy, of creating small worlds that we as children would want to live in. That's where most of my creations come from. And while it might often have it's seeds in pop-culture, it really is about expressing that idea of fun, whilst working to lift the bar, and explore something new.
That's what drives me. I'm just a kid who refused to grow up. 
How has your relationship with LEGO bricks been? Have you always had an interest in it? Or did you have a "dark age"? If so, what was the reason that made you come back?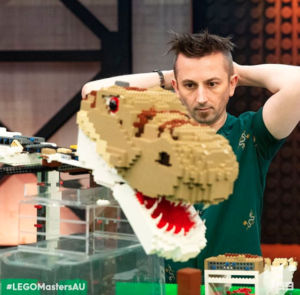 I had a very difficult childhood, and LEGO was my safe space during that time. Like most AFOLs, I did have a Dark Age. For a lot of years the only LEGO I had was a X-Wing above my computer desk. Then my second son was born 6 weeks premature. He was in the NICU (Intensive Care), and I don't think I've been more scared in my life.
I turned to LEGO as a way of helping me cope with, and process, the situation. It helped me get through a very, very difficult part of my life. 
My son is fine and healthy now. Best thing that ever happened to me. And that experience led me to become part of the LEGO community. Through LEGO I made not just new friends, but a whole new family. 
And it's something I'm just so incredibly grateful for, so a lot of my relationship with LEGO, and the LEGO community, is about giving back, and helping to make the world a better place for others.
This year, you were on the LEGO Masters Australia TV Show. Can you give us a little information about the show and how you heard about it?
I heard about it through the AFOL community. But for those thinking of applying it's important to get comfortable around cameras, and be ready for what is quite an intense experience.
Is it possible for anyone to be on LEGO Masters? Or is there a certain path to be followed?
Oh, absolutely anyone can be involved. LEGO isn't something that discriminates. It doesn't matter what your skill level is, or who you are. It's absolutely open to everyone. Auditions are open right now, and anyone who is over 15 can apply to be part of season 2. If you want it to be you, head on over and apply.
And sure, you do need to be over 15, but I would love, love, love to go back and be part of a LEGO Masters Juniors with my son, 'cos it really was an awesome experience.
What did it feel like to be there? For those of us who have missed it, can you tell us what happens during the show? And maybe a little about what happens before and after?
LEGO Masters was an interesting experience, a wild roller coaster ride. 
I'm definitely a wildcard who's a little crazy (though when you're an artist you get to be called eccentric) loves taking on big challenges and full of enthusiastic energy. 
I had a blast. It was a whole lot of fun. There were so many amazing moments; the Delorean build was some of the most fun I've had in my life for instance.
As an amazing builder, what would you suggest to those who want to participate in LEGO Masters? What should they concentrate on?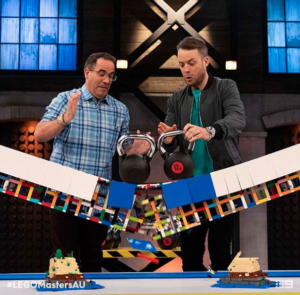 The secret to becoming a contestant on LEGO Masters is just like anything else in life, it's all about putting in the practice and dedication. Putting in your best efforts, being willing to fail, own your mistakes when you do, learn from them, pick yourself up, and try again. that's it. That's the secret. Because that continuous effort, that learning journey, that's what helps us become better and better at what we do. because anything worth doing, is worth doing well. So give it 110% focus on being better than the person you were yesterday, do that every day, and you could be a LEGO Master.
Thank you, Kale, for giving us a bit of an insight about your experience with the show, and about yourself, too. I'd also like to thank the Nine Network for allowing this interview.
Don't forget to check out Kale's Instagram feed for incredible builds and events, and LEGO Masters Australia's official site for more awesome stuff. And of course, this is where it all started two years ago.
All the images are taken from Kale's Instagram feed. The logo above is from LEGO Masters Australia's Facebook page.