Ladies and gentlemen, thank you for joining us as we continue our newest series: Interview with an AFOL. In the following weeks, every Tuesday and Friday, we will be having interviews with AFOLs of different kinds. There will be photographers, collectors, builders, animators, and even bloggers! We'll try to learn a little more about them and see how they came to love the plastic brick (or people) we all love. Some of these AFOLs are well known throughout the community, while others, not so much. No matter who they are, they are all incredible people who have at least one thing in common: Love for LEGO.
Today we have Astrid, a.k.a. hey.light on Instagram.
Can you tell us a little bit about yourself?
Hi everyone, my name is Astrid, I'm 58 years old and I'm a toy photographer from Bremen in the north of Germany. I love toys, especially small and cute toys as LEGO Minifigures, Smurfs, Minions, Tintin and tiny figurines and cars from the field of model railway (H0).
How did your journey with photography begin?
I've been taking photos since I was a teenager. I never had a particular preference for a particular genre. In 2005 my teacher in photography put a bag with little frozen fishes on my table. My task was to take photos of them and I combined a little kinder joy figure with one of these fishes. My first toy photo was created and it opened my heart for toy photography.
A couple of years later another photography teacher put a bunch of photo books on my desk. I was asked to choose one of them, analyze the photos and make photos in the same style. I picked a book of Slinkachu, a brilliant English street artist. He positions figures from the field of model railway in the streets and photographs them.
For a long time, I only photographed these H0 figures. They are not much bigger than a fingernail. At some point I wanted my characters to have faces and show emotions. That was when I put LEGO minifigures in front of the lens and started telling stories with them. I love building LEGO figures so that my story is told. I take a lot of time to coordinate the colors well and find suitable accessories.
In the meantime, I also photograph larger characters from the comic world, such as Tintin or Nick Wilde. I'm looking for places in nature where they come into their own and where a little story is created.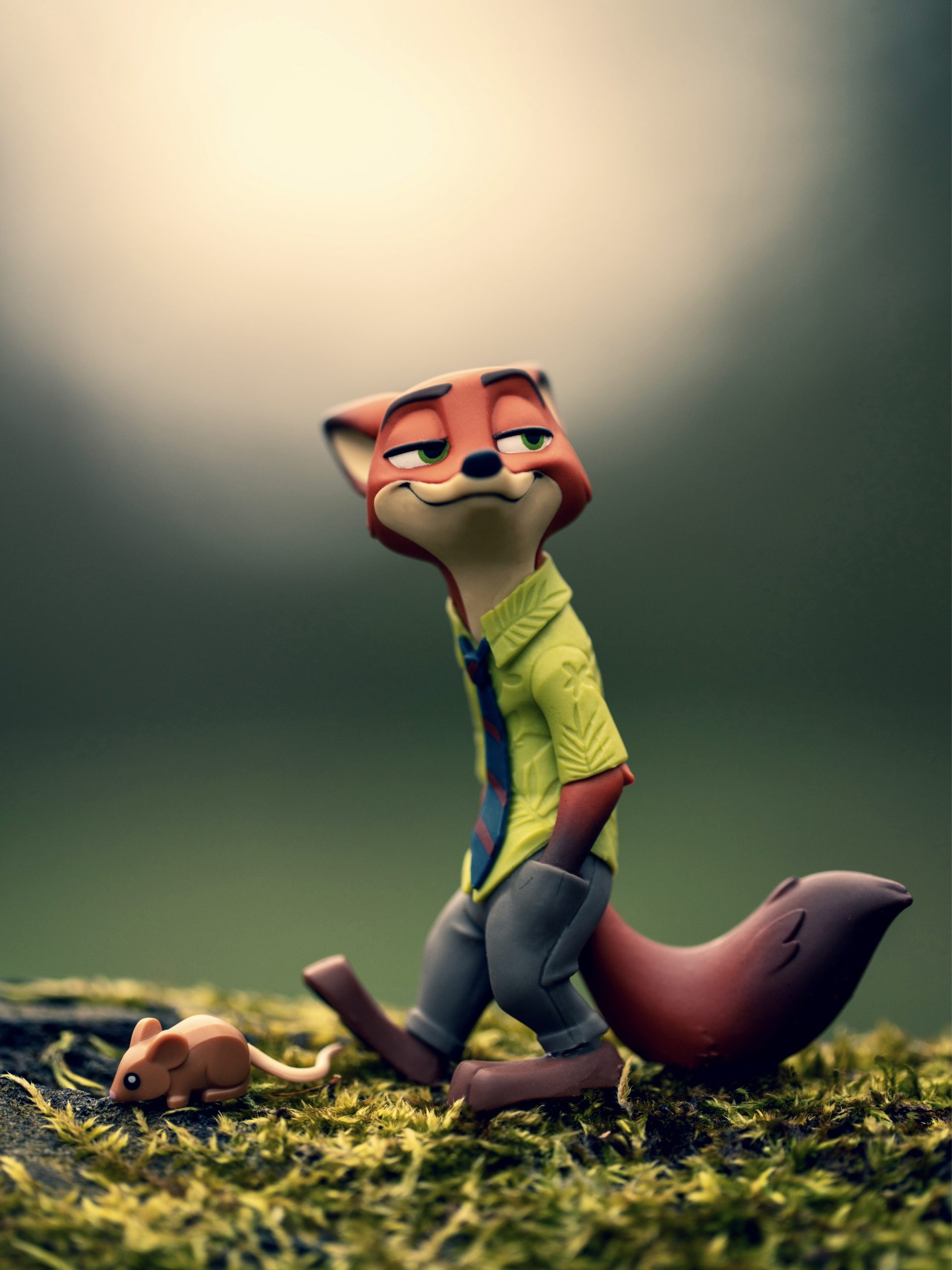 What do the people around you (friends/family/spouse/children) think about your obsession?
My family, friends and others who know me from work support my photography. Sometimes we talk about my pictures and collect new ideas together. I like this very much. These talks inspire me and many of these suggestions flow into my pictures at some point.
Who has been an inspiration to you?
I am inspired by other toy photographers such as Shelly, Tatsuya and Yuri… to name just three. Other sources of inspiration are nature, architecture or photographers such as Steve McCurry, Andreas Gursky or Annie Leibovitz.
Many other things inspire me too. First of all, there are small challenge topics on Instagram from my two favorite hubs @_toyphotographers_ and @brickcentral. I like to think about the task, look at my characters, look for suitable props or consult with friends. Another and probably the greatest source of inspiration is my imagination. My head is always full of ideas. I also love looking at photos of others. I save favorite pictures in a photo album, which I look into every now and then when I look for suggestions. Nature always inspires me too.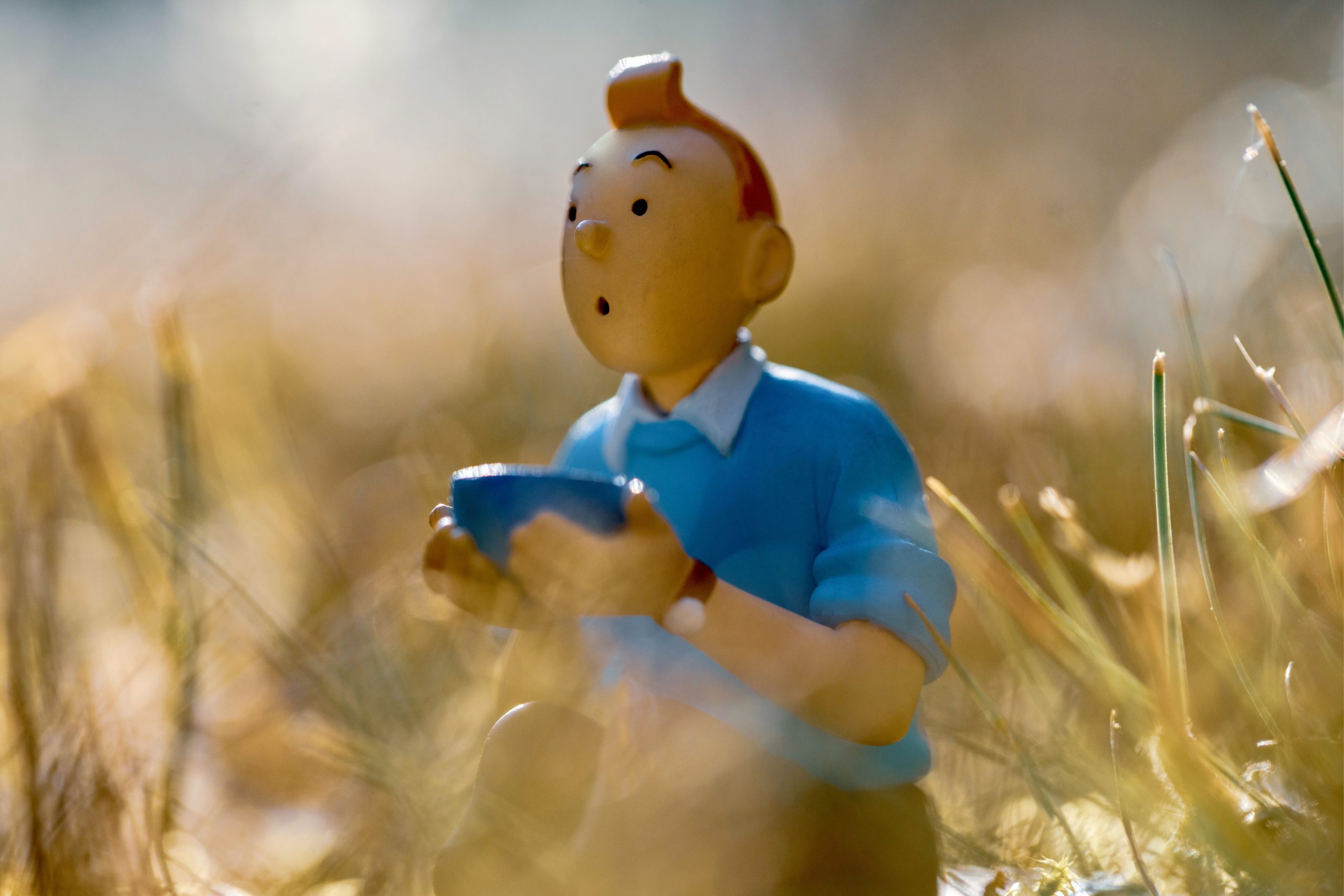 What kind of gear do you use for your pictures?
In the beginning I only took pictures with my iPhone, later only with a full frame camera and now I prefer to take pictures with the camera that makes the picture look the way I want it. At the moment I mostly use a Sony A7 R III with a 100 mm macro lens from Canon or various lens babies. I love these Lensbaby lenses because they make the pictures look so enchanted. I often have a tripod with me when I go out with my LEGO figures and sometimes I even use it.
Would you say you're more of an indoor or outdoor kinda person when it comes to photography?
I prefer to photograph LEGO figures outdoors in nature. I really like natural light and I love plants, flowers, water and bokeh. My pictures should bring a good mood and a warm feeling to the world. They often have a touch of humor on board. I prefer to photograph my little friends from the H0 model railway inside in my photo studio. Even a little breeze lets them fall over and, in the studio, I have better control over the scene.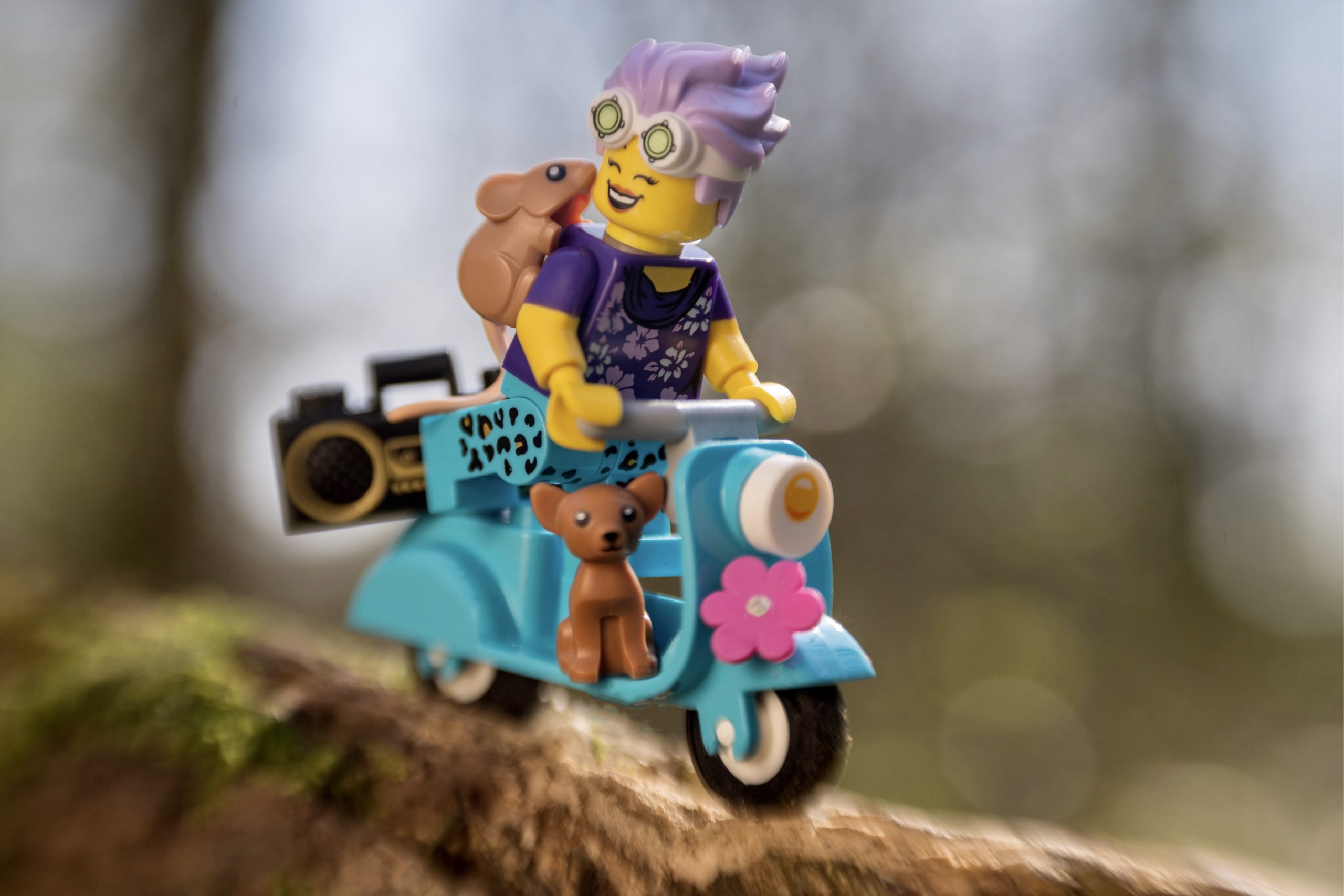 What kind of preparations do you make before taking a picture?
Regardless of whether I take pictures indoors or outdoors, I always prepare my little stories. Often, I draft my ideas (and I really have a lot of ideas on my mind) in the app PAPER so that they don't get lost. And sometimes a completely different picture emerges during the creativeness process. When I take my LEGO figures outside with me, I put the scene together in advance. I assemble my LEGO figures as I imagine them. I choose suitable accessories and consider how I could position them in my image. Sometimes I glue the individual parts together in advance.
How much do you edit afterwards? Do you have a favorite software or app?
When I come back from a photo tour, I transfer all photos to Lightroom. The first processing always takes place in LR and later I remove annoying stains or wires in Photoshop. I always try to create the picture in the camera. The post-processing shouldn't take much time for me, because I prefer to take photos rather than sitting and retouching in front of my iPad.
What is your biggest challenge when photographing?
For me the biggest challenge in photography is to get the image that I feel in my heart. If it works, I will see it immediately. If not, I delete all pictures and try again on another day or reject the idea.
Any advice or tips you'd like to share? A secret of yours, perhaps?
My best pictures are always the ones that I love myself. Then it doesn't matter whether others share my opinion or not. So if I should give an advice, it would be this: Take photos that are close to your heart and don't give up until you see what you feel in your picture.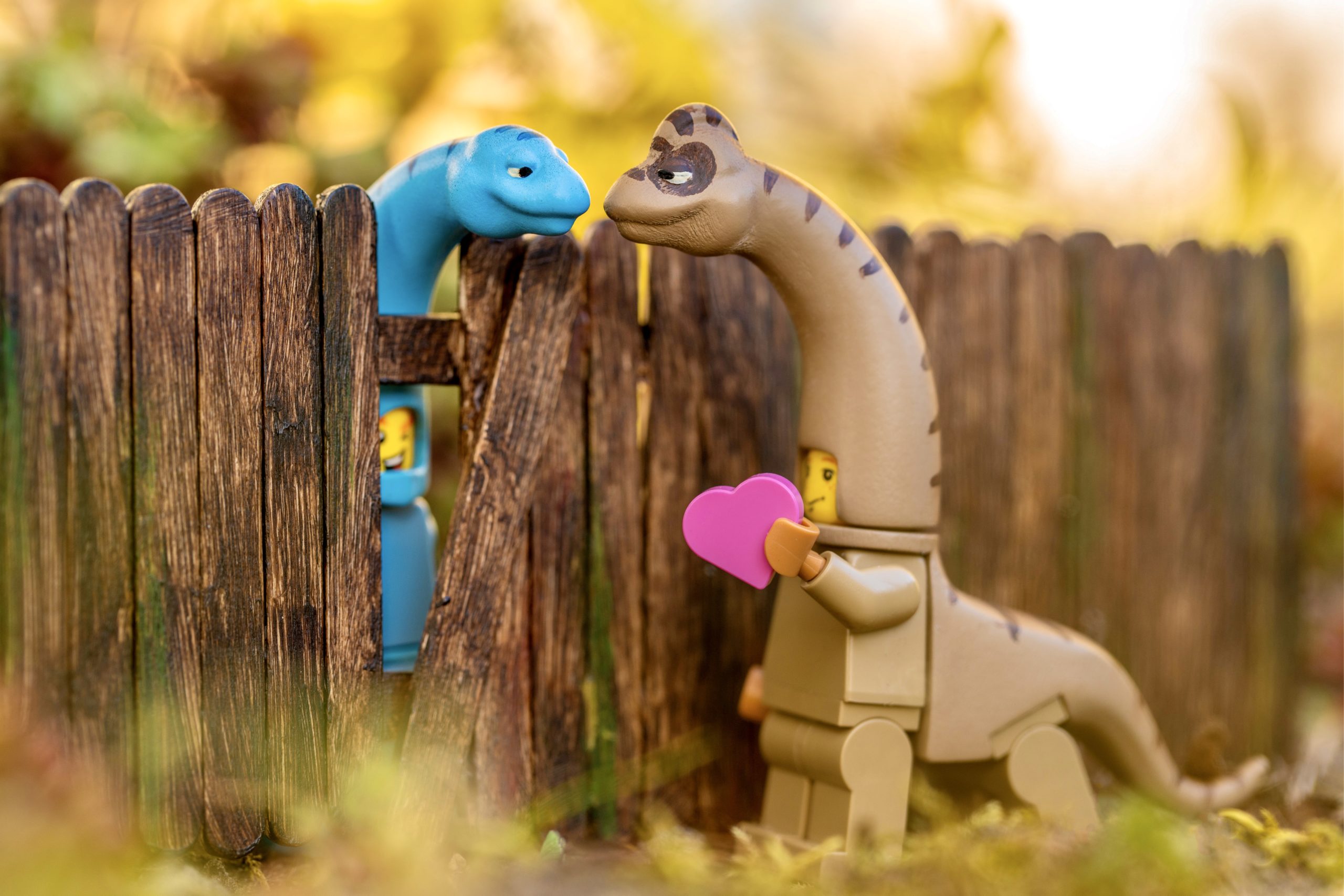 And that's it, folks! Thank you, Astrid, for having this interview with us and letting us take a sneak peek into your world. As for everyone else, don't forget to check out Astrid's Instagram page. The pictures she takes are breathtaking and truly inspirational.
All images belong to hey.light
Get the Latest LEGO Sales & Deals