Ladies and gentlemen, thank you for joining us as we continue our newest series: Interview with an AFOL. In the following weeks, every Tuesday and Friday, we will be having interviews with AFOLs of different kinds. There will be photographers, collectors, builders, animators, and even bloggers! We'll try to learn a little more about them and see how they came to love the plastic brick (or people) we all love. Some of these AFOLs are well known throughout the community, while others, not so much. No matter who they are, they are all incredible people who have at least one thing in common: Love for LEGO.
Today we have just2good from YouTube.
As a LEGO fan I am really lucky to be good friends with somebody whose videos encouraged my enjoyment for the hobby from a young age.
For those of you who are unaware, just2good is a YouTuber who focuses around LEGO, and reviews an assortment of LEGO sets from all different lines including some of the latest sets which LEGO release. He has also expanded his content to incorporate Podcasts, Reddits and much more, and is a great member of the community – something which is a-tested to by his 500,000 subscriber count!
In this interview I hope you'll get to learn a little bit more about just2good, how he got into the hobby, and what his plans for the future may be. Enjoy!
Can you tell us a little bit about yourself?
I'm a LEGO YouTuber! And part mantis. Don't ask.
How did your journey with LEGO begin?
I really wish I remembered the defining moment that got me into the brick. But to be honest, I can't pinpoint a certain start to the journey. I used to play these role playing story games in the world of LEGO with my brother when I was very small, and those were the earliest memories I associate with LEGO.
What about your journey with YouTube?
Ever since YouTube began to show up in the public eye, I have been into the website. I made various videos on the site, from opening Yugioh packs to video mashups. But it was 2012 where I began to make LEGO videos, where I started by showing off new LEGO in stores, then I began doing reviews… back then I was afraid to show off my voice, funny enough!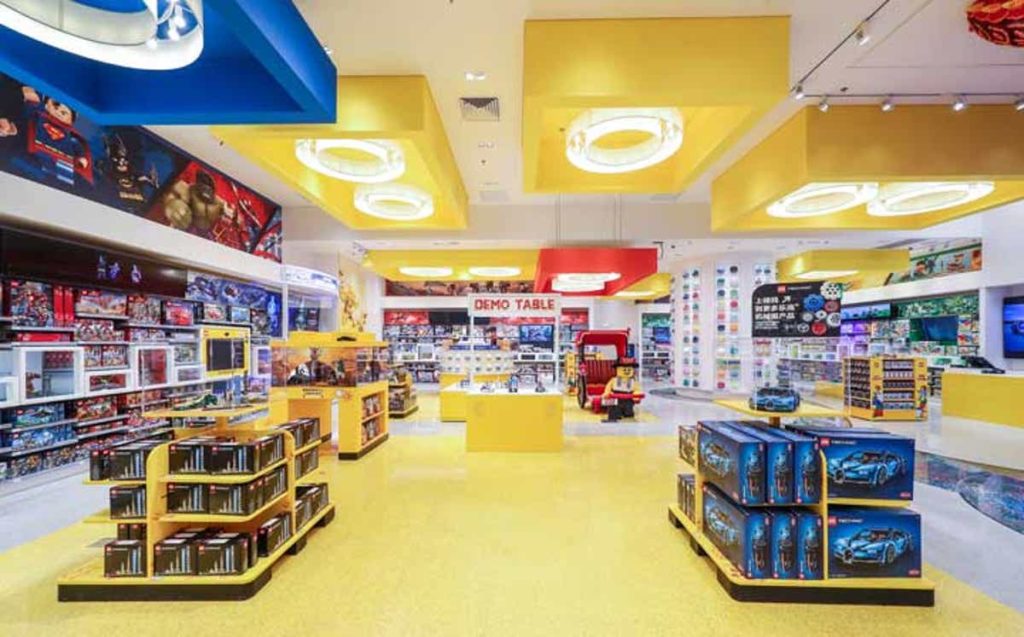 LEGO Store Image from lego.com
What do the people around you (friends/family/spouse/children) think about your obsession?
I've only seen support! I think most people appreciate LEGO as a part of our world – it's a universally beloved toy. But also a way to express creativity, a way to make art. And I believe people all around the world is really starting to see that.
What is your favorite theme?
My favorite theme is the LEGO Minifigures theme – it has brought detailed figures for some of my favorite LEGO licenses like Toy Story, Harry Potter, and The Simpsons.
Who has been an inspiration to you?
At the start, channels that inspired the earlier videos include smutoys' store trip videos, where he would just film what new toys and collector items are showing up in stores. legolee329 was my inspiration for the reviews!
What kind of gear do you use for your reviews?
When it comes to gear… it may be surprising. I use my iPhone X to film reviews and hauls, and a brickbuilt tripod a lot of the time – which was from a LEGO Batman Movie set, 853650.
How much do you edit afterwards? Do you have a favorite software or app?
I edit them on iMovie if it was filmed on the phone, Sony Movie Studio 13 if it requires a computer to edit. Favorite app? I don't have a particular favorite, though I guess like everyone else I use the social media apps a lot. The YouTube Studio app is rather useful for managing the channel.
What is your biggest challenge when reviewing a LEGO product?
My biggest challenge in reviewing a LEGO set would be getting information factually correct for new parts. It's a small thing in the reviews, but I love keeping up to date with new LEGO parts, especially with minifigures. But the databases I use aren't always up to date, unfortunately, so there's been many times where I said factually incorrect info.
Any advice or tips you'd like to share? A secret of yours, perhaps?
For tips, I'd say be consistent, and try uploading every couple of days. Thumbnails are very important too, as is the title. Definitely research search engine optimisation with the last two if you want to make this a career… dunno if that's a secret, but it is key!
I know you buy a lot of older sets – what has been your biggest challenge in acquiring something you want?
For getting the older sets I want, I always challenge myself by finding them lower than the average price! I rarely buy sets at full price if they weren't released within the last month.
Congratulations on recently hitting 500k – a massive milestone. What message would you like to end on for the people who have supported you?
I mean, even reading it about two months after, looking and tracking the numbers – I still can't believe I have over 500,000 subscribers. That's a crazy amount of people to have subscribed, the viewership is even more ridiculous. To anyone reading me who have stuck along with my antics, legit, thank you so much. And thanks for the interview opportunity!
And that's it, folks! Our huge thanks to just2good for agreeing to this interview! If you aren't already subscribed, you can do so by clicking here.
Want to read more of what I've been up to? You can click here. Until the next time, have a great week!
Get the Latest LEGO Sales & Deals