Ladies and gentlemen, our "Meet the Team" series is over and now we are back with our regular interviews. As you know, every Tuesday and Friday, there will be interviews with AFOLs of different kinds. There will be photographers, collectors, builders, animators, and even bloggers! We'll try to learn a little more about them and see how they came to love the plastic brick (or people) we all love. Some of these AFOLs are well known throughout the community, while others, not so much. No matter who they are, they are all incredible people who have at least one thing in common: Love for LEGO.
Today we have Diego Maximino, a.k.a. l_di_ego on Instagram.
Can you tell us a little bit about yourself?
My name is Diego Maximino, an AFOL from Spain. I come from an Arts background, and I am also learning some elemental Blender 3D rendering on my own, by making some digital LEGO builds.
How did your journey with LEGO begin?
I have been building LEGO for as long as I can remember! I was already playing with a DUPLO circus-themed bucket when I was 3.
How did you start MOC building?
As soon as I started with LEGO as a kid, I was already making my own stuff. If we are talking about more advanced/intricate models, I was drawn by curiosity in 2008, when I discovered the different AFOL communities online, including some Brickworld displays where I needed to check the pictures twice to notice that the dioramas were made of actual LEGO elements.
What do the people around you (friends/family/spouse/children) think about your obsession?
I don't usually talk about this interest with too many people. It does normally not arise in any casual conversation. The ones who are closer to me are aware of this hobby, and they have always found it as something linked to me. There have been some cases where some individuals didn't get it by hearsay, until they took a look at my work. According to them, the way in which I approach this, it is no longer a toy.
What is your favorite theme?
I like too many, but probably the whole Adventurers range is the one with the highest nostalgic factor to me.
Who has been an inspiration to you?
I prefer not to idolize other human beings, especially if I haven't ever met them in person. That does not stop me to take a look and value any impressive AFOL work surfacing Flickr or Instagram. But it is prevailing to me to distance my work from existing MOCs, and keep my own style.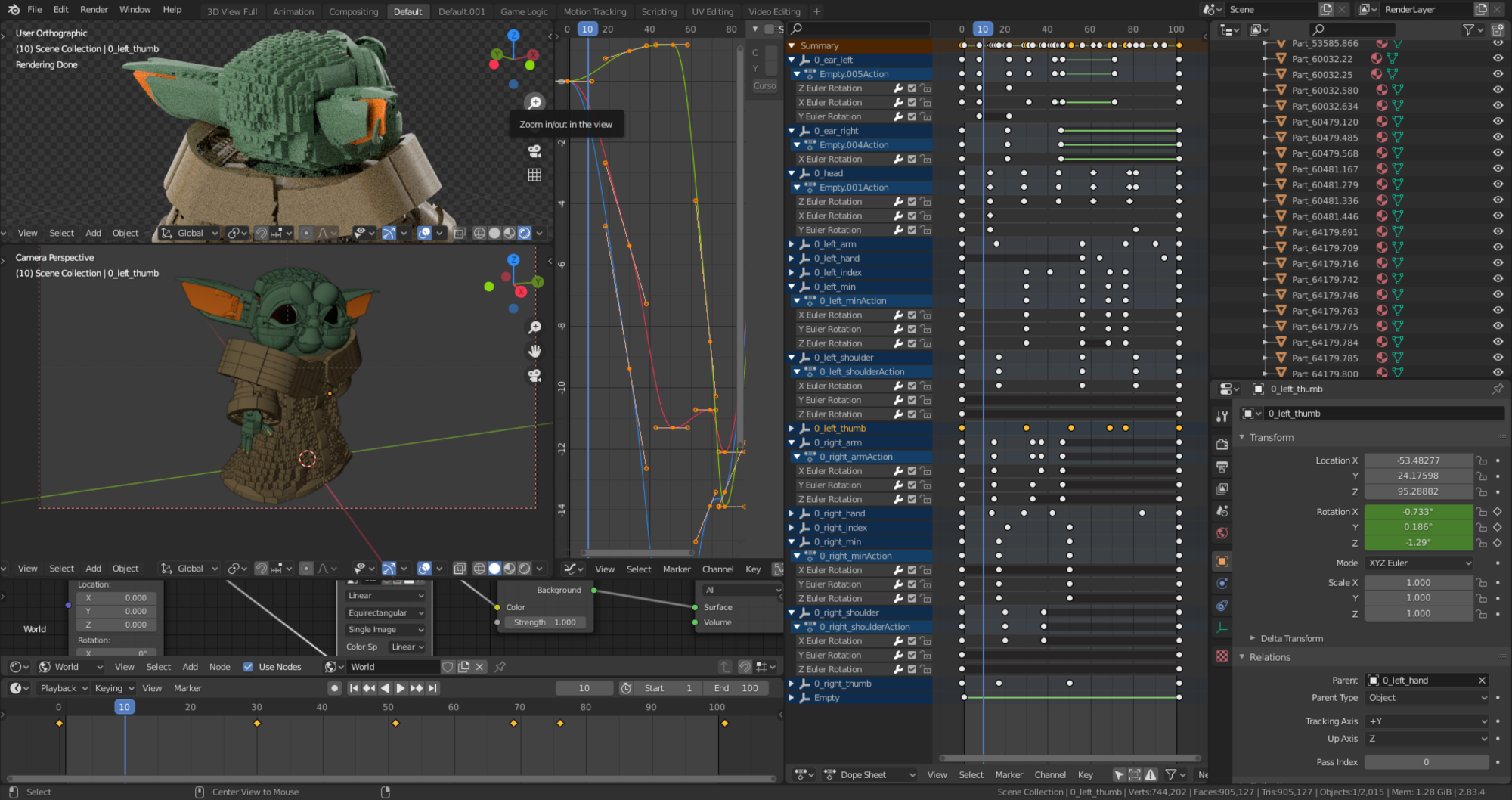 What digital building software do you use to create your MOCs?
The main bulk is usually designed in LEGO Digital Designer. For the pictures, the final MOCs are assembled in Blender by merging the parts from multiple software tools like LeoCAD or Mecabricks. The custom decorations are made with Inkscape.
Stud.io is not a bad rendering tool; However, I just use it if I need to check part availability or to make building steps.
Have you ever built any of your MOCs with physical LEGO bricks?
Yes, occasionally, when the model was expected to be displayed. That was the case of an X-Wing model from many years ago. But the whole process of ordering the parts, testing the build and taking the photos wasn't too gratifying/rewarding, to be honest.
More recently, I built a small toy submarine. The goal was a model that a kid could play with it; so I worked ahead on a solid mechanical function, and improvised the rest of the build around that. No digital tools were used in this case.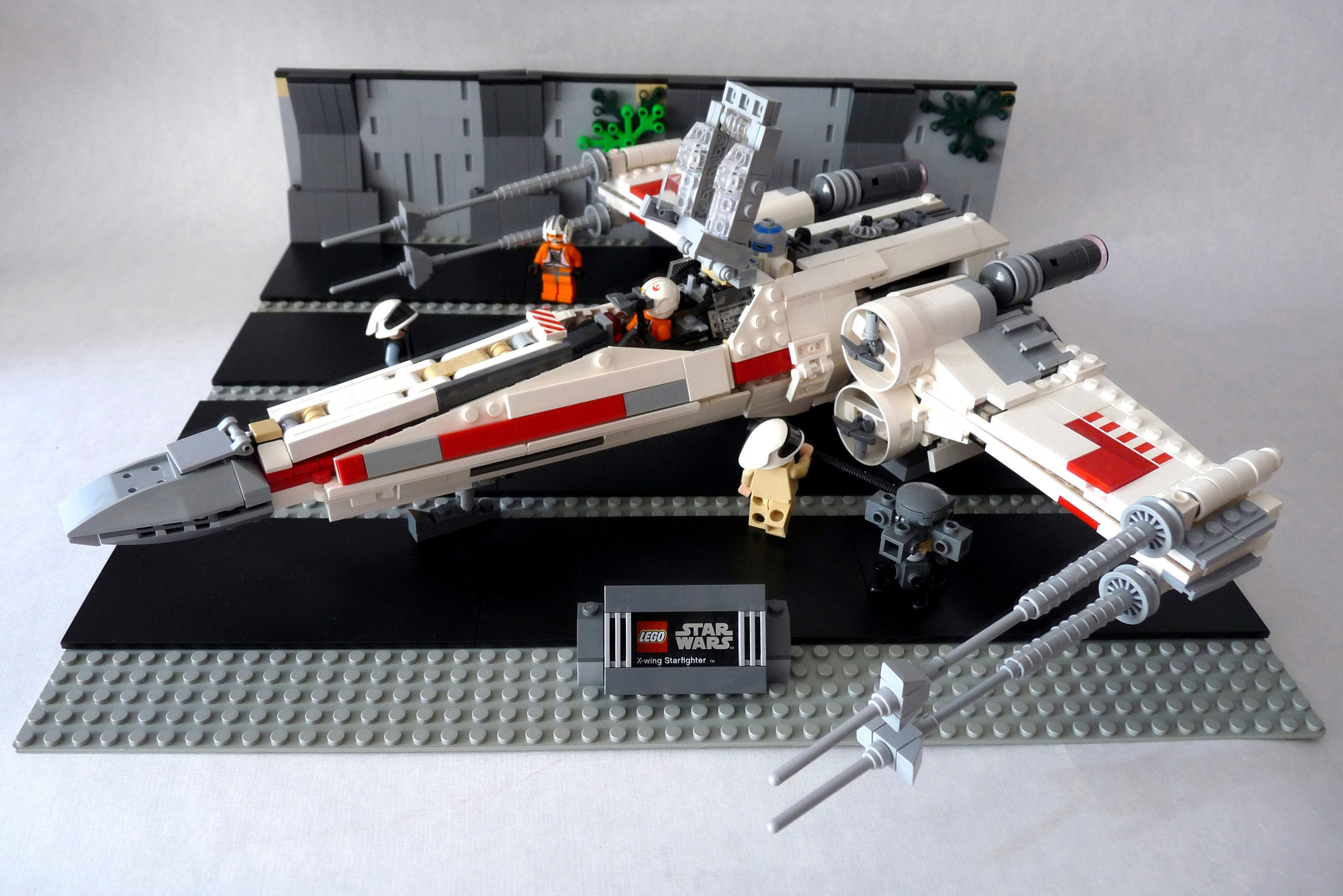 Do you keep your LEGO creations built or do you take them apart after a while?
I have no physical space to display anything. I store everything disassembled in sections or modules, just in case I would require them in the future.
What is the biggest challenge you face when building?
It depends on the subject matter. The building is actually the most intuitive part of the process. So everything out of that area usually turns in the actual challenge. In most of the cases, the problems are linked to the part availability.
For physical builds, optimizing the design to match the existing part palette is quite boring to me. Taking any photo is also quite frustrating due to the amount of variables out of control (daylight, studio space, etc).
These issues have their counterpart when working on digital: Some parts are not available in LeoCAD, Mecabricks, stud.io, LDD… and the only feasible option is to sculpt them from scratch in Blender. In some cases, the exported parts didn't have enough detail, so I eventually need to modify/re-sculpt them anyway.
Do you have any advice for other builders? Tips?
Don't think only in physical static solid shapes. That weird part may be a fluid or an object in motion.
Feel free to start the building by the roof if that is the part you are more confident about.
The number of released LEGO parts is huge: Don't get used to the standard brick as the only starting point.
How long have you been collecting LEGO? What made you start?
In general, any collection usually turns into a compromise, so it is always easier just to continue a collection you didn't know you have already started unconsciously. Any LEGO you keep from your childhood is a good starting point because it is still durable and compatible with the newer releases.
What do you collect? Sets? Minifigures? Rare parts?
I pick sets and parts here and there; but I am more focused on minifigure collecting, especially the Collectable Minifigures from the blind bags.
Are you a purist? Or do you collect custom figures as well?
I have only purchased official figures. But I cannot consider myself a purist; I am used to make my own custom minifigure designs in digital format. I wish I could find a reliable way to print and sell them.
What has been your biggest challenge in acquiring something you want?
To find that the item was a "limited" edition/release. It's the collectible that I like, not the rarity of it. That always leads to unwanted speculation.
I have noticed that the release of the LEGO Movie in 2014 boosted the popularity of the LEGO collecting, therefore the emerging of occasional scalpers. For example, in 2013, I only needed to check one single CMF box to find Mr. Gold. The Series 18 Police Officer from 5 years later, on the other hand, was a nightmare. By the time I was feeling every single packet from every single store in my town, someone else had arrived before me just to find and resell that minifig. I ended up ordering it from Bricklink.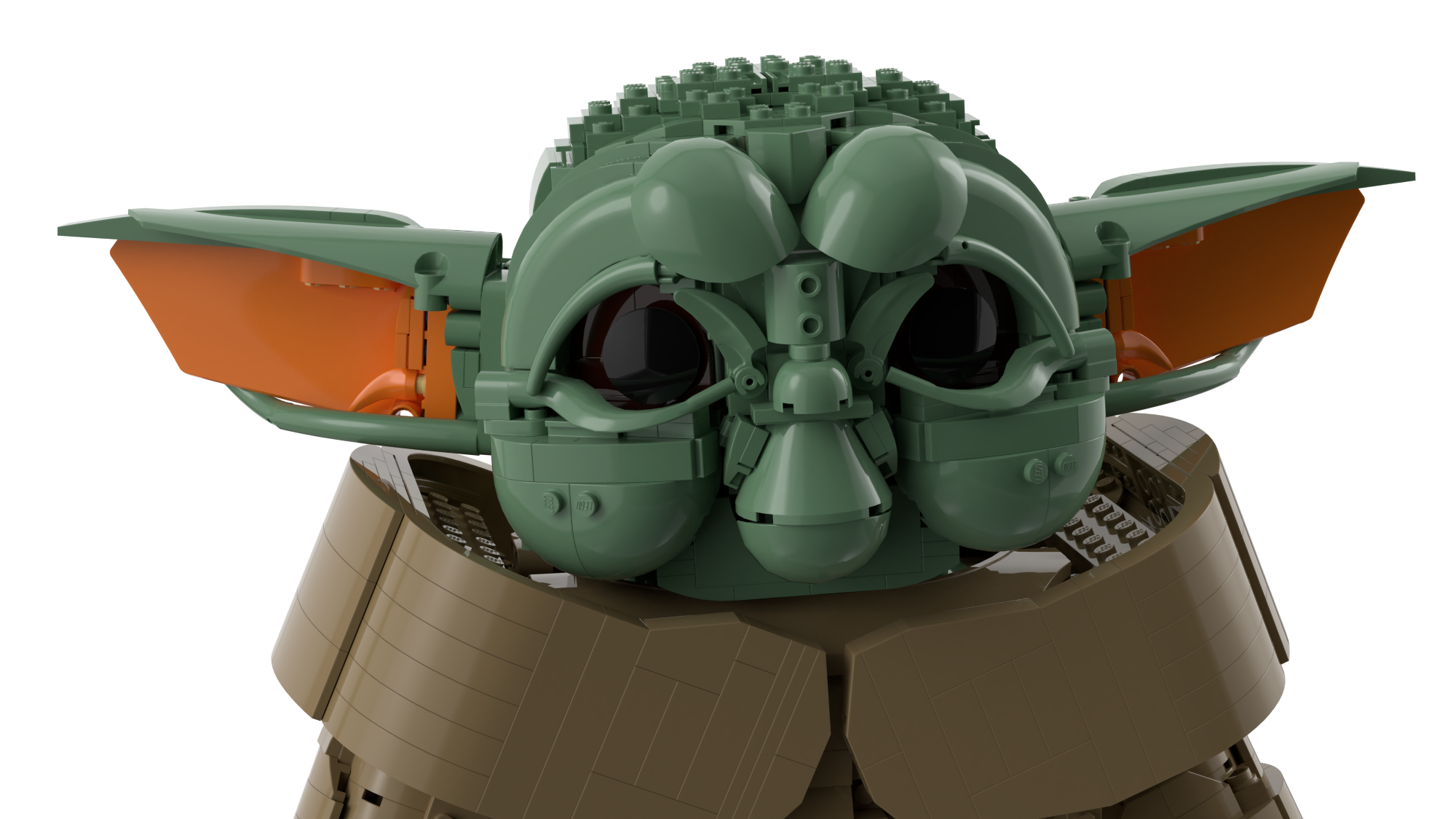 Extremely hard question, but do you have a favourite MOC or one your especially proud of?
There are no "favourites" per se; I wouldn't post a MOC that I don't really like. But I am prouder of the ones that turned better than expected. Currently, the best example is probably the Child from the Mandalorian (better known as "Baby Yoda"). It was a totally improvised and unplanned build made just for fun, at a time when the character and his memes had started to pop up on the internet. I wasn't expecting to finish the model or post any pictures. Surprisingly, I reached a satisfying final result in less than a week. And it wasn't the only MOC I was working on under that timeframe. Some people found it cute, others said it's creepy. No matter the case, it always generates a reaction.
You've created some incredible Jurassic Park MOCs over the years. Are you disappointed by the lack of LEGO sets based on the original Jurassic Park films?
Thanks for the praise. Those designs were made many years ago, and I believe there is enough room for improvement nowadays, both in terms of building techniques and part availability.

Yes, the main reason why those builds were developed was because I missed them in the LEGO product range. Usually, new movie releases were the best chance to launch products based on previous entries from the same franchise. The whole Star Wars theme exists due to the theatrical release of The Phantom Menace in 1999. LEGO The Lord of the Rings was released because of The Hobbit movies. Same with Indiana Jones or Toy Story. This pattern didn't continue in the case of Jurassic Park, and I am afraid The LEGO Group may have taken this route just to avoid predictability against competitors.
Talking about toy competitors, Mattel has made an objectively good use of the Jurassic IP in comparison with Hasbro: The company has no issues releasing a "Legacy" subtheme that also includes the 2nd and 3rd film in the series. And I feel that marketing route is what the fan community was expecting from LEGO. At least, it was what I was hoping for as a kid. A big set from the 1st movie, the hunting vehicles from the The Lost World, an updated Spinosaurus from Jurassic Park III… There is plenty of interesting source material to adapt before falling on made up elements.

I cannot consider myself a Potterhead, and I still think the current LEGO Harry Potter range is doing better at covering all its movies with good-quality designs. As far as I know, both LEGO licensed lines share the same budget, department, and designers; so I don't get why they have been approached so differently.
There have been many comments online about the 75936 Rex Rampage set, but I can summarize my opinion in just one word: Unfocus.
It's not a bad build, it is just a product that tries to be too many things at the same time. To this day, Mark Staford's T-Rex is still the best brick-built Tyrannosaurus ever produced by LEGO. It just doesn't look like the one from the Jurassic franchise; if you ask me I would have gotten rid of the gates, the minifigures and the license to release it half-priced as a Creator Expert set.
Earlier this year, LEGO held a fan vote to determine the next UCS set. Fans voted overwhelmingly for a Republic Gunship over a Nebulon B Frigate or a Tie Bomber. Are you excited to see a prequel UCS set or would you rather have seen the Nebulon B Frigate be turned into a UCS set?
Every option in that fan vote deserved a set; I can only complain they cannot release all of them! The LAAT has been produced multiple times, so it wouldn't have been my top choice. Nevertheless, it's clear there is an audience for it and I can't wait to see how the designers use the UCS treatment to improve it over previous iterations. I would have prioritized everything that has become outdated over time (Blue TIE fighters, yellow-skin characters, minifigs without twinkle in the eyes…) – The TIE bomber falls in that category.
But the top priority on my book should be every movie vehicle/place/character that has never been released before. That's exactly the reason why I did my very own take of the Nebulon-B on LEGO IDEAS many years ago. Although that one was a hybrid between an UCS and a playset: The design was heavily influenced by the Tantive IV playsets already released by LEGO, and included similar play features like a cockpit or a rebel personnel carrier. It also had a cramped version of the room seen in the iconic ending of The Empire Strikes Back.

Sadly, the project failed 2 times at getting 10k and was completely ripped and copied by a clone brand. There is a lot of misinformation in that regard and most people believe these illegal companies are paying to AFOLs, which is false. I would like to take this interview to clarify that no-one has ever paid me, or even contacted me at all, to produce and sell my designs. And I have already assumed that, by the time LEGO would work on a Nebulon-B, they will avoid my design just to drift apart from that clone brand.
I wish that upcoming new releases won't depend completely on fan votes: There are still many unexplored items in the franchise. For example, the Invisible Hand was another overlooked spaceship I also tried to turn into a playset. In this case, the dimensions were a bit huge in an attempt to capture the different scenes from the rescue mission depicted in the film Revenge of the Sith. It may be an unpopular subject matter for a toy, but it still gathered 10k IDEAS votes anyway. So it is clear the prequel fans are still there. Maybe the upcoming UCS Republic Gunship may give some focus to that undervalued trilogy.
You've had multiple projects achieve 10,000 votes on LEGO IDEAS but unfortunately none of them have been made into LEGO sets. Do you have any projects on the site that our readers can go and support?
Yes! I am giving a break to the movie franchises, while giving a try to some video game IP builds I created in 2018-2019. Interesting enough, it looks like LEGO is also taking a similar direction with their Super Mario range.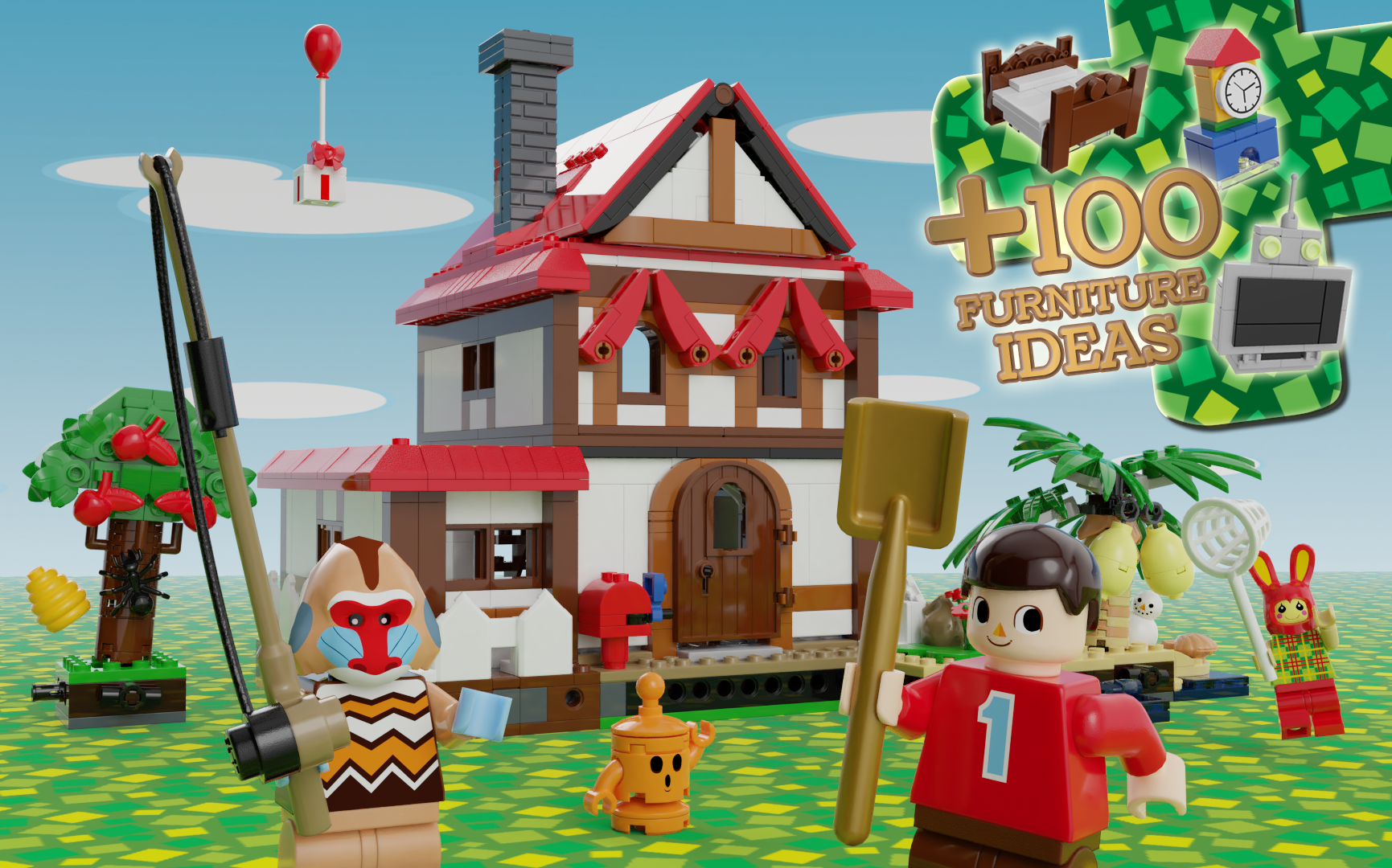 The first is a modular home based on the "Animal Crossing" game series. In an attempt to prove that licenses don't necessarily invalidate the creative aspect of LEGO, it includes a selection of bricks to customize your home by crafting different furniture items seen in the games.
The second, and the one I am most involved on right now it's Samus Aran's Gunship, from the "Metroid" franchise. It has an intricate but solid build, and as many play features as I could incorporate. The fresher aspect to point is that a portion of the project hasn't been shown yet. More additional surprises had been already designed and rendered, but they will be only revealed gradually when the project reaches certain milestones (5K, 6k, 7k…), as if they were the unlockables from a video game. One of them won't be revealed until the very end!
Is there something you've always wanted to build but haven't yet?
There are always more things I want to make than available disposable time. At this point I am trying to remove from my pending list anything that I considered too complicated as a kid. For example, in the past, I found impossible to build a decent LEGO model based on the Pokémon Groudon. Taking up that task nowadays, the building was so fast and straightforward that I could even build its counterpart Kyogre. The only issue is that now I am tempted to make other additional Pocket Monsters to accompany them!
And that's it, folks! Thank you, Diego, for having this interview with us and letting us take a sneak peek into your world. As for everyone else, don't forget to check out Diego's Instagram page. He has amazing builds that needs to be seen!
All images belong to l_di_ego
Get the Latest LEGO Sales & Deals