Hello everyone! It's been a while since our Interview series were published, but here we are today with yet another one! We'll be interviewing let_them_fly_lego today, who is a big LEGO fan and LEGO Ideas competitor!
Can you tell us a little bit about yourself? Your name on Instagram is very interesting. Can you explain it to us? 
It came from an original LEGO idea that I had. I'd just rediscovered LEGO and were buying Star Wars sets – mainly small ships like the Jedi Interceptor. I loved the build and wanted to showcase it on a shelf but it just looked terrible sitting there flat on the surface, so I created a technic stand (this was long before the flood of acrylic stands). My original intention was to create one stand that could support the vast majority of LEGO flying sets. The tag line was "don't just display your sets – let them fly" I created the Instagram early into development, and as things progressed, it proved impractical to have one master stand serving all purposes so the scrapped the idea, but I got a taste for Instagram so I kept creating content.
How did your journey with LEGO begin? What was your first LEGO set?  
Like many others, I had a lot of LEGO as a child but grew up and moved on. It wasn't until I had children of my own that I started visiting toy stores again that I discovered how far LEGO had come and it was the lure of the licensed sets that got me back into it. The first set I built as an adult was 75105 The Force Awakens Millennium Falcon.
Did you have the dark ages? If yes, is there any set from that time you didn't buy then but regretted that decision now?
The period of time between me "growing out of LEGO" and rediscovering it was about 15 years. I don't really class this as a dark age though – it was just a different chapter of my life. There's a few sets that if I had the opportunity to buy at the original purchase price, I definitely would but very few that I'm prepared to pay the vast aftermarket cost of – especially when there's so many great new ones.
What do the people around you (friends/family/spouse/children) think about your obsession?
I'd class it as a hobby, over an obsession. Just as I don't understand the appeal of fishing, many don't truly understand what is often perceived as "an adult playing with a child's toy" but it is generally just accepted. I hardly ever talk about it in the real world, so unless somebody came around to my house and saw the sets on display, they would probably never even know.
What is your favourite LEGO theme and why? 
I've always been a fan of Batman. I never had a "dark age" with that one. I've been buying Batman "toys" to some extent my whole life. When I was a child, LEGO didn't do a Batman theme but discovering that they now do as an adult has lead me down the slippery slope of collecting every LEGO Batman minifigure and every LEGO Batmobile. I suppose that one could be considered an obsession.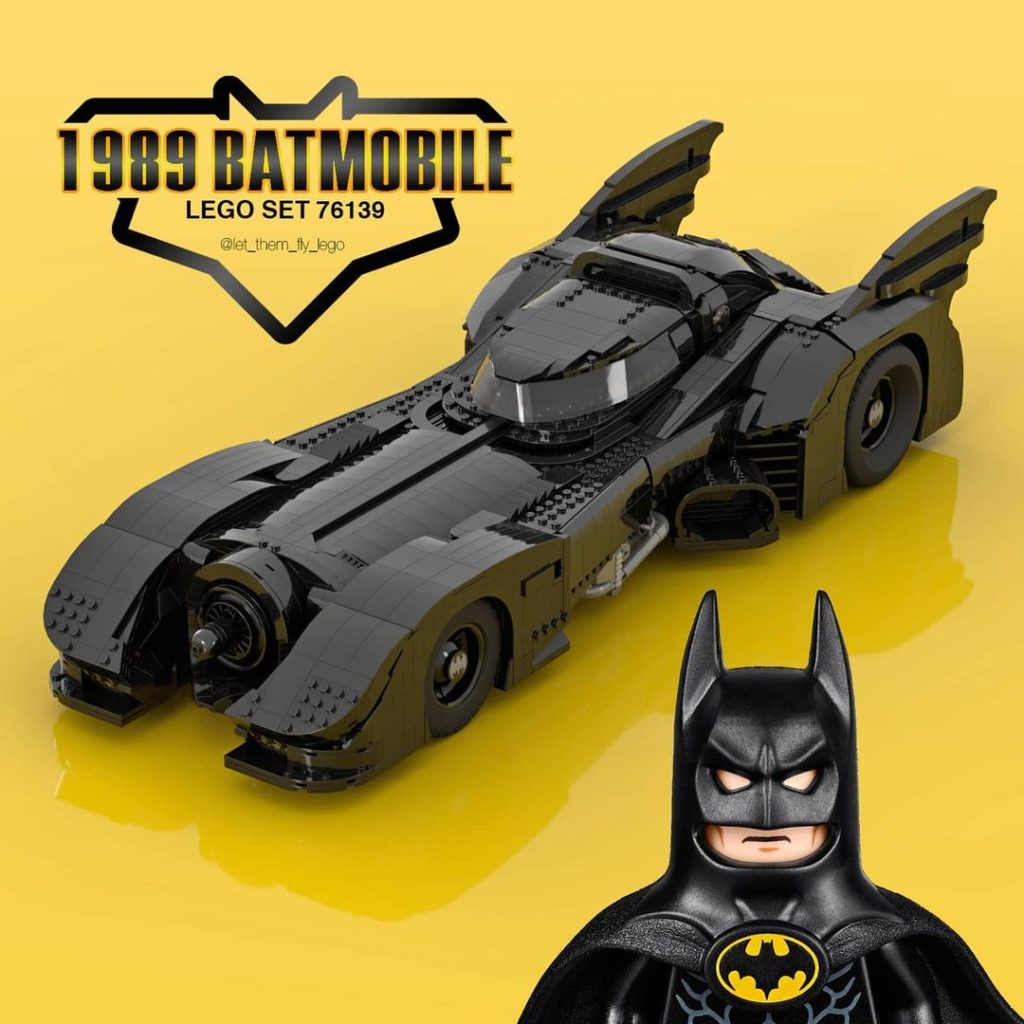 Who has been an inspiration to you?
A MOC designer called Dave Slater has influenced both the direction of my Instagram page and becoming a MOC builder myself. He created the perfect 1989 Batmobile a couple of years before LEGO created theirs. Building his models and talking to him about his design process really gave me the inspiration to build my own.
Do you have a signature figure?
No, not really. I brand my Instagram posts and like to think I have a signature style, but I don't have an actual minifigure.
How many sets do you have? According to Brickset or your personal estimation?
I used to keep track of them a few years ago, but it got to a point that I was almost embarrassed to know. I now run with the policy of ignorance is bliss.
What do you collect? Sets? Minifigures? Rare parts?
Ultimately I'm just a collector of LEGO. Everything and nothing. I have a broad base of things that I like – Modular Buildings, Batman, Marvel, Architecture. I generally collect in LEGO what I actually like in real life.
What is the most expensive set or figure from your collection?
The second generation UCS Millennium Falcon. I rediscovered LEGO too late to buy the first version and it had since more than quadrupled in value, but I'd still look at it and think could I justify the cost. When the new version was released, the huge price actually appeared to be relative bargain in comparison to what the old one was selling for so I snapped one up on release day.
What has been your biggest challenge in acquiring something you want?
Deciding to collect all the LEGO Batman minifigures 10 years into them already being released was a particularly fun challenge. I really enjoyed researching and tracking them all down.
Get the Latest LEGO Sales & Deals
You are active on LEGO Ideas too. Can you tell us more about your project? What was the inspiration for it? 
It's a 1969 piece Mystery Machine scaled to fit perfectly next to the recent large Ecto 1. Going back to sets that I like to buy – it's things I love in real life. I love movie vehicles so wanted to do a detailed version of one of those. I couldn't choose one that LEGO already had an active license for and I also wanted to choose one that I'd never seen done at a large scale before. The Mystery Machine fitted that bill perfectly as I was also such a huge fan on the official minifigure scale version too.
Currently, your project has more than 7500 supports with more than 650 days left for reaching 10,000 supports. Do you have advice about promoting LEGO Ideas projects to get an amazing response from the community like you did?
I think having a well executed idea is always going to be the most important factor in how successful a submission will be. I spent months and hundreds of hours trying to do the best version possible and I hope that shines through in the model that I have created. After all that hard work, Nobody will support your idea if they don't even know it exists though, so you really do have to shout from the roof tops. I've set up a social media account for every single platform and post about it regularly. I'm sure that there's many people that get sick of the sight of seeing it, but not everybody is online as regularly as others so the 100th time one person has seen my proposal could the first time for another.
I think it's always worth it to repeat this, so please, can you tell our readers how they can support your project on LEGO Ideas? Is supporting free?  
Support is completely free. If you already have a LEGO Ideas account, it will take a matter of seconds. If you don't, it's incredibly simple to do and only takes a couple of minutes. A direct link to my idea is here or search "scooby doo mystery machine" by Let Them Fly.
Last question, how you would motivate our readers in one sentence to support your project?
I think really just please check it out. I've spent a long time producing it. It really has been a labour of love and I hope on looking through all the images that you can appreciate the effort that has gone into it. Whether you like big vehicles, sets from TV shows, Scooby Doo itself or just an interesting and engaging build – I hope I have designed something that caters for most builders. Thank you.
Thank you so much for your time!
I would like to ask all the blog readers to support Mystery Machine on LEGO Ideas and follow let_them_fly_lego on Instagram!
What do you think about this article? Do you maybe have some questions for let_them_fly_lego? Let me know in the comments!
Wish all of you a bricktastic day!
Get the Latest LEGO Sales & Deals