Thank you for joining us as we continue our newest series: Interview with an AFOL. In the following weeks, every Tuesday and Friday, we will be having interviews with AFOLs of different kinds. There will be photographers, collectors, builders, animators, and even bloggers! We'll try to learn a little more about them and see how they came to love the plastic brick (or people) we all love. Some of these AFOLs are well known throughout the community, while others, not so much. No matter who they are, they are all incredible people who have at least one thing in common: Love for LEGO.
In today's interview, I had the opportunity to chat LEGO with Matt – also known as The Bricks King. Matt runs a highly successful LEGO Podcast which I have been lucky enough to join on a couple of occasions, and is a beacon in our community. It was a pleasure getting to talk to him – so I hope you enjoy the interview!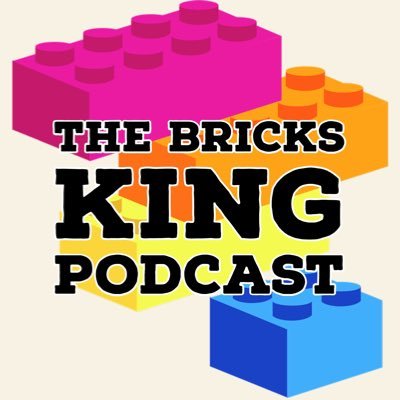 ---
Can you tell us a little bit about yourself?
My name is Matt King and I have a LEGO problem.  Just kidding!  I am a 36 year old elementary school teacher and podcast host/producer of The Bricks King Podcast.  My wife and I are dog fanatics and currently have 7 of them.  I grew up in the small town of York, Pennsylvania where my family currently resides.  I am the oldest of 4 children, which was always a detriment because I always had to set the example, and it usually wasn't a good one.  I enlisted into the United States Marine Corps at the age of 18 and spent 5 years traveling around to different parts of the world.  I ultimately ended up here in Texas and fell in love with the region and never left.  I graduated from Texas Christian University in 2016 at the ripe age of 32 which felt weird, but it was a great moment.  I am happily married to my wife, Lori, and have a son, Finnegan, who is almost 11.  Can we get to the good stuff now? Just kidding!
How did your journey with LEGO begin?
My LEGO journey began around age 5 or 6.  I remember having a Police vehicle set that had flashing light bulbs and a very terrible siren that was all connected through LEGO bricks that had metal infused into the plastic to connect it to a battery pack.  That set along with other Pirate sets launched me into the depth of LEGO.  Whenever I would get birthday or holiday money, I would always beg my parents to take me to Toys 'R' Us to look at the massive LEGO wall and pick something out.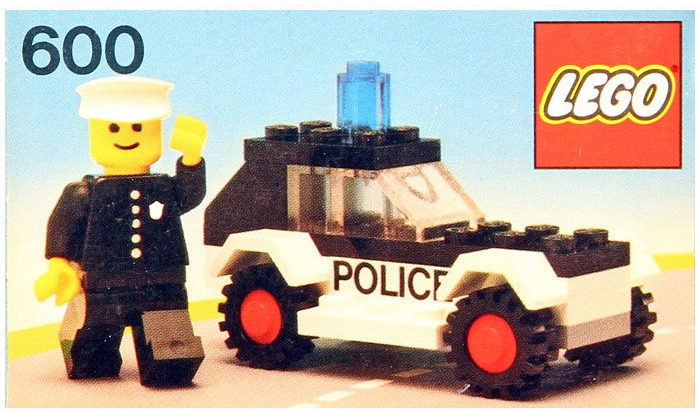 Image from Brick Owl.
What about your journey with collecting, building and blogging?
In 2009 I came out of my dark age and started collecting things from my childhood.  I was a huge fan of Teenage Mutant Ninja Turtles, yes the original, Jurassic Park and Ghostbusters.  I started acquiring those sort of items as well as LEGO.  About a year before  I started my podcast I really started building up to collecting more and more LEGO.  Old stuff, new stuff… it didn't matter.  To this day I collect a few themes of LEGO in their entirety and have started to push over into the toy realm for figures from Ghostbusters, Turtles, and Jurassic Park.  If it gives me a nostalgic feeling, it usually ends up in my house, especially LEGO.
What do the people around you (friends/family/spouse/children) think about your obsession?
Obsession. Great word for this!  My family has always known.  I was always the kid that had LEGO around.  Building and creating new things and then playing with the creations.  When I met my wife, I was in my dark age, but once my son turned 3 years old, I started getting back into it.  My son loves it, and my wife usually gives a casual eye roll since it is not her thing.  Being an AFOL (Adult Fan Of LEGO) is not for her, but she supports my son and I in our goals.  My son thinks it is one of the coolest things, but as he gets older, video games are becoming more interesting than LEGO (sad, I know).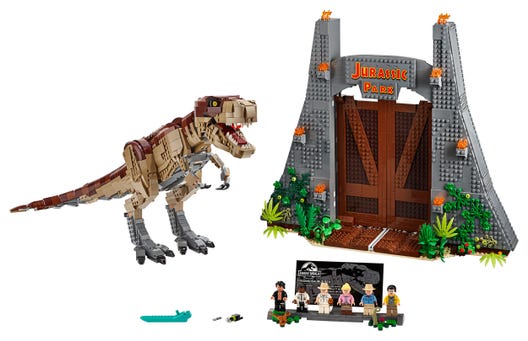 Image from LEGO.com. 
What is your favorite theme?
I knew one day after asking so many people what their favorite theme is, that I would eventually be put on the spot.  As a kid my main time as a LEGO fanatic was the 1990's.  In 1998/99 LEGO released a theme known as 'Res-Q'.  I was a freshman in high school at the time, but I had been spending money and I loved the sets.  They had great play value to them, simple building, but loads of fun.  As an adult it is a little more difficult to narrow down.  I am partial to so many different themes.  I am still the kid that says, "I want this and I want that, and oh my God that set is so cool."  But I find myself still gravitating toward things I can actually play around with versus a single theme, although the new 18+ theme has captivated me.
Who has been an inspiration to you?
Every sports broadcaster when I was a kid!  On a serious note though, I have always wanted to be a sports broadcaster.  I was a huge American football fan as a kid, and all I wanted to do is be in the booth calling sports event.  Fast forward a few decades and I took the plunge into podcasting.  I love to talk, but I really enjoy talking to others that have a similar interest, and in case you aren't aware, there are millions of people around the world that have a LEGO interest.  So 'who has been an inspiration' is more of a collective group of people versus a single source.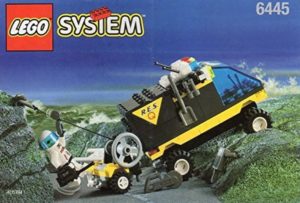 Image from Amazon.co.uk. 
How long have you been recording the show for?
As of today, the show has been running for over two years, with one scheduled episode each week, as well as shows that give details about new things coming to the LEGO consumer base.  I have a blast discussing LEGO and talking with people, so until both of them disappear, I see no end in sight.
How did you start recording a show about LEGO?
I have always been a fan of podcasts.  I like the ability to listen and do other things.  I realized that LEGO podcast shows had come and gone over the years, but nothing was consistent.  One day I asked my wife her opinion about doing a show, and she said, "I think you should." I used a cheap desktop microphone for a few shows and slowly added equipment to have a studio.  The rest was history.
What has been your biggest challenge during this time?
I would say there are two. Firstly, working a full-time career as well as coaching makes my schedule tight.  Thus when I interview guests that are multiple time zones away, it can be very tricky.  Lastly, there is more to a podcast than plugging in a microphone.  Editing, new tech, inefficient tech… all of these are a challenge.  I literally learned everything by trial and error, and sometimes YouTube.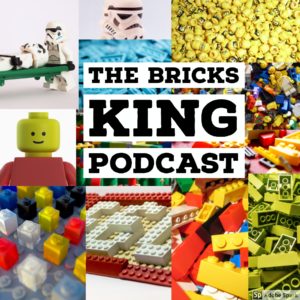 Matt's old logo – showing the growth and change in the show over the years.
What would you say to those who want to start their own show?
I think that anyone starting any venture into podcasting should know that there is a ton of work that happens on the back end.  Recording and talking is easy.  It is understanding what needs to happen to get a certain sound to your voice, or your guest's.  There is so much behind the scenes editing that happens for a polished 30 minute show.  What your audience hears is the very end result.  They don't know that you spent 45 minutes recording, doing multiple takes, dubbing in music or sound effects, research on products, building the products and examining every tiny detail of a 30 minute show.  You have to have a passion for it, because if you are faking it, your audience will know.  The more you divulge of yourself and become vulnerable, whether it be criticism, or sharing your life, the more your audience can connect.  In the end, anyone can podcast, but the effort you put forth is what separates you from the rest.
Anything else you'd like to add?
Creating my show and consistently producing content has allowed me to meet new people from around the world.  I talk often with people from New Zealand, Australia, Central American, East Asia, Europe, Canada, Mexico, and of course the United States.  I have made great and trustworthy friendships with so many people that have a similar interest all because I started a show about something I am passionate about.  The community is vast, but it also allows other doors to open for talking with people that may have other interests along with LEGO, and before you realize it, you have built up a network of people that you can rely on to help you attain your goals, be a friend, or even collaborate on projects.  I encourage anyone reading to follow your dreams and run with your idea because you never know what might happen.
---
And that's it, folks! Thank you, Matt, for having this interview with us and letting us take a sneak peek into your world. It was a pleasure talking to you. As for everyone else, make sure to click here to listen to his show.
Also make sure to click here to read more from me!
Get the Latest LEGO Sales & Deals