Hello LEGO fans! Today I have a very interesting blog post for you! It's something a little bit unusual because I will try to change your opinion about the LEGO themes you are usually not buying! If you saw my Instagram profile before, you could easily conclude that I am a LEGO Star Wars and Marvel fan. Of course, and fan of minifigures in general because I love collecting LEGO CMFs. I usually only buy sets from themes mentioned before and eventually Advent Calendar from LEGO City because it can contain fun figures and accessories. But I recently changed my mind and I would like to share the reasons why with you. Please continue reading, you will see that my new perspective makes sense.
A very interesting set
Just before Easter, one set caught my attention when I visited my local toy store. It was polybag 30558 Raya and the Ongi. I have never seen it before despite the fact I am really up to date with new LEGO sets. I decided to buy it and make a review. To get a new LEGO set at an affordable price was always very attractive to me. So the first thing you need to notice here is that this set does not contain any "regular minifigure", one of the main reasons why I usually decide to buy LEGO sets. Even more, this was the first set with a LEGO minidoll for me.
The minidoll is the main character of the movie, Raya, only available in set 43184 Raya and Sisu Dragon
priced £27.99/$29.99/29.99€. This is a definitely good opportunity to get an important character if you don't want to buy a set in a higher price category. The figure includes a new part – hair with a conical hat. Just in case you missed this information, hats for minidolls are compatible with regular minifigure heads. Because of all the things I mentioned, I gave 92/100 for the figure in this set. It's almost the perfect score that I would give in the case the minidoll is exclusive to this set.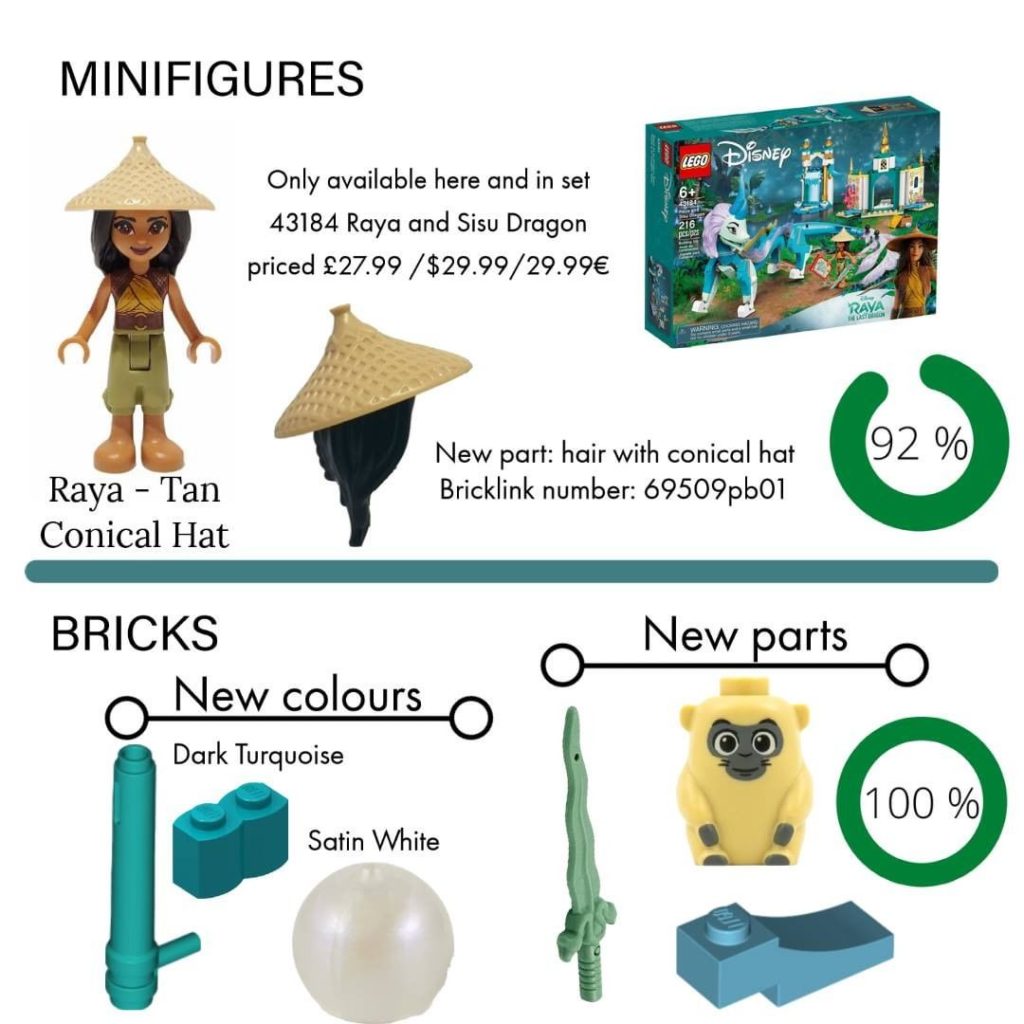 Get the Latest LEGO Sales & Deals
Bricks in the set
In the next category, I am taking a look at bricks. You maybe noticed that this one needs a lot of research using both Bricklink and Brickset. It's impossible to know all the parts and their colours previously appeared in sets. That is why for me this category is the most exciting one. The feeling when you realise you are holding a new part is absolutely amazing! I totally forgot I saw Cylinder 1 x 5 ½  with Bar Handle (Friction Cylinder) and I thought it's a new part! Well, it is far away from a new part, it started to be produced back in 2010 and since then it appeared in 73 different LEGO sets. But with Raya sets, it appeared in Dark Turquoise colour for the first time.
What is more, you will get four of them in the polybag and it is good to know you can get only six of them in the bigger set (43181 Raya and the Heart Palace). A very old (Wild West) brick, Brick, Modified 1 x 2 Log waited from 1996 to get Dark Turquoise colour! And just in case you are wondering in how many sets this brick has appeared – the answer is 806! Newer part, Minifigure, Headgear Helmet Round Fishbowl also got a new colour – Satin White.
You can assume there are a few new parts here too (just to make things clear, new parts means they first appeared this year). First of all, we have Ongi with open eyes. Ongis are very cute half-monkey, half-catfish creatures. Next, Sand Green Minifigure, Weapon Sword, Curved Blade and Elaborate Hilt is a very useful part for your creations and photos. Arch 1 x 3 Inverted is also a new part in a very interesting colour, medium azure. The part is only available in three other colours – light bluish gray, black and tan. I was delighted by the parts selection and I easily gave this category 100/100.

I didn't watch the movie (but if I did, I wouldn't spoil you anything from the movie, I know how painful spoiling is!), so I don't know if the set needs to look like this, but it is very colourful. The coral plant you can see on the left side deviate from the other colours, especially dark turquoise. Plate 1×4 is very noticeable for the same reason, too. On the other hand, the little temple is well represented, inverted arches are doing good work here.
Just because of these two coral parts, I couldn't give this set the perfect score for its appearance. The price category got a better score, 95/100 despite I don't have the correct price for this set. It can vary but in my opinion no more than 10% of the mentioned price. Polybags are not often listened to on LEGO online shop LEGO online shop
, so I was not able to check the official price.
Overall, this set gets 94/100. It is almost the perfect score, and I hope my explanation about it makes sense. You won't be able to find LEGO sets in this size (polybag) with this amount of new parts, new colours and rare figures. Polybags are always concentrated on figures instead of little models from bricks (I am not saying that is not ok!) for example 30341 Monkie Kid's Delivery Bike or ships/cars/buildings without figures like 30383 Naboo Starfighter but it is not often to get a successful combination of those two views on a certain theme.
Conclusion
This polybag can show you how much you are missing out on if you stick to one or two LEGO themes. There are more than a few ways how you can use a set from a theme you are not collecting. One of the most popular is definitely to disassemble it and mix it with your other parts. Next time when you decide to build something, you will have more parts and what is more, some of them will be very interesting and rare! Of course, you can simply display it next to your collection of sets, LEGO sets always look good together, right?
If you are a toy photographer, you will definitely find it interesting to take a photo of your new set and share it with your friends and followers on social media like Instagram or Facebook. Why not make your own creation using only the bricks you got in the set? That is always tricky! There are a lot of possibilities, you only need to imagine what you can do with your new bricks!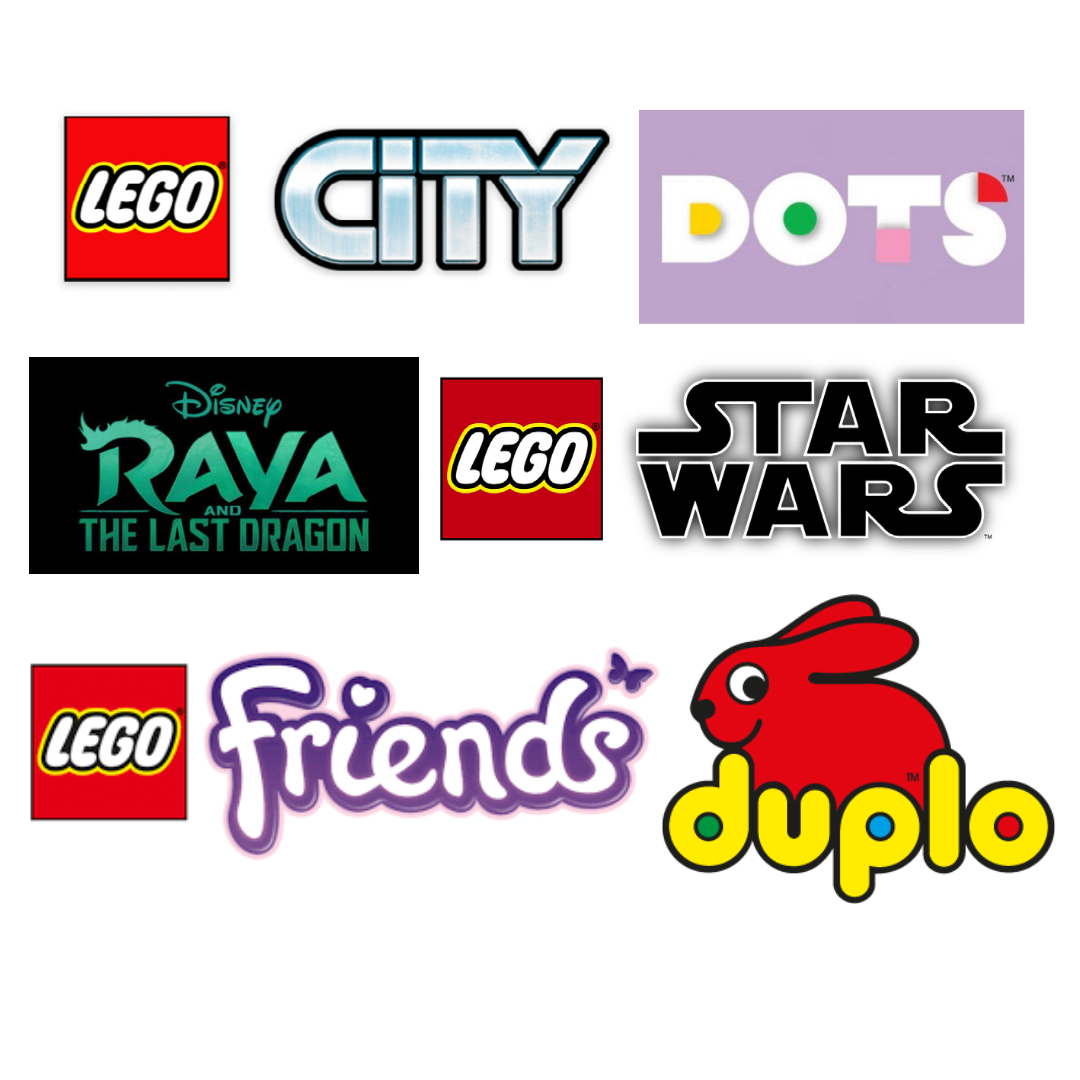 Thank you for reading this blog post! I hope you find it interesting! Are you a fan of a certain LEGO theme or you are choosing LEGO sets no matter which theme they belong to? What is your favourite theme? Would you consider buying a set from a new theme after reading this blog post? Tell me your opinion in the comments section! I will be happy to read them! Until the next blog post, I wish you a bricktastic day!
All the pictures used in this blog post are from the author's Instagram profile, studbricks.
While we are mentioning Instagram, don't forget to follow Firestar Toys for the latest updates about amazing products as well as LEGO photos with parts from them! 😉
Get the Latest LEGO Sales & Deals