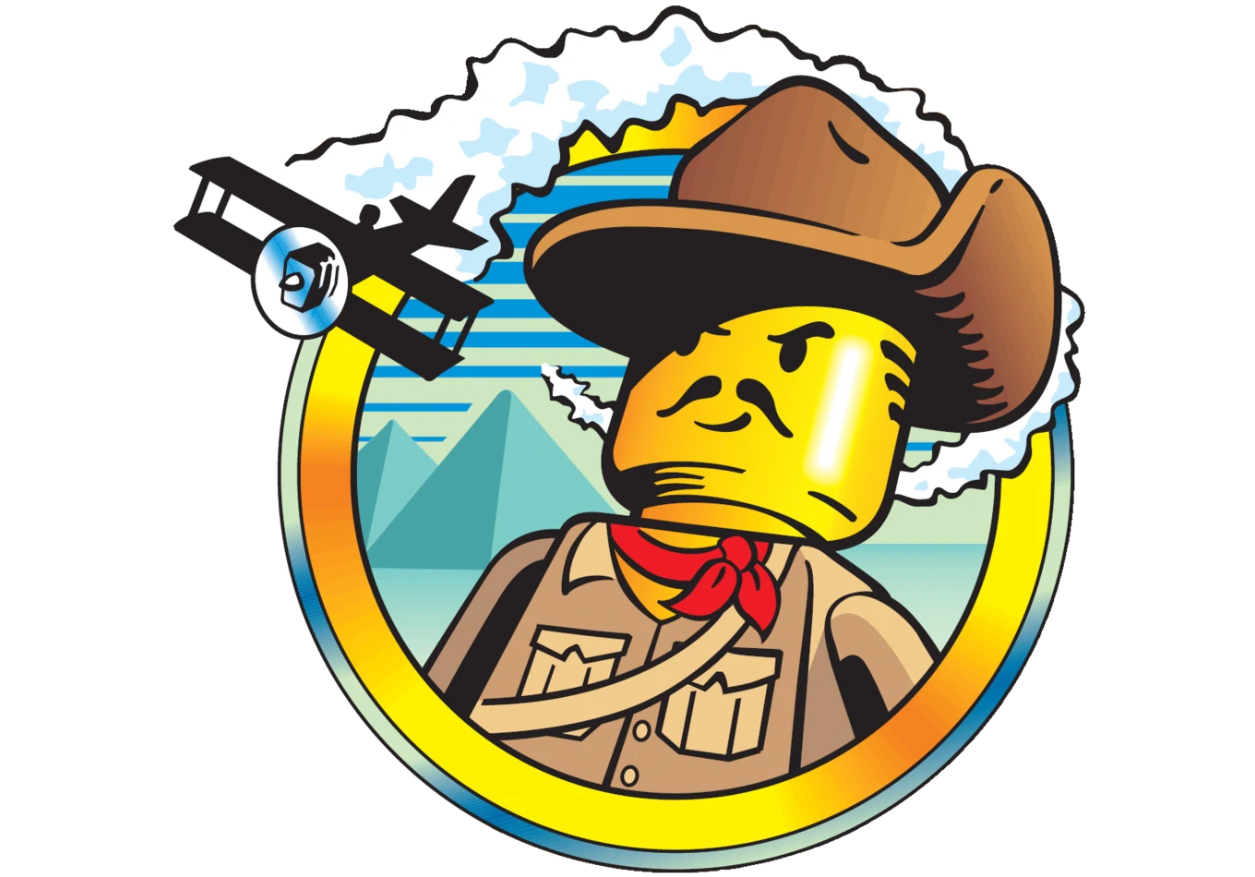 For as long as I can remember, LEGO has always been looking at ways of exploring new ideas. None more so than that of the LEGO Adventurers springs to mind. There were 4 main sub-themes: Egypt (or Desert), Jungle, Dino Island and Orient Expedition. They first came unto the scene in 1998 with the arrival of the Egyptian sets.
LEGO Adventurers in Egypt
These sets contained everything you could ever want for an Egyptian adventure, including traps, villains and mummies thrown in for good measure. What interested me most about these sets were the accessories and the attention to detail. For example, set 5988, the Temple of Anubis (or Pharaoh's Forbidden Ruins) at 710 pieces and 10 minifigures, was quite a large set at the time to get. It was very detailed and the fact that each set contained a tile treasure map was an added bonus.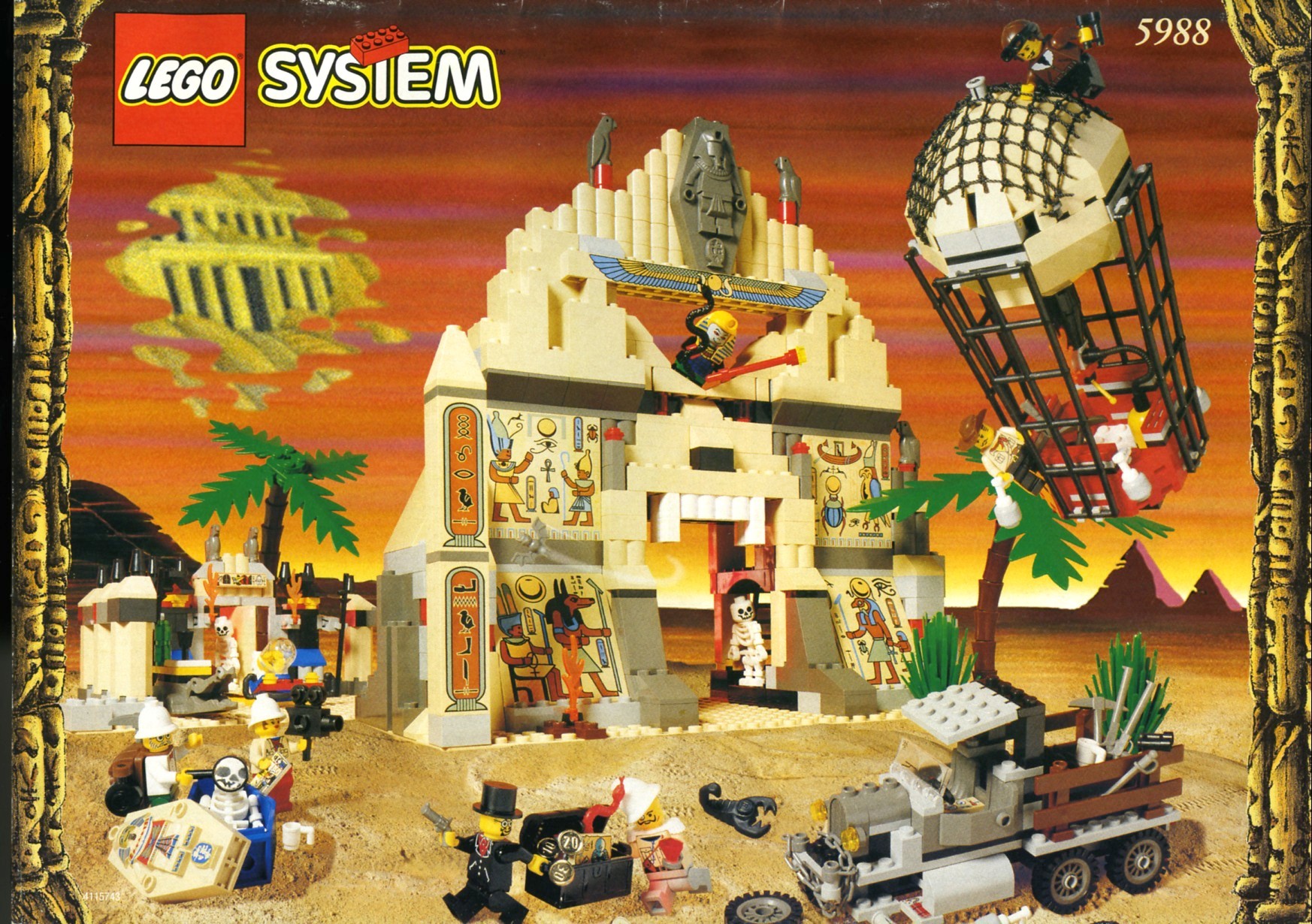 Other sets in this Egypt theme included 5978, the Sphinx Secret Surprise. Though a smaller set than the pyramid, it still had a few tricks up its sleeve, and was a great set in its own right. Some unique features included were the tan moulded baseplate which was well detailed for the period and a fold up tent. When combined with the pyramid set, expanded the adventure greatly.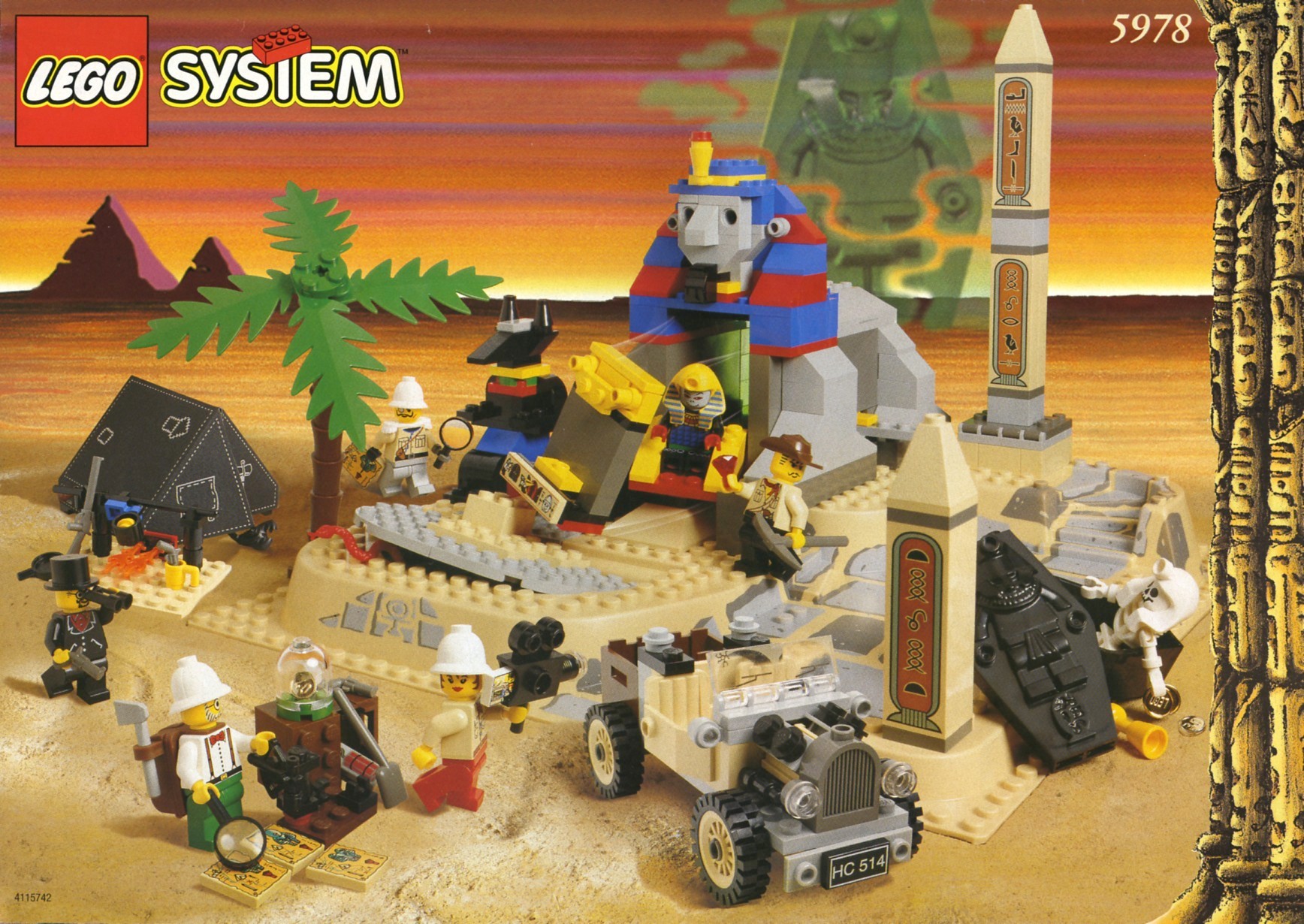 The figures too, seemed to complement the sets well. You had Johnny Thunder, the hero of the theme, along with the professor and his assistant. Villains, too, played a part. Add a mummy and you got the makings of a good adventure.
Other sets that offered to further increase the play value was set 5948, 5909, 2879. For some strange reason, those 3 numbers were on the box of this set. While at the time no explanation was given, we can only assume that at one stage these were in separate polybags. Either way it was one set I thought LEGO had given real value for money with. It contained a bi-plane, an old-time car along with villains and a Sarcophagus, which at the time was the most detailed piece I'd seen.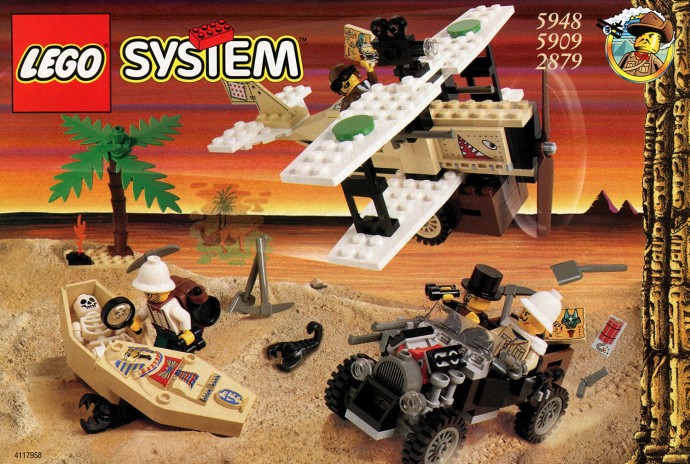 LEGO Adventurers in the Jungle
Now, although there were other sets in this series, these are the ones worth mentioning in terms of the Egypt side of things. It's worth noting that these sets proved very popular, so much so that in 1999, LEGO released the Adventurers Jungle series. While not as many sets this time as the Egypt theme, it still proved popular enough to keep the sets coming.
There were three notable releases in this theme. The first, set 5956 Expedition Balloon, an excellent idea for a set which incorporated the brick container (shaped like a zeppelin balloon) as part of the build. You have to admire the brains behind that one, as when put together it looked impressive. They had also tried this earlier in one of the Egyptian sets, but the container looked out of place.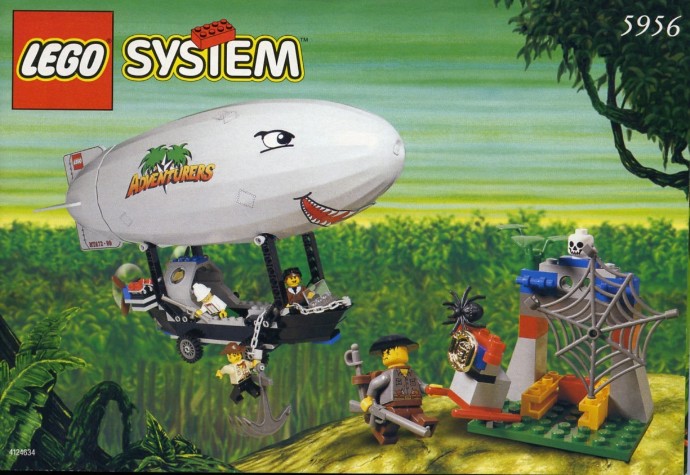 The second was the set 5976 River Expedition. While it was a smaller set, it had more than enough features to hold one's interest. That and the fact that it made a reference to King Kong with the cave. Pity, as it was a shame they didn't expand on this.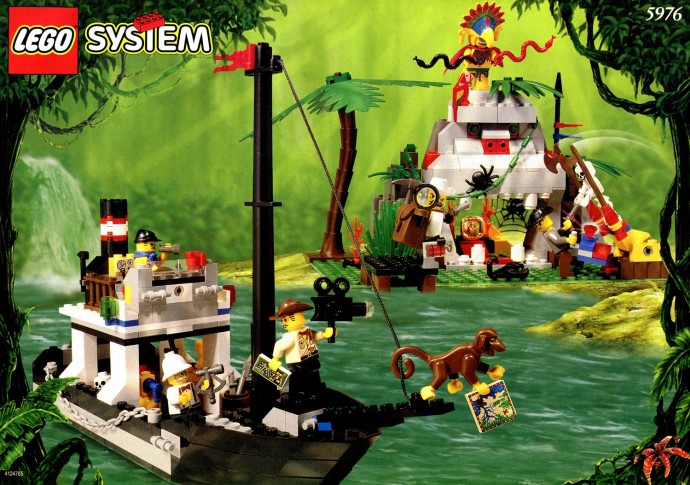 The third set in this Jungle theme list was the 5986 Amazon Ancient Ruins. While it was the largest in the Jungle series at 420 parts, it wasn't the best value for money, given that the base took up most of the packaging. It did have some nice printed bricks, though, and none of them were stickers!
Get the Latest LEGO Sales & Deals
Dino Island
Other themes in the Adventure series was the Dino Island, released in 2000. While not as elaborate as the previous sets, they are more fondly remembered for the pre-moulded dinosaurs. Two sets worthy of mention were 5975 T-Rex Transport and 5987 Dino Research Compound. While not as popular as the previous themes, these sets still had some interesting pieces.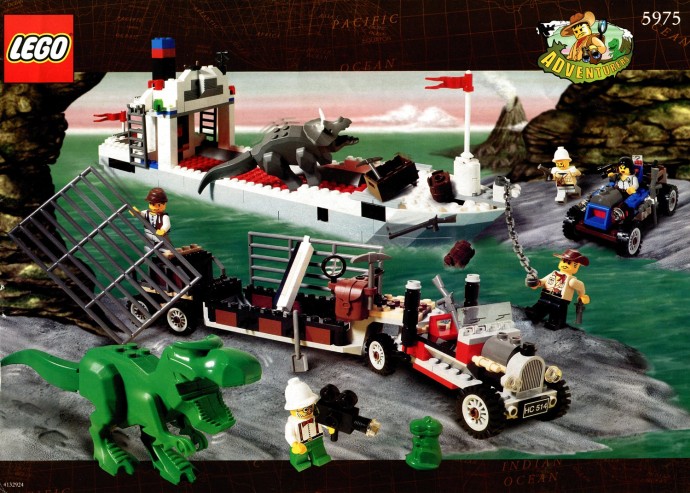 Not all Adventure series have been best sellers, but it's interesting to note: The more popular one has been remade in one form or another. Take the Egypt theme for example. Since its original release in 1998, it was re-released again in 2011 as Pharaoh's Quest. It wasn't marketed as an Adventurers theme, but it had a similar story line. This proved not as big a seller as the original, and was discontinued shortly after.
Orient Expedition
Other sub themes along this line have been Orient Expedition released in 2003. It basically followed the adventurers after Dino Island. Our intrepid adventurers must follow clues to lead them to treasure. The sets were unique in that three of the larger sets came with game cards and pieces of the board game. Collect all three major sets and you had the game.
While not everyone got what the game was about, most of the sets weren't that bad. The ones worth noting are 7412 Yeti's Hideout, 7416 Emperor's Ship, 7417 Temple of Mount Everest, 7418 Scorpion Palace and 7419 Dragon Fortress.

The board game pieces came in the following sets: 7418 Scorpion Palace contained 7, 7419 Dragon Fortress contained 11, being the biggest, and 7417 Temple of Mount Everest had 5. The rest of the sets came with playing cards to do with that particular set in question.
While I had most of the main sets myself, I never really bought into the game side of things. Not because it wasn't a good idea, on the contrary it was an excellent way of selling sets and it made collecting them more interesting. I just thought at the end of the day it was just another board game. But nonetheless it had its merits, and of course, it was LEGO who designed this.
Other Sets of Adventure
After this, LEGO adventures took a well-earned break. We didn't see anything more like this until the release of Indiana Jones sets in 2009. With these sets, came better, more detailed figures, also the sets had more to do with the films, which was understandable but you could still see the old adventure sets in these. A good example was the Temple Escape (7623) and the Lost Tomb (7621). Some of the vehicle sets, if you compare this to the Jungle and Egypt sets, you can see that the ideas behind this have been refined to suit this series.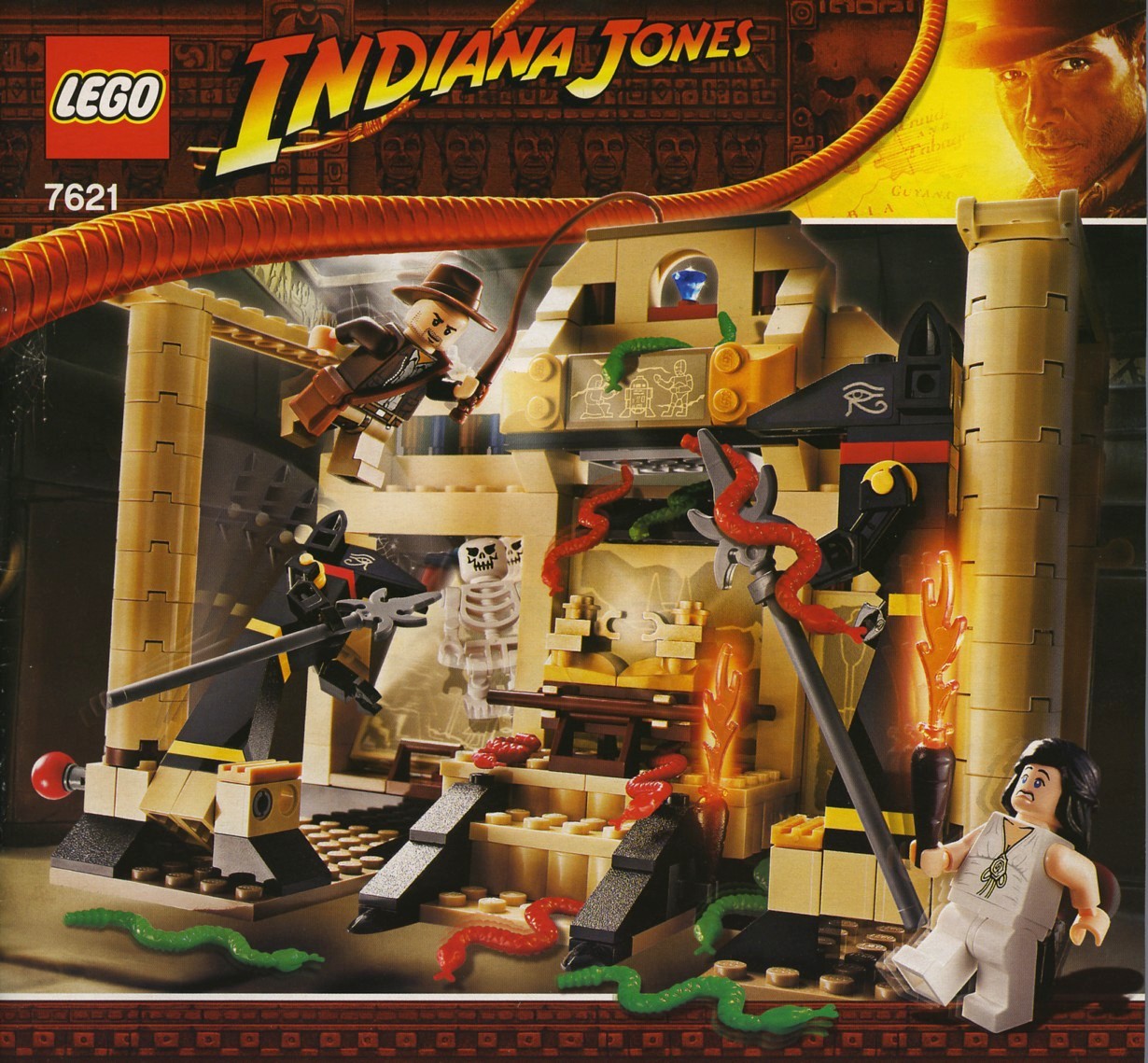 My only regret with these sets is that they didn't make the Lost Tomb bigger, add more snakes and figures. The jungle tomb, too, that could have been done so much better if they had just given it more thought. Still, with the arrival of these sets LEGO Adventurers seem to gain a new lease on life.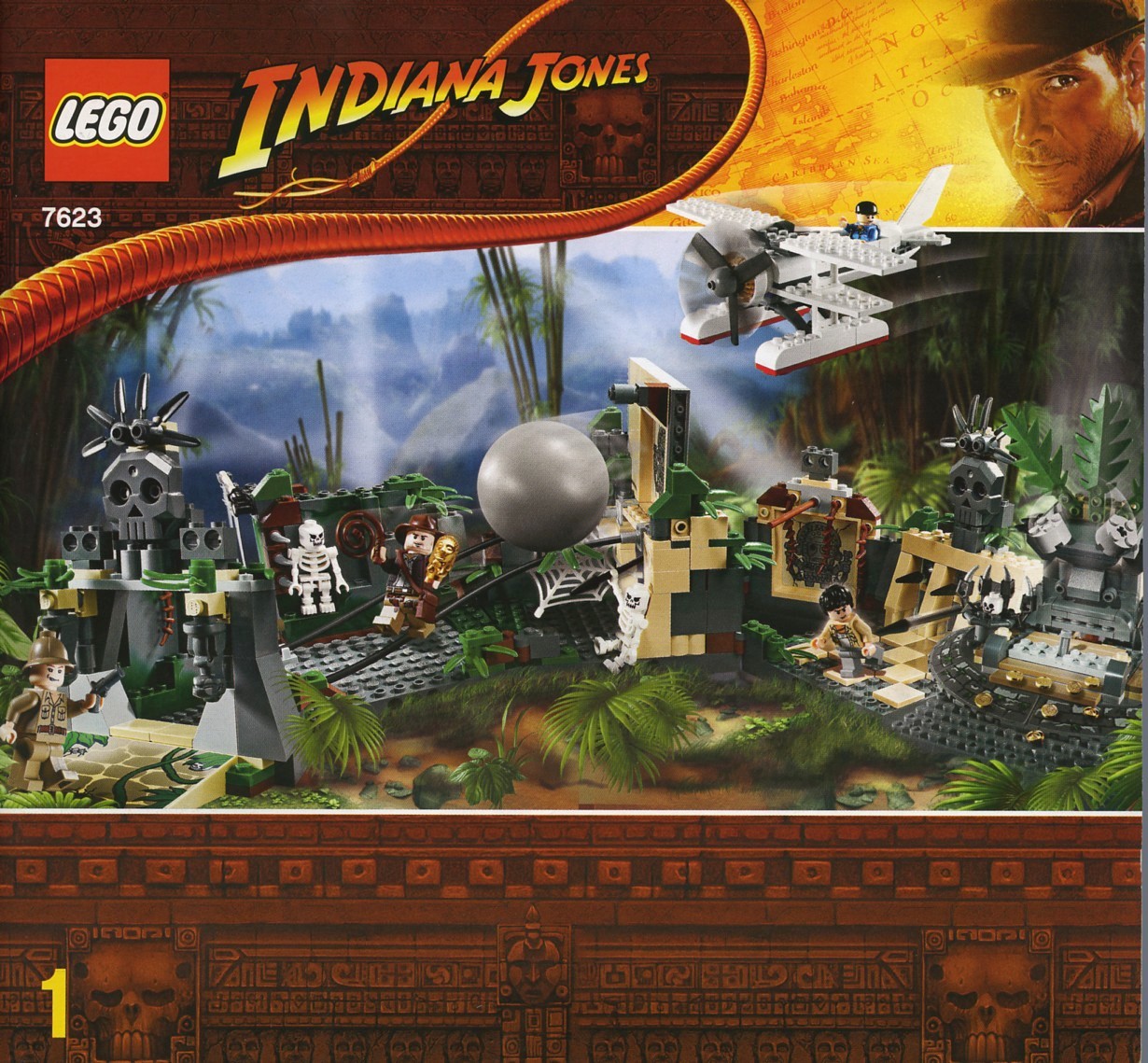 Other sets soon followed, and before long, Indiana Jones would be forever remembered to go hand in hand with the Adventurer sets. Closely followed by Prince of Persia in 2010, it seemed that characters like Johnny Thunder, Dr. Kilroy and Pippin Reed had now been replaced with the characters from these movies.
As for the original themes, LEGO did however release a character or two in its CMF series. Whether this was intentional or not, it seemed LEGO hadn't completely given up on the original idea.

So, it came to no surprise that as of June 1st 2020 LEGO Haunted House (10273) is released. What, you ask, has this got to do with Adventurers?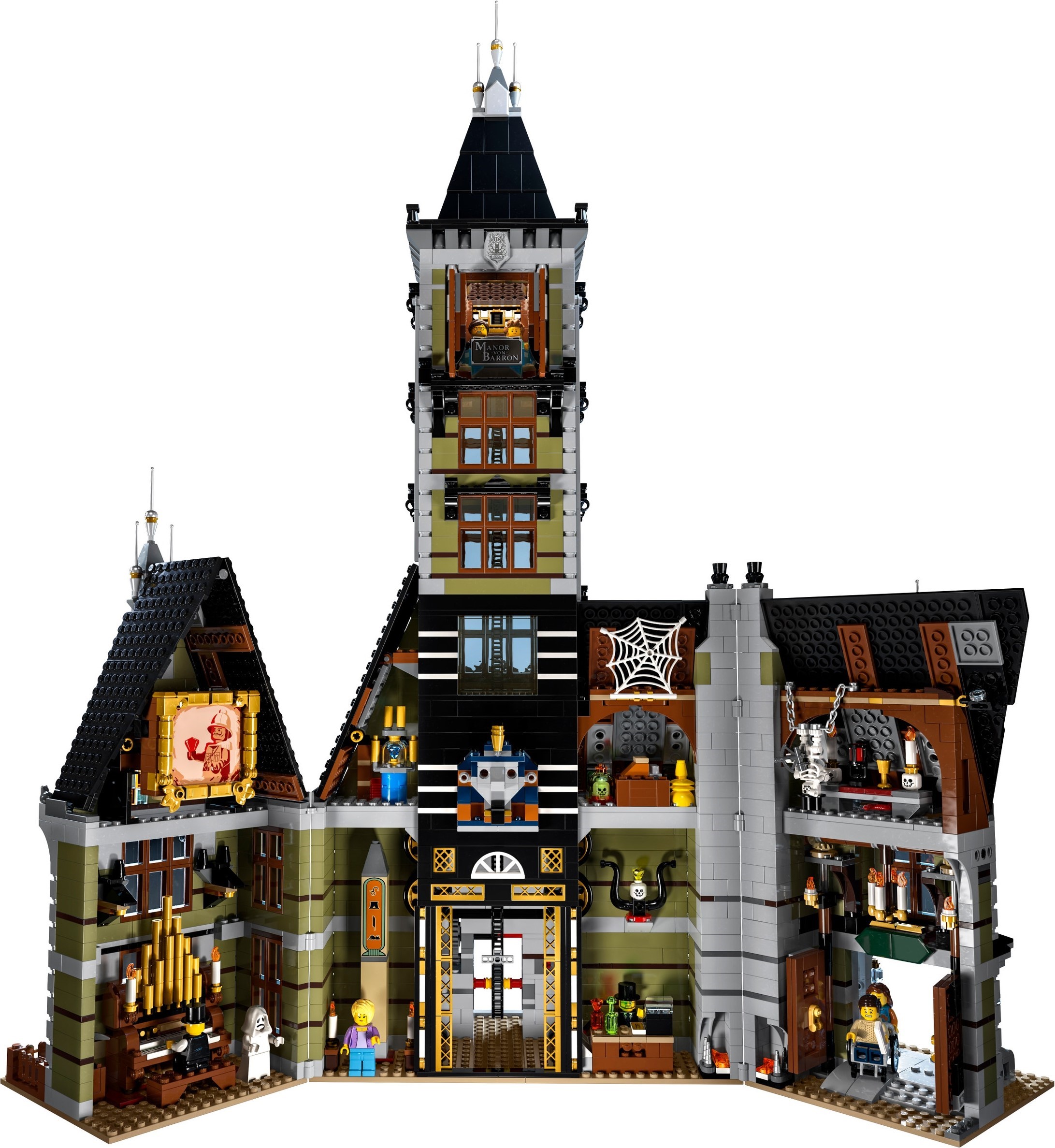 Simply put, it pays homage to the early Adventurers themes, and although it is mainly marketed as a spooky fairground attraction, you can clearly spot the references to Adventurers. It may be a sneaky way of saying that something new is coming, it's more a wait and see approach. Either way, it's a nice way of saying that they haven't forgotten the original theme.

Conclusion
To say these themes were great was an understatement. LEGO Adventurers had everything you could ever wish for in a set, especially the original Egyptian one. Anyone who has ever seen the movie The Mummy will understand this. The only thing missing thing were the camels.
As for future sets based on these originals… You know what they say, never say never!
Get the Latest LEGO Sales & Deals
All images are from Brickset unless otherwise specified