I know most of you know what happened quite recently. The passing of Chadwick Boseman, the actor who portrayed Black Panther in the MCU, shook everyone to their cores – including myself. The same year he debuted in Captain America: Civil War was the year he was diagnosed with colon cancer, and he fought against it like a real hero for a little less than five years. To celebrate his time in the MCU and in LEGO, today I will be looking through every Black Panther related set, vehicle and minifigure released to date, to pay homage to the fallen king. Today, we will discuss mostly the Black Panther related sets, builds and minifigures, and hence we won't touch on any other unrelated parts of sets. So without further ado, let's dive into it.
Black Panther Pursuit (76047)
For the first time ever, with the release of the Captain America: Civil War wave, arose Black Panther in this $30 USD set. This undoubtedly had one of the coolest minifigures of that wave. LEGO made a completely new ear piece which could attach to his head – something that was extraordinary, even though most of us did wish for a completely new helmet mould instead. This ear piece had printing on top of it, which matched its extremely detailed head and torso. As I say always, we need leg printing. All this impeccable detail just stops at the legs, which is disappointing.

The jet was a really great part of the set. Before LEGO had beaten the concept dead, the jet build was praised by LEGO Marvel fans. It was so sleek and low-profile in its design overall. The black and purple colour scheme was very menacing, and the green accents were also great details. It came with an opening cockpit to seat T'Challa (Black Panther), and a console piece for him to operate the vehicle. Overall. It was such a damn good build, and was a great introduction of the character in a LEGO form. Again, this article is focused on Black Panther, so if you're interested on hearing more about this set, go check out my article on why I believe 2016 was the best year of LEGO Marvel.
Rhino Face-Off by the Mine (76099)
Sadly, we didn't receive anything Black Panther related until 2018, where the named character got to star in his own solo fit – Black Panther. As they do with most MCU movies, LEGO decided to release two sets to coincide with the film.  This $20 USD set was a great way to get some of the primary characters from the film. We received a new, updated Black Panther minifigure, with the same ear piece as last time. However, it wasn't printed – which continued from there on. This was a downgrade, but to avoid ranting about it, go check out my LEGO Marvel Rant.
The face and torso print were quite unique, using a blue accented colour scheme. This was inaccurate, as the suit he used in the film emitted a purple glow. We also got Killmonger in the set, dawning another Black Panther suit, but this time with a gold printing which was also unique. It looked awesome. Finally, Okoye was included in the set, with a semi-accurate head and torso print.

The Rhino build was ripped straight from the movie, as it had a prominence in the final battle. It used moulded legs, but was primarily built from bricks and plates. You could seat a minifigure on top, and could shoot out studs via a pair of stud-shooters. The legs and head of the rhino would rotate. The mine build was also from the movie, having a presence in the final battle. It was just a pair of the (new at that time) roller coaster track pieces, and a mine cart, carrying the resource, only found in Wakanda (Black Panther's country), Vibranium. Via a simple mechanism, by pushing down on a plate, the track would explode, forcing the mine cart off-road. This was such a great set, not just for its ability to recreate scenes from the film, but also because of its minifigures.
Royal Talon Fighter Attack (76100)
This was such a popular set. Retailing for only $30 USD, it gave us four minifigures. LEGO did a great thing by giving us a completely new Black Panther suit which was awesome. It had an exposed eye print, and a simpler torso print. Nakia was also a sick minifigure to get, with a newly moulded hairpiece, and a newly printed face and torso. She came with two ring lives as her weapons of choice.
Killmonger was also included in this set – but this time in his first-appearance outfit. A completely new mould was created for his elaborate mask piece, which was just unnecessary but awesome on LEGO's part. He got a re-used face print which looked nothing like the actor. But LEGO evened the odds with a new torso and leg print. He came with a really nicely built rocket-launcher. Finally, Ulysses Klaue was a great inclusion, using a new, accurate face and torso print. He also revived an accessory piece to represent his mechanical arm.

Get the Latest LEGO Sales & Deals
The Royal Talon was an iconic ship from Black Panther. I believe that LEGO captured its looks well in brick form. It had an opening cockpit which could hold one minifigure, and a back compartment which could hold their accessories. Below, it hid two stud-shooters which could be launched at enemies. The two flaps next to the windscreen could be adjusted up to resemble a Panther, and the mid-section could be opened up to store passengers or prisoners. Finally, the back two flaps could be adjusted up and down. This was a really great set, and accurately illustrated the in-universe ship very well.
Corvus Glaive Thresher Attack (76103)
Since we're only focusing on Black Panther today, I'll only be discussing some aspects of this set. The notable minifigure included was a re-hash from the Royal Talon Fighter Attack set as discussed earlier. We also got our first Shuri minifigure in this set, using a newly moulded hairpiece and a new face and torso print. It was so cool to finally receive her.
The $40 USD Wakandan wall had quite an aesthetically pleasing look. The black, gold, white, and purple all contrasted each other well, creating a very unique build. The sword pieces used, in my opinion, were an extremely clever building technique. Each of the windows had stickers, in addition to the door. The wall panel on the left side could be hinged back to give the build depth. Below the second wall to the left had a disc launcher, which could be shot at enemies. Towards the tower had an exposed Technic piece which, when pushed down, opened the door. The walkway space on top was very small and could stand only a few minifigures at a time.

The top of the tower had four stud shooters which could be angled and shot. Inside there was a small lab, with a table to keep Vision to extract the Mind Stone, and computer setup. Behind the chair was a Technic beam which could be pushed forward to launch the Disc Shooters from the Disc Launcher. The Thresher build (made of the large, rigid, circular pieces) was a unique build – something different. Basically, by pushing down on the red brick-built button on the Thresher station, the Thresher would launch out onto enemies. I thought this play feature was just brilliant. This was a fun set overall.
Avengers Speeder Bike Attack (76142)
Earlier this year, LEGO finally gave us a comic-book accurate version of Black Panther. He used the same ear piece, but with a new, comic-accurate, head and torso print. He also received a cape piece which sat above his head to further represent this appearance. I do wish he came with a Batman cape, and a newly moulded helmet to fish this look, but we don't always get what we want. Overall, a great minifigure, and a great addition to the collection. Coming in a $20 USD set, he is a very obtainable minifigure, and the best way to get this now iconic character.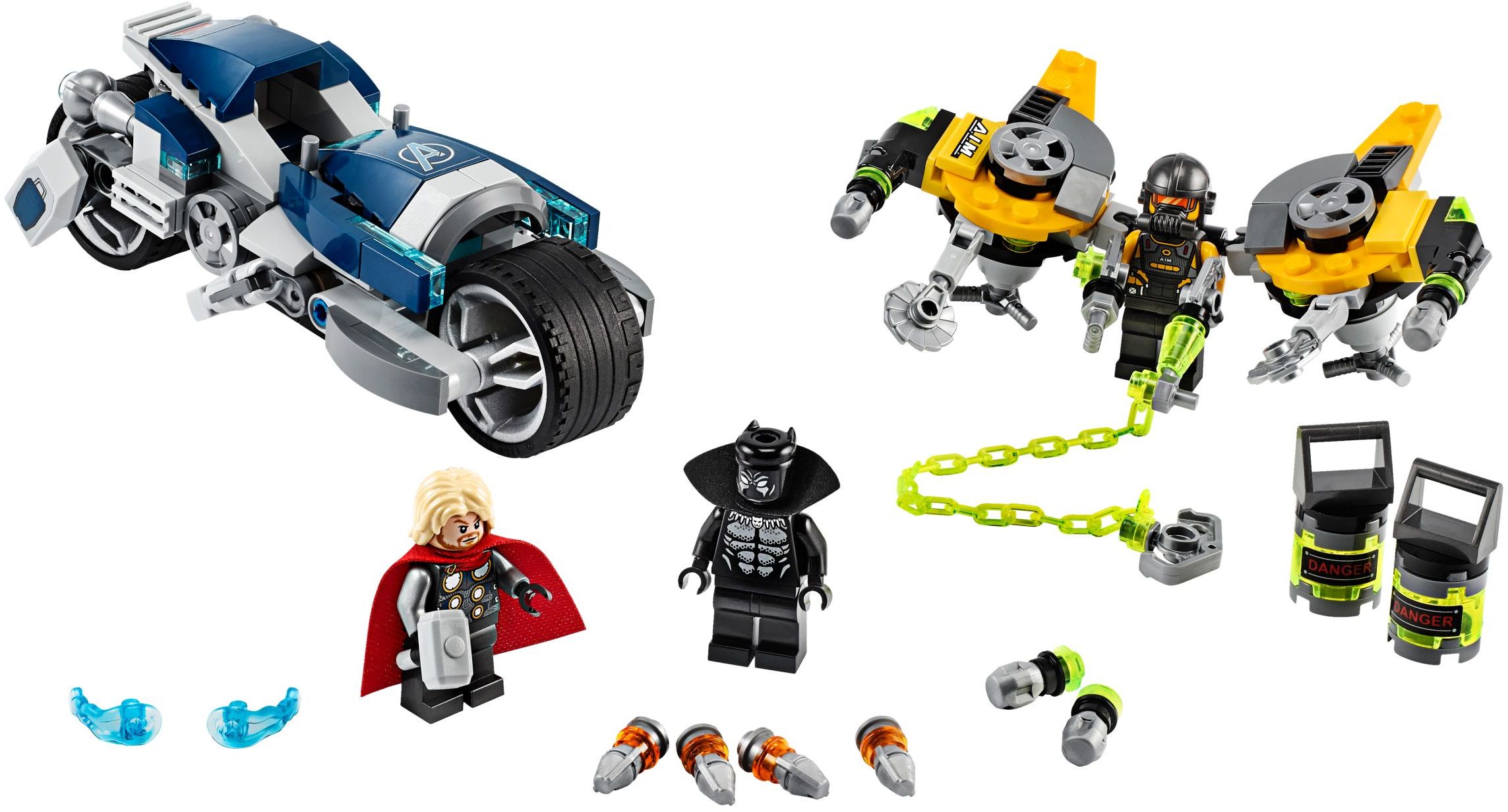 I hope this was a great look back onto the evolution of Black Panther in LEGO form. What happened with Chadwick Boseman was extremely tragic, and extremely sad, so hopefully I took your mind off of it in some way. I also hope this was a great way to commemorate his impact on the LEGO community. He was an inspiration, starring in an award-winning movie that gave the black community a hero to look up to, as he starred in the first-ever Black super hero movie. But yeah, that's it. Again, the news is extremely sad to hear, and my thoughts are with his family. Take care guys, cause I'll see you in the next LEGO Marvel Retrospective. Wakanda Forever!
Get the Latest LEGO Sales & Deals
Images from Brickset