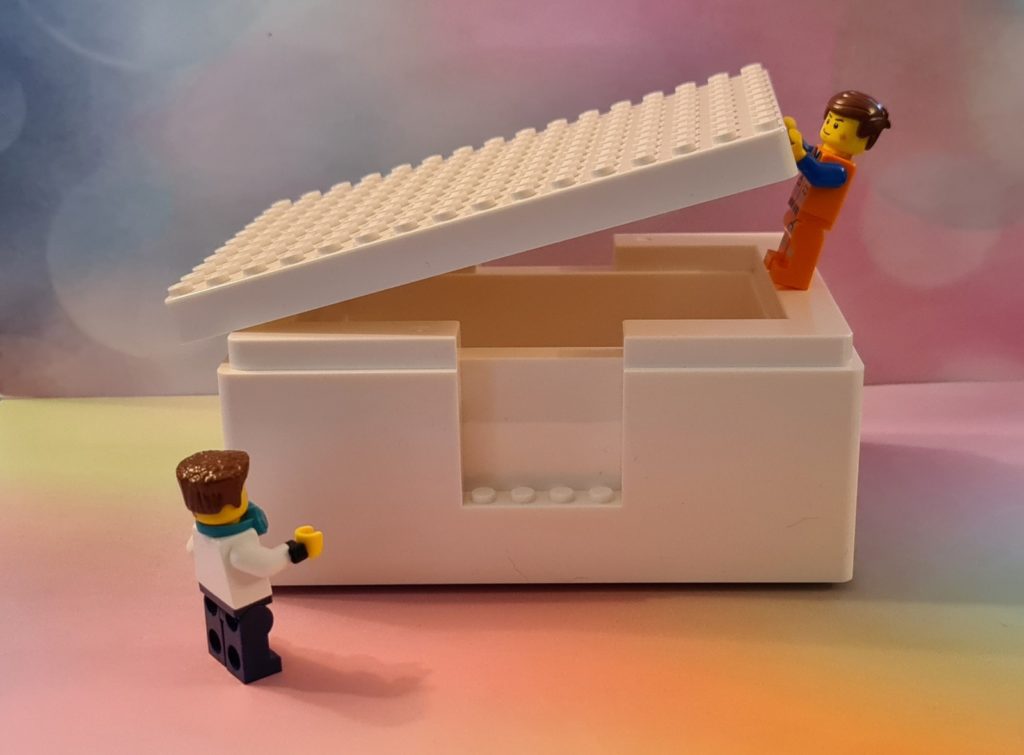 If you have LEGO, then you have two options when you've finished building or playing. The first is to put it on a shelf, effectively displaying it; or you can put it away.  There are limitations on the amount of LEGO that can be feasibly left out (such as the amount of shelf/floor space available to you); so at some point you just have to put it away. For the purpose of this article, I'm not going to consider reboxing the LEGO. Instead, I'm going to look at storage solutions for LEGO parts and bits.  I'm going to look at some of the options that you may choose to use; but first, I'm going to look at the solution released by IKEA in collaboration with LEGO – BYGGLEK.
LEGO BYGGLEK – what's in the box?
On the ikea.com website, it states that "the BYGGLEK collection offers play storage solutions and a LEGO brick set unique to IKEA. The boxes easily find harmony with your home so the creations can be put on display keeping the story alive until the next play time."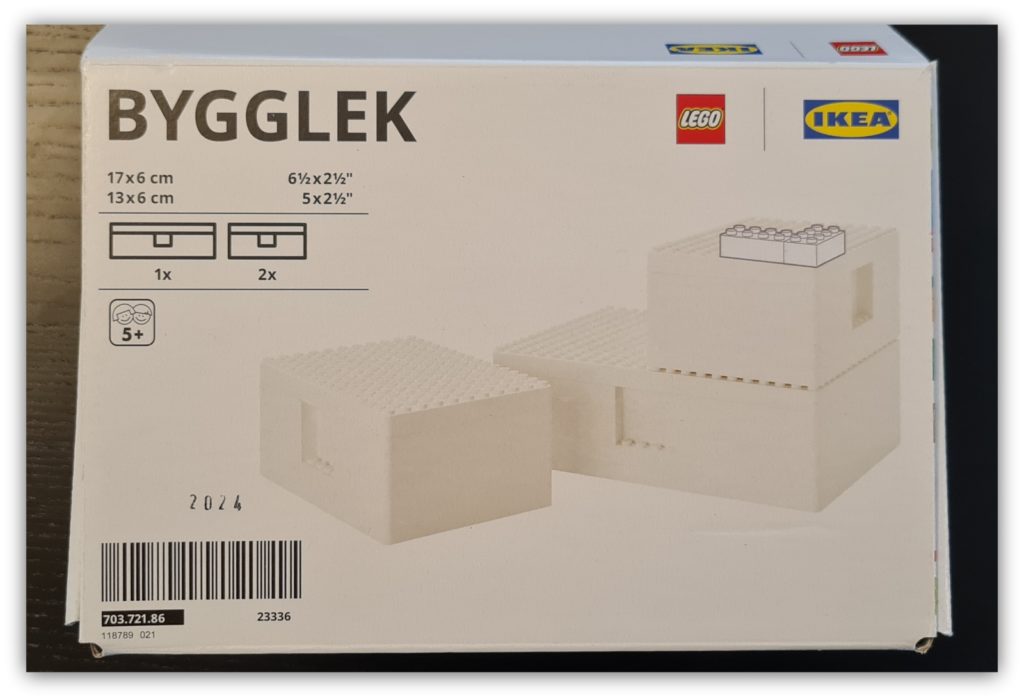 There are four products in the BYGGLEK collection; a large box and lid, a medium box and lid, a collection of three boxes and a 201-piece LEGO brick set.  I bought the medium box, the three boxes and the brick set (of course!).
The set of three boxes come ready assembled. The two smallest boxes measure 13cm x 9cm x 5.5cm approximately; the third box measures 18cm x 13cm x 5.5cm approximately. I say approximate as unlike the other boxes there are no measurements.  The medium box measures 26cm x 18cm x 12cm and the largest box measures 35cm x 26cm x 12cm.  The small boxes come ready assembled; the remaining ones come flat-packed (in true IKEA fashion!)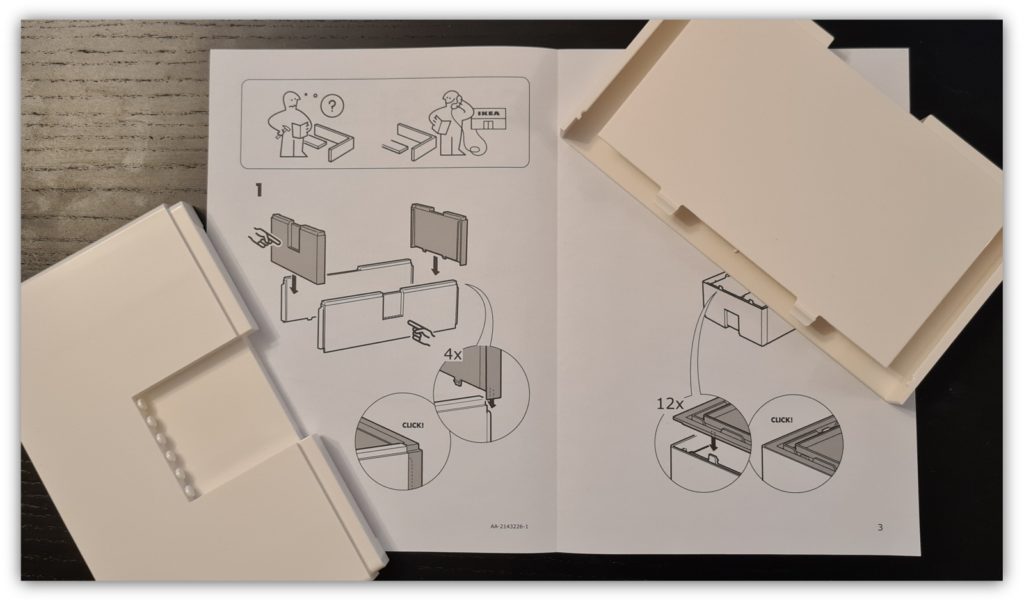 However, from a building perspective, the small box is 16 studs x 11 studs x 6 bricks tall.
Building the medium box is straightforward and it certainly means that there's little empty space in the packaging.
Stacking and space
Because the boxes I bought are each half the size of the next they stack together quite neatly. What I thought was a positive point is that the bases aren't studded but have ridges that slot over the studs. This means the boxes won't slide about, but they also don't have any clutch control to "fix them" to each other.
This ridged solution also apply to the lids as well and lifting the lid reveals what may be the weakest link in the whole solution. Each box has a thick, hollow wall, which massively reduces the space inside the box. Using the smallest box as an example; the internal stud width is reduced to 7.5 studs (from 11) x 12.5 studs (down from 16) and four bricks, one plate tall. However, on the long side of each box is a 4 x 1 x 3 'hole', perfect for putting a window in.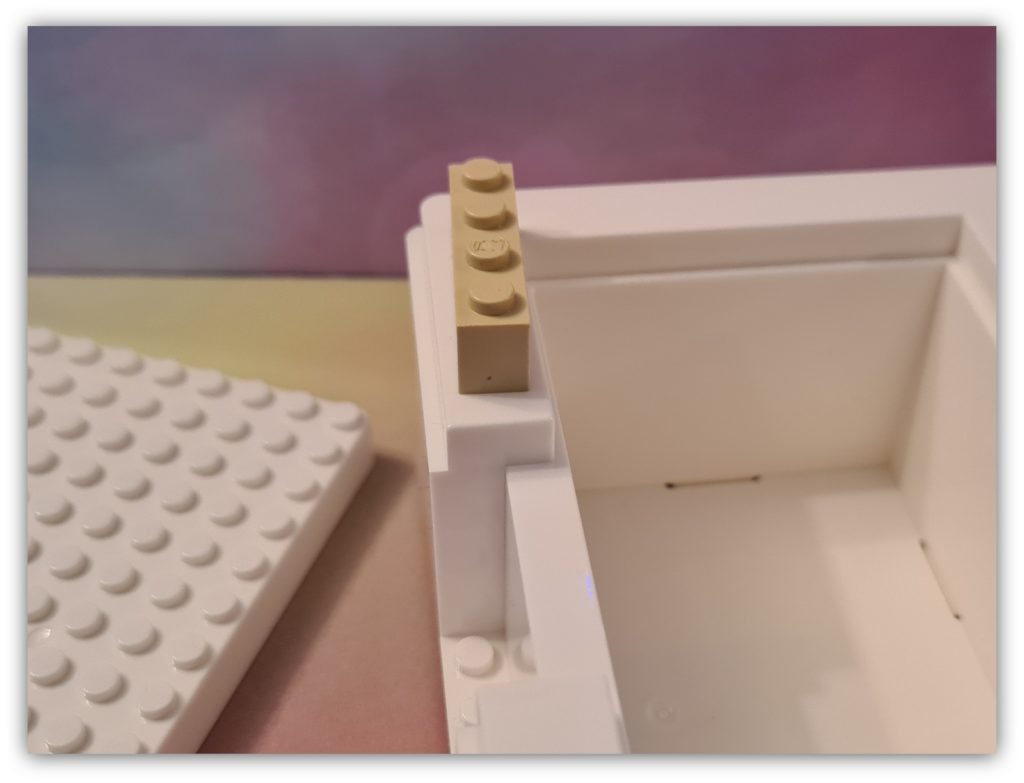 And that's the biggest difference with this storage solution; it's as much a base to launch a build from as it is to store things away; you have got a carcass of a frame to put a house around quickly and easily.
More LEGO!
LEGO BYGGLEK isn't just a collection of boxes. One of the products in the set is a 201-piece LEGO set. In effect though this is more like a "box of bits" that you can use to fire your creative thinking. It comes with two LEGO figures, a collection of hats and a random selection of bricks, doors, and windows.
Get the Latest LEGO Sales & Deals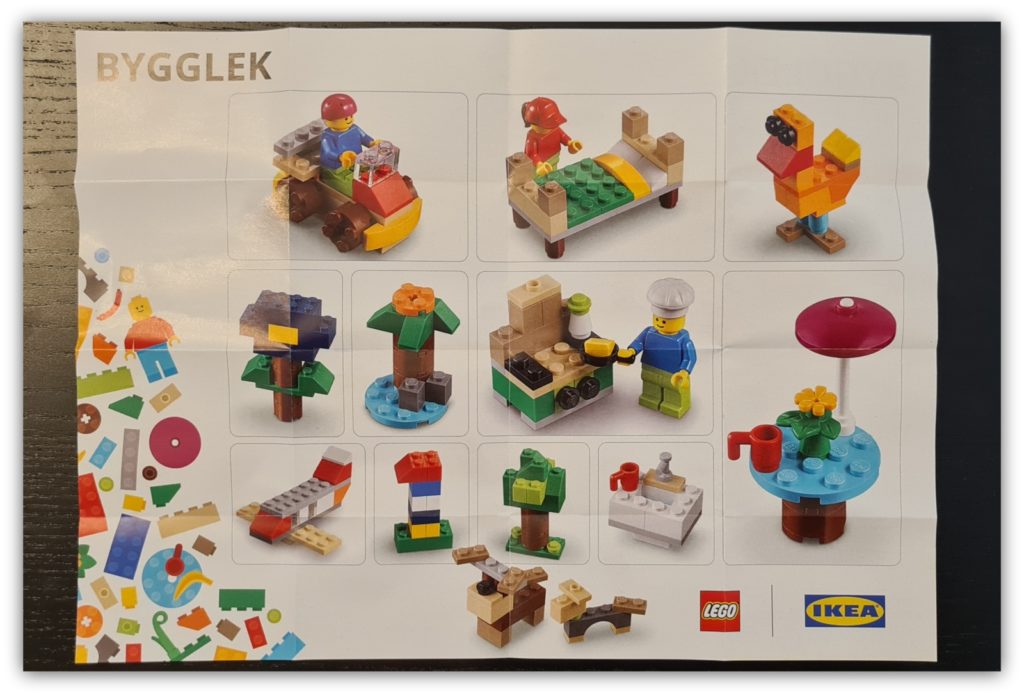 There aren't any building instructions in this set, just ideas of what can be created; also, there are no parts that I thought were particularly specialised (although it is nice to see a hot dog and bun in the box!)  Overall, it's a nice top-up; however, at £15 I'm a little on the fence about value for money.  But then, if you've dragged yourself around IKEA, putting the "ooh, look that'd be useful" stuff in your trolley then I don't think this would stand out in the overall bill.
Other Storage Solutions – LEGO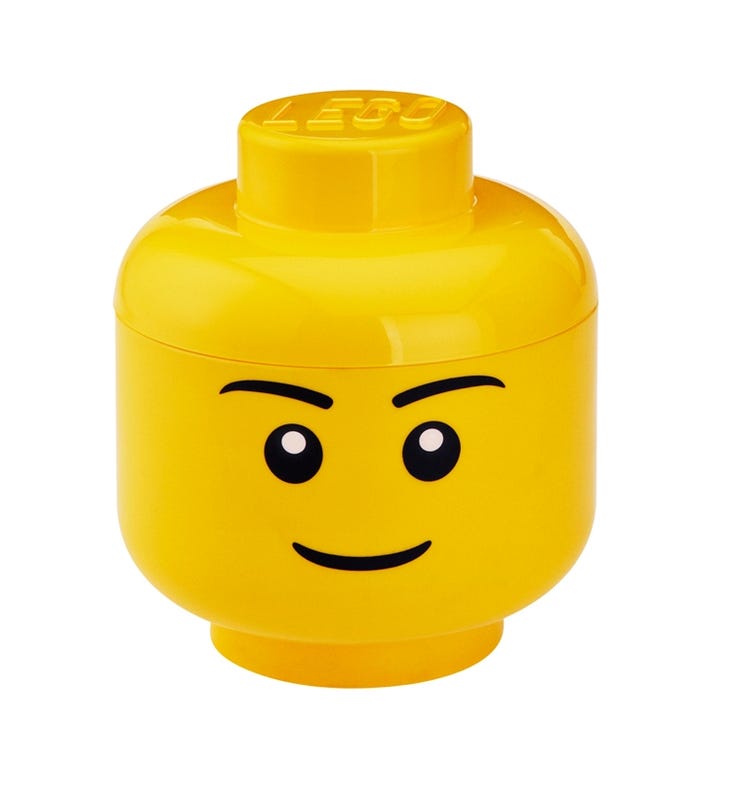 It would be very unfair to make it seem like IKEA BIGGLEK boxes are the only cool LEGO related storage solutions out there.  LEGO of course have been making presentable storage solutions for years in the shape of LEGO heads, or of their bricks, each stackable with each other and retaining that classic LEGO shape.
Of course, because they are scaled up in size, you can't build on them with standard bricks, even DUPLO.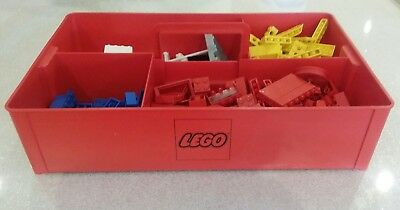 Many, many years ago (I'm thinking around the 1970s) LEGO released some trays that could be used to hold LEGO. They had a handle in the centre and several compartments that you could put your LEGO. Unfortunately, my brother and I didn't look after them and the plastic became brittle and broke; but it did mean that not all the LEGO was just in one large cardboard box.
More recently, I did see that LEGO released a "big head" solution which had varying size holes in it that enabled you to sort the bricks quickly and simply.  But if you're like me, one head won't quite cut it for sorting and alternate solutions are needed.
More IKEA solutions
I'm now at a point where as well as having LEGO in display boxes and display shelves around my office and a few boxes now in the garage I have a whole corner of my office full of LEGO. If I get an idea, I want to be able to get to the parts I need quickly; so yes, I have ended up sorting parts. This means that I need solutions that ensure the 1×2 bricks don't get mixed up with the 2×4 bricks and the 2×2 plates don't get mixed with the 2×2 plates etc.
So, I've got two MALM units, each with three drawers and in them I have several IKEA open boxes, each with a particular set of parts.  A couple of the drawers at the bottom also hold those CITY vehicles that I don't want to take apart in case I need to use them in build at some point.
Yes, those handles, and lower lip do mean that occasionally some of the LEGO falls out, but in the main it means I can take out the parts I want and just move them to my desk.  I've also found a few boxes with lids that I can use to hold all my LEGO figures (and also the Playmobil figures and accessories too!)
Because my room isn't large and I don't want to cover up the windows, the MALM units occupy a large amount of space, but unfortunately, they aren't quite enough, and I've had to encroach into my "office" space by using metal drawer units as well.  I'm not sure what I'm going to do when I run out of space with these!
LEGO BYGGLEK – the solution
Whilst these may not offer a proper solution for any serious amounts of LEGO, they do offer a nice crossover between a storage solution and still allow a play opportunity as well. The smallest boxes would be perfect to sit on a desk (possibly decorated with DOTS) and all are fantastic to act as base units to build on.  It is a shame that the walls are so thick, but they do seem quite sturdy none the less; and it is nice that the studs can be used without compromise, or making it challenging to get the lids off; or off each other!
Get the Latest LEGO Sales & Deals