By now, most of us know what our minifigures will get for Christmas. They have a huge range of parts and accessories to choose from, some of which are mentioned in the small catalog published last week. As for our friends and family who are into LEGO as much as we are… well, that's the big question, isn't it? So I've surfed the web for some LEGO Christmas gift ideas, and decided to share my findings with you. Hey, maybe it can even act as a wishlist, or a list of ideas for those who don't know what they can get you, right?
Being a bookworm, I decided to start with Amazon. I have a few books on LEGO, and several more on my own wishlist, so it seemed like a proper place to take a look.
Books 
The LEGO Christmas Ornaments Book Volumes 1 & 2 by Chris McVeigh
I have been following Chris McVeigh before he went up and started working for LEGO, and I'm sure you've heard about him or seen his creations before, too. I've always been amazed by his builds, so simple, yet so elegant. These two books contain a total of 31 designs (15 in the first and 16 in the second) that can be used as Christmas ornaments. There are lists of parts needed, and step by step instructions. If you're among those who take joy in decorating your Christmas tree, then these books are a must for you.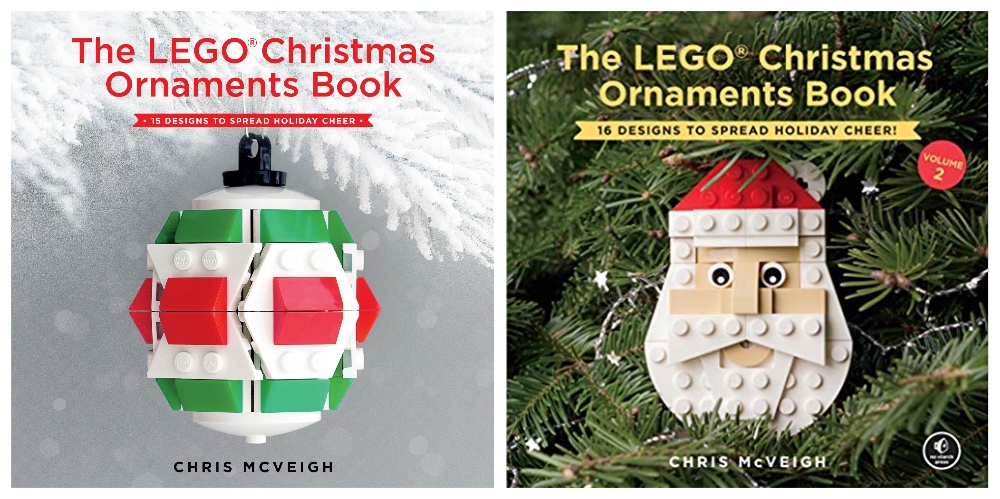 LEGO Holiday Ideas: More than 50 Festive Builds by DK
While I don't have this book myself, I know from experience that if it's DK, it's probably worth buying. It may not have instructions or parts lists inside, but it does come with a handful of bricks to make your own reindeer. As for how exclusive it is… that's really up for debate. Still, it seems like a good place to get some ideas, especially if you have some spare bricks lying around. Whether you get it for an adult or a teen, it will give them inspiration to add to their city, or at least their table top.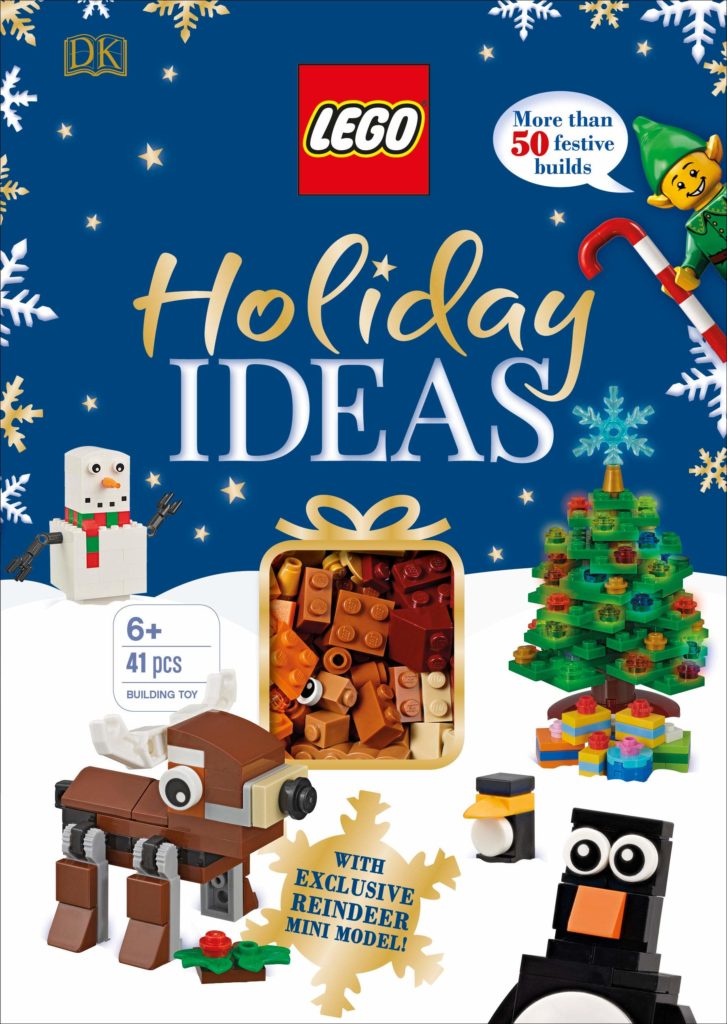 LEGO Micro Cities: Build Your Own Mini Metropolis! by Jeff Friesen
Now this book is neither about Christmas, nor is it published by DK, but in my opinion it's a must have for everyone who's interested in LEGO, art, architecture, or all of the above. Just like Mr. McVeigh, I was lucky enough to find Jeff Friesen on Instagram before his book was published, and each time he posted a new picture, I was mesmerized. The chance to hold them in my hand, even if they're pictures, even though they're just a small part of his overall design collection, and take a peek into his secrets, his building techniques, and create my own micro city is truly priceless. Yes, that's right, you can create your own micro city following his instructions in the book! He even has some alternative parts you can use to make it your own design!
While you're at it, check out his other books, too. The LEGO Castle Book: Build Your Own Mini Medieval World and United States of LEGO: A Brick Tour of America. The first is a medieval version of the Micro Cities book, and the second is filled with fun pictures that even non-Americans would like 🙂 

The Complete LEGO Minifigure Catalog by Christoph Bartneck
Recommending books without mentioning The Complete LEGO Minifigure Catalog wouldn't be fair. In my opinion, this is the only book that has a full list of minifigures released between 1975-2015, and it's a must have for those collecting minifigures. Even though Dr. Bartneck was unable to continue his project after 2015, 40 years of minifigures cataloged with pictures under a single book is still worth having. If you're interested, you can find a more in-depth review here.
Apparel & Accessories
There are two official LEGO accessory pages for humans that I know of, LEGO Watches and LEGO Bags, both of which have fun products you can get for your kids. Even though the products in both sites are targeted mostly for children, there's no reason an adult can't use them either. The extra pieces included in each watch to mix and match can easily be used to increase the size of the watch. They also have clocks that all fans of LEGO would enjoy. As for the bags… well, I don't know about you, but carrying an oversized brick around does sound cool to me, no matter what your age is!
I've also come across this site called LEGO Wear as I was surfing. Unlike the previously  mentioned sites, the products here can't be used for all ages, they're made especially for children. However, there are some fun t-shirt and sweater designs, so it's definitely worth checking out.
Speaking of fun t-shirts… remember there's a cool Classic Space t-shirt that is available in many sizes, both for children and adults, right here. And Redbubble is a GOLDMINE when it comes to original designs that can be printed on clothing as well as… well, almost anything! So make sure to check what's available there, too!
Get the Latest LEGO Sales & Deals
Now as I'm sure most of you already know this, but don't forget to check out LEGO's website for more human accessories. They have loads of cool stuff, from tableware to magnets, storage units to picture frames, notebooks to keyhangers. My personal favorite? Well, if we don't count the upscaled mug (which has been on my wishlist for YEARS!), then I'd have to say cookie cutters. It would be so much fun to make cookies in the form of LEGO bricks and minifigures!
Jewelry
Anyone here don't know the site called Etsy? You can find many hand made LEGO jewelry there. Earrings, necklaces, bracelets, even cufflinks! Many of them use genuine LEGO parts, and they look pretty cool. It's a great place to find some original LEGO Christmas gift ideas!

Designs by BexieGeorgieLou, CuteCessories, beeperbebe, and JFoxCufflinks
Also, if you're into DIY, you can always create your own, using a small drill and empty pins, rings and clasps. That way, your gift would be even more personalized. A few years ago, I've made over 50 keyrings to give out at my workspace. It was tiring, drilling into all those bricks and putting in the chains and what-nots, but that expression on everyone's face when I asked them to pick a gift from the bag was truly priceless. So if you have some spare bricks or minifigures lying around, and some tools to turn them into jewelry (and of course the heart to 'sacrifice' them), you may be the person of the year at that office Christmas party!
Posters and Cards
Etsy is good for finding LEGO-related posters and postcards as well, but why not make your own? If you're into photography, you can turn your photos into postcards, and send them out this Christmas. You can even create a small compilation, a photo-book of sorts, and give that as a gift. If you think your photographs aren't good enough for something like this, there are literally hundreds of toy photographers online. If you print their photographs, not only you will be promoting artists, but you will also show the people around you that LEGO is not only a toy, and can be used as an art form. Of course if you do choose to use others' pictures, make sure you credit them in some way, so they get the proper recognition they deserve. While some of us make it look easy, toy photography is anything but.

Images by Legodata, Architeclego and Lucwenz
There are also graphic artists who use LEGO as their main inspiration. Some of the ones I know include RaddingtonFalls, Flicksbricks and The Brick Illustrator, but I'm sure there are many others out there. Some may have their own shops, some may take commissions, but you better act quick because they will probably be too busy for anything as Christmas nears!
Illustrations by RaddingtonFalls, Flickbricks and The Brick Illustrator
What else?
So these are the first things that come to mind when I think about LEGO Christmas gift ideas that aren't sets or minifigures. Let me know if you can think of more, and let's share and spread that Christmas joy!
Get the Latest LEGO Sales & Deals