The most festive time of the year has almost arrived – and whether you celebrate Christmas or not, there are lots of unique minifigures which you can add to your LEGO collection during this period of time. From versions of Santa Claus, to characters from Frozen and everything in-between, there are some great minifigures which you can get your hands on.
In this blog post we are going to look at a few of my favourite festive LEGO Christmas Minifigures, and I am going to link you to where you can add them directly to your collection, courtesy of Firestar Toys. Let's get into it!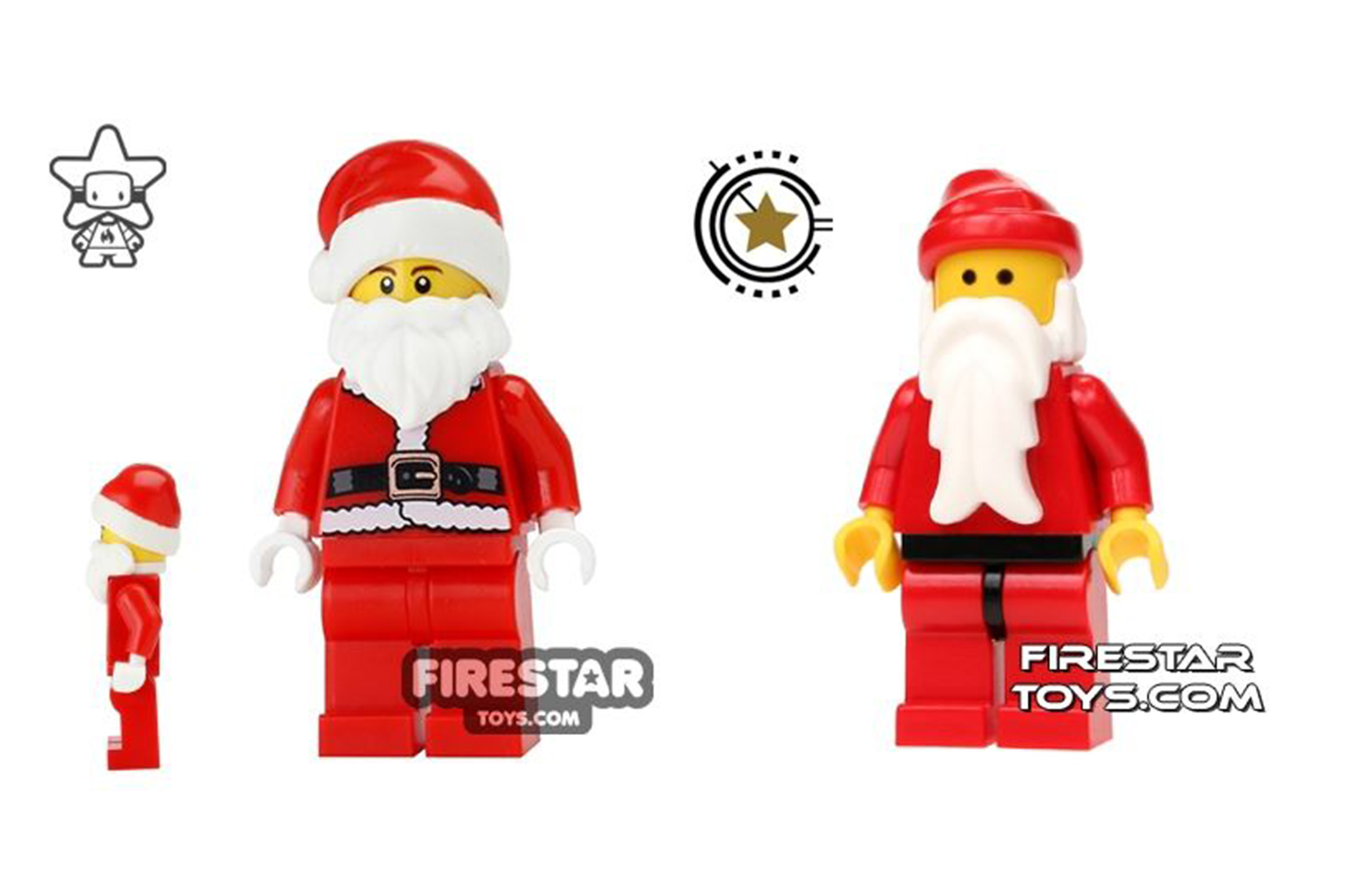 Santa Claus
Arguably the most iconic 'character' we think of when it comes to Christmas is Santa Claus – the jolly man in a red and white outfit who brings presents to children across the world on Christmas Eve night. Whether you believe in him or not, it is safe to say that Santa Claus is a charming character – and there are lots of different versions of him available in the LEGO world which make use of some really cool minifigure pieces and accessories.
We have the older LEGO version of Santa Claus which isn't particularly accurate to how we perceive Santa – using some of the older LEGO inventory pieces which were available before the newer sculpted elements were introduced into LEGO's parts assortments. Other minifigures use more modern elements to convey the appearance of Santa – using specialised hat pieces, a newer type of beard piece and also even custom printed torsos to create minifigures which are higher quality than others. Being able to see the growth of the design for this particular character provides an interesting look at the microcosm of minifigure design as a whole – providing insight into how a LEGO minifigure can develop over a period of years.
You can find many different versions of Santa Claus by visiting the Christmas section of the Firestar Toys website.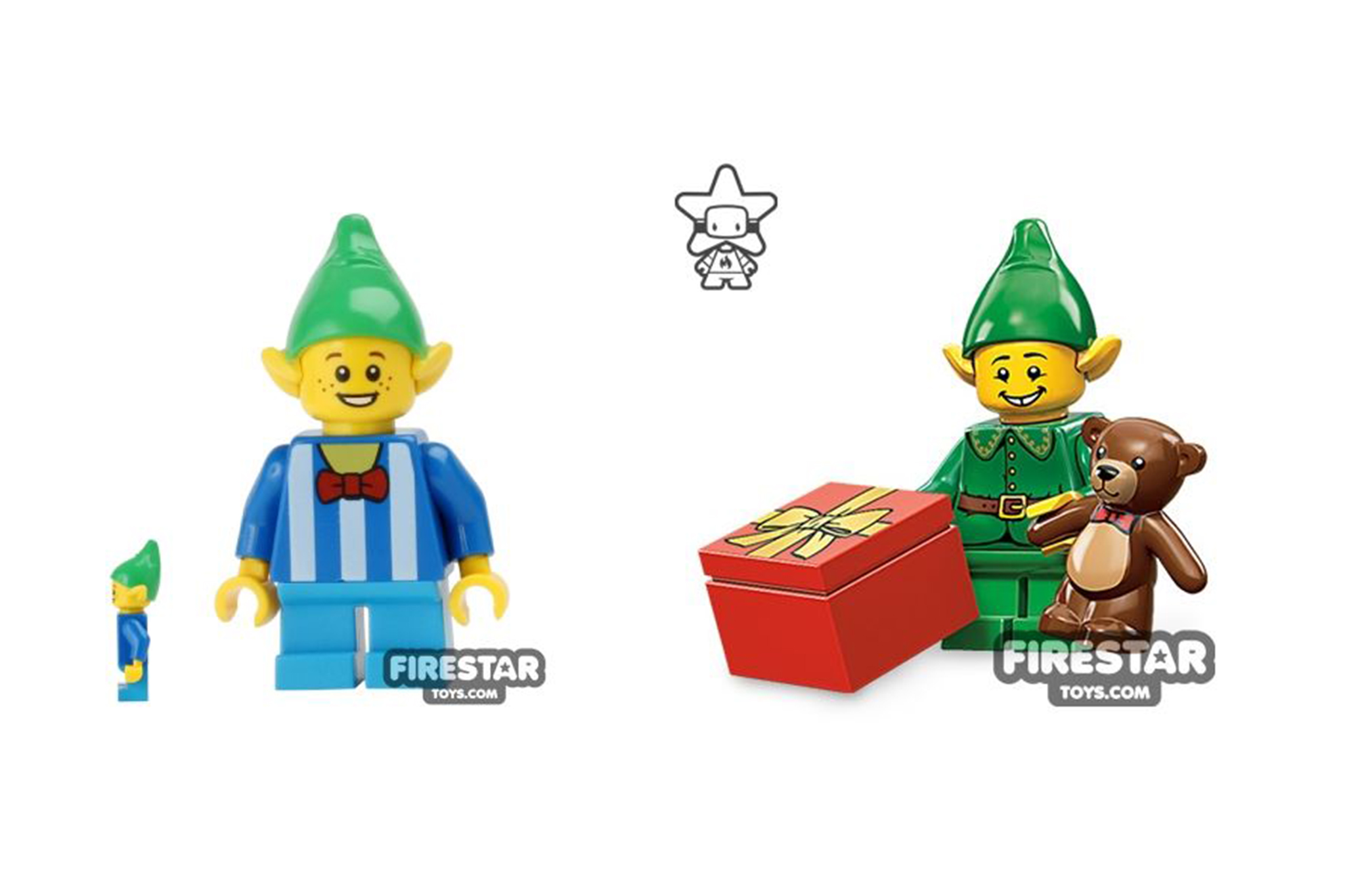 Elves 
Of course, we have to acknowledge that Santa wouldn't be able to get around the world and deliver presents to everyone without the team of Elves who he has supporting him behind the scenes – making presents, feeding the Reindeers, and helping to make sure that everything goes smoothly!
Firestar Toys have two different Elves – one in a striped top and a bow tie, and one in blue overalls. Both come with the uniquely sculpted Elf hat and ears dual-moulded piece, providing a nice level of unique detail to these minifigures, and making them stand out amidst the other minifigures in your collections. Another version of the Elf is the Collectable Minifigures Version – which includes an assortment of unique details and accessories.
If you are a fan of LEGO Minifigures in general, then LEGO Christmas Minifigures like these Elves are a great example of some of the more unique, festive-themed characters which you can add to your collections. Combine these with figures from other holidays, like Halloween, and you'll have a great assortment of minifigures from all different backgrounds and with all kinds of unique details!
Get the Latest LEGO Sales & Deals
Star Wars Minifigures 
When it comes to the festive season, we would be remiss to not touch upon the unique Star Wars characters which are released each year – providing the opportunity to get your hands on some wonderful minifigures with some unique one-time designs. This year has been no different – with LEGO's 2020 Star Wars Advent Calendar including a charming version of Poe Dameron in a Christmas Sweater, alongside a similar Christmas variant for everyone's favourite Sith Lord, Darth Vader.
We've also seen some unique, Christmas-themed advent calendar builds over the year, and whilst little builds like the Festive Gonk Droid are not, technically, minifigures – they are designed to the same scale.
Star Wars continues to be one of the most popular licensed themes which LEGO produce year after year, with shows like The Mandalorian and Star Wars: The Clone Wars continuing to grip audiences and encourage them to purchase tie-in merchandise. As the shows and projects under this IP continue to be popular, so, too, do the toys and products which tie in with them – so unique products like these are likely to disappear overnight. Don't miss out – grab your Christmas Star Wars Minifigures before they disappear into a collection far, far away.
Frozen
If you're a fan of Disney like we are, then you might have decided that you're still not quite willing to let Frozen go. Luckily, you don't have to – as LEGO have produced some fantastic pieces which you can add to your collections!
Whilst not technically minifigures due to their brick-built nature, we have a couple of fantastic Frozen characters which you can add to your minifigure collections. Everyone's favourite jolly snowman, Olaf, is one option here – coming in two different versions with some fun brick built details packed in, including printed buttons on one version of this iconic character. Combine Olaf with the absolutely adorable version of Snowgie and you have a wonderful assortment of festive-themed characters which can help to add some festive flair to your LEGO collection. Combine these characters with those from Disney Minifigures 2 and you can add an assortment of minifigures from everyone's favourite winter-filled Disney hit to your collection.
With Frozen continuing to be popular, we are sure these minifigures will be too, as fans don't seem to want to Let It Go just yet!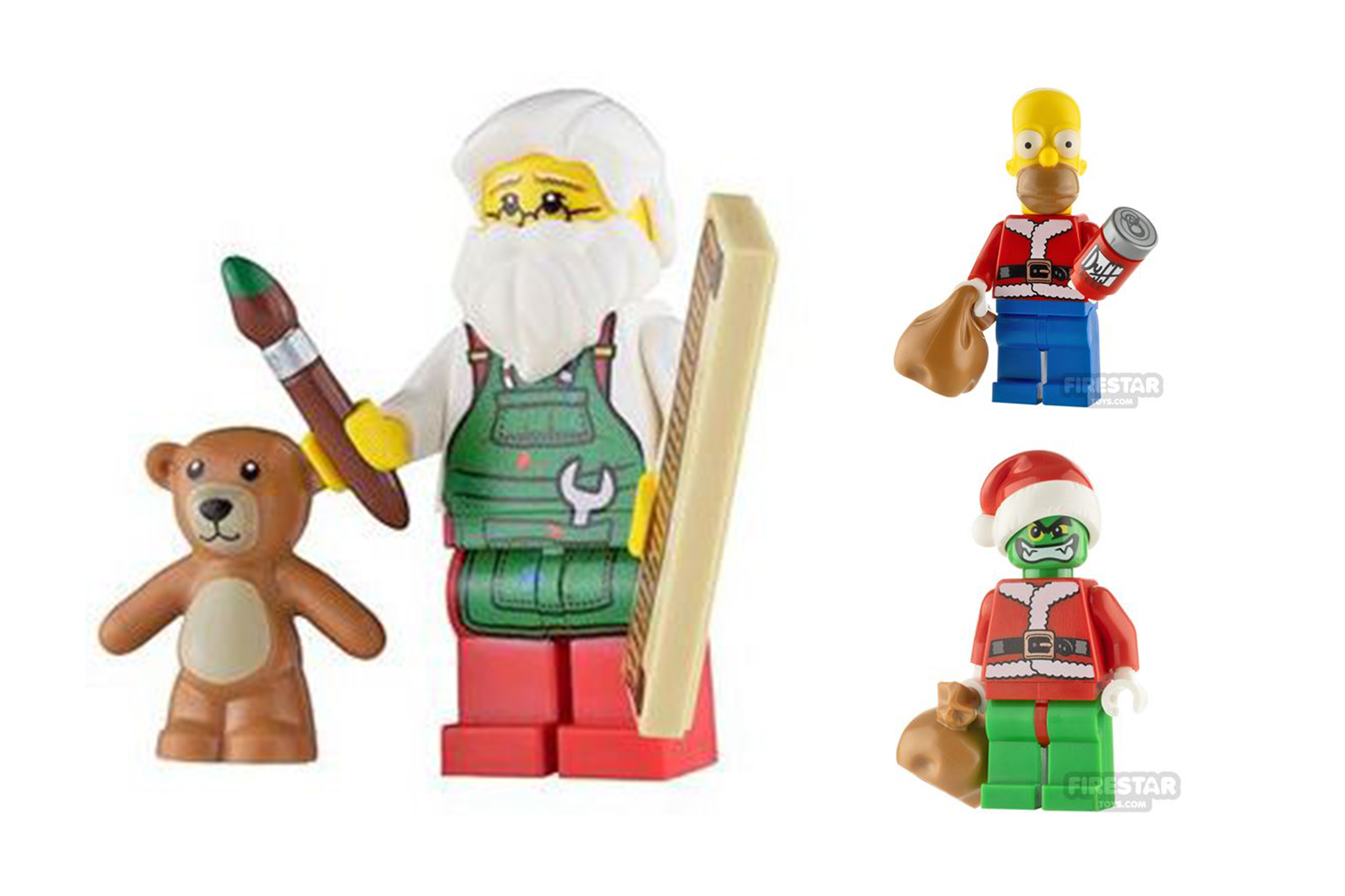 Custom Minifigures
Of course, we can't talk about Christmas minifigures without talking about the sheer wealth of Custom Minifigures which are featured on Firestar Toys – providing you with a chance to get some recognisable figures, and some unique, custom-printed minifigures packed full of charm and character.
Starting off with two of my favourite custom-printed minifigures, we have Workshop Santa and Mary Christmas. These two minifigures are packed-full of custom printed Christmas detailing, and include some fun accessories which really help to create a wonderfully charming and unique minifigure. These figures are complimented by some other fully-fledged, custom printed LEGO minifigures, all of which will add a nice piece of festive cheer to any LEGO fan's collection. However, the Christmas cheer doesn't stop there!
There are also an assortment of great Custom Minifigures from FST Create which you can choose from. We have Christmas Variants of your favourite Simpsons characters, Bart and Homer, and also have characters from your favourite Christmas films – including The Grinch. We even have a LEGO minifigure of Michael Buble so you can serenade your LEGO minifigures with their favourite festive songs. All of these figures use a mixture of custom-printed and officially-sourced LEGO pieces – bringing you the highest quality minifigures so you can be assured that they will complement the rest of your LEGO Minifigure collection.
---
That's it for our deep dive into 2020 LEGO Christmas Minifigures – what do you think? Do you own any of the figures which we mentioned in this article, or do you have some favourites, like the recent Harry Potter figures, which we didn't touch on? Make sure to let us know in the comments below.
On behalf of all of the Firestar Toys Blog team, we hope that you are able to have a safe Christmas this year, and that you are able to make the most of it despite the strange times we find ourselves in. Take care, enjoy yourselves, and we will see you in 2021!
Get the Latest LEGO Sales & Deals