It's a special week for our team of LEGO fans here at Firestar Toys – as the LEGO Collectable Minifigures DC Super Heroes series has officially launched, and we are finally able to list the figures for sale on our website. In today's article, I wanted to take a moment to look across the great assortment of licensed DC characters which make up the latest addition to LEGO's CMF offerings. We've got iconic superheroes, unique accessories and fantastic new characters – creating a unique wave of minifigures.
If you want to buy yours before they sell out, then click here. Otherwise, let's dive in to looking at the unique minifigures which form this awesome licensed collectable minifigure series!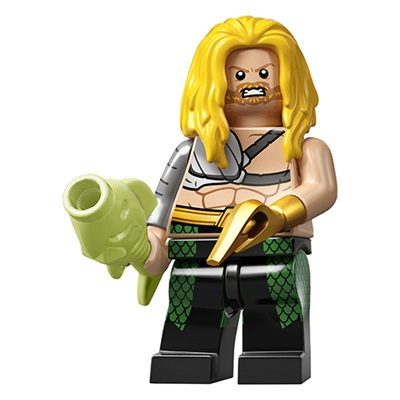 Aquaman
Up first we have everyone's favourite muscly and scale-clad warrior from the depths of Atlantis – Aquaman! This rendition of Aquaman is one of the more unique variants which LEGO have done. He features scaled printing on his legs, and includes a fantastic torso with lots of muscular details added to it – alongside a great piece of shoulder armour which carries through into his printed metal arm. Added to this, we have a fantastic new mould for a fake hand – with Aquaman's golden hand looking fitting for a warrior of such stature and influence.
Coming complete with a fish and his long blonde locks, the new version of Aquaman is bound to be a hit with collectors who already love this character.
Batman
Representing the Dark Knight's first EVER appearance, we have an incredibly unique version of Batman included within this wave, which really stands out from the other Batman figures we have seen in recent years. Coming with a unique helmet piece and printed legs alongside a couple of great accessories like the blue Batarang, this figure is bound to be a hit with people who have been fans of the DC Comics hero for a long time. This would go nicely with some of the other renditions from The LEGO Batman Movie – allowing you to add another unique version of the caped crusader to your ever-expanding collections!
Bat-Mite 
Following on from the more adult rendition of a superhero 'Bat', we have the unique and popular Bat-Mite in his FIRST EVER minifigure debut! This figure is a fantastically cheeky rendition of the young character – featuring a wide grin with buck teeth, and a unique cowl piece with one bent ear to add to the unique value of this character. He also features some great short legs with printed details on them – helping to capture his appearance nicely. Lastly, the figure comes with a printed accessory of the original Batman comic in LEGO form – creating a nice nod to the history of the DC Comics line which adds a nice degree of nostalgic value to this figure.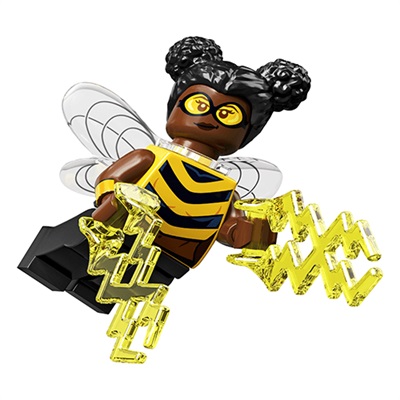 Bumblebee 
A unique minifigure named after a creature which is relatively harmless apart from its sharp sting, Bumblebee is one of the more unique characters who finds life within the LEGO DC Superheroes Collectable Minifigures line. She includes unique prints on her arms, torso and head, and comes packed in with some unique accessories including wings and electric pieces which help to bring the character to life. This is certainly a figure which is going to be more popular with traditional DC fans than casual fans of LEGO.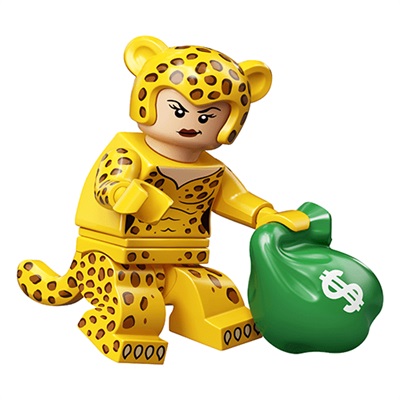 Cheetah
Cheetah is one of the minifigures who you need to get your hands on quickly – or she'll be gone before you know it! The minifigure of Cheetah comes in a traditional comic book style outfit, and includes an assortment of fantastic prints – including on her arms and on her tail piece. She even has sharp claws printed on the front of her 'feet' on her leg piece – putting off even the most valiant of heroes from messing with her. Combine this with a great money bag accessory and a fun headpiece, and you have a unique rendition of one of DC's antagonists.
Cyborg
Cyborg is another of the incredibly popular and well-known superheroes from DC Comics – always popular with fans of not just heroes, but also of Science-Fiction and futuristic technology. This version of Cyborg comes with some fantastically unique arm and leg prints which add a wealth of details to his character – and help make him feel like half minifigure, half machine. The great split head piece – with half minifigure head and hair and half robotic helmet – also helps to capture this design.
This is a minifigure which I really like as it feels detailed, but also feels different-enough to other designs of Cyborg to stand out and look fantastic.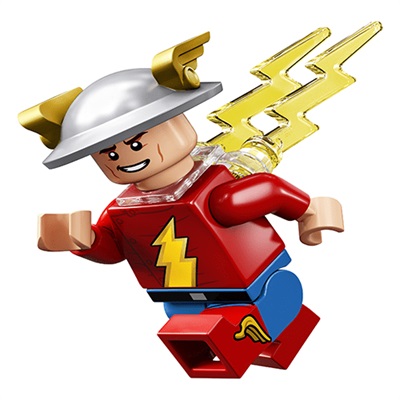 Flash
The brand-new figure of 'The Flash' is my favourite within the DC Comics line – capturing the look of Jay Garrick, who is a version of The Flash who appeared in the very first Flash comic book as the original version of the character. LEGO's rendition of the character is perfect here – with everything from the printed legs, complete with flash signs on the sides of the boots, to the uniquely sculpted one-time use helmet realised in fantastic accuracy.
Fans of both DC Comics and The Flash television will no doubt love to get their hands on this fantastic minifigure.
Get the Latest LEGO Sales & Deals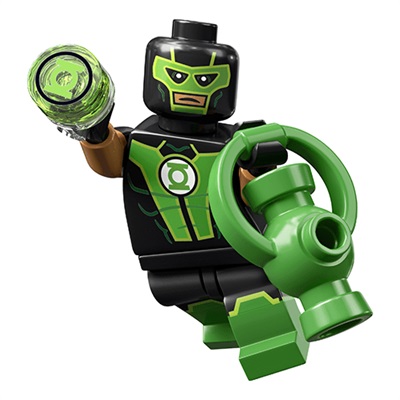 Green Lantern 
Another brand-new variation of a character within this line is the version of the Green Lantern we get. Whilst I don't know much about the origin of this rendition of the character, I reckon that LEGO DC fans will be happy to get one so cheaply so that they are able to create the rest of the Lantern Corps members. I also love the brand-new green lantern piece here, and think that the Ring the minifigure comes with on a 1×1 curved tile is a nice touch. The accessories included here make this a very strong minifigure overall.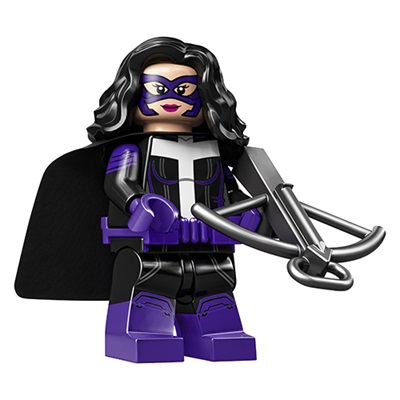 Huntress
A popular character is Huntress – and she is created here in a fantastic and incredibly intricately detailed version with lots of printed details adorning her black and purple colour scheme. I love the details on the boots and arms here – and I also love the use of the utility belt piece in purple to add more practicality to her overall character. Add these elements to her crossbow, and you have a fantastic minifigure which is a great addition to the overall line-up of sets.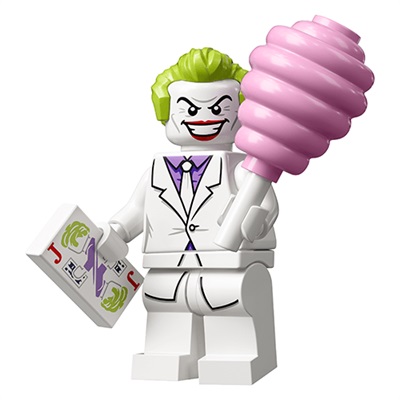 Joker
Another popular character is The Joker – and the brand-new rendition we get of him here captures his unhinged side in a fun and unique design. I love the choice for the white and purple suit with Joker here – something which feels incredibly different to the other figures of the character which we have received in the past. The hairpiece first introduced with the Doctor Who line also looks fantastic in green here – complementing the character of The Joker well.
Add the Joker playing card and cotton candy piece to this, and the Joker is a great figure for DC Comics fans.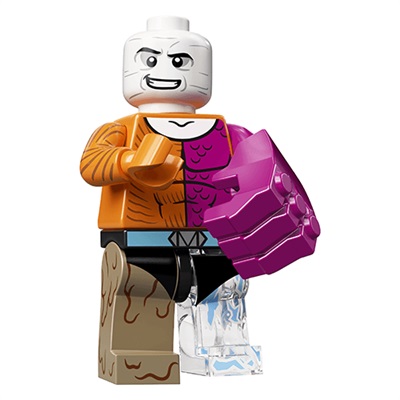 Metamorpho
Metamorpho is another unique minifigure to be added to the DC line – representing several different elements which are present throughout the character's body. The print designs here are nice enough here – and the minifigure has an interesting facial expression. With this said, however, the minifigure is not one of my favourites from the line – purely because he is probably a little bit too unique for my taste!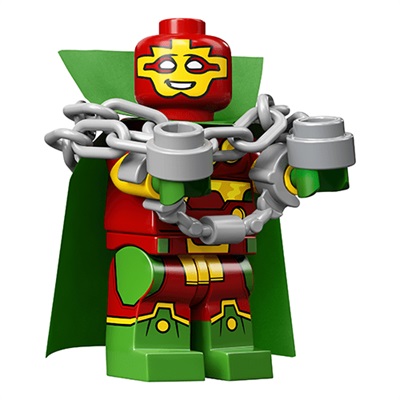 Mister Miracle 
Mister Miracle is a character from the DC figure line who I am not familiar with – but I think that his minifigure has some fantastic details and I really love a lot of the different printed details on the figure. The cape which adorns this figure is also well designed, and I also love the extra dimensional details which the addition of the chains adds here. All in all, this is a fantastic figure which, although not recognisable, has some unique designs which make it rather appealing.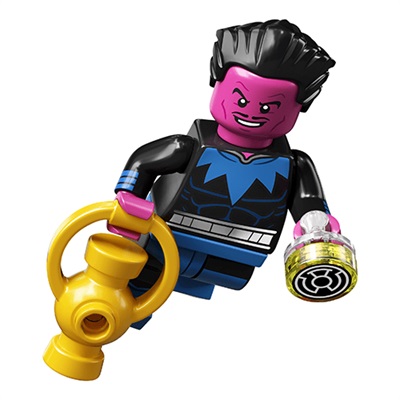 Sinestro
A popular adversary to the Green Lantern core, the rendition of Sinestro we get within the minifigure line here is a great minifigure with some fantastic printed blue detailing. Just like the Green Lantern we looked at earlier, the figure has some fantastic accessories which help to make this minifigure much more appealing for LEGO fans of all ages.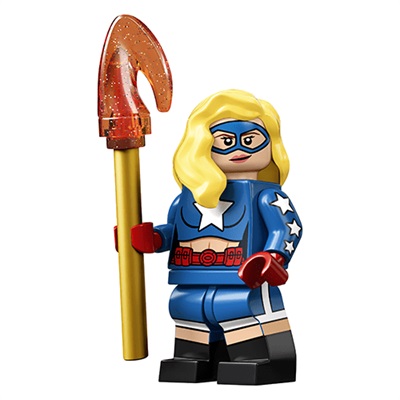 Stargirl
Another unique minifigure to join the LEGO Collectable Minifigures DC Super Heroes series line-up is Stargirl – a minifigure which I think has a lot of potential not just for a DC line, but also for some potential Marvel Captain America themed figures. This minifigure has some fantastic prints – including the multiple layers of different colours on the figure's legs, and the fantastic printed stars which are on the minifigure's arms.
I also appreciated the great weapon the minifigure comes with. All in all, Stargirl is an incredibly unique and well-detailed character to join the line-up of this wave.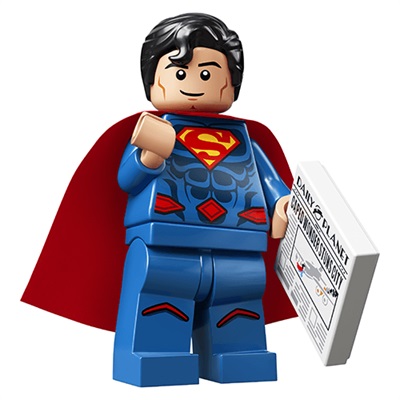 Superman
One of the last minifigures in the line is the ever-popular Superman – complete with a copy of the newspaper from the Daily Planet, which he is so frequently portrayed as working for. I like the details on Superman's torso print, and the subtle details which are added to his leg prints here, as they all help to make this feel like one of the more detailed versions of Superman we have seen so far – even if it isn't the most recognisable.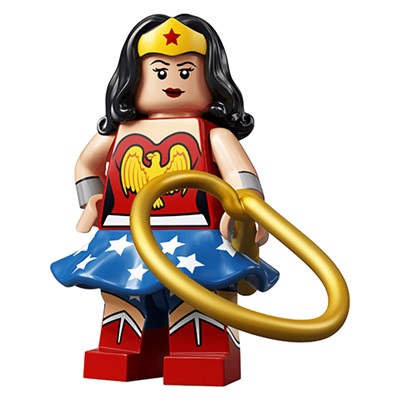 Wonder Woman
Last, but certainly not least, we have the intricately detailed first-appearance rendition of Wonder Woman – complete with her golden lasso. This version of Diana comes with fantastic printed legs, printed arms with silver bracelets, a great torso print and a fantastic printed skirt piece complete with white stars. This is certainly an intricately detailed version of Wonder Woman – and one which is likely to be popular with the new film just around the corner!
Those were my thoughts on the LEGO Collectable Minifigures DC Super Heroes series – what do you think of this lineup?
You can buy the figures from this wave on our website right now by clicking here.
You can also read our very own Pinar's thoughts on this great line over on the Minifigures.com blog by clicking here. And, if you'd like to read more of my posts, you can click here.
Get the Latest LEGO Sales & Deals