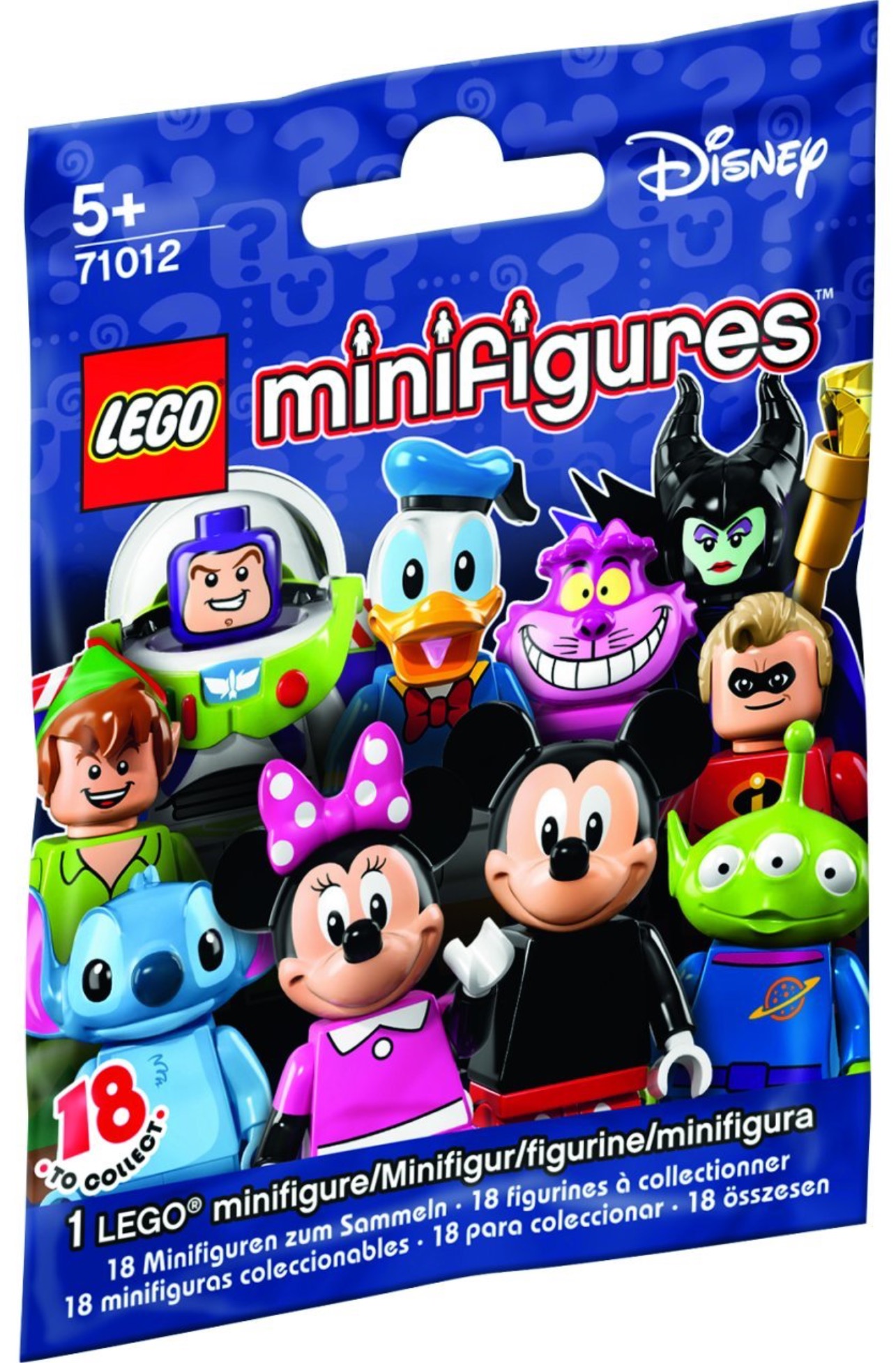 Well. I can't make more Marvel retrospectives anymore, can I? Well, technically, I can do one at the end of 2021. But that's a long, ways away. I'm considering writing an article on my entire 310 Euros Firestar Toys haul, so maybe stay tuned for that? Anyways, retrospectives have been my bread and butter here at Firestar Toys, so anything I do for the most part will revolve around that. Today we will be looking at the LEGO Disney CMF Series 1.
Released in 2016, these minifigures retailed for USD 4 each. 2016 was one of the only times that LEGO had released proper LEGO minifigures. So with the debut of the minifigure-scaled LEGO Disney Castle set
, this series became a whopping success! There were 18 figures in the entire LEGO Disney CMF Series 1.
Also, I'd like to disclaim that I am a very casual Disney fan – I've not even watched every Disney classic (yes, I know, I had no childhood). For example, I've not seen Mulan. Anyways, I believe that my basic knowledge of these characters will carry this article. So without further ado, enjoy!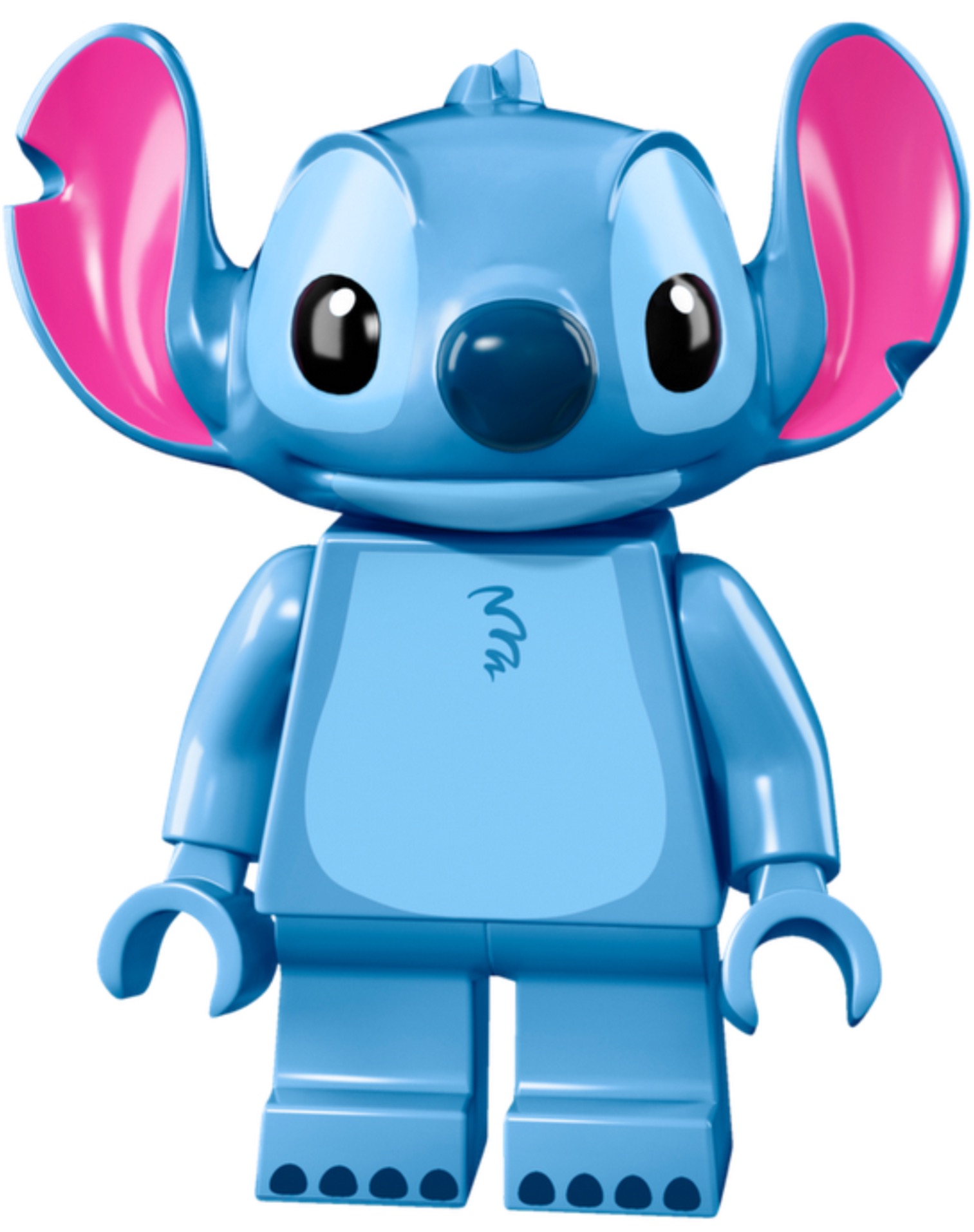 Based on the famous character, Stitch from the movie Lilo & Stitch, (a Disney classic that I literally can't remember a thing about), this minifigure was terrific. LEGO created a completely new, perfect head mould for the character, which brought it to life. It had quite a simple torso print and also received short legs. There was also small toe printing on the legs. Overall, it was a great minifigure – I'd rate it a 10/10. I can't complain.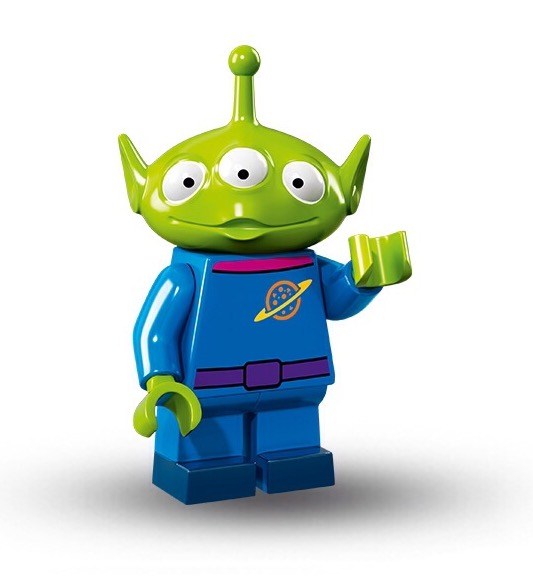 Yes! Toy Story! A franchise that I'm familiar with. Based on the unidentified Alien from the Toy Story movies, this minifigure was extremely accurate! Similar to Stitch, LEGO decided to create a completely new head mould for the character, which again they nailed. Man! Props to the LEGO designers. The torso printing was simple, yet accurate. It had a pink stripe towards the top and a purple belt print. Finally, a planet emblem was printed on the right side of the chest. Even the legs had printing! Again, this was another 10/10 figure!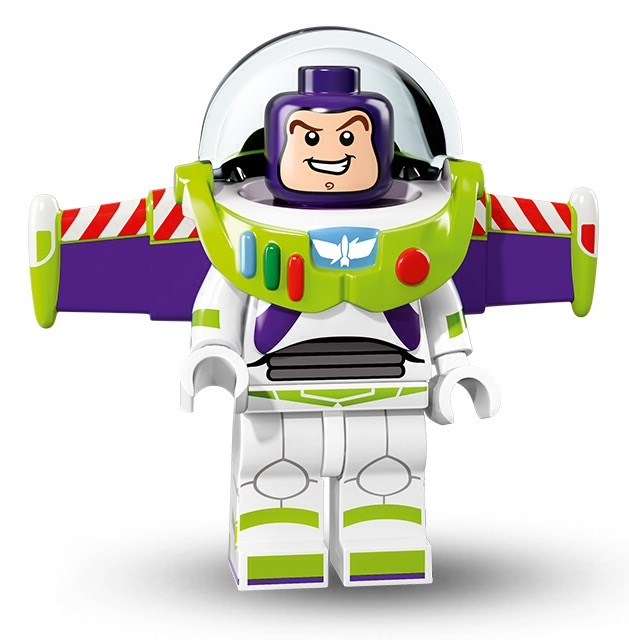 This was probably one of the best-designed figures of the entire series! Unlike the minifigure-scaled Toy Story sets that LEGO had released a few years prior with a specially moulded head for Buzz, the designers decided to go the more LEGO inspired approach – where the head was a minifigure head. They used the same astronaut helmet and the wing pieces from the previous Buzz minifigure released in 2010, but under that was a torso filled with phenomenal printing. There was even arm printing! And it didn't stop there. No. The printing carried onto the legs. I'd rate this figure an 11/10 if I could.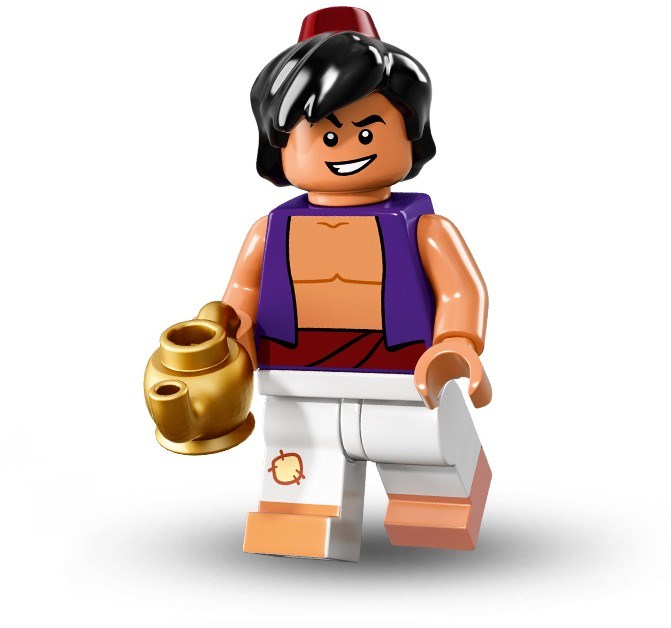 Get the Latest LEGO Sales & Deals
I must be a sociopath. Why? I haven't seen Aladdin either. I don't know how. Seriously. Anyway, this was relatively a simple minifigure. A new hairpiece was created for him. They gave him a new face print and a very accurate looking torso. The feet were printed on the legs, and on the right leg was a patch. And yes, he came with his golden lamp. Another 10/10 figure.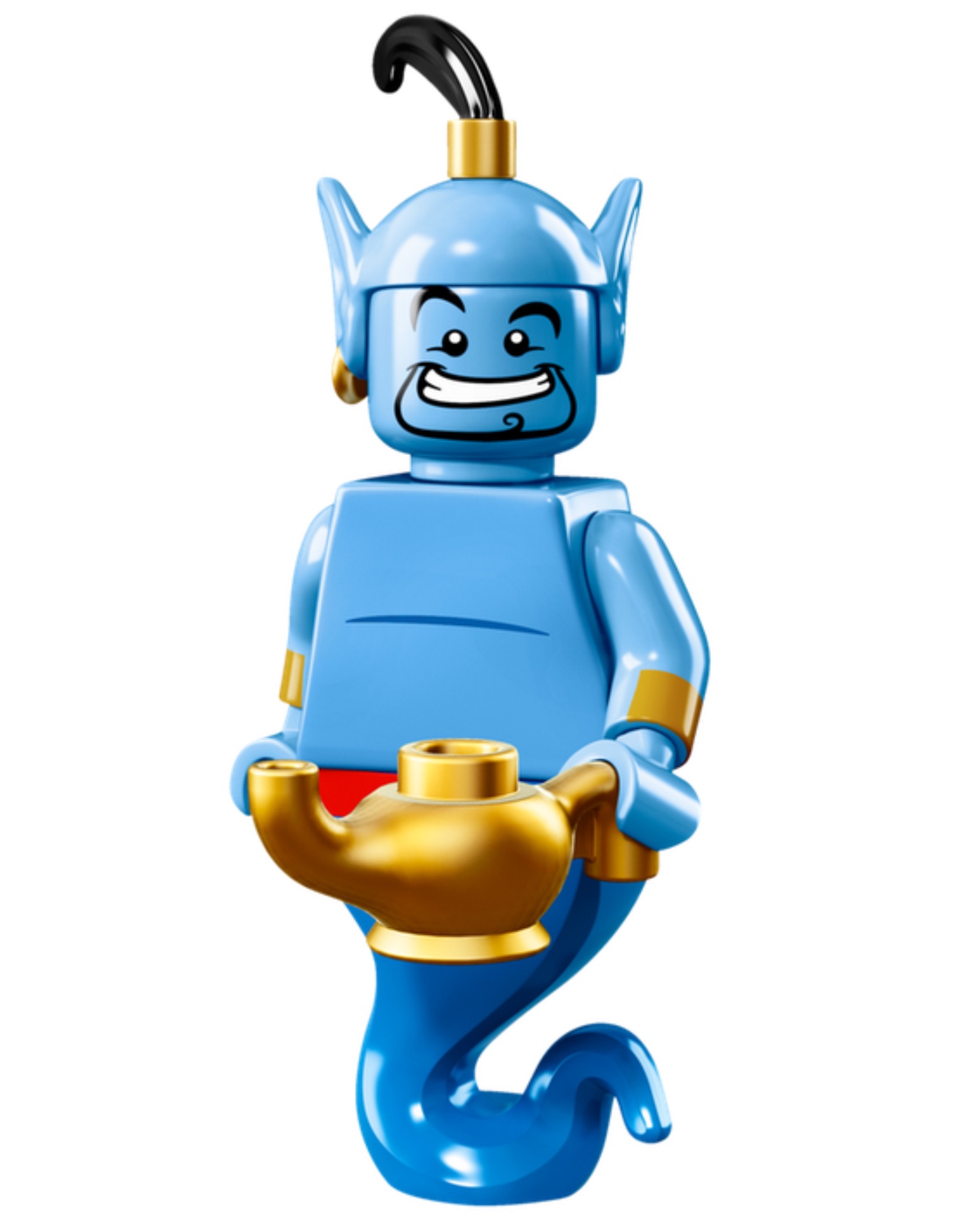 And what better way to complement the Aladdin figure, then to include the Genie in it? I can't remember if the blue piece on the top of the head was a new mould, but I know for sure that the bit of hair that was attached to the piece was new. They even printed a bit of yellow onto the blue headpiece to represent his earring. The face print was so expressive! It was probably the best faceprint of the series. He had quite a simple torso print. In the middle, however, was a line to represent his large belly. And below that was a red belt print.
Anyways, the arms also had printing to represent his bracelets. For his legs, the designers decided to use a unique piece – which made him look like he was about to come out of the lamp. And speaking of the lamp, LEGO included the same lamp as was previously seen with Aladdin. I'll give him a 9/10.
Time for me to show more of my sociopathic tendencies. Yes. I haven't seen Sleeping Beauty yet. However, I did see the first Maleficent movie. This was a very intricately designed figure. Yeah, they created a completely new head piece for her. Man, it looked sick! Her face prints were also on point. However, can we just appreciate the fact that LEGO decided to equip the figure with two capes? I mean seriously! What a great decision. Again, as always, her front and back torso printing were phenomenal, with a continuous streak of purple and black continuing all the way, down to the legs. By the way, the legs were just a printed 2x2x2 sloped brick. Also, can we just appreciate the aqua colouring used for her face and hands? Like, this was on par with Buzz Lightyear! This figure deserved an 11/10 too!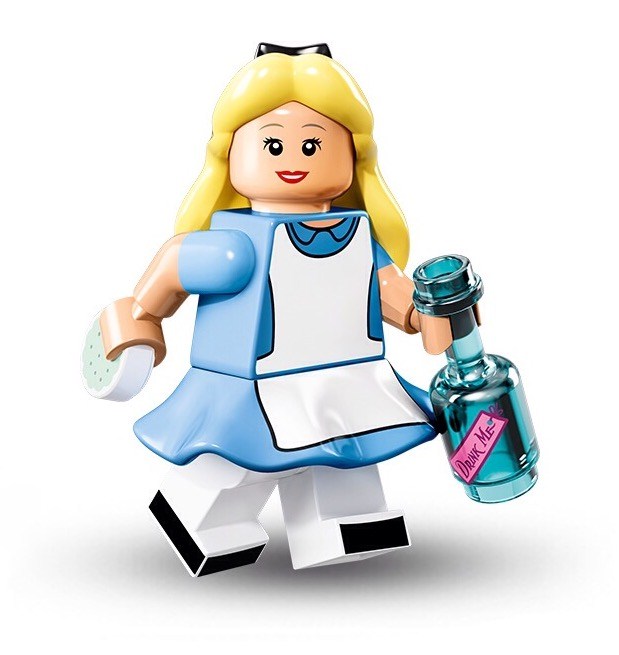 Low key, I'm feeling like a rewatching a ton of these Disney classics, in addition to watching some of them for the first time. To be honest, even though I don't remember much about Alice in Wonderland, but holy moly! That was such a trippy and awesome movie. It was just so unique. And LEGO decided to include the protagonist – Alice, in the series. She came with a completely new hairpiece which looked awesome! The torso print was again, on par with the rest of the printing in the series.
The dual-moulded arms were just a great inclusion which showed that LEGO did care about the Disney CMF series 1. They included a skirt piece, which had continued printing from the torso. The legs just rounded out the figure nicely, with shoe printing at the bottom. And this is where my disclaimer from earlier on into the video comes into play. I have no clue what Alice's accessories were. One was a bottle saying "Drink Me", and the other was a blue-coloured circular tile which looked like a cookie. Definitely a 10/10.
I had to look up who this character was. I completely forgot that he was in Alice in Wonderland. And he looked as creepy in LEGO form as he did in the film. That is the face of nightmares. The moulding was exceptionally done, with the printing on the face topping it off. And that smile… I ain't sleeping tonight. The torso, arms and legs were a continuous print of stripes. And finally, to top, this figure off was a tailpiece. I'd give him a 9/10.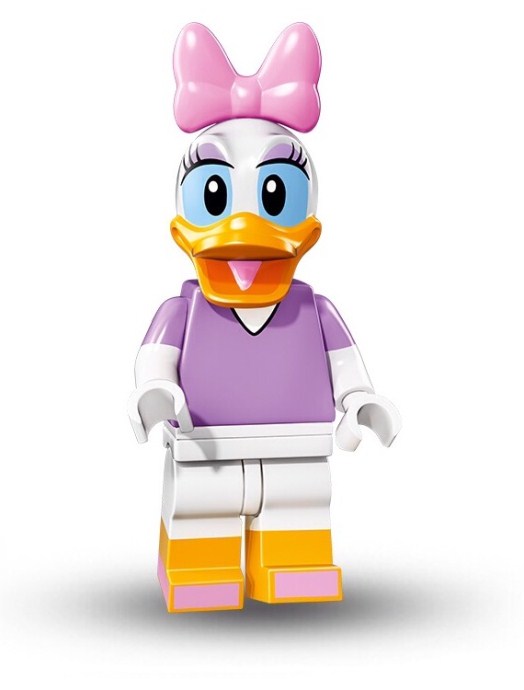 And the final figure of today's article is Daisy Duck. And surprise! LEGO made a completely new mould for her head. What a surprise! That's sarcasm if you were wondering. Well, what can I tell you? This was another spot-on minifigure. She came with a newly moulded bow piece, which fit at the top of her head. Her torso print was a lovely lavender colour. Her arms were dual-moulded, representing that she was wearing a short-sleeved tee, and her legs were no exception to the amazingness of this figure. Firstly, it was dual-moulded, and it had printing. What else could you ask for? A tail, you say? Well, we got that too! 10/10 for me.
Anyways, that's it for Part 1 of my LEGO Disney CMF Series 1 Retrospective! I don't have much to say, so I think I'll just end it here! Peace!
All images from Brickset
Get the Latest LEGO Sales & Deals