You know, I noticed something the other day. We have been publishing articles for the last, what, 3-4 months, and almost none of them are about LEGO Friends. Sure, they appear here and there, mentioned in this post or that, but they don't have their own article. That's why I'd like to talk about LEGO Friends today. More specifically, the sets that were born from the partnership between LEGO Friends and National Geographic Kids.
Personally, the LEGO Friends sub-theme always seemed like a stranger to me. I disliked the mini-dolls, because they looked too girly. I have always loved the neutral side of LEGO minifigures, especially with the first head prints. If you imagine it's a girl, then that's what it will be. The mini-dolls, on the other hand, were more realistic, with their skin color and bodies. It was just not possible to put on a boy's head and pretend it was a boy – not with those tiny breasts.

However no matter how much I tried, I just couldn't stay away. They brought some incredible new colors, not to mention a huge variety of animals – which I both loved. Slowly, the animals and the new colored bricks started to invade my queendom (!), and after a while, I stopped discriminating. True, I'm still not a big fan of mini-dolls, and I still think they're too girly for my taste, but that doesn't stop me from appreciating the theme in general, and the partnership between LEGO Friends and National Geographic Kids even more.
LEGO Friends Sea Life Rescue Sets
The purpose of the partnership, as far as I understand, is to raise awareness to conserving the ocean life and inspire children – or rather future marine biologists. There are a total of four sets: Turtles Rescue Mission (41376), Dolphins Rescue Mission (41378), Lighthouse Rescue Center (41380) and Rescue Mission Boat (41381). Even for someone like me, who has little love for the Friends sets in general, just looking at the pictures feels inspiring. Okay, I know my point of view is different than a kid's, but if I can imagine myself creating little stories and playing with these sets, I don't think children with the imagination 100 times as mine will have difficulty doing so.
One of the first things that captured my attention is the new coral color we feasted our eyes on with The LEGO Movie 2: The Second Part sets, and the bluish green/turquoise color we've seen ages ago in Life on Mars aliens. Both colors run through all of the four sets, either in 'buildings', accessories, or both.
I remember reading something online when LEGO first released the turquoise brick separator. Someone said "The expiry date was probably near, so they decided to use the color in separators". Honestly, I don't care about the reason. Bringing variety is more important for me, and the turquoise goes really well with underwater life.
Helloo? You were saying sets?!
Right, back to the sets.
The smallest of the four is the Turtles Rescue Mission
with 212 pieces. It has Olivia in her wetsuit, her weird looking robot (yeah I'm not counting that as a minifigure, sorry Bricklink), a small build that looks like the entrance to the (imaginary) building behind, a vehicle which feels like it can go on both land and sea, and of course, turtles! And oh my gosh, those turtles!! It wasn't enough that LEGO did a very cute and relatively small turtle before, but now there are 3 turtlings, even smaller and cuter than their mom! (I know they're supposed to be called hatchlings, but come on, what good is blogging if you can't make up words from time to time? 🙂 )
There are also two un-hatched eggs, and of course, the leftover egg parts after the hatching. I didn't notice them at first, but I think including them is pretty clever since they don't just disappear once the babies hatch.
The building – or rather the entrance – also has a turtle on top of it. As an architecture student, I have lost count of how many times I've heard from my tutors to not use obvious signs. The building should speak for itself. Personally, I think my tutors weren't living in the real world. True, in some cases buildings should speak for themselves, but what grabs the viewer's attention is what they see the first time they look at it. And if the designer is good enough, putting a turtle 'statue' on top of the entrance will help the viewer understand at once what's going on in the building without disturbing the overall look of it.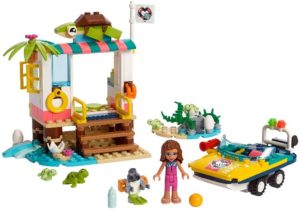 Dolphins Rescue Mission
The second smaller set is the Dolphins Rescue Mission with 351 pieces. Now this one is my favorite among all four, because it's set under water. There's a shipwreck, a very cool looking submarine, another underwater vehicle which I'm sure has a cool name, and Stephanie and Kacey  (who is apparently the bad girl!) in their wetsuits. And of course, how can I forget the dolphins? If you think the new version of the dolphin is cute, wait until you see the baby!
Since it takes place underwater, there are other sea creatures as well. Again, they are as tiny as possible. Clams, octopi, fish, and even a seahorse. They go on their regular lives within the underwater plants that grow on and around the shipwreck.
Apparently, there's even a buried treasure chest somewhere along with a treasure map. That should bring some excitement to the mission after they are done rescuing the dolphins – and more so for people who think LEGO Friends is too girly. Wait… what?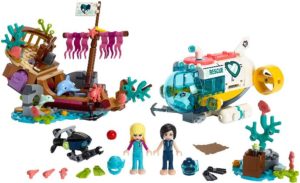 Get the Latest LEGO Sales & Deals
Lighthouse Rescue Center
Moving on to the bigger sets, Lighthouse Rescue Center
is next in line with 591 pieces. It features Emma and Mia in their wetsuits, a beautiful white lighthouse with coral and turquoise accents, another entrance with a whale 'statue' on top, a water scooter, what feels like a shelter for the rescued seals, and oh my goshness, is that a water slide?? Who said rescuing is all about work, right?
The tiny sea animals are also included in this set, along with a dolphin, a bird, two seals, and a turtling. There are a few corals here and there, too (the plant, not the color), which helps emphasize the setting of the set. The map also appears in this set, so either the girls brought it here, or they were too lucky to stumble upon two treasure maps. Either way, an adventure awaits them when they rescue all the animals and manage to decipher the map (hint: I'm told a little water may do the trick).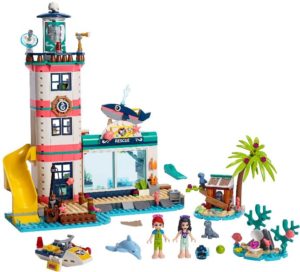 Rescue Mission Boat
This is the biggest of the four with 877 pieces, and may I just say wow! Even if you're not into boats, that boat is really impressive! It includes Andrea, Mia and Olivia in their wetsuits along with that weird robot thingie, a lifeboat, a small island, the sea animals and a brand new narwhal, and what? Another treasure map? No, I'm convinced that these girls are the luckiest girls in the whole world.
Now, since I don't have the set, I can't go much into detail. But according to LEGO's site, you can remove the deck to access what's below, a lab, a kitchen and a bedroom. There's also some sort of crane on the deck which would come it pretty handy when transporting large animals, say, a narwhal, for example.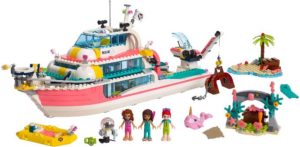 Final Thoughts
I think the partnership of LEGO Friends and National Geographic Kids created something truly inspiring. Even seeing the images of these sets were enough to make me fall in love with them. Do I still think, after everything, that their target audience is girls? Yes. But that doesn't mean they wouldn't make an awesome gift for a boy who's interested in sea life. They are all made of LEGO bricks after all, and all compatible. If he doesn't like the mini-dolls, I'm sure he can find some minifigures to replace them. 
So what do you think of these sets? Or the LEGO Friends sets in general? Let me know in the comments!
All images are from Brickset and LEGO, except the narwhal. That one's from Bricklink.
Get the Latest LEGO Sales & Deals