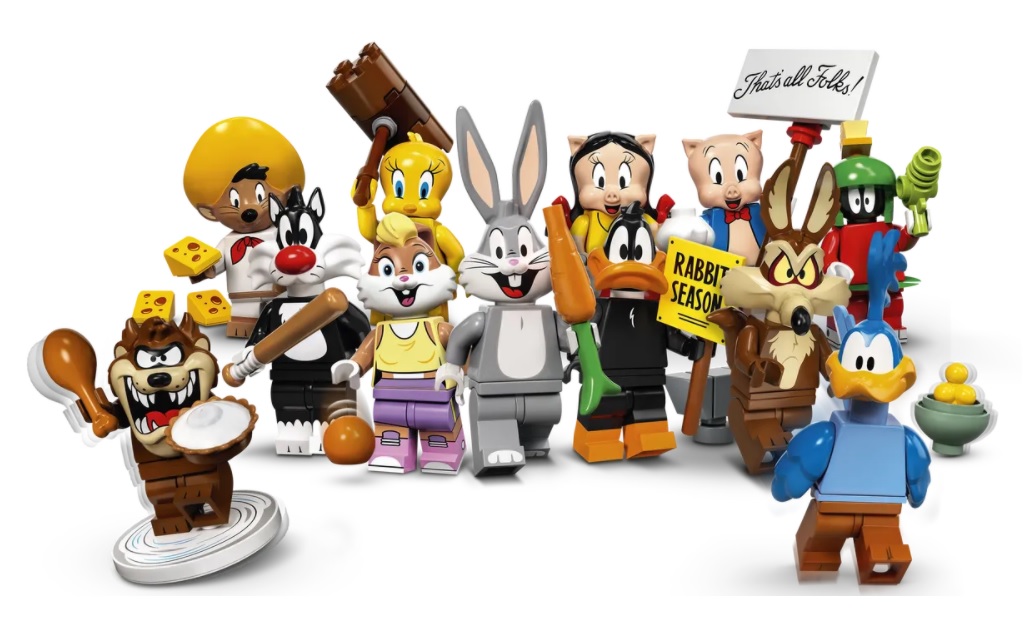 While I am in no way going to say that Looney Tunes is universally loved, I think that the series of cartoon movies and shorts that has lasted for decades is universally iconic. The mere silhouette of Bugs Bunny and the lisp of Daffy Duck are instantly recognizable, and it is only fitting that LEGO comes to grant us with a first (and hopefully not last) series of Looney Tunes Collectable Minifigures.
Tweety Bird, Petunia Pig, and Porky Pig
Arguably one of the most marketable characters in the entire Looney Tunes library, Tweety Bird, known for his large head compared to his body and often unexpected strength, this LEGO rendition of the character features the correct amount of cuteness to violence, but maybe isn't the most proportionally accurate, which is a common theme of this series. Tweety comes with a simple but effective brick-built mallet, perfect for smacking out slapstick on "putty cats."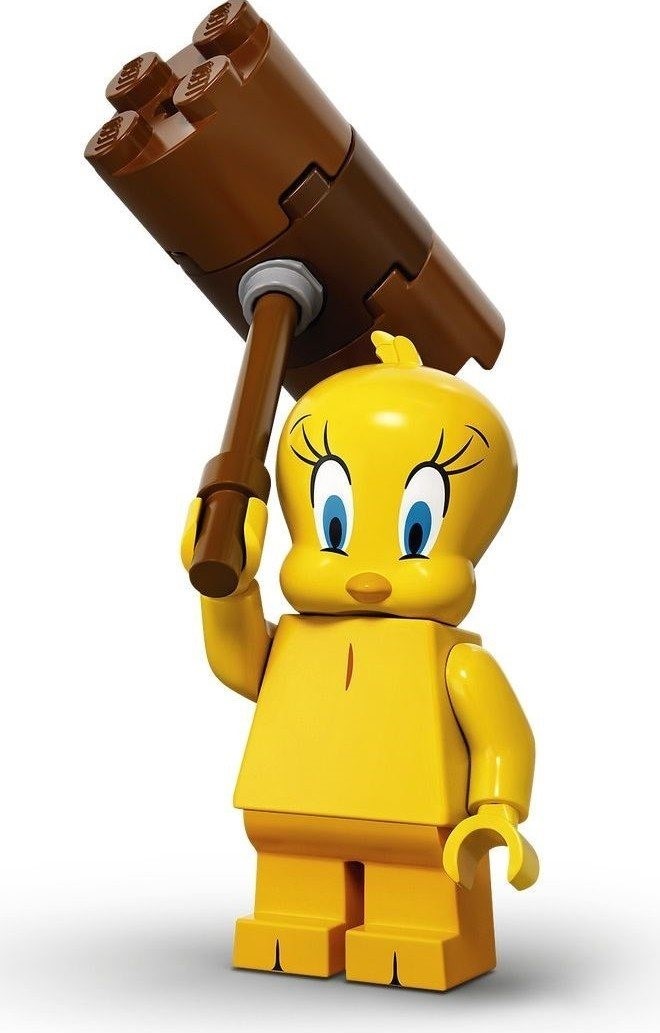 Petunia Pig was a character I did not immediately recognize, and I actually had to look up what her name was for the purpose of this article. The partner of Porky Pig, this figure features a large red skirt piece, a teapot and cup, and a unique head mold with what appears to be triple molded colors. Petunia also has one of the most human-like torso prints of all of the series, so you may perhaps find a better alternative for it then the intended figure.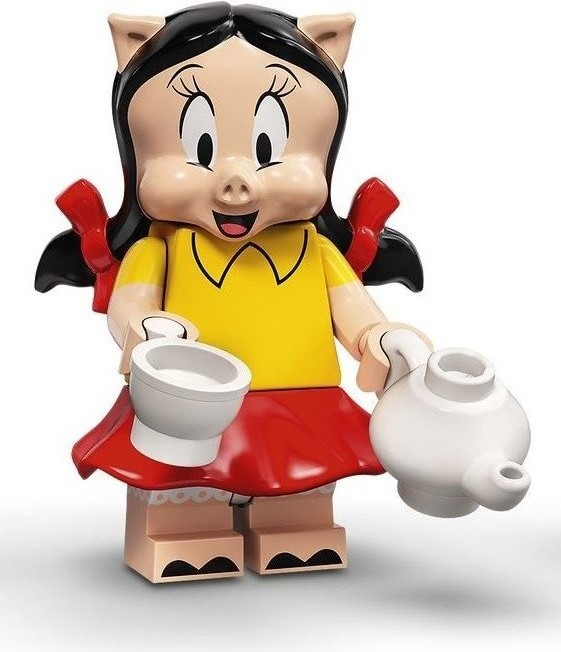 Porky Pig, most famous for his stutter and his reading of the Looney Tunes end card, is done fairly well, the best part being the head mold. The prints are fairly simple for him, although they are accurate to the character, so that is more an observation than a complaint. His accessory is a sign featuring his catch phrase, printed on a 2×4 white tile.
Taz, Daffy Duck, and Speedy Gonzales
The Tasmanian Devil, or Taz if you're a normal person, features a head mold that covers the entire torso to account for the character's unusual proportions, as well as medium-sized legs. I think this is one of my favorite head molds in the series, mostly for the design and detailing of the printing of the mouth and eyes. Taz also includes a tail piece, but I think that the chosen piece is a little too large to match the character. And yes, I'm aware that there isn't a better option for that sort of tail, but they could have made a new mold, as they do just that in this series as well for Gonzales.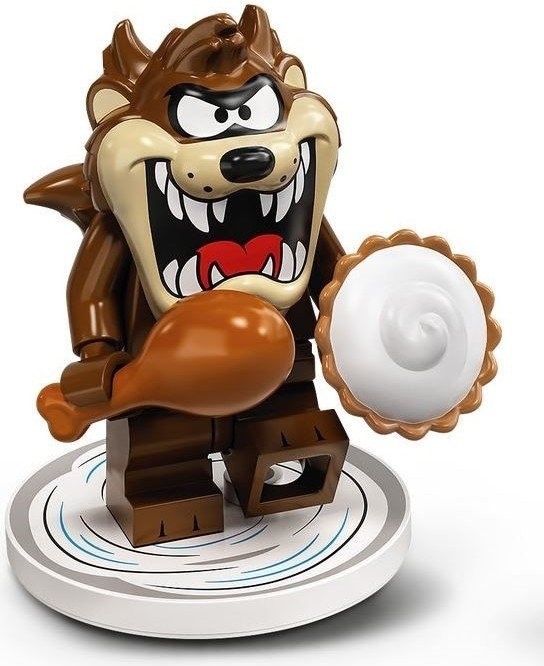 Daffy Duck, both the comical smack-talker and smack-taker, has been well translated into LEGO form here. The oversized head mold almost gives the illusion of a lanky body, and features a tuft tail in black, also used for Donald Duck and other DuckTales characters. Daffy comes with a "Rabbit Season" sign to use in his mischievous adventures, but I think it is a shame that Bugs does not have a matching "Duck Season" sign, even disappointing for me.

Speedy Gonzales is an interesting choice of figure, especially considering the controversy that occasionally pops up around the character. I think LEGO is taking a bit of a risk releasing this figure, but this likely won't be as big a "scandal" as the Simpsons series. Gonzales features a white shirt with a red ascot for his torso prints, which I find to be the most useful torso of the lot for making custom figures. He also has a new tail piece for mouse figures (which I bet Mickey will eventually get in black) and a handful (4, I think) new cheese slope pieces with Swiss holes printed into them. These pieces will be very helpful for custom builds and updating older ones, and the large amount of them is quite the treat for LEGO.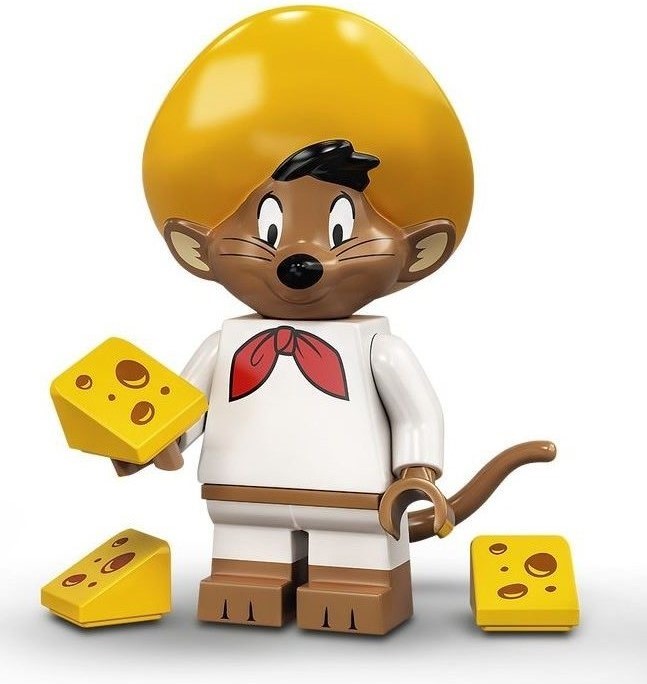 Get the Latest LEGO Sales & Deals
Sylvester the Cat, Marvin the Martian, and Wile E. Coyote
Sylvester was probably my favorite Looney Tunes character when I was growing up, and I think LEGO has captured the essence of that character nearly perfectly. I think to achieve that perfect they should have given him medium legs, as Sylvester is often drawn with legs significantly shorter than his body proportion. He includes a baseball bat, first used in the Simpsons series, and I think this is a good place to have it back.
Marvin the Martian is the only figure in the series to use a normal minifigure head, which is appropriate and leads to an effective appearance. Marvin features a plain red torso, a green skirt piece, and the older style of ray gun in like green. I personally find that his helmet can be usual for many custom builds, both for figures and decorative elements.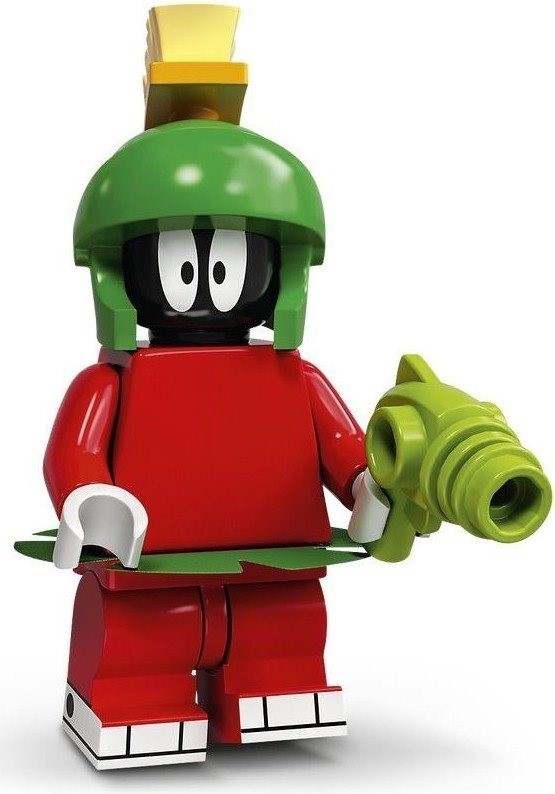 Wile E. Coyote has one of the widest head molds of the bunch because of his oversized cheeks. Once again, I think that adds to the illusion of lank. Coyote also features the same tail piece in the same color as Taz, but too much great effect here in my opinion. Coyote comes with a brick-built anvil, which I think could have used a printed ACME logo one the side of it for that cherry on top, or maybe an ACME cherry bomb would be more appropriate.
Lola Bunny, Bugs Bunny, and Roadrunner
This depiction of Lola Bunny seems to be reminiscent of the color cartoon seen in toys of the character for the original Space Jam film, either as a nod or just for consistency's sake. This character features a really good set of leg prints in pink and lavender colors (possible triple molded legs), good detail work on the head, and a basketball accessory, once again referencing her debut in Space Jam. I think that the ball should have featured a print of some sort to separate it from just being any ball, but I also prefer this piece over the actual basketball part that the figures couldn't even hold onto.
Bugs Bunny, the poster boy for Looney Tunes as a whole, I think has room for improvement. While the head mold quality is all good, I don't see it as Bugs entirely, mostly due to the expression. I think he should be winking, as that is the sort of pose and expression I often associate with the character. Bugs comes with a carrot for his accessory, and his rabbit tail is printed onto the torso instead of a waist piece.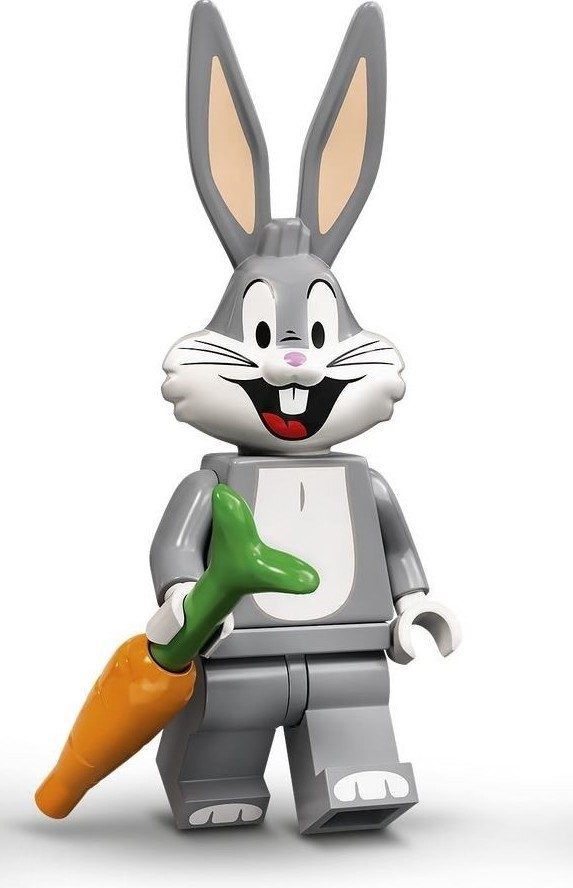 Last but almost not least is the Roadrunner, which is probably one of the most difficult translations LEGO could have chosen. While the head looks good and the new tail adds to the shape of the character, Roadrunner's signature long neck and thin legs are absent and cannot be recreated that well at minifigure scale. The Roadrunner comes with a sand green bowl of grains as his accessory, likely a trap set by Coyote to get the blasting bird into position for the anvil from above.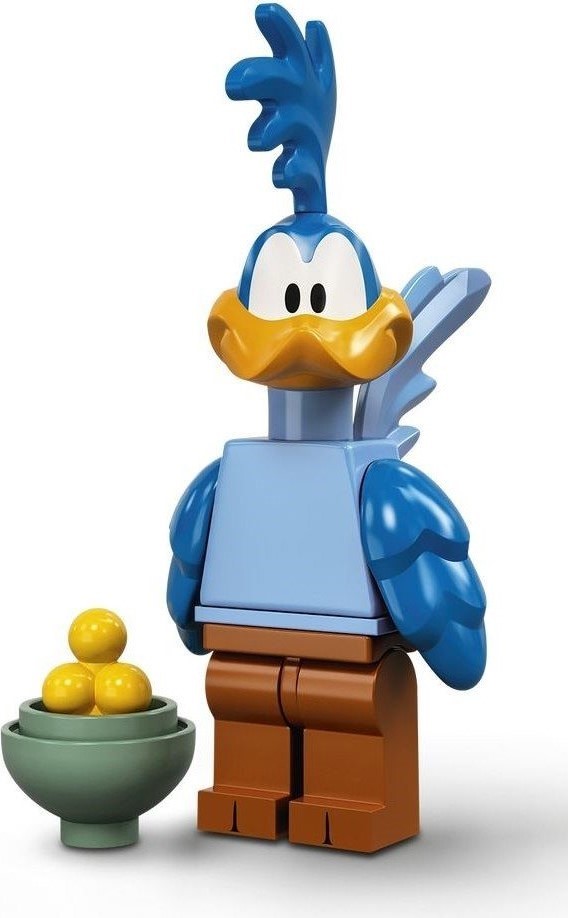 Conclusion
This is an interesting choice of a series for LEGO, not just because of the chosen brand but because of the chosen characters. Roadrunner and Tweety don't translate too well, but if you remove them, then you can't have Sylvester or Wile E. Coyote either, as their respective source material have them in arch enemy pairs. My least favorite is Petunia Pig since I didn't even recognize the character, but her torso print and accessories just about make up for that. Still, I think they should have chosen someone else instead, like Elmer Fudd, Foghorn Leghorn, or Witch Hazel.
On top of being a collectible set of figures, I think that LEGO Looney Tunes can be used for a variety of custom builds and dioramas, the one that came to mind for me was Six Flags amusement parks, which often use Looney Tunes iconography at their locations. If LEGO does decide to do a series two for Looney Tunes, I think that they should also include characters from The Animaniacs, also under the same Warner Brother's Animation label.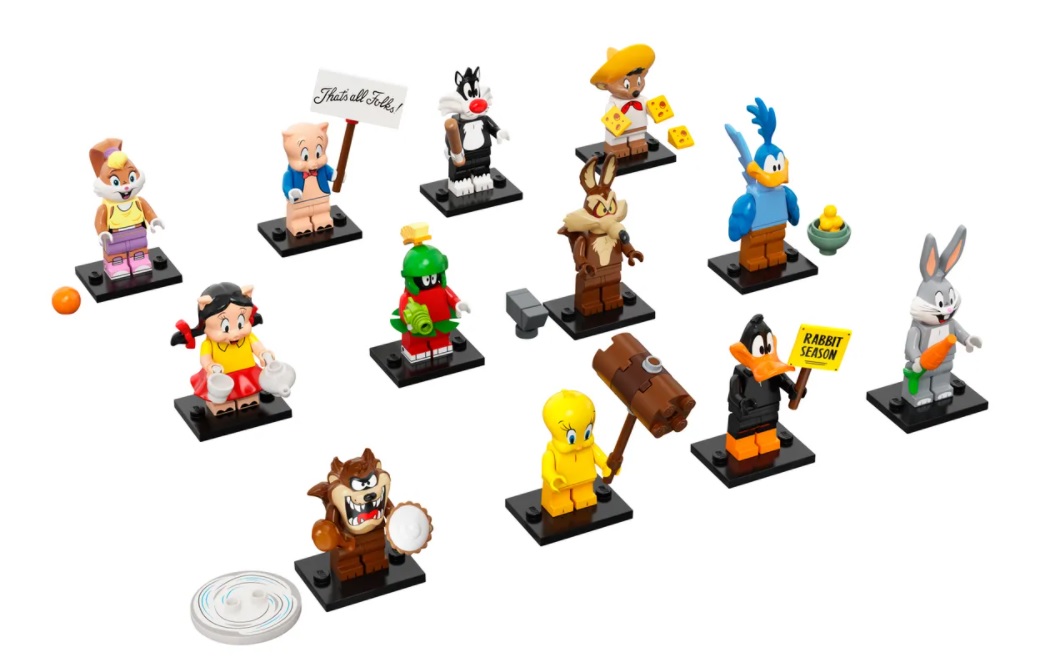 Images from Brickset and LEGO.com
Get the Latest LEGO Sales & Deals