The Mandalorian is awesome!!! After four months of waiting, the first three episodes of The  Mandalorian finally debuted in the UK. To celebrate the show's release, I thought it would be fun to peruse all the custom pieces available at FireStar Toys to accessorise your LEGO Mandalorian figures. Fair warning: The article may have spoilers!
Main Characters
The Mandalorian introduced a slew of new fan favourite Star Wars characters. In 2019 LEGO produced the AT-ST Raider set. Based off chapter 4, Sanctuary, the LEGO set included the Mandalorian, Cara Dune and two Klatooinian raiders. 

Cara Dune and the Klatooinian raiders can all be purchased separately from FireStar Toys if you aren't interested in acquiring a LEGO AT-ST.
FireStar Toys is also selling the Klatooian Raider AT-ST without any minifigures if you want to acquire a LEGO chicken walker!
LEGO also released set pictures of the Razor Crest (an Amazon exclusive set). This set includes the Mandalorian, Greef Karga, IG-11, a Scout Trooper and the Child (aka Baby Yoda)! Sadly, this set doesn't release until September.
Fortunately, there are simple alternatives to some of these minifigures. The Scout Trooper Minifigure isn't exclusive to the Razor Crest set. The same figure can be found in the Action Battle Endor Assault set. IG-11 is exclusive to the set, however it takes a true Star Wars fan to distinguish the differences between LEGO's IG-11 and LEGO's IG-88 figure. As long as your not really pedantic, IG-88 serves as a great alternative to IG-11. FireStar Toys sells two versions of  IG-88 and an older version of LEGO's Scout Trooper if you wanted to add them to your collection.
In the meantime, countless characters have yet to be produced by LEGO. Fans will undoubtedly be clamouring for minifigure versions of Kuill, Mayfeld and Moff Gideon. Whilst Kuill and Mayfeld aren't available in any form, FireStar Toys has produced its own custom printed Moff Gideon figure. He comes with a cape, printed arms, a unique face print and an awesome dark saber piece. Surely this is a must have for any Mandalorian fan.
Equipping the Mandalorian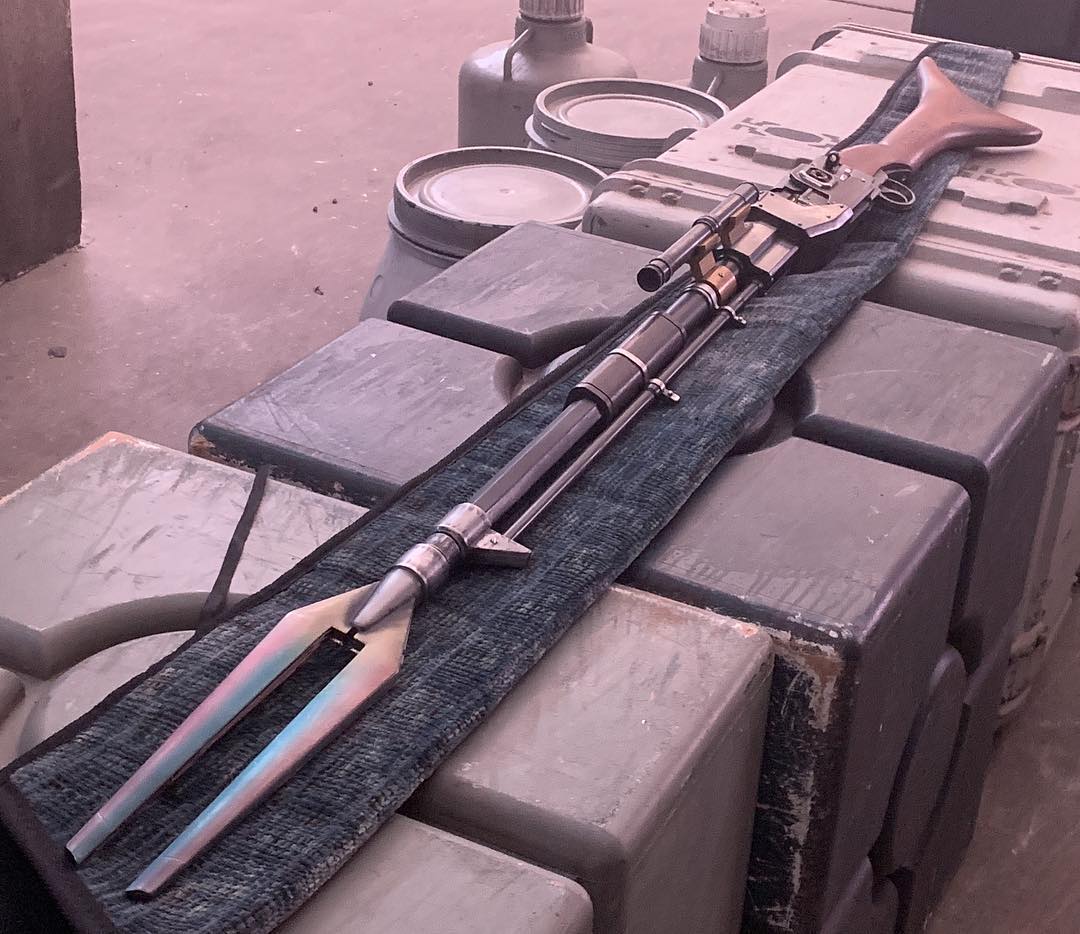 The Mandalorian primarily wields two weapons. In the first few episodes he uses an Amban Sniper Rifle. This weapon was first introduced to Star Wars back in the 1978 Holiday special. Boba Fett used the weapon to fight off a Panna dragon in the short animated segment.
In the show, the Mandalorian uses the rifle to both electrocute stormtroopers and disintegrate Jawas.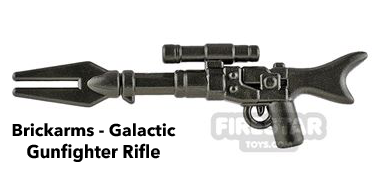 Fortunately, Brickarms makes a custom moulded version of this weapon that can be purchased here.
Along with his Amban rifle, the Mandalorian carries a small blaster pistol which he uses throughout the season. This weapon hasn't yet been named in any Star Wars content. Even though the weapon hasn't been named, Brickarms produces a variant of the weapon, calling it a Galactic Fighter pistol.

This can be purchased here if you wish to fully equip your Mandalorian minifigure.
As well blasters, the Mandalorian has several weapons integrated into his armour. The Mandalorian can use a flame thrower to fend off opponents, fire grappling cables from his wrists and use whistling birds to take out multiple assailants.
Why not buy some of FireStar Toys custom printed arms to show off these awesome tools? You could even take things a step further by purchasing some Arealight Vambraces. Although none of the Vambraces were made with the Mandalorian in mind, the silver Fett Vambraces would undoubtedly look cool on the Mandalorian's wrists.

Get the Latest LEGO Sales & Deals
Side Characters
LEGO has produced several figures that would work perfectly in any Mandalorian display.
In early 2020 LEGO released the Mandalorian battle pack. This set was loosely based on the Mandalorian TV series. It includes four Mandalorian figures, each with a unique colour scheme. I personally love the blue one. All four of these figures can be purchased separately from FireStar toys. You can even upgrade these with custom arms produced by FireStar Toys. If you want to learn more about upgrading your Mandalorian figures I recommend you check out Tom's article on "Accessories for Your Would-Be Bounty Hunters". It provides a more thorough look at blasters, helmets, Vambraces and jet packs that are perfect for any LEGO Mandalorian figure.

In Chapter 2, The Child, the Mandalorian fights a gang of Jawas who ravaged his ship for parts. FireStar Toy's sells three different Jawa minifigures if you wanted to add some of these pesky scavengers to your collection.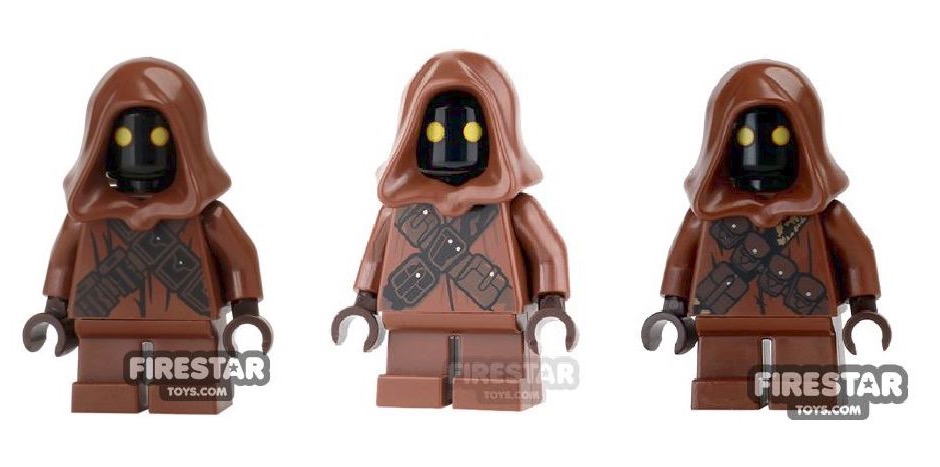 The Mandalorian show also features the Imperial remnant. Small bands of stormtroopers remained scattered throughout the galaxy, clinging to the little power they had left. Why not buy some stormtrooper's to battle your Mandalorian minifigure. Stormtroopers can be purchased separately from FireStar Toys.
In Chapter 8, Redemption, Moff Gideon is flanked by a company of elite Death Troopers. These can also be purchased separately from FireStar Toys if you want a squadron of Death Troopers to accompany your custom Moff Gideon minifigure.
Weapons and Accessories
Because the show only just came out many of the weapons featured in the series haven't been named yet and don't have custom versions suitable for LEGO minifigures. Unfortunately this means you wont be able to give Cara Dune or Greef Karga accurate weapons. However, some characters weapons are on the market.
In Chapter 1, IG-11 can be seen wielding two blasters. He shoots with a DLT-20A, the same weapon IG-88 uses. He can also be seen wielding a classic E11 blaster. This weapon is commonly used by Imperial stormtroopers. If you want to equip IG-11 or your Stormtrooper minifigures with screen accurate blasters then you're in luck. Brickarms makes custom versions of both weapons that are perfect for your minifigure collection.
As well as the E11, a Stormtrooper can also be seen wielding a SE-14C. Whilst Brickarms doesn't make a SE14C they do produce a SE-14R, a weapon that looks remarkably similar.
The two Scout troopers in Chapter 8 carry E-17 blasters. Both Clone Army Customs and Brickarms produce their own version the pistol. All these blasters can be purchased at FireStar Toys.
The Jawas in Chapter 2, The Child, use ion blasters that closely resemble the CA-87. Brickarms produces a version of the CA-87. These awesome blasters would undoubtedly look great with any LEGO Jawa collection.

You could also equip your Death Trooper minifigures with screen accurate blasters. Death troopers carry E11D and DLT-19D blasters. Both Arealight and Brickarms produce custom E11D pieces that can be purchased at FireStar Toys. Brickarms also produces a DLT-19D that can be purchased here.

Finally, Mandalorian Iron. The Mandalorian fights hard to earn Beskar ingots from the mysterious Client. FireStar Toys has printed the Imperial insignia onto 1×2 tiles. They look truly awesome and are a must have for any Mandalorian fan.
Conclusion
There are so many great figures, weapons and parts from the Mandalorian show. Whether you want a custom Moff Gideon, some more Stormtroopers, an Amban Sniper rifle or a Beskar ingot, FireStar Toys has you covered.
I hope you enjoyed reading this article. What products do you want to get? Let us all know in the comments below.
Get the Latest LEGO Sales & Deals
Images of weapons and The Mandalorian amblem taken from Wookieepedia