Why everyone loves Modular Buildings
As you probably know, one of LEGO's most popular themes is the LEGO Creator. The theme is oriented to numerous possibilities of building with LEGO bricks in opposite to combine them with minifigures. Although many buildings, cars or creatures were in a minifigure scale, minifigures weren't included in LEGO Creator sets until 2011. In 2007, LEGO introduced LEGO Modular Buildings, a sub-theme of the LEGO Creator theme. The theme is aimed at teenage fans of LEGO (TFOLs) and adult fans of LEGO (AFOLs). Sets in the theme are big (more than 2000 pieces except for 10190 Market Street – 1248 pieces) and very detailed.
Until today, LEGO released fourteen sets in the theme. Interestingly, all the older sets come with classic yellow face minifigures, which wasn't the case only in 10190 Market Street set. Recommended age for all the sets is 16+, although there are some exceptions. In this blog post, I will write about a few LEGO Modular Buildings sets which, I think, have something interesting and special.
Cafe Corner
The list of interesting sets must begin with, I'd say, one of the most loved LEGO sets ever. LEGO 10182 Cafe Corner was released in 2007, and immediately reached the hearts of both young LEGO fans and AFOLs. The 2056 piece set contains a café on the ground floor and a hotel on the top floors. Of course, three townspeople minifigures with yellow faces are included, too. The good thing is that the interior is completely empty, leaving you space to create is as you wish.
LEGO fans started sharing their ideas of arranging the Cafe Corner interior, encouraging others to do the same. Some people bought two or more Cafe Corner sets combining them to one bigger set! What is more, after more than 10 years, people are still talking about this set. When LEGO 10198 Taj Mahal (2008) was released in 2017 as basically the same set as LEGO 10256 Taj Mahal, many people commented that this process should be reiterated for 10182 Cafe Corner. Unopened Cafe Corner sets (and even opened ones with some playwear) reaches huge prices (more than three times more than the price on shelves, which was $139.99 in the USA).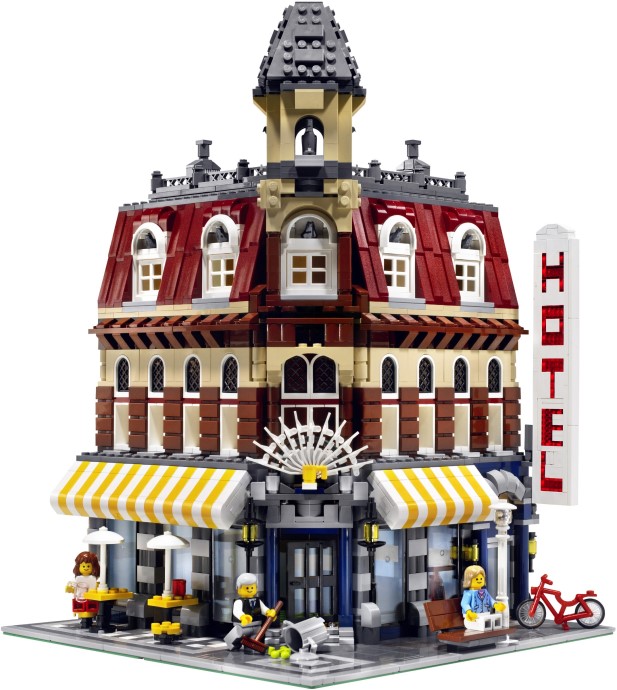 Grand Emporium
Unlike the Cafe Corner set, 10211 Grand Emporium comes with a little bit more detailed interior. The set was released in 2010 with 2182 pieces. The whole building can be divided into five parts. The ground floor is a clothing store. Fun additions are perfumes, short pants and hats. Changing rooms and moving staircases are present, too and this is the first time LEGO included that parts of stores in a set.
On the first floor of the Grand Emporium, you can find kitchen appliances. Customers (LEGO figures) can see a view of the bottom floor. The most interesting part of every store for LEGO fans is, of course, the toy section. It is positioned on the second and the top floor. Some examples of toys there are a scooter and a dollhouse. The roof has a sign of minifigure's head and the controller for the window cleaner's platform.
Speaking about the outside, the word SHOP which dominates the entrance is made out of bricks. Seven minifigures are included, too. Two of them are mannequins while others represent people.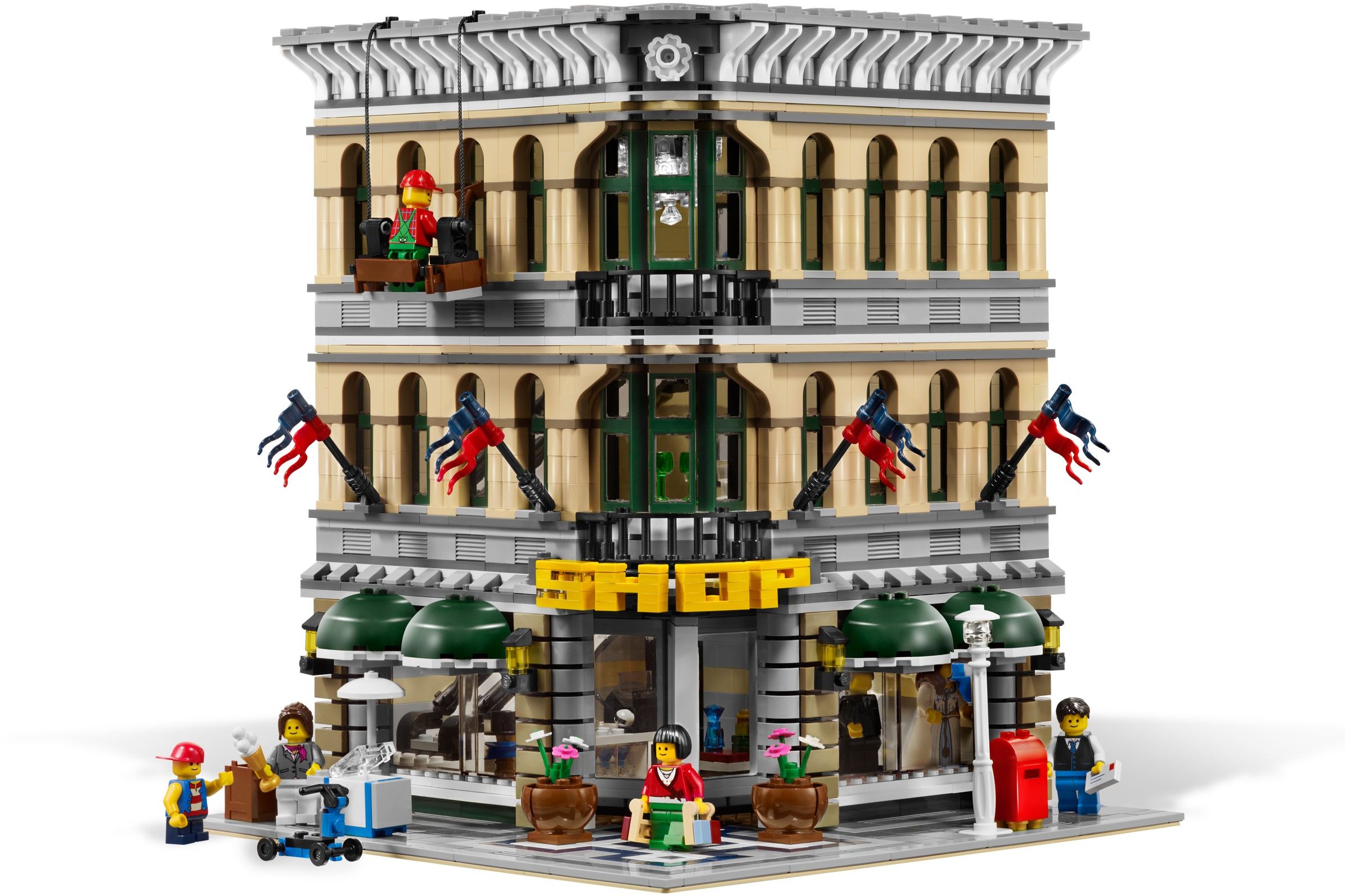 Get the Latest LEGO Sales & Deals
Assembly Square
The biggest set in the theme, 10255 Assembly Square (4002 pieces), was released in 2017. This set marks the 10th anniversary of Modular Buildings impressively. This set contains a group of three terrace buildings with a bakery, a café, a florist, a music store, a photo studio, a dental office and an apartment in them. Nine figures are included too: baby, florist, baker, barista, photographer, dentist, ballerina, music store assistant and LEGO fan.
The interior is highly detailed and easily accessible because of easy-to-remove building sections. My favourite part of this set is the ground level. It features a bakery with a cash register, shelves and an oven that opens up. On this level, you can find a florist's shop, too. Flower arrangements, bouquets and a blue and yellow macaw look really good. If you love music and photography, you will find something interesting at the middle level. It features a music store and photo studio with a buildable classic camera and an adjustable tripod. On the upper level, a dance studio and an apartment are placed. They are both full of accessories, but my favourites have to be the micro LEGO train and the reflective mirror element.  I think this set justifies the name of 10 years anniversary celebration set.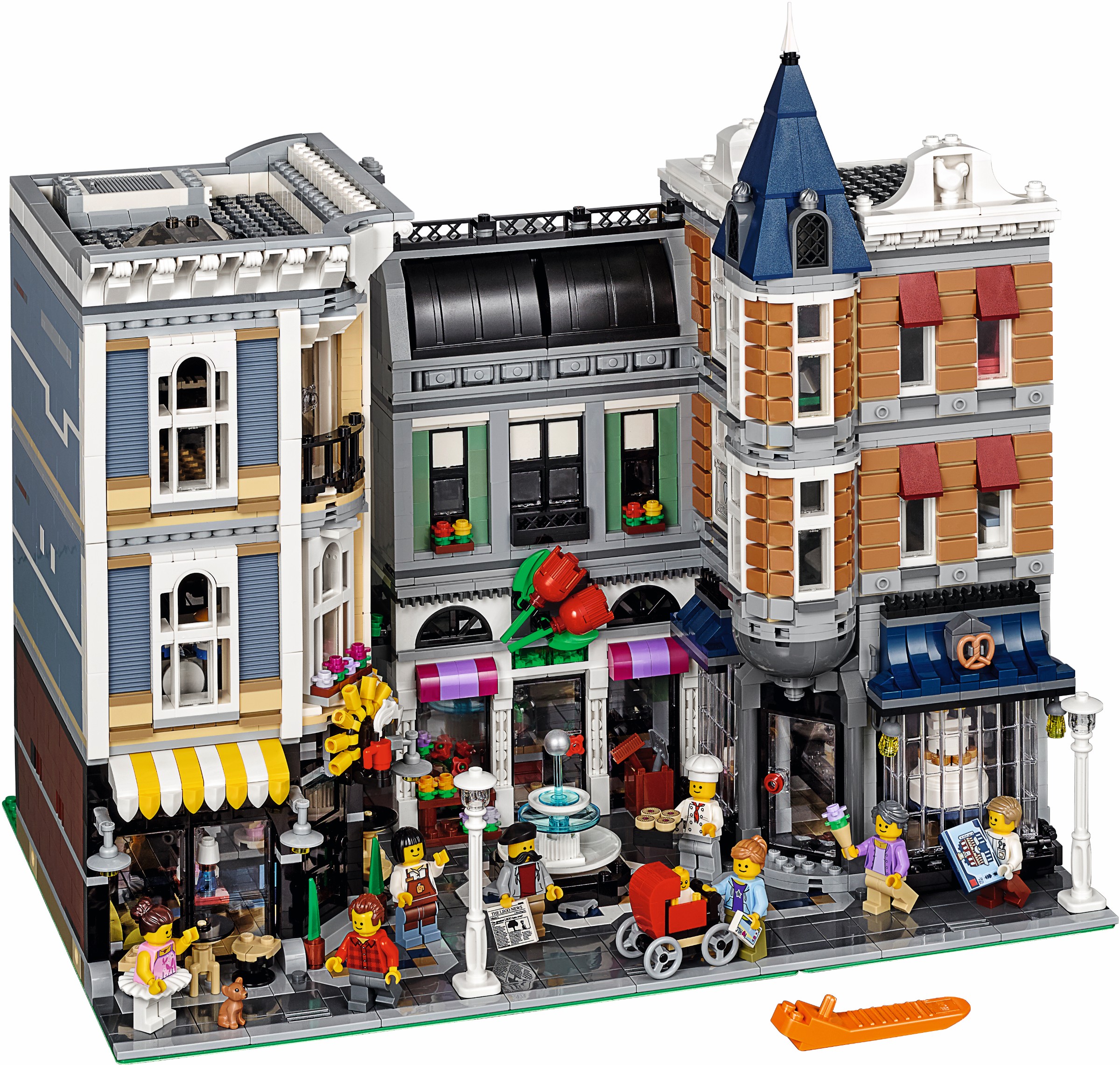 Corner Garage
The latest set in the theme is the 10264 Corner Garage. This set contains more pieces than any of the previous eight sets (2569, except Assembly Square, mentioned above). As usual, the building has removable sections for easy access. The highly detailed interior comprises three stories: A 1950s-style gas station with fuel pump, an animal clinic and an apartment. Set includes six figures: the gas station owner, a mechanic, a vet, a woman, a man and a girl. The whole building is 32 cm high, 26 cm wide and 25 cm deep. The tow truck has a working hoist and space for the minifigure in the cabin. You will get a few animals, too, like a parrot, a bunny, a dog, a frog and a fish.
The gas station is made in 1950s style with a fuel pump, a kiosk, and a vehicle workshop with a roll-up door, vehicle lift and tire mounter. A very cute flower garden with a sun lounger is placed on the rooftop terrace. The exterior of the building also has a nostalgic touch: It features a classic 1950s facade with signage, detailed windows and a decorative roofline and a sidewalk area with a tree and an ornate street lamp. It is good to say that this set contains some new elements like the animal clinic window, the service station sign and a printed octane gas pump.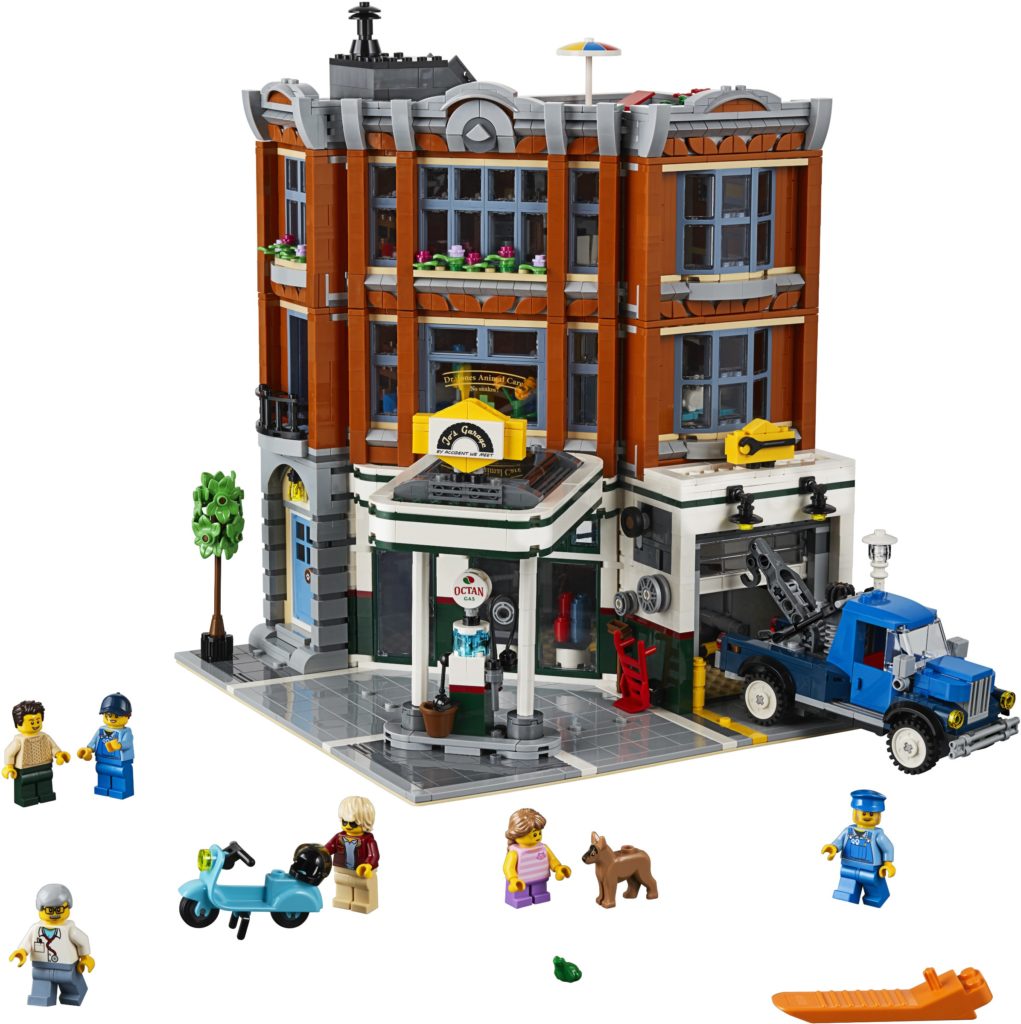 Conclusion
In my opinion, the LEGO Modular Buildings theme is one of the best LEGO themes ever. Every LEGO fan can find something interesting in these sets. They are made to encourage LEGO fans to modify a building's interiors or even create it from scratch. The theme is accepted by both younger and older LEGO builders and that is why I think we will see more buildings in the upcoming years. Buildings look beautiful when you display them on shelves, while playing features are not absent either – and that is something younger fans love.
If you are thinking about buying one of these sets, I would definitely recommend it, you'll have no regrets. Lastly, if you realize that you don't like certain building you bought, you will get a lot of bricks for making a new one! The best way is to start with the most recent set, 10264 Corner Garage. The others could be a little more pricey because they are retired and the demand for some of them is really high.
Do you have a LEGO Modular Buildings set? Maybe some of them are still on your wanted list? Did you know the information I shared about them? Tell us your answers in the comments section! Don't forget to write your opinion on the article too! Happy building! 😉
Get the Latest LEGO Sales & Deals
Feature image author: Nachapon S., Flickr
Set images are from Brickset