I was listening to some classic Motown the other day and I thought "I wonder if I could recreate the song in LEGO?". I had a word with my LEGO house band, "Pick n' Chew" , and we got together for a jam session. To try and give this article some form of cohesion, I've used the lyrics from the King Curtis song "Memphis Soul Stew" to create the headings for this article on LEGO musical instruments.
The song starts:
Today's special is Memphis Soul Stew /
We sell so much of this, people wonder what we put in it /
We gonna tell you right now…
Give me about a half a teacup of bass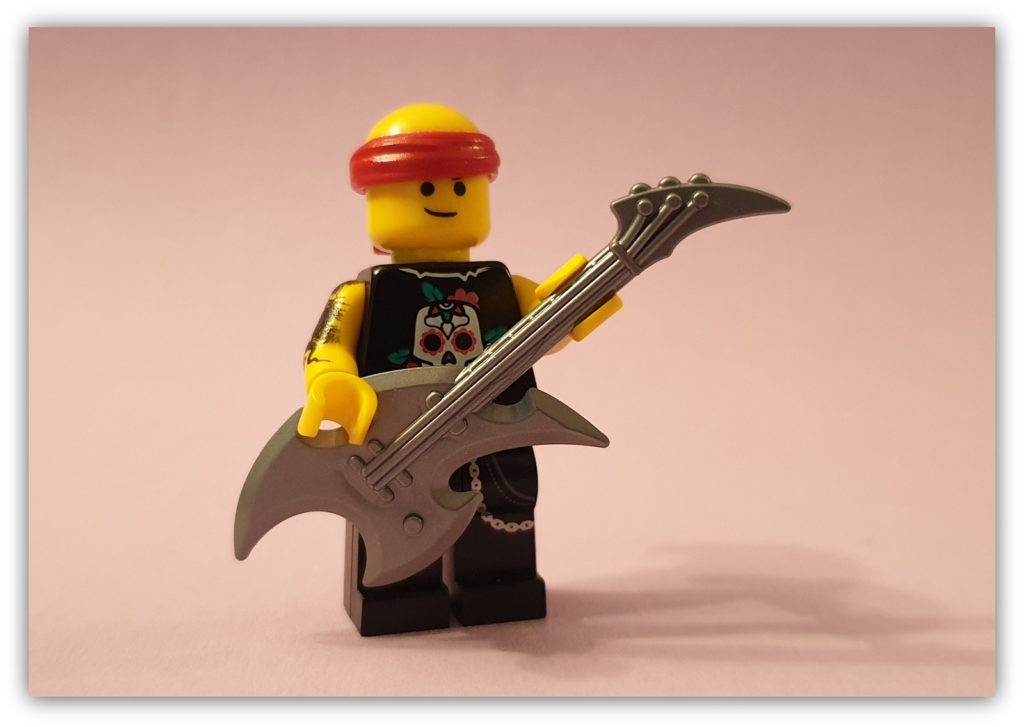 LEGO don't do bass guitars, or at least I couldn't find any! The picture above shows my bassist, Mike "Hairy" Brickheimer using the BrickArms Axe guitar. We thought it was probably the closest we could get before just making one out of parts, such as the one used by Marceline the Vampire Queen in the LEGO Dimensions set 71825. I thought it looked a bit like the guitar Gene Simmons used in KISS.
Now I need a pound of fatback drums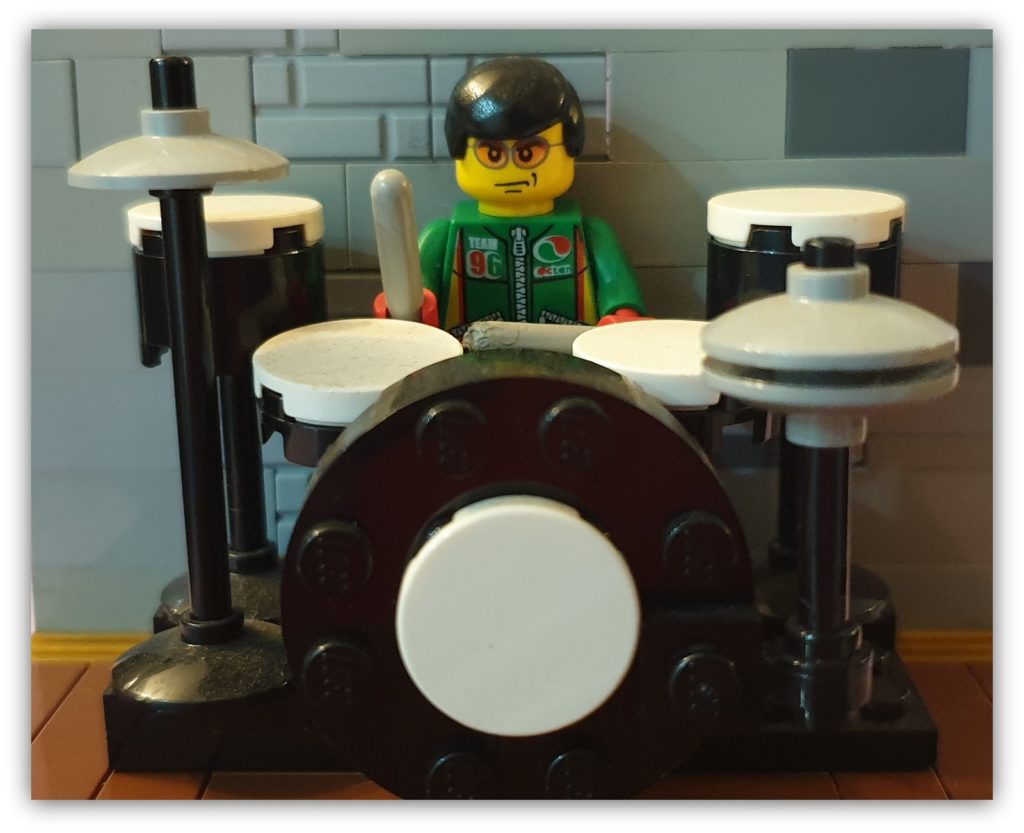 Drums have appeared in the LEGO Friends (Mia's Bedroom, Set 3939 – and also as Tapsy in the Mixels series. Because they make use of quite common LEGO parts, I think this is something that you could make yourself.  In the picture, my drummer Bam uses a Firestartoys drum kit; I bought it as a mini set a while back.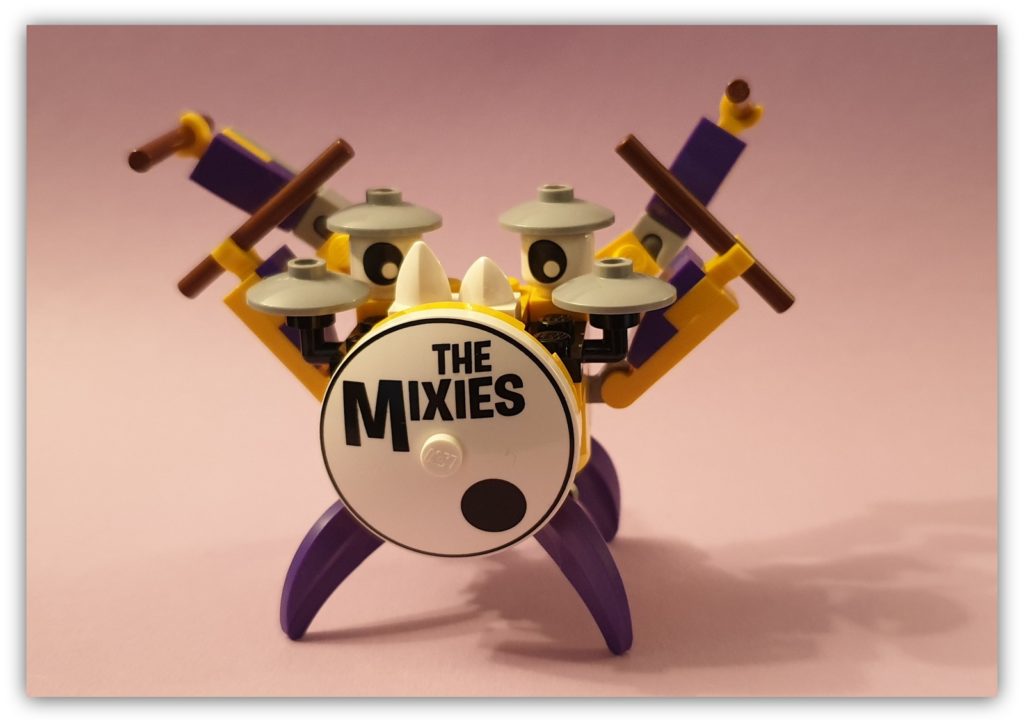 Now give me four tablespoons of boiling Memphis guitars / This goin' taste alright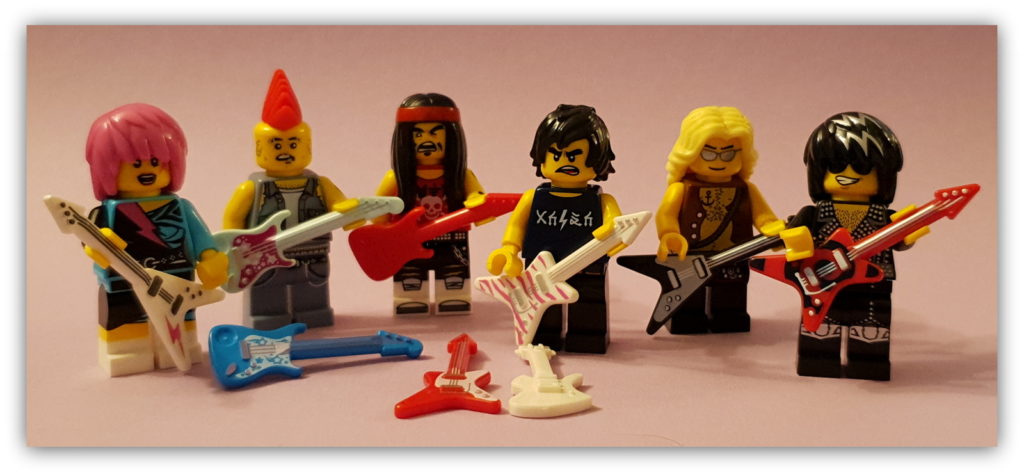 I don't know about boiling, but we have a wide variety of guitars to take your fancy! Flying V's, Axes, simple electric pick-up… these are all there for you! I like the shape of the Flying V, there is something quite pretty about it.
Of course, LEGO don't only do electric style guitars. Apart from the Flying V, my other favourite LEGO guitar must be the classic acoustic guitar. These are much deeper in shape and more cumbersome, but with the right set up they look perfect; in this case as my Day of the Dead Mariachi band.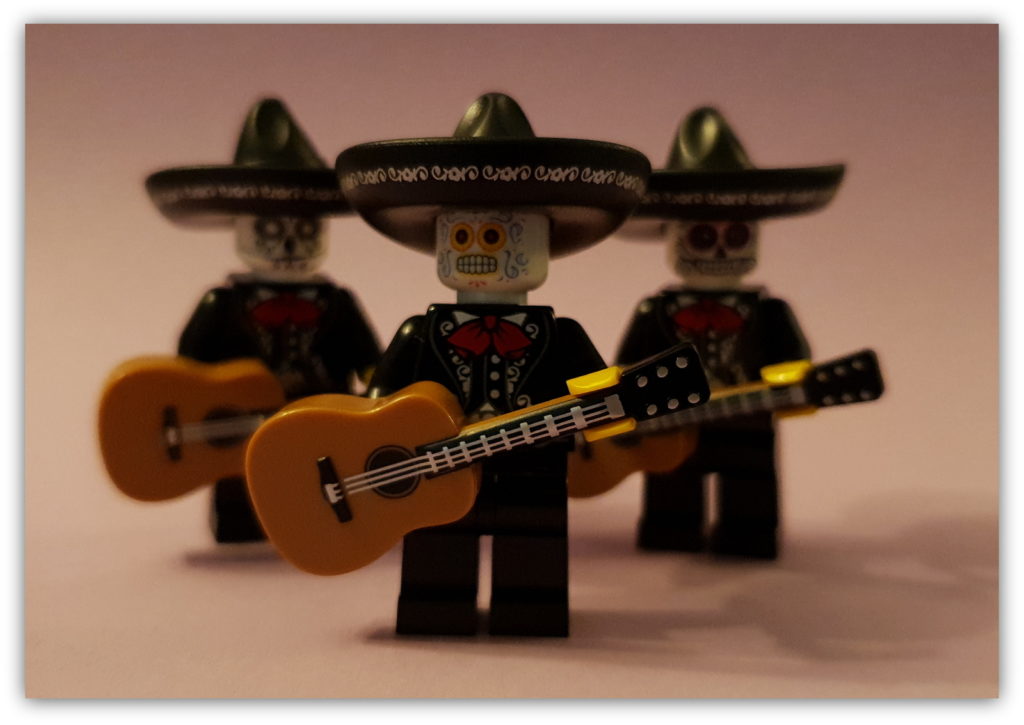 Now just a little pinch of organ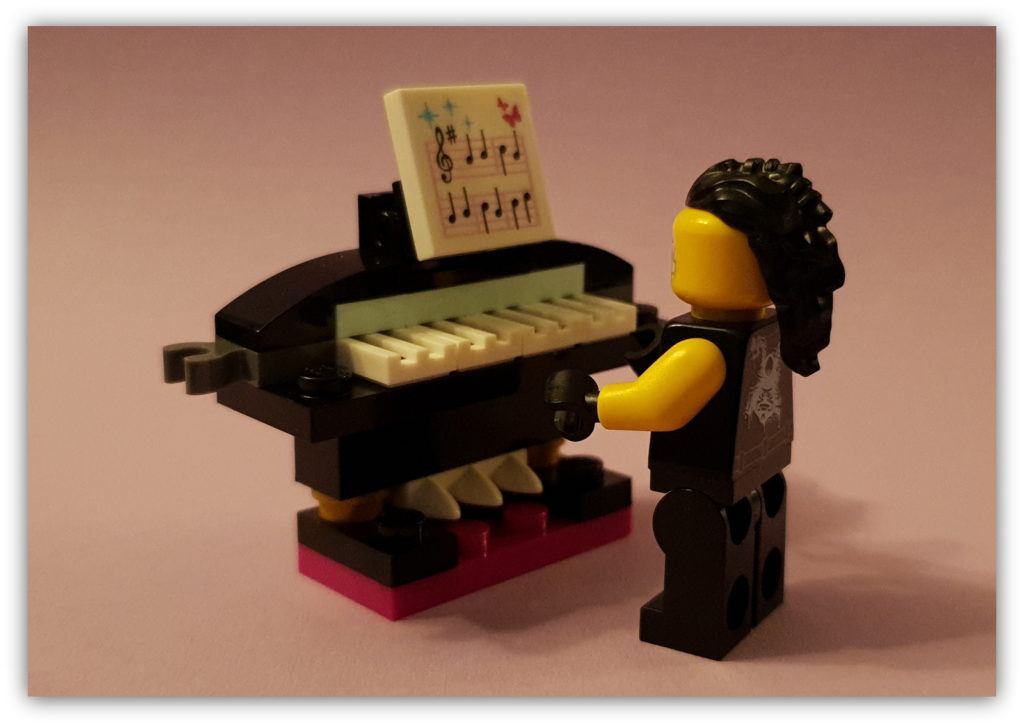 As we noted earlier, the Friends theme brought some music to the LEGO cityscape; this continues with the Organ (above) although I suspect this was supposed to be more of a piano. The use of the 2×1 grate tile presents a very good impersonation of the black and white keyboard.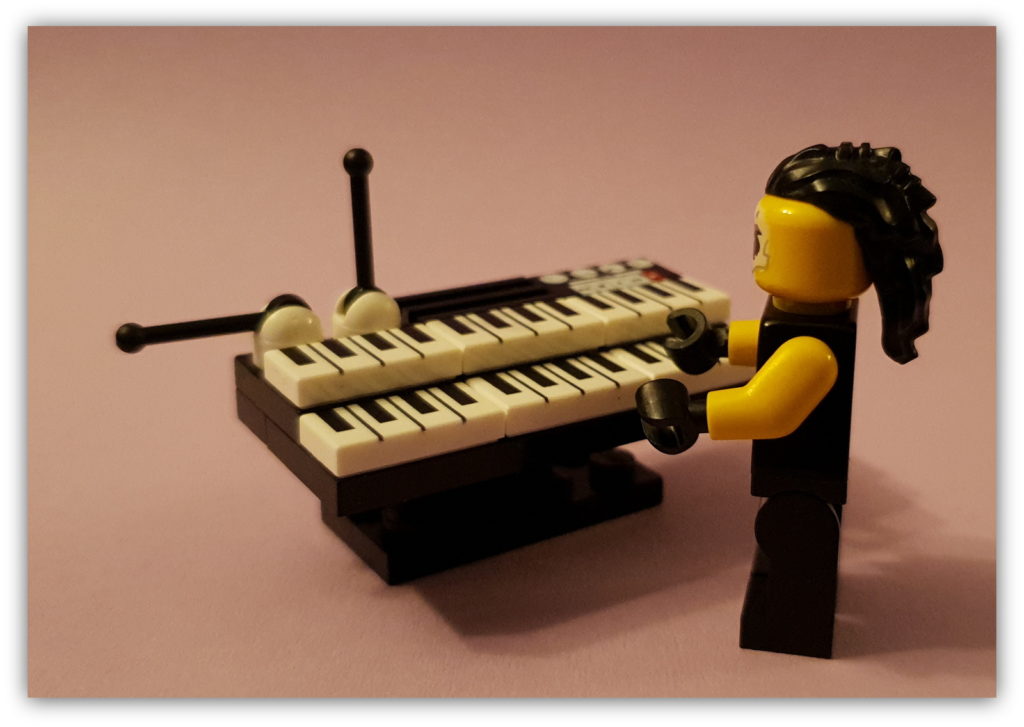 Using some custom printed keyboard tiles, I was able to create this rather effective organ. Because I was building it myself, I also included a Theremin into the design. Although this particular musical instrument wasn't in the song, I thought my electronic organ needed one.
The Theremin was created in the 1920's; it makes use of feedback between the user's hands and the device.  The end result is something that isn't out of place in a science-fiction film soundtrack.
Now give me half a pint of horn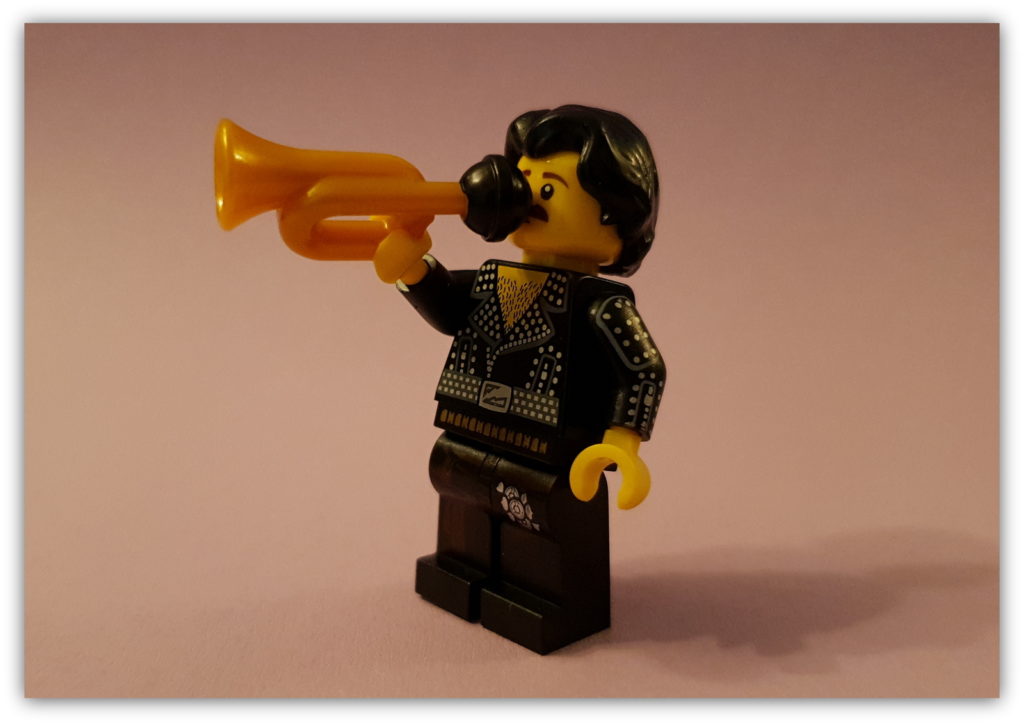 When I started to look through the box of musical instruments, I could only find one horn, the trumpet which had come with the collectible minifigure of the clown. So, I headed off to Firestartoys and to Bricklink to see what other brass instruments were available.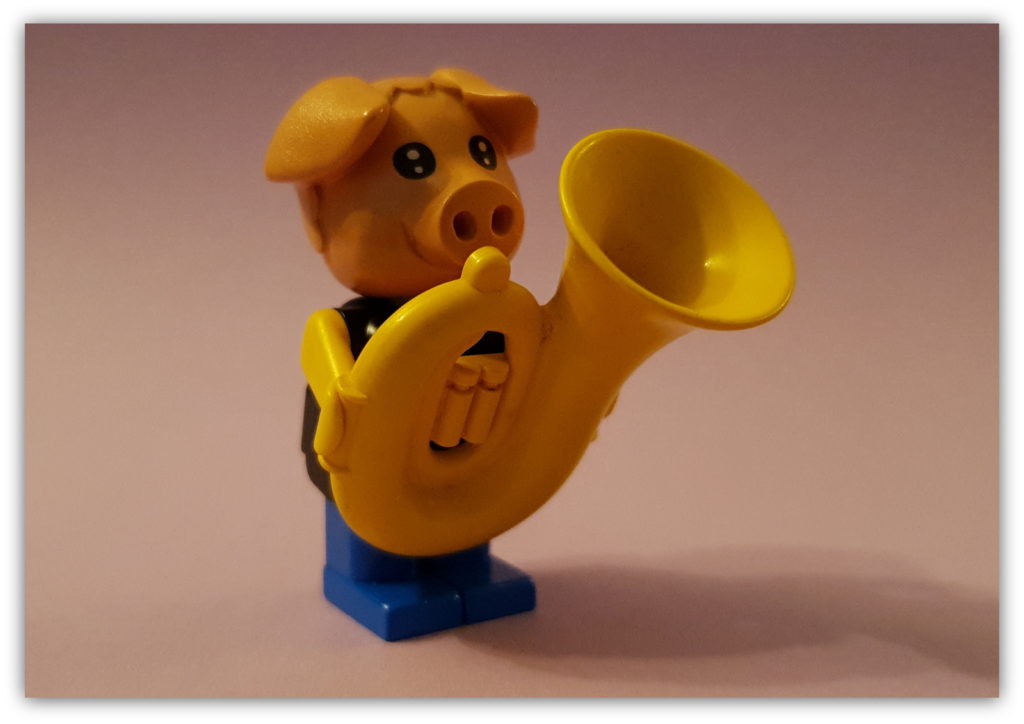 Get the Latest LEGO Sales & Deals
I discovered that the Tuba had been used in the Fabuland series, although looking at its size I would suggest that this was more of a Euphonium than a Tuba. However, given the age range that the Fabuland series was aimed at I suspect many of the target market may have had a challenge spelling Euphonium!
The only other horn I could find was the BrickWarriors Battle Horn; but I suspect that this wasn't what was meant in the song!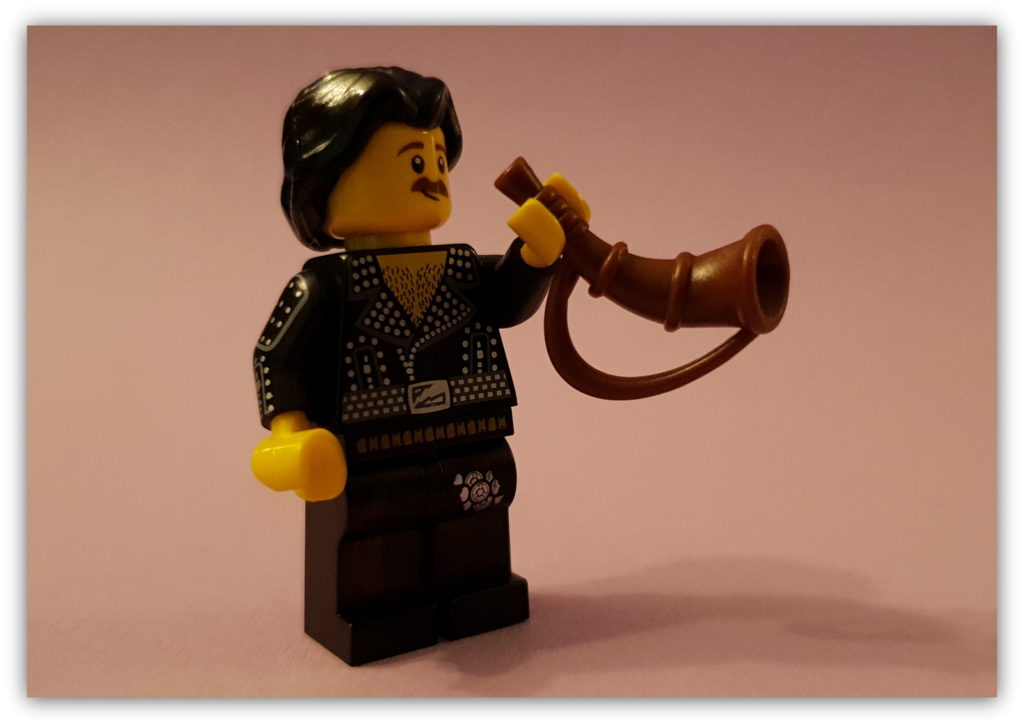 So, here's something I learned about music whilst writing this article. In "pure" musical terms, horns are typically from the brass section, but for popular musical styles such as jazz, ska, gospel or soul for example, the horns can also include wind instruments; and the atypical example is of course the saxophone.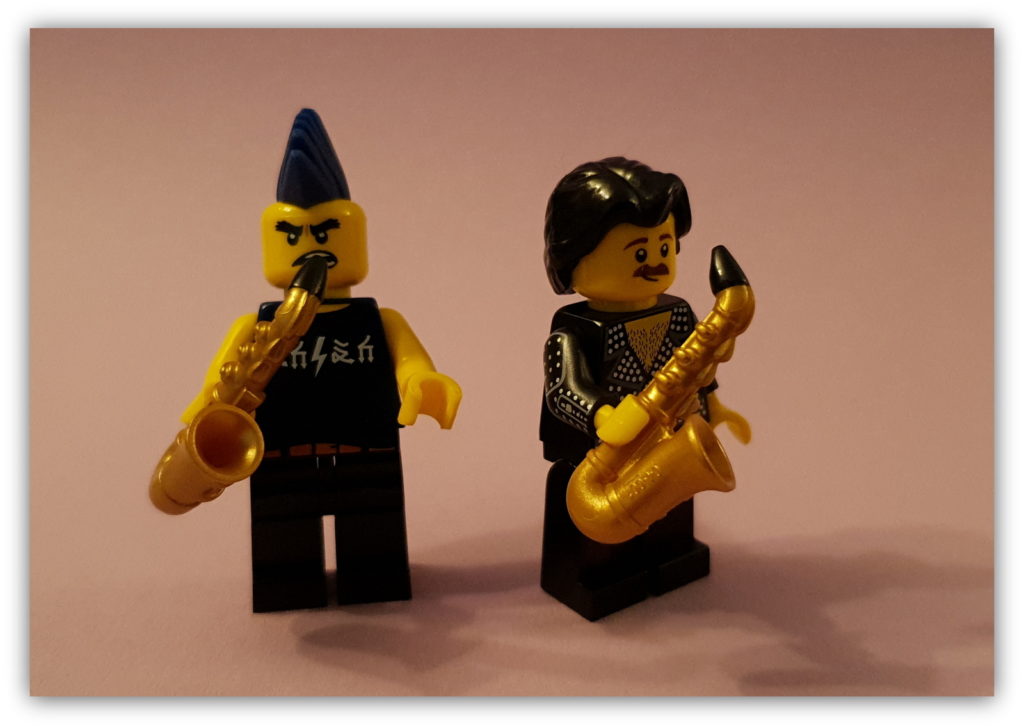 Interestingly perhaps this additional change as to what 'horns' might refer to included the clarinet, oboe and also the flute; whilst I could see how the rasping sound of the saxophone could be included and so would also include these other wood wind instruments, the flute rather took me back. When I spoke to my little band about it they laughed and said that they had never used a flute on any of their songs; but Peter reminded them of the fourteenth album where they had covered classic 1980's euro pop using pan pipes and maracas…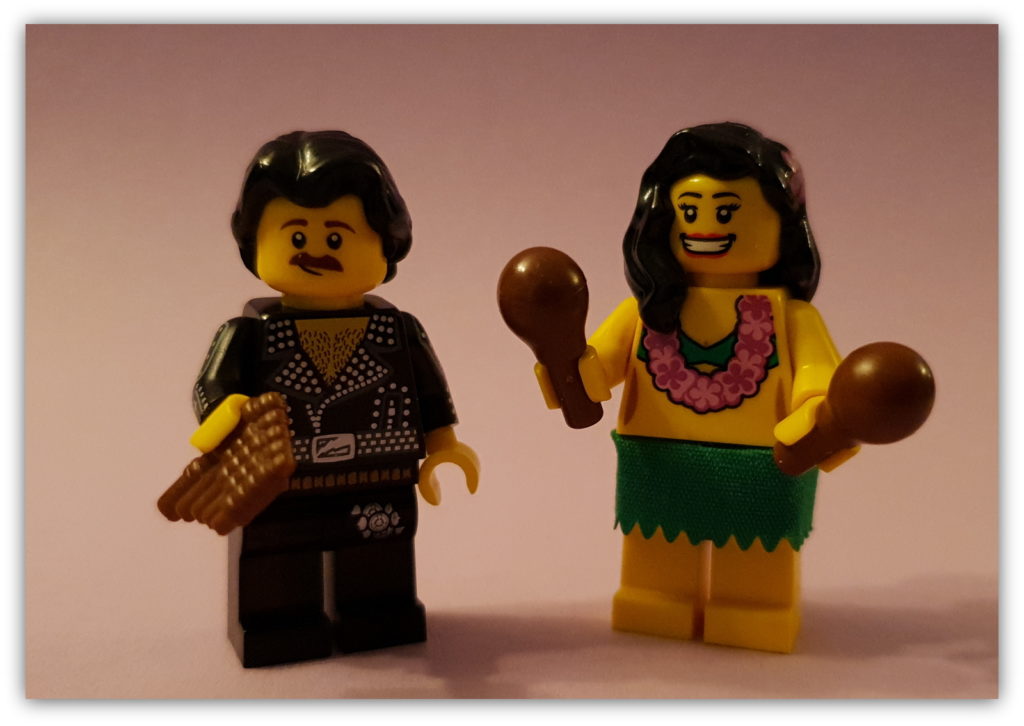 Place on the burner and bring to a boil / That's it, that's it, that's it right there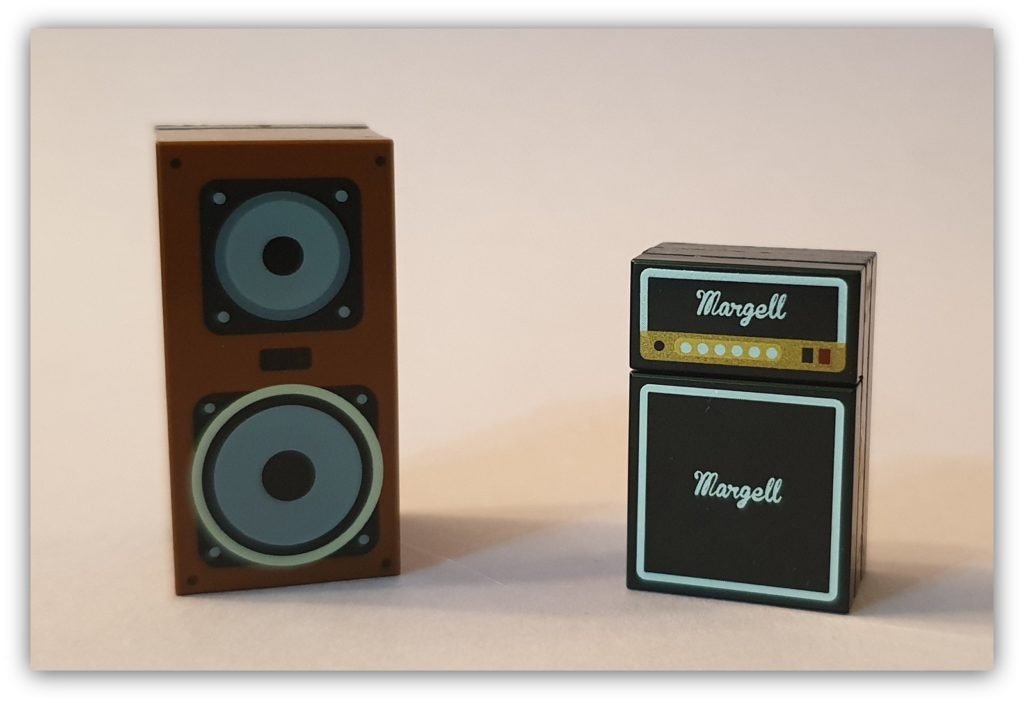 One key thing that is needed to appreciate music is a good set of speakers. In the picture I've shown two different types of speakers (I have a pair of each) and have had them in my toy box for quite a while. The speakers on the left are from Citizen Brick; I can't remember where the others came from. This is a little frustrating as I can't give proper credit for the company that printed them (they're not made by LEGO).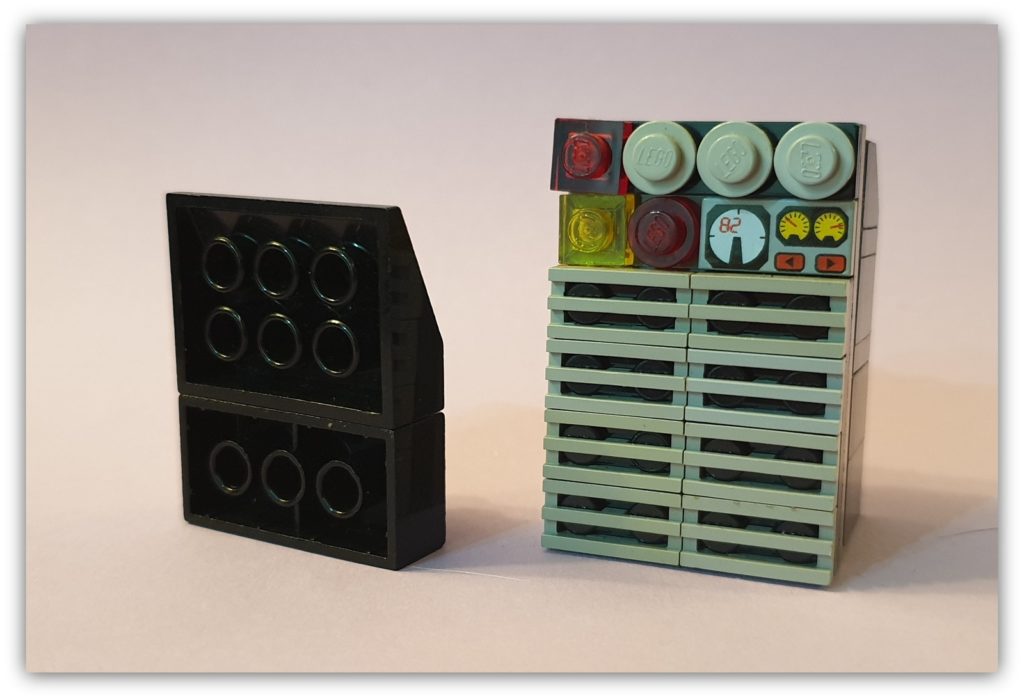 However, you don't need to buy pre-printed tiles to make LEGO speakers for your house band; the components are probably already in your toy box. On the left I've used a 4×3 sloped brick, joined to a standard 2×4 brick to produce the sort of speaker you might find at a huge outdoor venue. On the right I used 2×1 grate tiles with a variety of buttons and lights to create a stage speaker. Perfect for when you want to turn the volume up to eleven!
Now beat, well.
If you wanted to make your own LEGO garage band, you should be able to use the pieces we've looked at to make your own band. Of course, if you have a singer, they're going to need a microphone and fortunately LEGO has a few in black and silver, black and gold, all black… plus a rather fetching magenta and silver!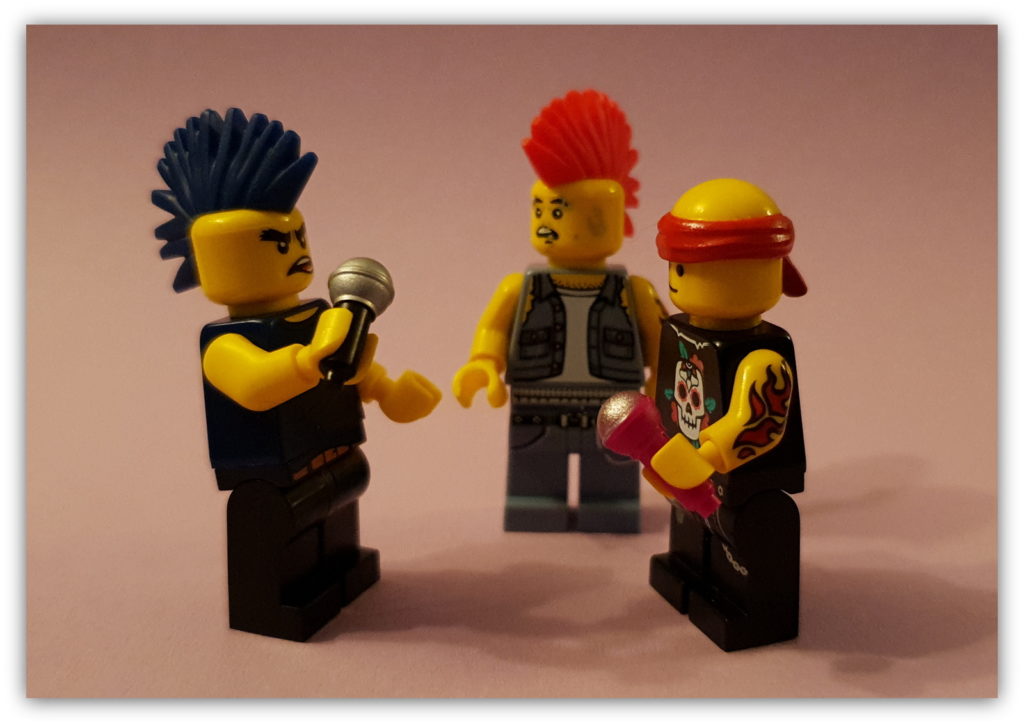 On another note…
Back in the 1980's a new form of music came from America. Many suggest that it came from the Disco era of the 1970's, using Donna Summer and Georgio Moroder's 1977 hit "I feel love" as one of the early precursors. That music was Techno and from that spawned House, EDM, EBM, trance, and all manner of "steps", such as Dubstep. But at any club the DJ now will have more than one record or CD deck so that they can smoothly transition from one track to the next. Using custom printed tiles from Firestartoys you too can create an impressive DJ deck.

And who knows who might come and play using it?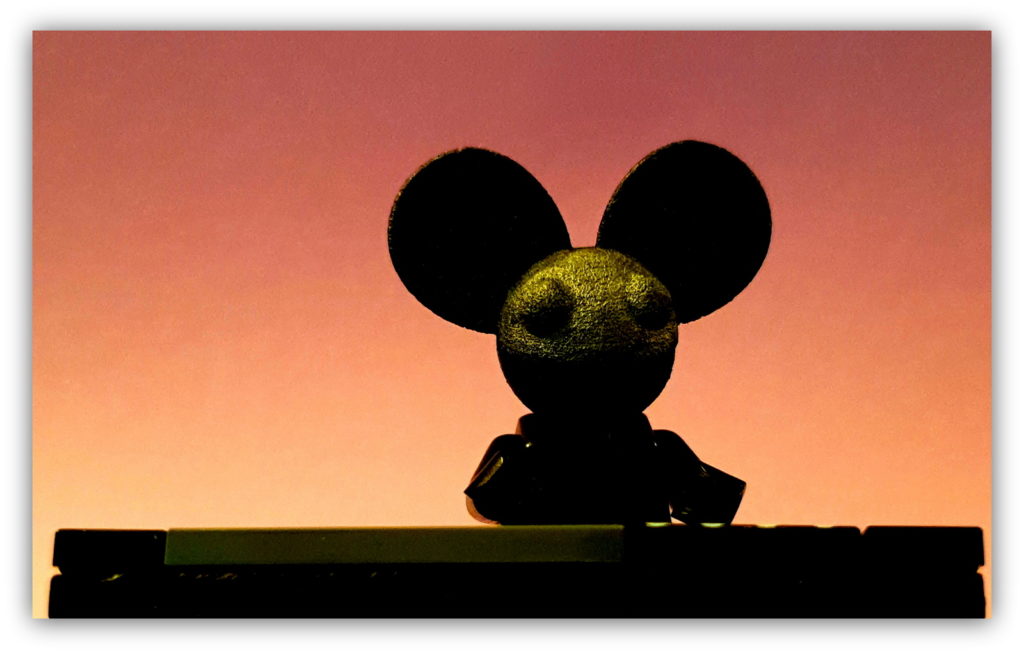 (Deadmau5 head was 3D printed by shapeways.com)
Do you have any LEGO musical instruments that I may have missed? Let me know and let the music play on!
Get the Latest LEGO Sales & Deals