"Elementary, my dear Watson."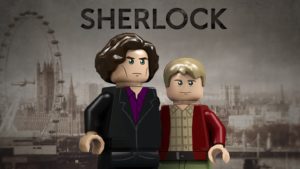 Interesting fellow Sir Arthur Conan Doyle. If you ever read his books, he first came up with the character of Sherlock Holmes in the 1887, in his novel, "A Study in Scarlet". So popular was his character that other novels and short stories would follow. Many years later, the stories are still the subject of radio, films, and TV series. The latest is Sherlock by the BBC, which I believe is into it's 4th season. Mind you, there is talk of a 5th season, but it's still early due to the actors' commitments. It is this TV series I'd like to write about today, and why I think we should have an official LEGO Sherlock Holmes.
"There is nothing more deceptive than an obvious fact."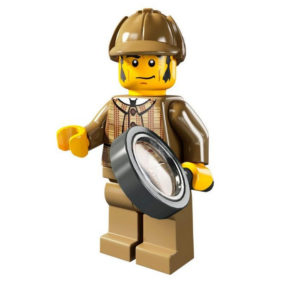 Sherlock Holmes has all the makings of a good theme: plenty of stories on which to base sets on, and of course good solid characters (not forgetting the villains!). The two main characters is what grabs your attention in this latest TV series. It is no surprise to tell you that a few years ago LEGO, in Minifigures Collector Series 5, created a Detective Minifigure based on the original story version. LEGO modeled that character as described in the original books, and it was a good representation. All that was missing was Dr. Watson, but did he appear later in Series 8 as a businessman in a suit? Okay it'a stretch of the imagination, but these days doesn't it pay to be a side-kick?
"To a great mind, nothing is little."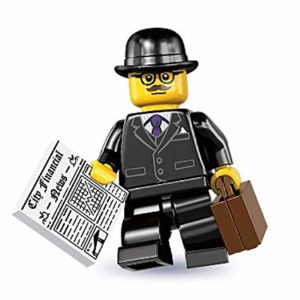 This is why I (and many others) were very disappointed in LEGO's decision not to go ahead with the Ideas set put forward by Ideas user flailx. He had achieved the 10,000 votes (mine included) and it there was a pretty decent chance that a set would be considered, when LEGO pulled the plug. Maybe it was the mature content of the series or the fact that the main character is a detective who goes around solving murders and mysteries that put them off, but whatever, it was never fully explained. I really feel sorry for flailx as his idea didn't show any of this. His version was 221B Baker Street.
It was basically the main room, well detailed and clearly had plenty going on. I think what sold it more than anything was the chance of getting LEGO Minifigures based on the BBC TV show. Clearly somebody really did their homework. When it came time to expand the theme, flailx created rendered versions of the other characters. In all, I really wanted to see a Minifigure version of James Moriarty. LEGO could at least, as a selling point, have included a shortened version of one of the stories which would have made it more interesting. It didn't even have to follow the original creator's design, as previous LEGO Ideas sets have shown.
"The little things are infinitely the most important."
I think this set was mainly for display. What is the harm in that? It still would have been a worthy set in its own right. After all, anyone who has bought the LEGO Star Wars UCS Millennium Falcon knows it's just a glorified display piece, and an expensive one at that! I just thought LEGO didn't think this through enough.
The television episode of the villainous Professor James Moriarty trying to stealing the Crown Jewels from the Tower of London was excellent. Although I've seen custom versions of these characters, I think Lego could have done them justice. There is even the old Sherlock, which is where things could have got interesting. I thought that "there is an untapped goldmine of sets that could be made from that era."  The buildings alone would have been something to see. But at the end of the day it is not our decision. It is LEGO's decision and it will always be. I hope that one day we will see a LEGO Sherlock themed set worthy of its name.
Get the Latest LEGO Sales & Deals