You came in that thing? You're braver than I thought.
My earliest LEGO Star Wars memories pre-date the release of any official set from LEGO. In the early and mid 1990's, I spent many a day perfecting my own LEGO Millennium Falcon. I meticulously laid out plates, usually in several layers for stability. This approximated the Falcon's shape. Next I would build simple walls. A cockpit and interior details added later filled out the build. My Falcon was rudimentary and very angular, unlike the elegant curved versions officially available today. Mine did not even possess a roof!
Unfortunately I do not have any pictures of those early attempts, as I would love to compare them to what I am building today. A large portion of the Adult Fan of Lego community is devoted to My Own Creation building, and I am no exception. Really, it is an extension of what we all did as children, albeit with larger budgets and (perhaps) better techniques.
That's not it. Bring me the hydrospanner!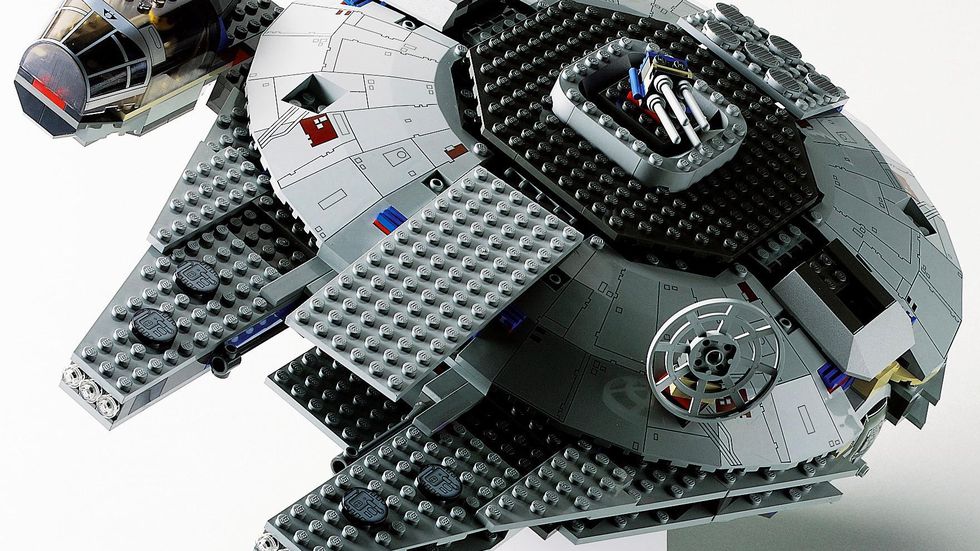 Last year a brilliant idea entered my head: why not try again to build my own LEGO Millennium Falcon? This time, I would not start from scratch, but avail myself of the great work LEGO has done since releasing the first Millennium Falcon set (7190) in the year 2000. That Falcon had custom molded curved bits and now looks like a child's model itself. But it blew my 13 year old mind! Utilizing existing sets, I planned to create my own hybrid from their parts. I started a few years down the release line with the 2011 Star Wars: A New Hope release (LEGO 7965). After finding one on eBay, I followed with a 2015 Star Wars: The Force Awakens Falcon (LEGO 75105). Once those two arrived, I then had to figure out how to start.
This one goes there; that one goes there. Right?
Subsequently, this ambitious project began on October 17, 2018. I knew two things: first, I wanted a greater amount of detailing. Second, I wanted a unique design that improved on the progress LEGO had already made. I assembled both Falcons according to the directions, and then selected the Hope Falcon to be my chassis. Before I touched structure, outer hull, or anything, I rebuilt the engine components inside the Falcon. Next, I re-did the greebles on the front part of the upper hull between the mandibles. What followed over the next six months was a deliberate and methodical rebuild. The upper hall was re-greebled and more accurately colored. Mostly just adding embellishments, I altered the side hulls (a brilliant design I have not managed to improve upon). I have built and rebuilt the cockpit and adjoining corridor at least 7 times and probably will again. Even went so far as to rebuild the LEGO Technic infrastructure that holds the entire Falcon together. This was necessary to accommodate the changes I made to the interior.

Get the Latest LEGO Sales & Deals
I don't know how we're going to get out of this one.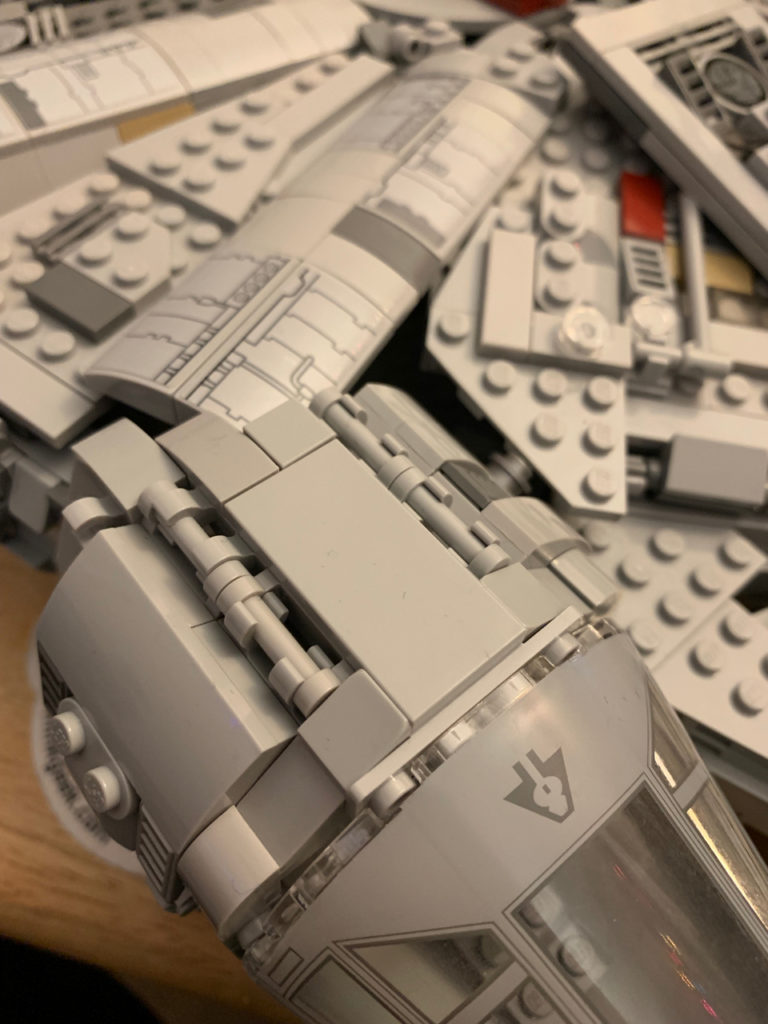 Unquestionably I have found, along with the cockpit, the compound curves that are the Millennium Falcon's hull are very difficult to recreate in LEGO. The bricks that LEGO makes are still predominantly rectangles. Making curves from parts that are right angles is astoundingly difficult. From time to time, I hear a complaint (usually from non-LEGO fans) that specialized bricks are removing the "build anything" motto that is at the heart of LEGO's philosophy. Far from it! Without the introduction of curved pieces and angled plates, my Falcon would not be possible. Even as is, it is a headache. Consider too that with six standard 2×4 bricks, a builder can create 915 million(!) combinations (with only one color). Obviously the number of possible combinations increases exponentially with added curved and angled bricks. I haven't even scratched the surface of how to create the curves I need. I simply need to keep building!
Perhaps it would be best if I were to stay here and guard the ship.
However, life circumstances intervened in my LEGO Millennium Falcon project at what proved to be an opportune time. I felt increasing frustration with the cockpit, adjacent corridor, and upper hull. Those curves I mention started to make the entire project more chore and less fun. I needed a break, and got one with an eviction. With sadness I packed up my LEGO and put the Falcon on top of a bucket of bricks and secured the lid. In a few months I hope to find a new place to live, and when I unpack my LEGO, I will re-start my Falcon build. In the meantime, I gather inspiration and techniques from other builders and file them away for future use.
C'mon, Chewie. I'm gonna need a little of that Wookiee umph!
Furthermore, beyond LEGO Star Wars, I would like to pause here for a memoriam. A few days ago, the Star Wars galaxy lost the original Chewbacca: Peter Mayhew. Chewbacca is and always will be my favorite alien character. Without Peter Mayhew, Chewie would simply be a suit of brown yak fur. Mayhew brought the lumbering "walking carpet" from background alien in a dingy Tatooine bar to loveable, complex person despite a language consisting entirely of growls, barks, and roars. Mayhew's blue eyes shone out of Chewie's furry face, giving him emotion and a soul. After studying animals in the zoo, Mayhew crafted an entire language of movement and gesture that really brought Chewbacca to life in an earthly context despite his outer space locale.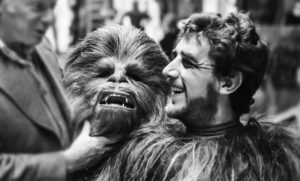 In speaking of Peter Mayhew, Harrison Ford (Han Solo) said Mayhew "was a kind and gentle man, possessed of great dignity and noble character; these aspects of his own personality, plus his wit and grace, he brought to Chewbacca" and Star Wars creator George Lucas insisted Mayhew "was the closest any human being could be to a Wookiee: big heart, gentle nature…and I learned to always let him win." Peter Mayhew last played Chewie for Episode VII, but only for the parts when Chewie wasn't moving around. Mayhew's knee and back injuries had made it extremely difficult to walk, let alone portray a seven-foot-tall creature of fur. A new actor named Joonas Suotamo has performed Chewbacca since Force Awakens, after learning the art from the original Wookiee.
I will miss Peter Mayhew in the world. He brought joy and kindness and a spark to everyone he met. Little children would run up to this giant man, not just in stature, and he would graciously sign pictures of Chewie, take selfies with homemade Wookiee dolls, and endlessly regale fans with stories from the set. A more gentle or amazing man could not have been discovered working as a hospital tech and been tasked with creating Chewbacca. Laugh it up, fuzzball. We will always enjoy Chewie, and miss you, Peter.
Punch it, Chewie!
Soon I will continue to create my custom LEGO Star Wars Millennium Falcon. As I do, my little Chewbacca Minifigure will be there to guide me on the more intricate parts of her maintenance and care. As you celebrate May the 4th, what are your favorite Chewie moments, and what Star Wars builds have you always wanted to tackle? Leave a comment below and let us know!
As always, I look forward to what we can build together.
Get the Latest LEGO Sales & Deals