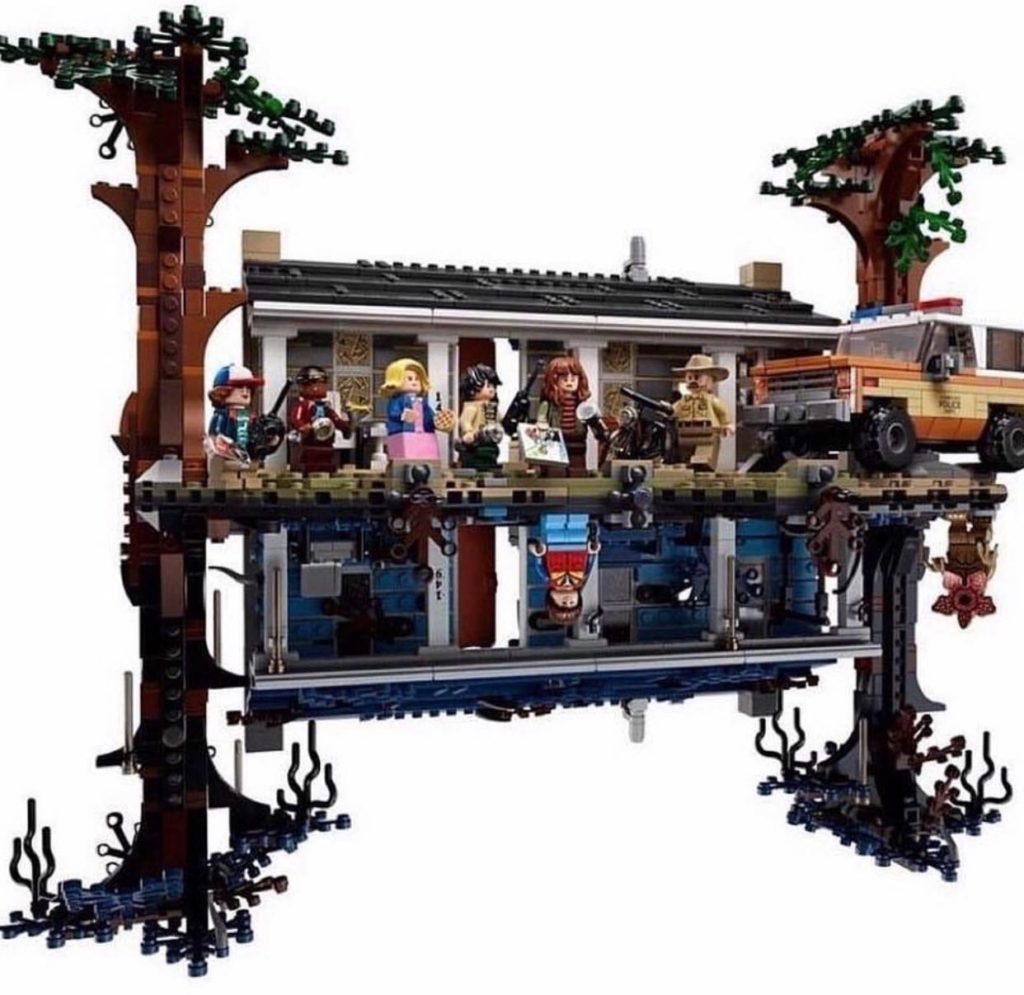 Something strange is going on in the world of LEGO City
 – and I am not entirely sure we are ready for it! I've heard whisperings of LEGO Minifigures running around in lab coats – whisperings murmurings of alternate dimensions and monsters. I've seen reports of trucks full of the 'Hazmat Guy' rocking up – with none of the LEGO News reporters having any ideas what is going on. And I've heard reports that LEGO City Police's distant cousins at the Hawkins Police Department are somehow involved. The world of LEGO is about to be turned upside-down – as they have revealed the upcoming LEGO Stranger Things set 75810 'The Upside Down'.
Stranger Things
I am a massive fan of film and television. That much must be apparent by this point – with the countless blog posts which have been spawned through my favourite franchises. One franchise which I absolutely adore is Stranger Things. The hit first series of Netflix's brand new original show debuted on the 15th of July 2016 – and promised a fantastical journey into the worlds of the Upside Down, exploring everything from telekinesis to horror-esque monsters from other realms. The series promised to explore some themes inspired by the real-life Montauk Project – and cast hit actors David Harbour and Winona Ryder amidst an up-and-coming cast of young stars.
The show absolutely smashed every expectation – wowing critics, propelling the young cast's careers into the future and creating a rapidly expanding cult following hungry for more content from the show. It also spanned numerous pieces of merchandise – with Funko producing bobble heads and action figures, and with McFarlane Toys jumping into the market to produce high-quality, seven inch figures. Stranger Things quickly became a cult phenomenon – so it is very exciting to see LEGO diving into this rich material with this upcoming D2C set.
The Build
Looking at the D2C set, it is incredibly easy to get excited – primarily because this is arguably one of the most unique concoctions that the designers at LEGO have come up with to date. For anyone who has not yet watched the first series of Stranger Things, turn away now, as we are about to dive head-first into spoiler territory.
The build here is a perfect, visual representation of the main plot which is present throughout stranger things – the idea of two worlds, ours and the Upside Down, phasing in and out of one another as portals and ruptures between the two begin to open and spread. Whilst our world is a relatively normal representation of 1980s America – complete with its fair share of 'trendy' bowl cuts and high-end sedans – the Upside Down is an entirely much more morbid representation of our world. This bleak and barren landscape represents our planet devoid of life – bleak, dark and dead, and filled with terrifying monsters which go bump in the night. Inspired by a dark vision of how a child may imagine one of the bleak landscapes from Dungeons and Dragons – the Upside Down really is the perfect picture of a horror movie setting.

Get the Latest LEGO Sales & Deals
The LEGO Stranger Things set is the perfect representation of this – showing the Beyers household on the top, and the Upside-Down representation of this landscape on the bottom. This is honestly the PERFECT way to capture the very fundamental elements of Stranger Things – and it looks like the designers here have used a plethora of incredibly intelligent techniques to hold the upside-down build, and the right-side-up build together. There are some gorgeous details and changes here – perfectly capturing the distinction between the two worlds.
I adore, in particularly, some of the subtle attention to detail which has been included within both the upside-down version and the normal version of the property. The way the builds are perfectly mimicked – but with duller, more garish tones on the bottom is flawless. I love how things like the vibrant yellow telephone are grab and grey in the darker interpretation of the world. Also, I love how subtle but key story-line details like the Christmas lights used to communicate with Will whilst he is in the upside down have been included here – capturing perfectly the key beats from the show's first season.
I think, above all else though, we need to summarise how intelligent the designer has been. The way the trees form key pillars of support in the build and act as a functional stand is ingenious – and really creates a stand which perfectly complements the overall aesthetical appeal of the set.  As one of the first adult-orientated LEGO sets, you really can feel the extra level of commitment which has gone to capturing subtle details and intricacies which may not be seen in other LEGO sets.
We also get a great build of Hopper's Hawkins PD SUV – a great looking build, which nicely emulates the style of vehicle he drives within the show. LEGO didn't need to include this – but it's a nice addition, and adds even more value to an already great set.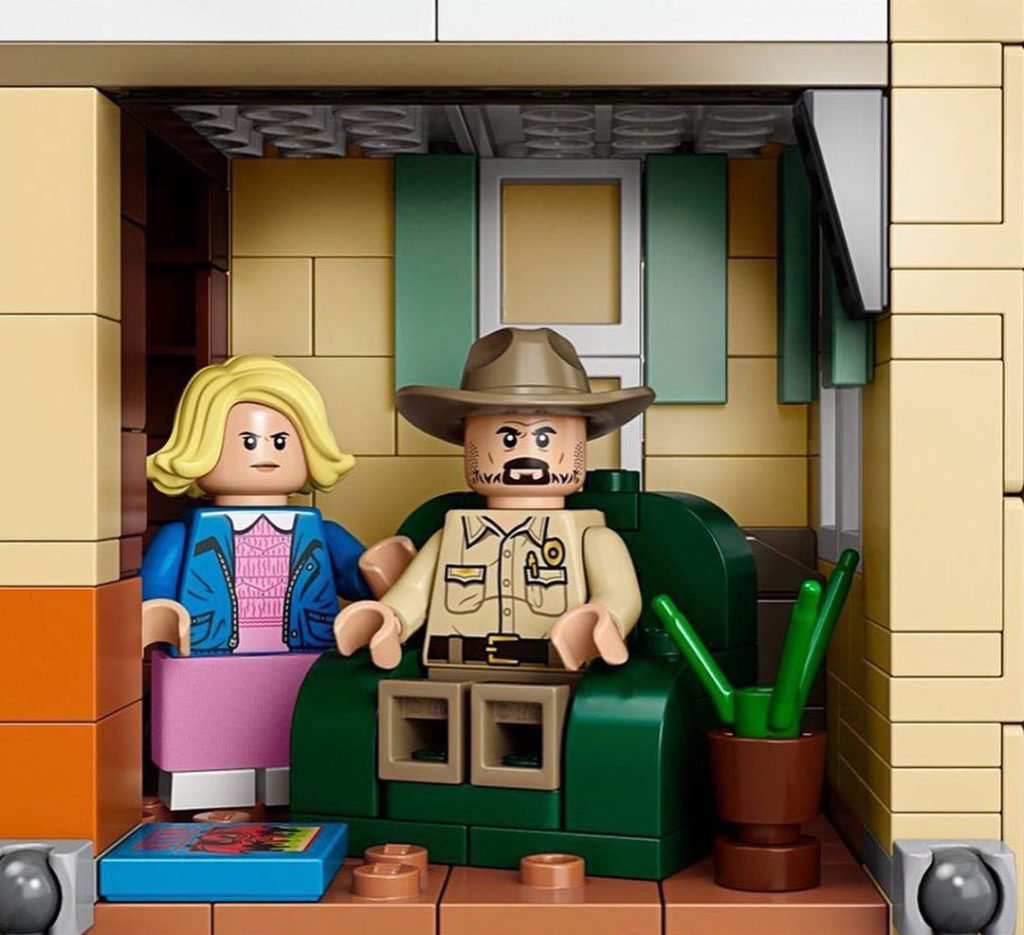 LEGO Stranger Things Minifigures
The Minifigures here are fantastic too – with most of the main cast from the first Season represented in Minifigure form here, apart from Nancy, Steve, Jonathan and Doctor Brenner. However – I would hope that LEGO have not purchased a license like Stranger Things with the intention of making a single set – so I would argue that we may, indeed, see more sets if this one performs as LEGO are hoping.
Of note are the kids here – who each get unique torso prints which capture their characters perfectly. I ADORE how perfect Eleven's outfit is (got to love that printed Ego!) and I also love how Lucas comes complete with his slingshot, and his combat-ready bandana. Dustin's new hat-hair combo is also incredibly welcome here too – providing us with a great interpretation of the much-loved fan favourite character. Hopper and Joyce also look great here – although Hopper's head doesn't quite hit the David Harbour likeness as much as I would like, looking rather generic instead.
I can't quite tell from the initial images, but this figure does look like he may use a reused head – something which would be a shame given that he is another fan favourite. I do, however, ADORE the LEGO interpretation of the Demogorgon – which comes complete with a printed Minifigure head representing its closed head, and a gorgeous, brand-new sculpt for the open head. This, combined with the use of the special-moulded legs first introduced for LEGO Dimensions, perfectly conveys this terror of the night.
Final Thoughts
I believe LEGO Stranger Things set is one of the first 16+ sets, and I am INCREDIBLY excited. Not only does this set look incredible – but it brings with it something greater. The idea that LEGO, for the first time in the company's history, may finally see the appeal of producing sets based around more adult licenses.
We had our fast taste of this all the way back with LEGO Dimensions – so to get it full-on now, in this fantastic set, really is exciting. I hope that this set performs well – and that LEGO continue to explore adult themes in the future, as there are lots of cult hits which really would lend themselves nicely to representation in LEGO form. For now, however, it's important that we appreciate this fantastic new addition – one which I am certain will be a hit with fans across the globe.
What do you all think? Will you be picking up this set? And will you be looking out for more Stranger Things sets in the future? Let us know in the comments below – and stay tuned, as we would LOVE to look at this set soon here on the Firestar Toys blog.
If you like this post and you're looking for more TV themed LEGO, then check out our post on LEGO Sherlock Holmes!
Get the Latest LEGO Sales & Deals