On the FireStar Toys blog last month, I had the privilege of interviewing Alex Johnson of Tips & Bricks. Alex runs his website (and social media) sharing tips for building with LEGO bricks. This month I bring you an exclusive review of Alex's new handbook, for sale now, all about tree techniques!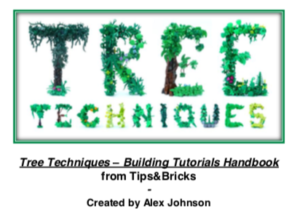 The Tree Handbook
Building any LEGO scenery will inevitably involve greenery of some sort: bushes, ground-covering landscape, and trees! LEGO itself provides some simple bushes and shrubs, but to build a really great tree, you may need some help. Enter Tree Techniques.
Available now for £12.99 (about $15.80 for my American friends), the Tree Techniques "presents 20 LEGO building techniques for creating trees…. organised into 5 themes for the different types of tree: Classic, Birch, Pine, Palm and Trunks." There are full color pictures, pricing guides for buying the necessary bricks, and the best part: step by step instructions. Let's dive in!
First Pages
The first few pages feature an introduction and a guide for how to use and read the handbook. Helpful indicators show which pieces are needed in which colors (or any color), the quantity of each piece, and a suggested pricing for how much you should look to pay for them. These guides are repeated for each build, but are presented in example form here to show how to read the guides.
Though the Tree Techniques handbook will be available soon in physical form, the digital edition has one other helpful feature: hyperlinks. Blue text indicates a link to other web pages which offer more detail on a section or variety of the tree build.
Classic Trees
The first section details the type of tree you are most likely to see and build in an official LEGO set. Using slopes and other similar pieces, the trunk is built and pre-made plant leaves are added for greenery. This first technique has no instructions (though a link is provided to official LEGO instructions) and shows the other feature of this handbook that I really enjoy: a picture from another LEGO fan's own custom build illustrating how the technique can be used.
I like to see LEGO builds "in the wild" to get an idea of how I could integrate something similar into my own builds. These pictures give me that look, and also feature some great builders at the same time. I must say, the Tree Techniques inspired me greatly as I looked through the handbook.
There are seven techniques listed for classic trees, including a few I had seen before, but had no idea how they were achieved. The solutions were both ingenious and relatively simple (once I knew the "secret"!). In all, there are some great and varied ways to build a classic tree.
Birch Trees
In the real world, birch trees are some of my favorite. Relatively skinny, and with stark white bark, the birch tree stands out in a world of brown trees. Similarly, the two techniques provided for building birch trees in the handbook are also as elegant.
The first birch tree technique is also my favorite because it gives me a way to use all those silly stud shooters that LEGO insists on including with many, many sets these days. I don't have a use for them myself, preferring the molded Star Wars weapons or brick building my own weapons. But, Alex details a way to build a birch tree from white stud shooters that is magnificent. A cool tree and a use for an unused part? Sign me up!
Pine Trees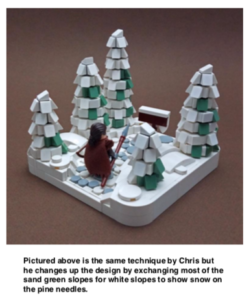 Get the Latest LEGO Sales & Deals
Five techniques are given for pine trees. Pine trees live all over the world, and are probably most well known as the "Christmas" tree. It was a great surprise to me to find pine trees in Papua New Guinea when I went to live there for a year. I had always associated pine trees with more temperate climates, but there in the tropics (albeit, the mountains) were pine trees!
Alex's techniques here are varied and terrific. Using slopes, clips, or leaf weaving, a variety of very life-like and good looking pine trees can be built. Swapping green pieces for white gives a "winter snowfall" look, perfect for all those Northern hemisphere holiday builds (I am well aware that Australian, African, and South American LEGO builders celebrate their "winter" holidays in the summer.) Whenever you are building, a good snow-flocked tree is an excellent look!
Palm Trees
What I did expect to find during my time in the tropics were tons of palm trees, and, well, I wasn't disappointed! All around the beautiful coast lands I saw many palms. The next section of the Tree Techniques handbook showcases palm tree builds. Here, there are four techniques.
I love all things pirates, and one thing pirates are famous for is being marooned on a small island, usually with a lone pine tree for shade. Now, I can finally build a variety of fun palm trees to maroon my LEGO pirates beneath.
It must be said here that LEGO has provided a palm tree for years, in the classic pirate sets of yore, and in other sets. Alex covers how to build this sort of palm tree trunk, but swaps out the molded palm tree leaves for dinosaur tails in the "Dinosaur Palm" technique (showcased by LEGO builder Jonas Wide). I like that a classic tree gets an advanced builder update!
Trunks
The final section of the Tree Techniques handbook is all about trunks. LEGO's leaf molds are great, but my trouble has always been to build a believable trunk to hold the leaves. Problem meet solution. Four different types of trunk builds are given here that will add variety to my forests. Using a selection of the four, I am sure that my next trees will look much better.
Alex offers instructions for using slopes, Technic pieces, and even flex tubes! Here I will mention something else that is a feature of Alex's handbook: difficulty markers. The flex tube tree trunk is amazing, but the build is listed as "advanced". I can see why. The flex tube build uses a variety of complex mini builds to pull off the internal structure of the trunk and branches, and readers are well cautioned that it isn't easy to do. The results are stunning, but it will take time and patience. Also, if you must source the parts, they are not cheap to acquire. Builders are well cautioned.

Final Thoughts*
In all, I thoroughly enjoy, admire, and find useful the Tree Techniques handbook. I look forward to trying all of the tree builds that Alex includes in various LEGO MOCs that I have planned for the future.
However you build trees for your MOCs, I hope that you will consider giving Alex's handbook a try for some unique and more advanced Tree Techniques. And, as always, whatever you build, I look forward to what we can build together!
And if you like this article, don't forget to check out this awesome review of the new LEGO Ideas Tree House set by Captain Mutant!
*Alex provided me a review copy of the handbook, but that did not guarantee a favorable review. My opinions are my own and cannot be bought. That said: Thanks Alex!
Get the Latest LEGO Sales & Deals