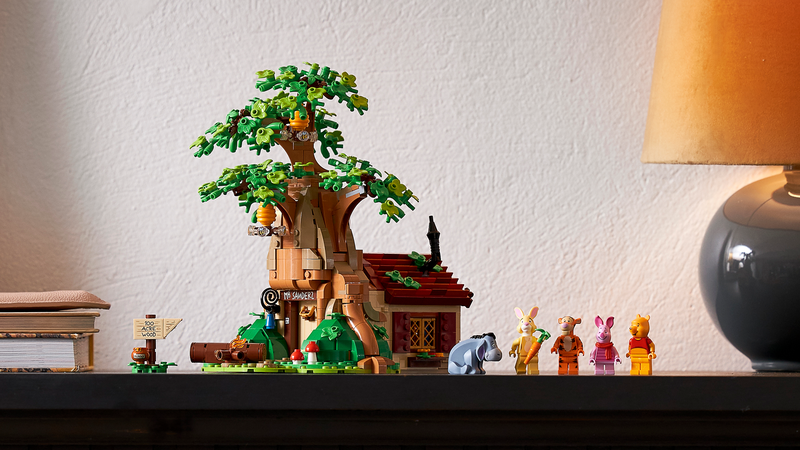 Earlier this month (on the 4th of March), LEGO previewed their final look at the next set to release in the LEGO IDEAS line. This set is based on a LEGO IDEAS project which was created by Ben Alder – and includes an assortment of the wonderful characters from A.A. Milne and E.H. Shepard's timeless classic, Winnie The Pooh.
LEGO Winnie The Pooh sets is not something which I ever imagined we would receive – but the unique elements packed into this set, combined with a ton of really unique details which help to immerse this within the fictional universal of this loveable teddy bear. Below you'll find the content from the LEGO Ideas official blog – providing some additional insight into the creation of this set. Make sure to read afterwards for my initial thoughts on this charming new LEGO set!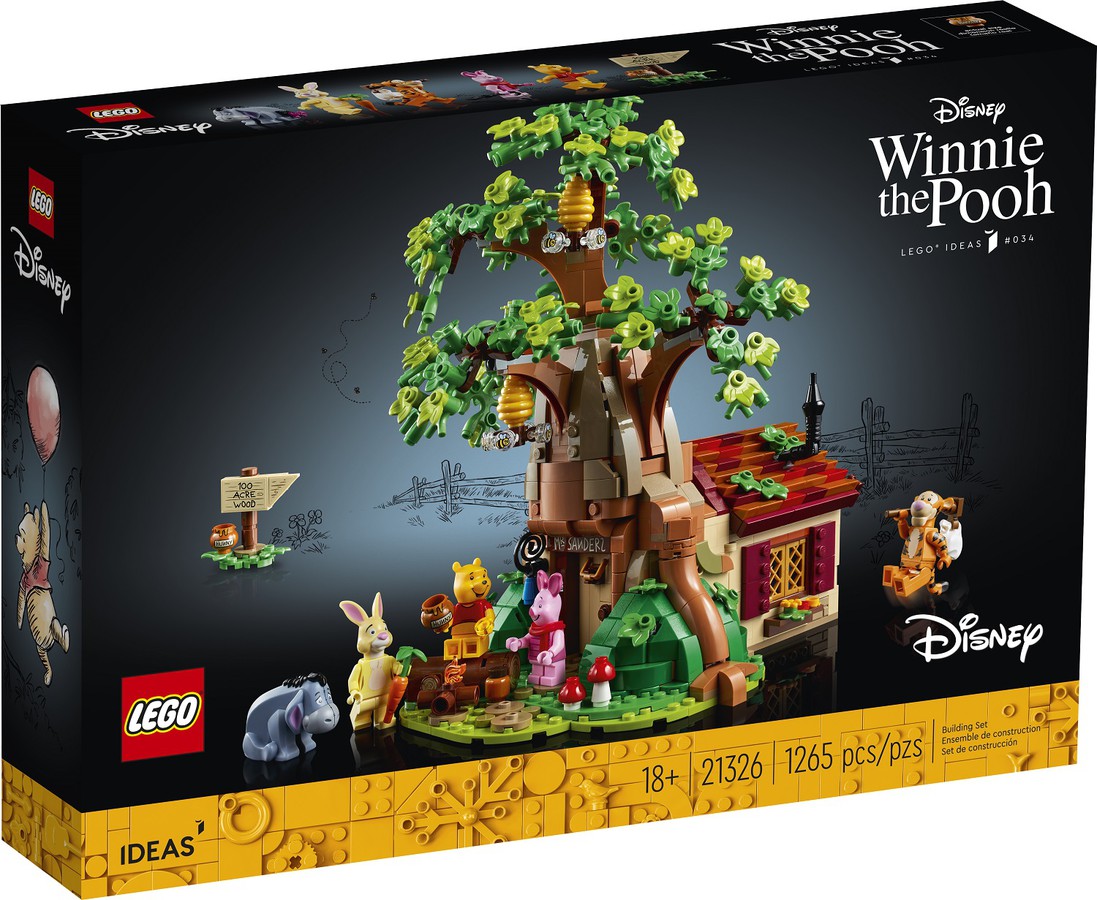 "It's time to travel to Hundred Acre Wood as we reveal LEGO® Ideas 21326 Winnie the Pooh set, an adorable tribute to A. A. Milne's wonderful tales! The set was envisioned by 34-year-old LEGO Ideas member and family-man Ben Alder aka. benlouisa.
Beneath a large oak tree, complete with beehives and bees, Pooh's house takes centre stage. The house can be opened up to unveil a whole host of furniture and unique items, such as the "Pooh-coo" Clock, box of "Pooh sticks", Tigger's locket, and of course, plenty of honey pots – both full and empty! 
Other notable inclusions to the set include; a campfire and log for Pooh to think about the things that he discovers, his front door complete with "Mr. Sanders" sign above it, his adorable blue bell to ring the front door, and finally, a signpost to the Hundred Acre Wood to make sure Pooh finds his way home."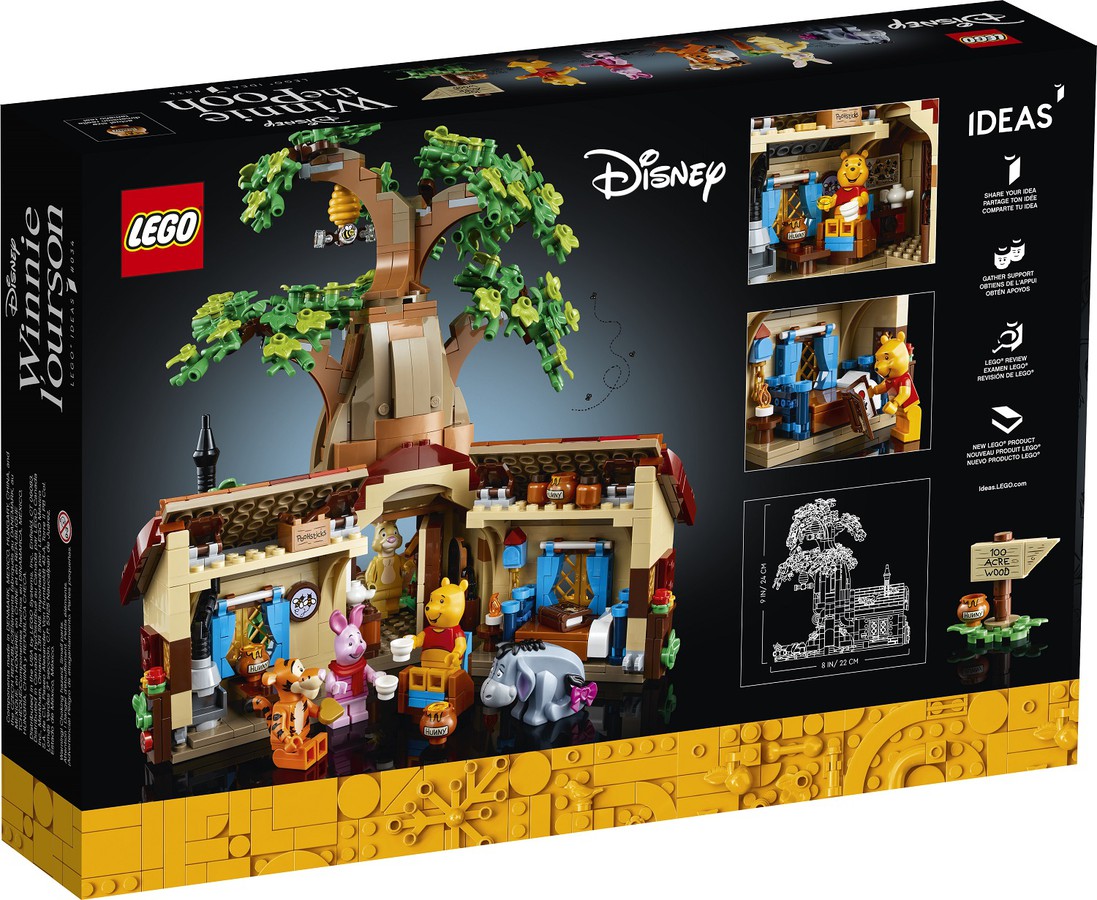 "The 1,265 piece set also includes five new moulded characters, each with their own accessories. Pooh himself has his red balloon to collect honey from the bees in the branches above, Piglet is wrapped up in his scarf, and Tigger has just moved to the woods with his sack on a stick. Meanwhile, Rabbit has carrots ready for snacking, and Eeyore comes complete with his tail and a removable ribbon. 
This Winnie the Pooh set will be available to purchase on the 18th March for LEGO VIP members and otherwise from the 1st of April for all others from shop.LEGO.com and LEGO stores around the world, for a recommended retail price of  US $99.99 – CA $139.99 – DE €99.99 – UK £89.99 – FR €109.99 – DK 899DKK (*EURO pricing varies by country. For regional prices please visit shop.LEGO.com). 
Submitted to LEGO Ideas in 2019, Ben told us "I love Winnie the Pooh and remember my parents reading it to me as a child. I now read the same Winnie the Pooh stories to my children, so it is certainly something dear to my heart. I decided to make the set so that my children could bring to life our bedtime stories but never quite expected the positive reaction it has received." You can learn more about Ben Alder in his 10K Club Interview.
Ben's nostalgic creation was brought to life as an official LEGO Ideas set by LEGO Model Designer Ilia Gotlib and LEGO Graphic Designer Ashwin Visser. The incredible new LEGO elements representing the various characters were designed by LEGO Element Designers, Felipe Telles, Anne Chen, Simon Wilson."
Get the Latest LEGO Sales & Deals
So that is the LEGO official stance on the set in a nutshell – and now we have a fun opportunity to break the set down and look a little more in-depth at some of the elements included in this set. It is worth noting that some LEGO fans have already been lucky enough to get this set in-hand to review, too, so we will link a couple of our favourite reviews at the end of this blog post so you can go and take a closer look at this set. For now, let's break down the LEGO Winnie The Pooh set!

So the first and most important detail to note is the wonderful inclusion of a vast assortment of characters from the Pooh stories here – packing in lots of the characters which Disney fans would be likely to expect from this set. I had originally believed we may have received a Winnie The Pooh minifigure before – but looking at the previous releases it appears we haven't, and so this creates a really interesting and unique assortment of minifigures. All the iconic characters are introduced here – including Pooh, Piglet, Tigger, Rabbit and also Eeyore – meaning that fans can get pretty much every character they would want in one set. Some of the unique head elements and the unique printing on these minifigures looks great – with Tigger in particular looking fantastic with his arm printing. I am really excited to see these figures more closely in person as I think they are some of the most interesting characters LEGO have made to date.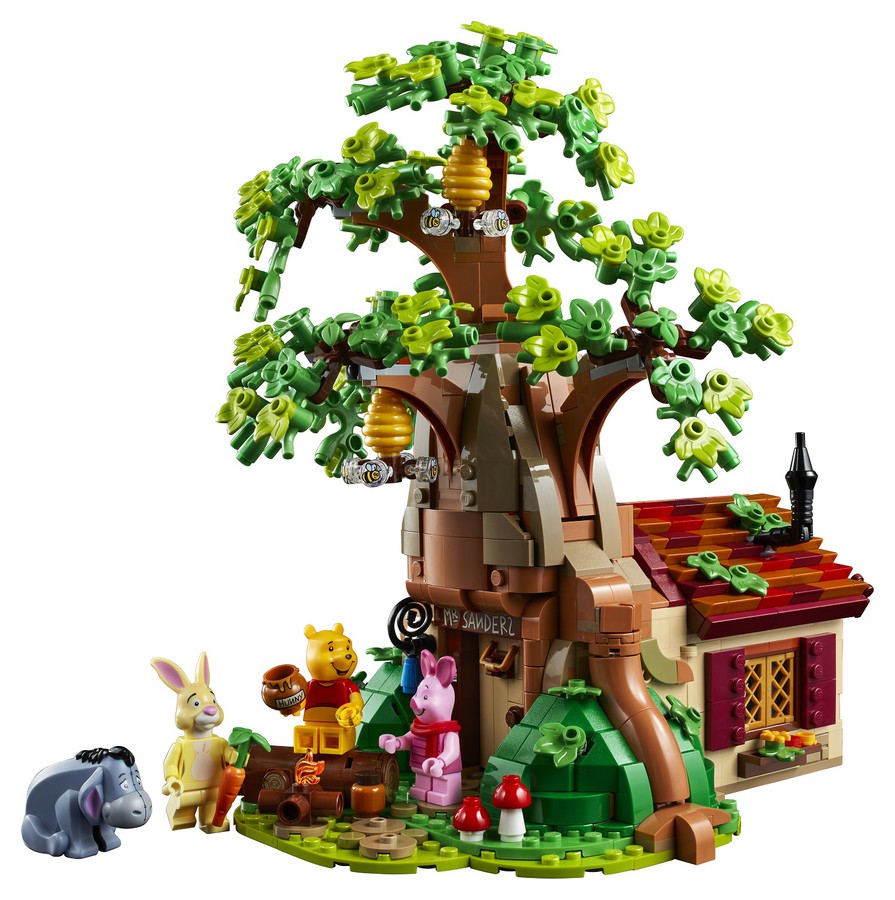 Next up I wanted to touch on the build here, as this seems to follow a really positive trend which we have seen in LEGO recently where a lot of their more unique licenses tend to use really unique – and therefore really detailed – builds. The way the unique shapes and textures of the tree are achieved here truly is incredible – with lots of depth and layering packed in to make this feel like a really natural build. I also adore the little build for Pooh's house – with lots of texture and colour packed in to create something really unique. Everything from the little builds for mushrooms and bee hives on the outside, to the stove and bed builds on the interior of Pooh's house all feel really detailed and rewardingly complex – something which we don't often see from LEGO. I really love all of the small intricacies here, and appreciate how LEGO were able to take the original IDEAS design and add some unique character and flair to it which we all so commonly associate with LEGO. This is, in short, a wonderful build.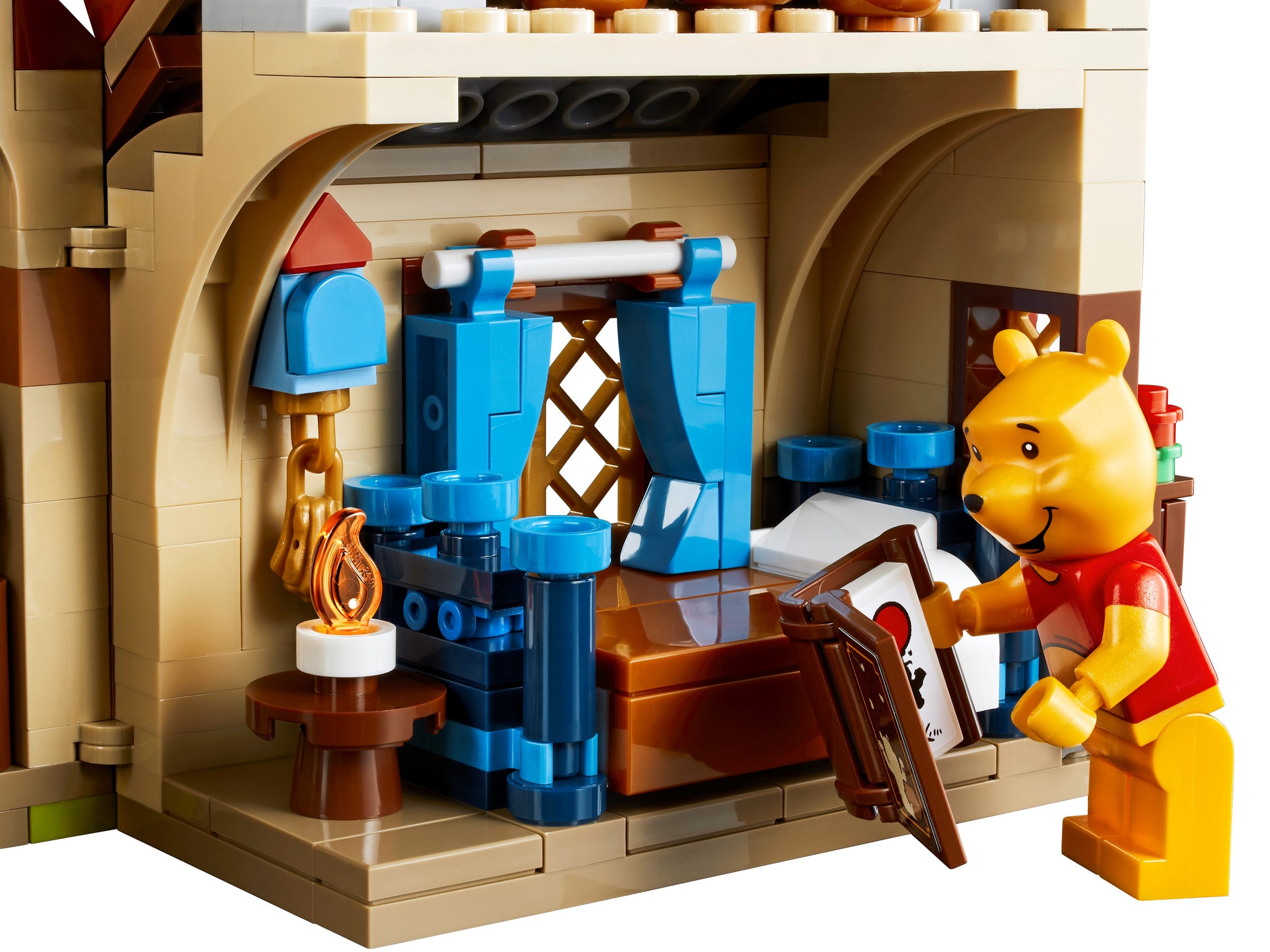 The last thing I wanted to touch on was some of the printed elements – but also some of the unique graphics work which has been achieved with this set, too. There are a couple of unique prints in this set – including an adorable little 1×1 round tile designed to mimic a Bumblebee. This is an adorable print and one which adds a lot of character and flair to the set. I also love the inclusion of several of the Pooh 'Hunny' printed pot piece which are included in this set as they are a nice and unique element which is undoubtedly integral to Pooh's character. Lastly, I also really love some of the sticker designs packed into this set – with nods like 'Poohsticks' and also, of course, the 'Hundred Acre Wood' sign really helping to immerse this set within the Pooh world. I often find that small details make the difference between a 'good' LEGO set and a great one, and it's clear that the designers at LEGO and Ben have worked together to make this a wonderful piece which pays nod to Winnie The Pooh's rich history.
What do you think of the LEGO Winnie The Pooh set? Are you excited to add such a unique LEGO IDEAS set to your collection? Make sure to use the comments down below to let us know what you think. VIPs have early access
to this set from the 18th of March – so get building!
Looking for a closer look at this set? Our friends at The Brothers Brick have published a fantastic review. Click to read more.
You can also click here to read more of Tom's blog posts.
Get the Latest LEGO Sales & Deals