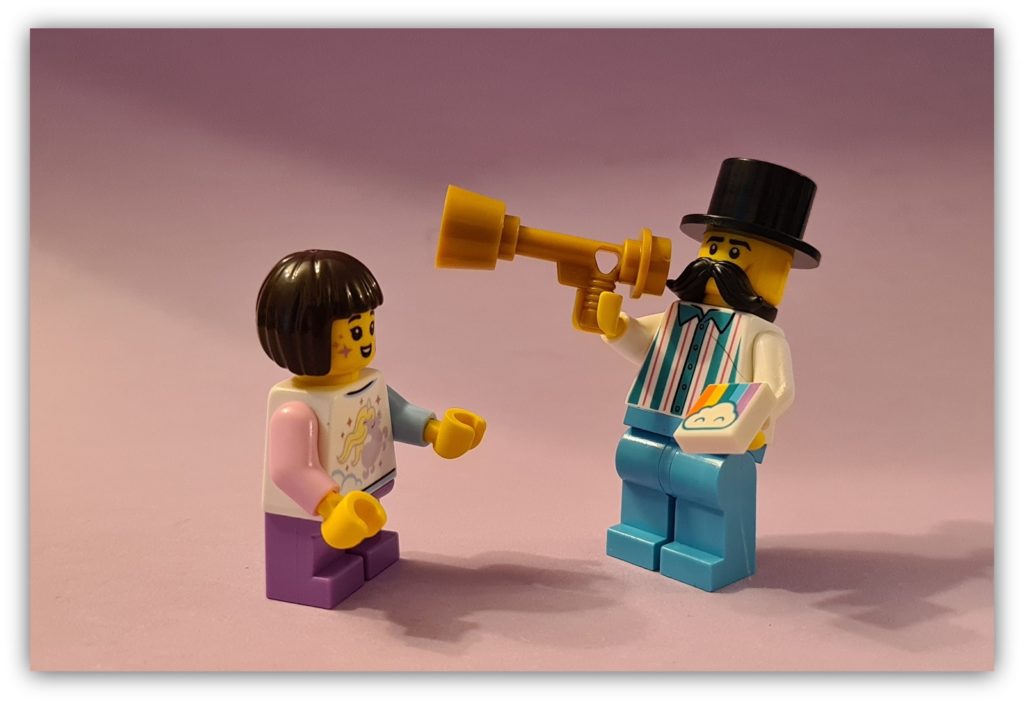 Early March and LEGO have revealed a new "theme" to their range: LEGO DOTS.  The tag line for the range is "LEGO® DOTS invites kids to be bold, add color to their world and never stop creating! It's arts and crafts for kids, with a unique LEGO twist.". Being interested in arts and crafts, I decided that I wanted to have a look at this, especially as my Instagram feed seemed to explode with lots of AFOLs getting excited about it!
Just for completeness in writing this article, the minifigures that are helping me with this article come from the Fairground Minifigure Accessories set (set number 40373) which features the exclusive little girl with her rainbow face paint and pony print on her torso.
What is LEGO DOTS?
In the most summarised fashion, LEGO DOTS is a release of 1×1 tiles that are either round, quarter circle or square. The colour scheme focuses on the more cheerful. Yes, there are black tiles, but these just add to the contrast for the pinks, yellow, reds, pale blues. There are also a number of printed studs with rainbows, smiley faces and sparkling poop!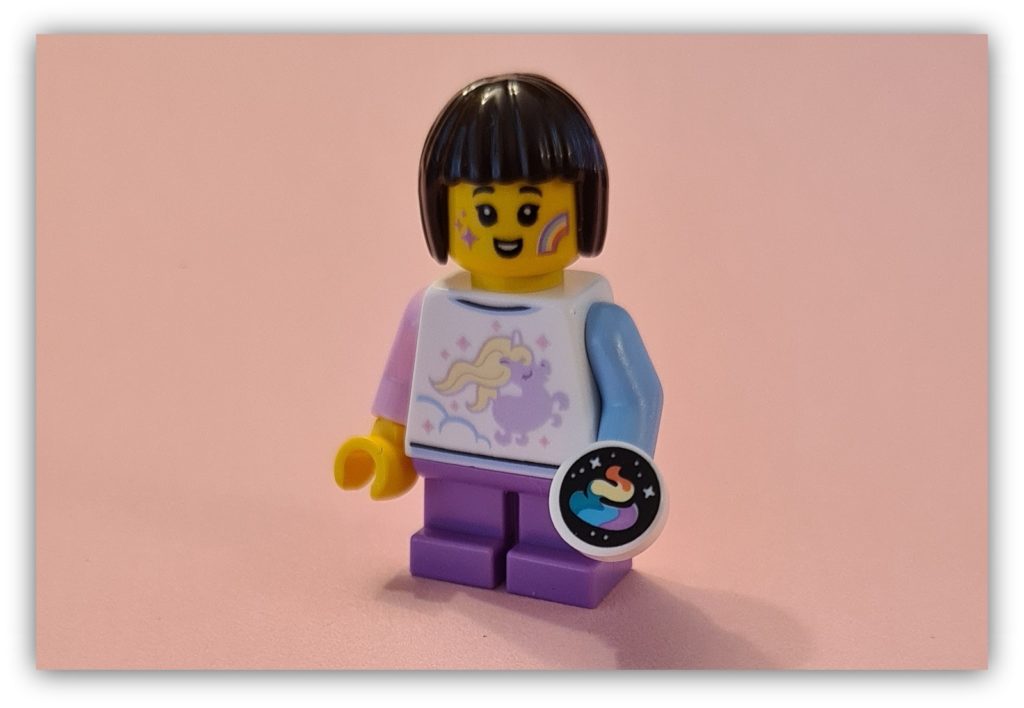 But it is so much more than just a collection of studs as we will see with the range that's available.  The SNOT building technique (Studs Not On Top) is now very commonplace in LEGO building sets; especially with bricks that now have studs on their sides as well as the top.  Because of this technique and these bricks, spaceships now look more interesting, with small parts on all sides; and on a more down-to-earth build it has opened the opportunity to add interesting details to buildings and cars.  The Brickheadz series wouldn't happen without this building technique!
This technique also started to introduce the use of 1×1 tiles; LEGO has already released pizza and watermelon slices, eyes and small bag collectible figures. LEGO has also been quietly releasing all manner of stationary equipment over the years, so bringing these various things together was perhaps not a surprise.
The range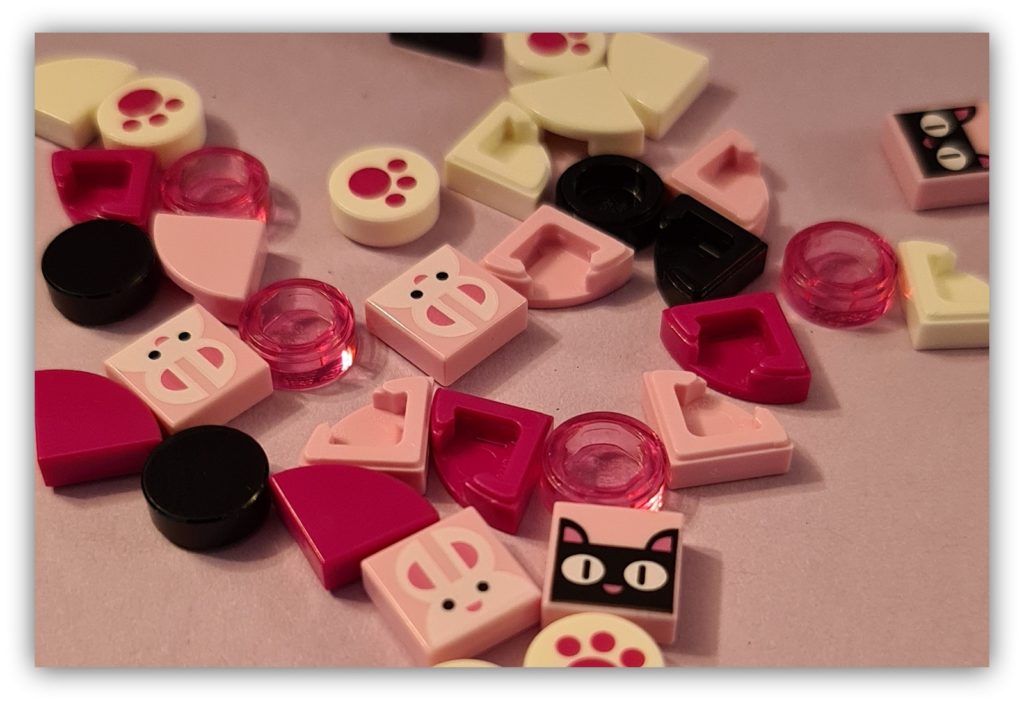 At the moment, there are nine products in the range, these are:
Pineapple Pencil Holder
Animal Picture holders
Rainbow Jewelry stand
Cosmic Wonder Bracelet
Funky Animals Bracelet
Love Birds Bracelet
Rainbow Bracelet
Sparkly Unicorn Bracelet
Extra DOTS – Series 1
Right now, LEGO will also include a small LEGO DOTS picture frame for purchases over a certain amount.
The pencil holder, picture holders and jewellery stands all have loads of 1×1 tiles as well as standard bricks; however the new fun parts come in the bracelets with those printed tiles I mentioned earlier. So in the interests of research (and not just an excuse to buy more LEGO!) I bought a pack of the extra dots, as well as the Rainbow and the Funky Animals bracelets.  I would have liked to purchased the Cosmic Wonder Bracelet, but it was already out of stock when I went to order.  My Easter Deadpool was also very interested in getting the Sparkly Unicorn bracelet!
Extra DOTS – Series 1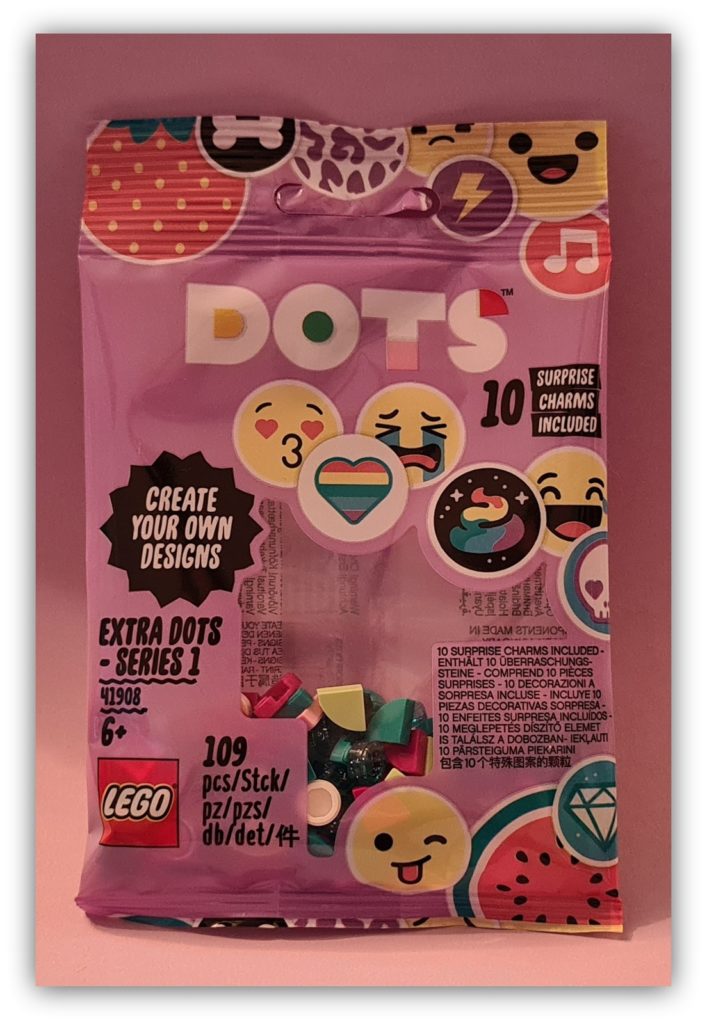 In the extra DOTS bag is 109 tiles, which is great as a starter for parts collecting. As part of this collection are a number of "surprise charms" which are the printed round 1×1 tiles.  I spotted the skull image on the edge of the packet for one of these surprise extra charms; unfortunately this was one of the ones that wasn't in the bag (I couldn't find the diamond either).   Not everyone was happy about that as you can see!  However, it does feature a number of other face emojis which I thought were a lot of fun which I can see being useful for set reviews at a later point in time!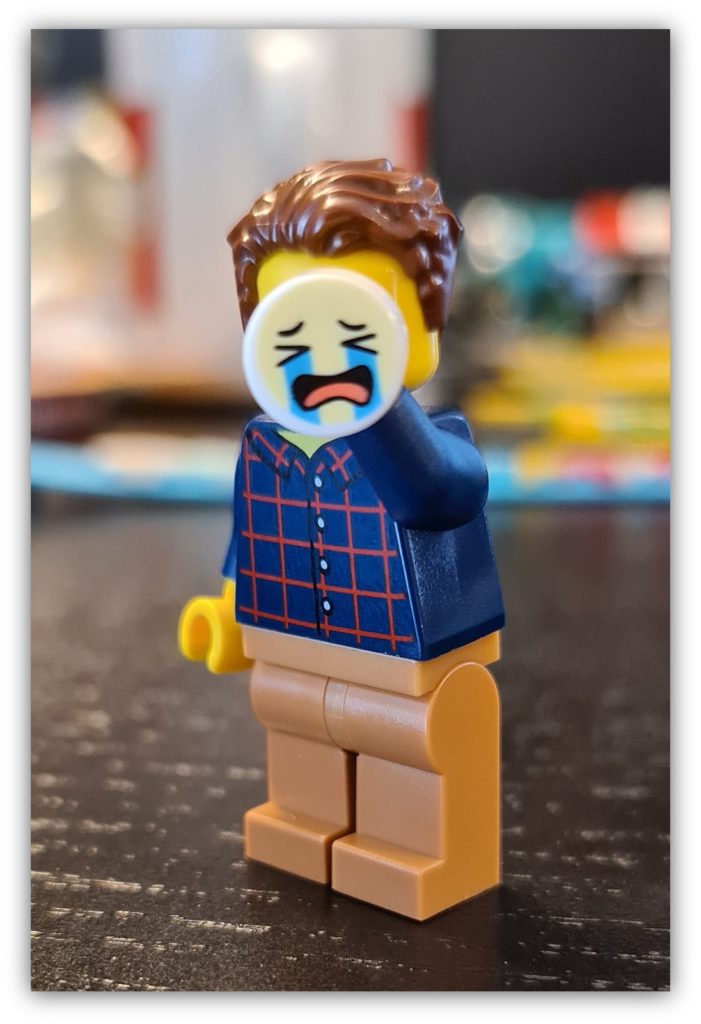 As an aside, since I wrote this article I did get another bag of dots and the printed ones were different again; and now I have the skull image!
The bracelets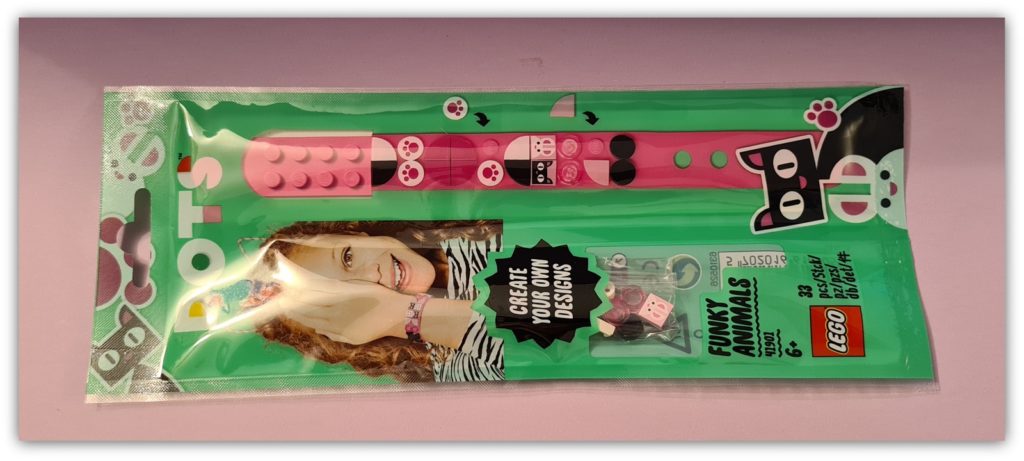 Apart from the quantity of 1×1 tiles the other new thing is the silicon bracelets. In each bracelet set is the bracelet and a small number of the dots.  The bracelet itself is 20cm in length and features 28 studs arranged in a 2×14 format. As can be seen, the bracelet is adjustable, although if you have a larger wrist that adjustability may be limited.  Whilst the sets are aimed at children, you'll notice that it does fit my wrist!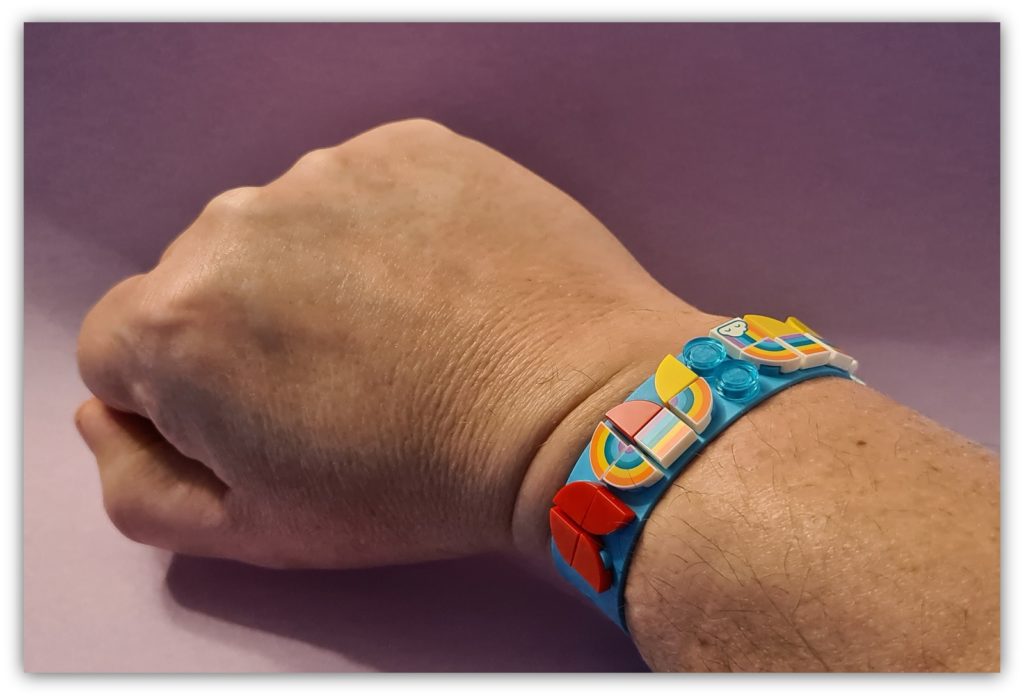 This is where the single tile format really works best. As the bracelet goes around the wrist the single tiles can separate so the curve is quite smooth.  And with no instructions the creativity of the bracelet is wholly dependent on the creativity of the builder!
From a building perspective, I was a little disappointed that the stud is slightly larger than the hole in the side of a TECHNIC brick and that the hole is also slightly larger than a standard stud; an adjustment to the tolerances would allow some interesting wraps around building corners, but I'm sure that someone is already thinking about this.
I'm sure that this isn't new?
If you have in the back of your mind that LEGO jewelry isn't a new thing, you would be correct. Although more recently the approach to LEGO jewelry has been to use LEGO parts as is and connect them to chains, cufflink posts or earring studs and hooks, back in 1979 LEGO released a series called SCALA which featured a number of sets that could be made into wearable jewelry. But as can be seen from the images, this had a clear market and made use of 2×2 tiles.
Images from Brickset
Oh, and for those thinking "I'm sure Scala wasn't jewellery" you are also correct; LEGO re-released the theme name in 1998 with a series of dolls and figures.  What I did find interesting was the images that they used for these sets, as an example the set 3115 "Kitchen" which featured the most interesting way of selling the set with the figures picturing how the set was going to finish looking like!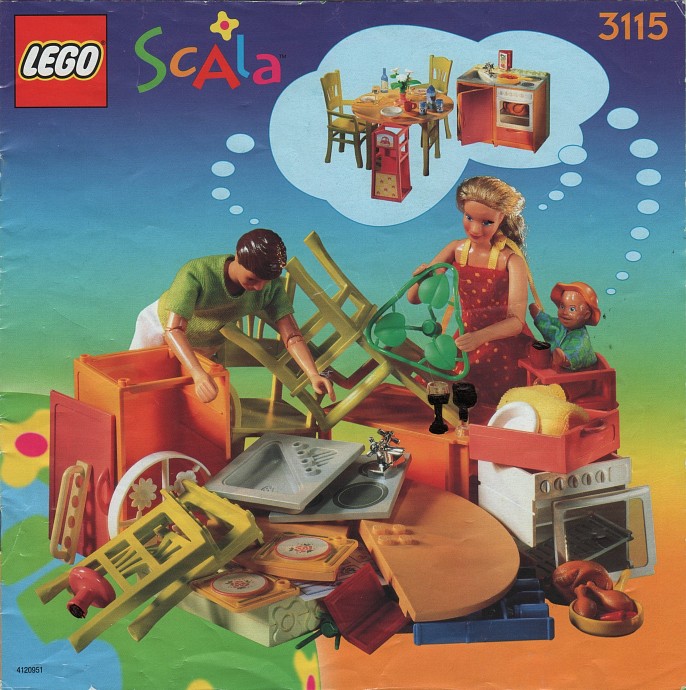 Image from Brickset
So why should I buy LEGO DOTS?
As I've said before in the article, this isn't the first time that LEGO have tried to break into the buildable jewelry market.  The Friends theme already has some buildable jewelry sets (the Friendship Rings, set number 5005237-1), and there are already stationary sets and buildable boxes and picture frames, but this is the first time that I can recall that the final creativity for the build can be left to the builder themselves to decorate the item as they see fit; either as it looks on the box or to make it wholly their own.
But as I mentioned earlier in the article, LEGO DOTS are more than just the sum of the parts. Because it is a collection of single tiles, it can be used with 1×2, 2×2 and other tiles to produce some interesting creations. As an example, to that I took a hexagonal plate and with only the DOTS created the face below!  I know that if I had used other LEGO parts the end result could have better, but it's an interesting exercise. Also, to reference the book "Build Yourself Happy" by Abbie Headon (which we reviewed here), this collection of parts is perfect for exercises in mindfulness and happiness, especially if you incorporate the character tiles into your building.