For me, March is a MARVEL-ous (I hope you see what I did there!) month when it comes to getting my hands on awesome new LEGO sets and Marvel-themed merchandise! We have the very exciting Captain Marvel hitting cinemas across the globe – bringing with it a slew of fans hungry for more superhero merchandise. As part of this, LEGO have released a brand-new set for us to sink out teeth into, "Captain Marvel and The Skrull Attack". Being somewhat of a S.H.I.E.L.D fanboy, the old-school Quinjet really takes me back to that first wave of LEGO Avengers sets we saw kick-off the Marvel line back in 2012. So, with this in mind, today we are going to explore some of the best LEGO Marvel sets of 2012-2014. If this proves popular, we will then do another look – this time at sets between 2015-2016 and 2017-2019!
So, strap in and hold onto Goose the cat tightly  because we're going on a cosmic, brick-busting journey!
6865: Captain America's Avenging Cycle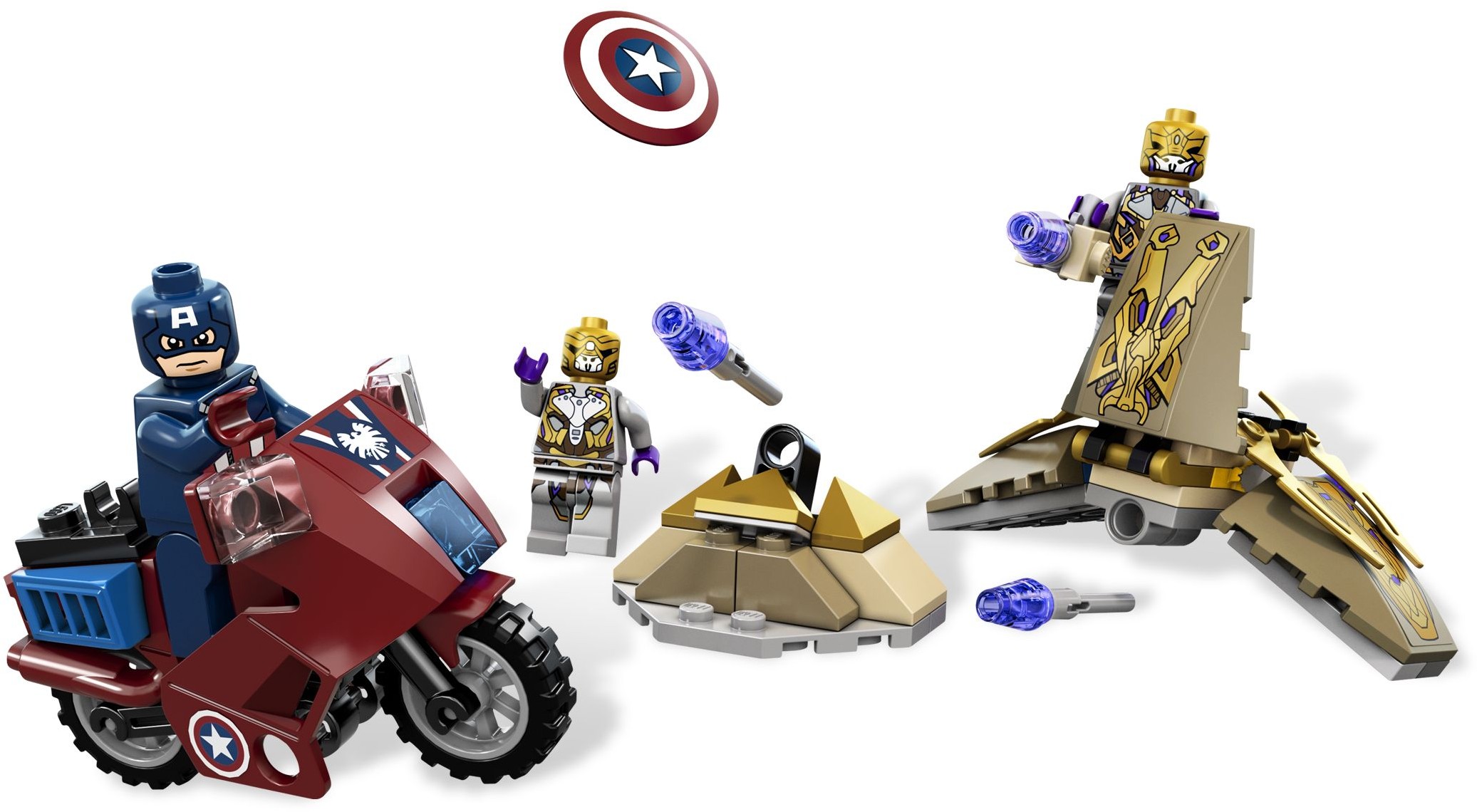 I have fond memories of set 6865. I had always loved Captain America way back since The First Avenger hit cinema screens. At this point in my life, I hadn't discovered the magical world of Custom LEGO Minifigures and sets – so for me, my whole LEGO world was everything which was available at my local ToysRUs. The Avenging Cycle was one of those first LEGO sets I picked up – drawn, of course, by the opportunity to own my favourite Avenger as a micro representation of himself.
Retailing at £11.99 when it first released – this set not only provided us with our first ever look at Cap himself, but it also provided us with two Chitauri warriors – setting the precedent for the idea of lower-end sets being 'Army Builders'. I remember always wanting more of this set – but at that stage in my life, I didn't have the expendable income to buy multiples – so I settled for this one set.
The minifigures themselves weren't the only draw from this set, however. I remember being impressed with the level of detail put into the chariot build – and I also really appreciated the subtle details with the S.H.I.E.L.D logos on Caps Avenging Cycle itself. Altogether, the set made a small and reasonably priced scene which fans of LEGO both old and young could enjoy – and I think this, combined with the Avengers nostalgia we all feel now days, explains why this is such a highly-sought set on the aftermarket. Despite lacking leg-printing, this is still one of my favourite Captain America minifigures to date – and I definitely recommend picking him up if you can.
6866: Wolverine's Chopper Showdown
Man, oh man, do I miss Hugh Jackman as Wolverine! Wolverine's Chopper Showdown was one of those amazing initial release sets which included some key elements that I believe all X-Men fans absolutely loved. This set really felt like a set made with X-Men fans in mind – something which I don't feel LEGO have quite managed to achieve since. As always, minifigures are popular – and this set absolutely knocked it out the park. Firstly, we got Wolverine – and the tight grimace on his face, the blue and yellow costume and the black slicked-back hair all got this LEGO representation spot-on the second it made it was released. LEGO also absolutely nailed the claw piece they created for Wolverine – providing him with a fantastic, and rather accurate looking 'enraged' appearance.
This was my favourite non-Avengers character released in 2012 – and continues to be a personal favourite today. We then, of course, got the fantastic Magneto – who looked great with his exclusive helmet mould, which I believe has remained exclusive to Magneto and no-one else to this day. Then lastly, we got the chimichanga-scoffing Deadpool – everyone's favourite loud-mouthed mercenary. This figure was, again, a massive hit – with everything from his scabbard for his swords to his intricately detailed torso print making him a hit.  We haven't seen a LEGO Deadpool release again since – although I hear a certain company released a pretty cool version of this character recently.
The build for this set was fantastic too. We got Logan's iconic Chopper (Which I don't think he can be depicted without) and a Helicopter with a rather sizeable cargo bay space for its size. I am always a fan of LEGO Helicopters which utilise space well and enable you to display multiple Minifigures in side – so this vehicle has always been a hit with the more criminal side of my LEGO city. Needless to say – at £19.99, this set was a home run.
6869 Quinjet Aerial Battle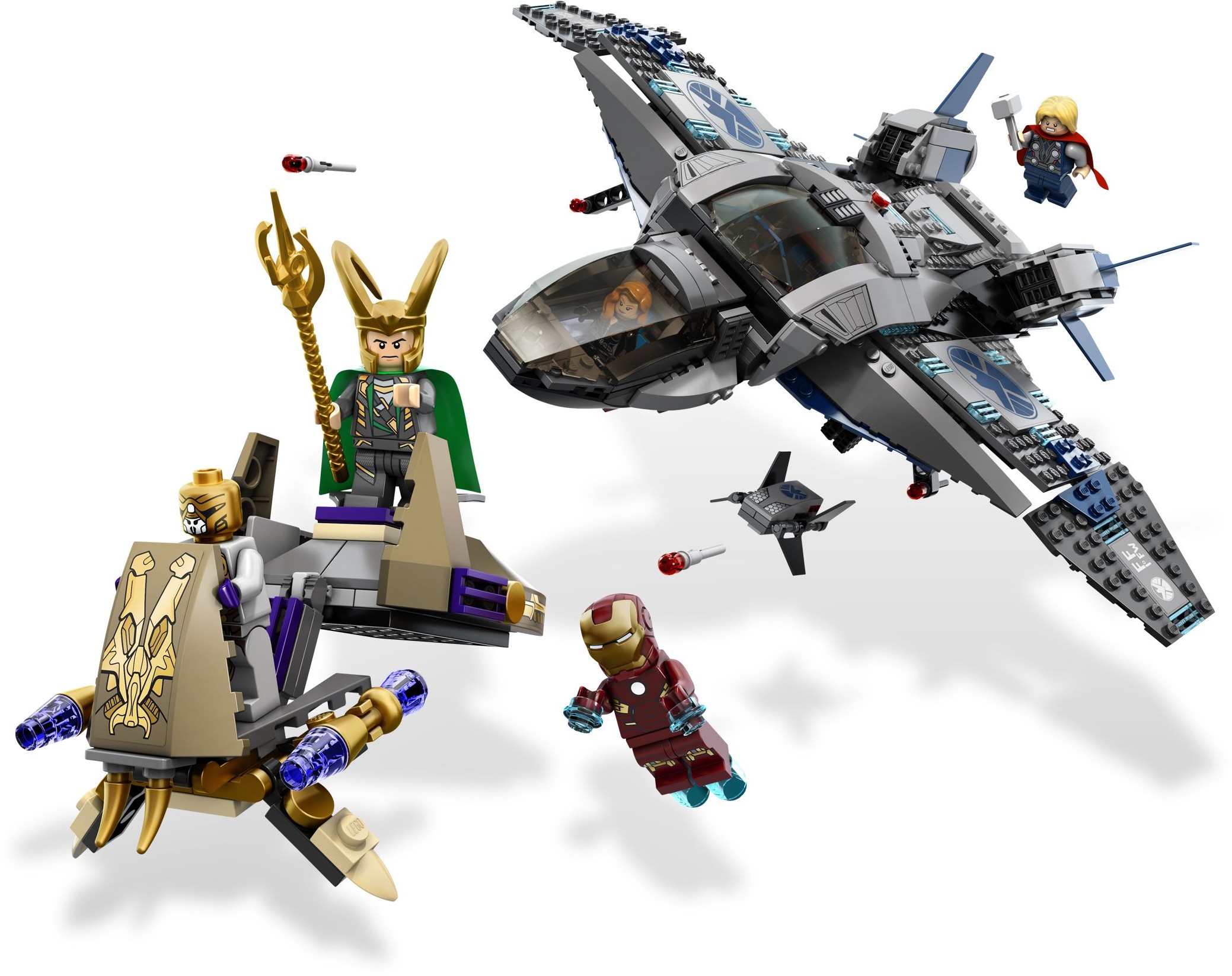 Get the Latest LEGO Sales & Deals
For most of the Marvel sets, the Minifigures are the main draw. But when it came to set 6869, LEGO absolutely knocked it out the park with their build of a S.H.I.E.L.D Quinjet. A build, which, I feel still stands the test of time today.
The Quinjet included several fantastic features. You have your usual features which kids love; flick fire missiles, opening cockpits, moveable wings, etc., but LEGO also went above and beyond. They decided to incorporate a LEGO Technic mechanism into the belly of the vehicle which would, upon being triggered, release a micro S.H.I.E.L.D drone onto the battlefield. This was a fun addition – and it's a LEGO Technic/system combination which I am still impressed by today.
The build itself looks incredibly accurate to it's on screen counterpart, and was the one set which I feel LEGO nailed when compared to the source material. The set also saw some fun Minifigures – including the highly-coveted Loki, Black Widow and Iron Man. This is back in the day when leg prints were much more common for Marvel characters – so Iron Man and Loki are two of the best characters here. Their unique headpieces and quirky details make them stand out – and I would argue that this variant of Iron Man still compares to many the variants we see today.
This set was my FAVOURITE from the 2012 Avengers line-up.
76004: Spider-Man Spider-Cycle Chase
If there is one thing I love, it is when LEGO manage to build dual-functionality into a set. I love it even more when both functions represent something which is accurate to the universe the set is grounded in – so that made the Spider-Cycle chase a big hit with me. We'll start with Nick Fury's S.H.I.E.L.D vehicle. This vehicle was a nice distinction from the Avengers S.H.I.E.L.D vehicles – choosing a nice green colour to distinguish itself as a vehicle which stood out in the crowd.
Not only did it have these beautiful colours, but it also had a fun feature allowing it to transfer into a S.H.I.E.L.D hover car. S.H.I.E.L.D had flying cars within the comic books at the time. So seeing this communicated into a LEGO set was excited, and did more to add to the appealing S.H.I.E.L.D themed sets which we saw across 2012 and 2013. I also loved how well proportionate the Spider-Cycle was in this set – as the transformation function was well executed, avoiding any additional bulk or constructions which other sets often suffer from. This set felt refined in a positive way – and I really enjoyed this.
Not only did the set have fantastic vehicles – but it also had a character who was hotly demanded within the Avengers sets, and did not release. I am, of course, referring to Nick Fury. Here, we didn't get him in his iconic MCU trench-coat – but we did get a version of him with agent-worthy gear on which made him feel like a man on a mission. This set was inspired by the Ultimate Spider-Man series – so we got a different version of our favourite characters, but this was still very welcome.
We also got a new Spider-Man – much refined from the 2002 figures we were used to. His print was sharper and more detailed – bringing this popular Marvel character into the modern day. And then, lastly, we got Venom. Venom is one of the most popular Spider-Man villains in the comics, and LEGO didn't disappoint – producing a fantastic Minifigures which fans really got behind. Everything from additional tentacles connected via his neck bracket, to fantastic printing, made Venom a villain which fans did not want to mess with.
76005: Daily Bugle Showdown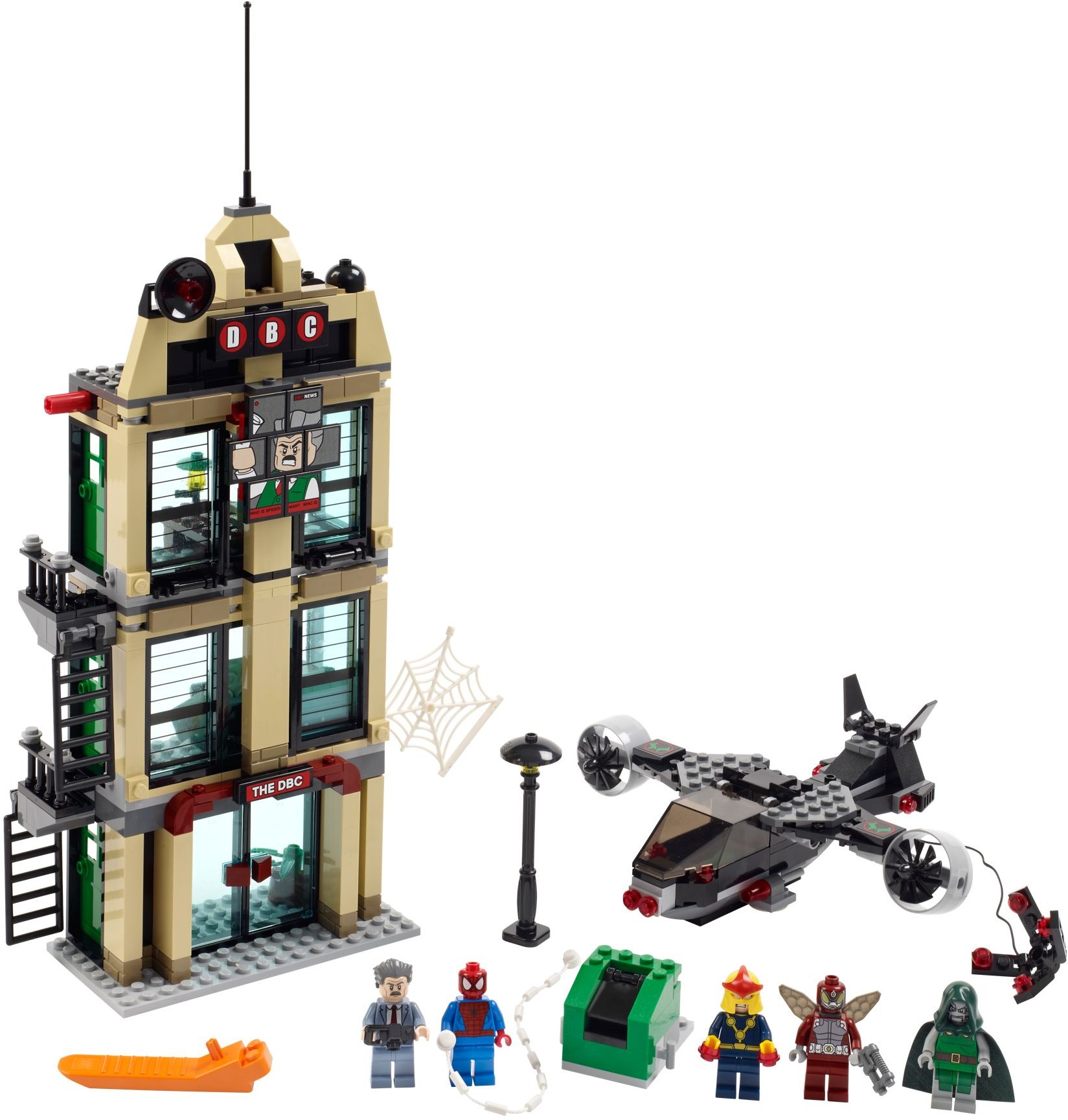 It's safe to say, 2013 was a pretty fantastic year for LEGO Spider-Man. In addition to the awesome Spider-Cycle set, we also received an iconic building straight from the comic books – The Daily Bugle. This is still one of my favourite Marvel sets we have received to date – purely because it works so well as both a Superhero set and as a general City set. I love the simple but effective architecture of the Bugle. The tan colour choice with red highlights is eye-catching – and the curved entrance to the building looks rather grandiose.
I also especially appreciate the 'Live' Television screen we see mounted on the exterior of the building – capturing J Jonah Jameson in one of his many rages about Spider Man no doubt. I also think the fire-escape on the side of the building is nice here – being something which LEGO had never really experimented with on anything other than Modular sets. And lastly – I really like how flawlessly the play features embed themselves within the building – making for a playset which is not ruined by overly zealous play functions.
I love the minifigures here. Getting Doctor Doom in a set was fantastic – and something which was very unexpected given the uncertain future of the Fantastic Four. Getting Nova here – complete with specialised headpiece – was also incredibly cool, and Nova would become a popular character for collectors looking to complete Spider-Man's team from 'The Ultimate Spider-Man'. Not only were these characters great to see – but we also got J. Jonah Jameson, complete in his overly-expressive rage-induced form. This is a character who is synonymous with Spider-Man, so I am glad that LEGO found a way to release him. Combine all this with Doctor Doom's Jet, and some of the accessories, and you have a fun playset which really was the heart of the Spider-Man line-up.
76021: The Milano Spaceship Rescue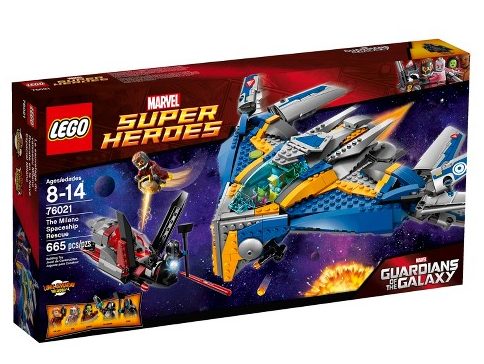 Lastly for our look back at the Marvel sets this March, we have the Milano Spaceship Rescue. Here, much like the Quinjet we looked at earlier, the Milano really was the star of the show – with what I would argue is one of LEGO's best uses of interior space to date. The inside of the Milano had everything from an intricately crafted captain's chair, to a music system in the back of the vehicle which referenced Star Lord's affinity for music.
I really appreciate the flawless colour scheme here – and the perfect use of angular pieces to create some of the sharp and intrusive design elements which make the Milano so unique within the Marvel Cinematic Universe. As the flagship vessel of the Guardians of the Galaxy, this ship really was designed by somebody with a passion for the franchise – capturing all the key beats which this build needed to be an incredible success.
The Minifigures here were also great. We got our first ever LEGO Drax – and the LEGO-fied variants of the tattoos on his torso were a fun tongue-in-cheek nod for LEGO fans. I still appreciate the level of intricacy within this print – conveying both Drax's muscly torso and the tattoos which adorn it. We also got Gamora here – who used an incredibly useful hairpiece with unique colours merged within it in a two-tone print to really communicate her character as accurately as possible. This attention-to-detail really explains why this set was so popular with fans such as myself. Lastly, I'd like to highlight Ronan – the main protagonist of the film. Here, he features an intricately detailed torso, legs and face print – and he also includes a unique helmet/shoulder piece which works fantastically to convey his appearance. Lastly – I really appreciate how well scaled Ronan's staff was.
Conclusion
That has been our first look at some of LEGO's biggest hits when it comes to Marvel. Make sure you check back soon for a look at more of the Marvel sets – including some from Age of Ultron. Who knows – maybe an iconic D2C set will reveal itself amongst the clouds!
That's all from me for now, Marvel fans. Thanks for reading and be sure to check out my 2 other posts: Best LEGO Marvel Sets 2015-2016 as well as my post Best LEGO Marvel Sets 2017-2019.
Get the Latest LEGO Sales & Deals