Hello everyone! Welcome back to my weekly blog! So for the past few weeks, I have been writing about the LEGO Batman Movie wave, and I feel like I need a break from that. So today, we are going to start a new series! We are going to look at some of my favourite Firestar Toy Custom Minifigures! For today, we will primarily focus on LEGO Star Wars, since that's the brand that really inspired me to make this article. 
I would also like to say that I've been an ambassador for Firestar Toys for a while, so if you want to purchase any of these Minifigures or any other thing off their website, make sure to use my code FSVIVID10 for 10% off! Even though I am an ambassador, every opinion in this article is a true reflection of what I think about these Minifigures. If I believe something is good or bad, I will state it. This is my honest opinion. So let's jump into it!
Custom Minifigure SW Loyal Captain:
The first minifigure we are going to look at is the Custom Minifigure SW Loyal Captain, based on Captain Rex from Star Wars: The Clone Wars. He has to be one of – if not the most popular clone trooper to date. LEGO did release an official version of this Minifigure in a set, but now since it's retired, that official figure goes for nearly £200 GBP new. And that's an absurd amount to pay for a Minifigure!
Alternatively, Firestar Toys sells this custom Minifigure of Rex for £24.95 GBP. They use an Arealight custom helmet which looks amazing! The printing throughout is so well-detailed, and the actual quality for a custom print is beyond amazing! There is also a visor attachment included.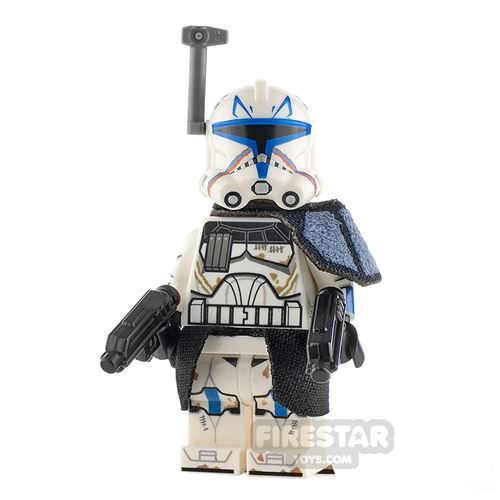 The head underneath is also custom printed. It is a really great looking print – although I wish the base colour for the face was a bit darker like the 2020 clone faceprint. The stubble looks really nice, and so does the rest of the face. However, as much as I like the faceprint, It doesn't accurately match the character in the show. But it doesn't really matter because his helmet is going to be on most of the time when you display him.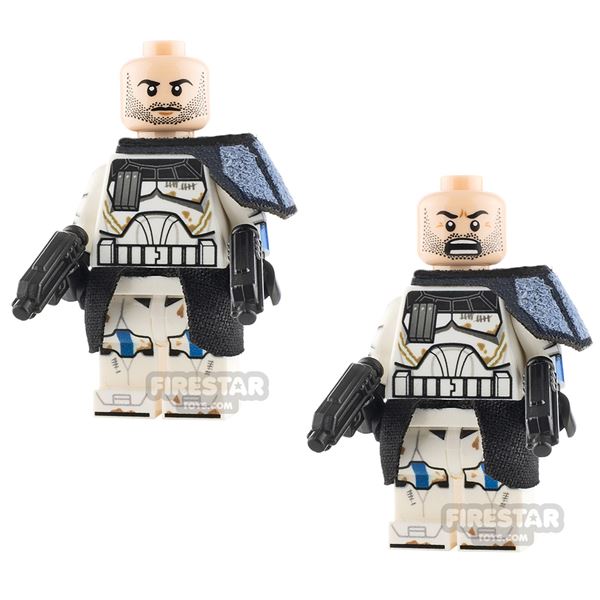 Firestar Toys uses the official Captain Rex torso from LEGO. This torso is quite great and accurately matches the character from the show well. I love the tally and dirt printing all throughout. Firestar Toys also uses their custom printed Captain Rex arms, which has a unique printing to represent the battalion. Over the torso is a custom-cut cloth pauldron which again looks amazing. And of course, there is a custom waist cape used below the torso. Now instead of using the official version, Firestar Toys opted to use their own custom printed legs for this figure – with more tally and dirt printing.
Finally, the Minifigure is equipped with two Brickarms DC-17 Pistols which look quite realistic. Overall, this figure is amazing, and I definitely recommend it as opposed to paying £200 GBP for the LEGO one.
Get the Latest LEGO Sales & Deals
Custom Design Minifigure SW Dutiful Commander:
Another popular clone from the Star Wars TV Series is Commander Cody. The amount of people who have demanded an official version of this figure from LEGO is crazy! It was a missed opportunity that he wasn't included in the General Grievous's Starfighter from 2020. He was a perfect fit for that set. And the fact that LEGO didn't include him there was so disappointing. More recently, however, many voted for the figure to come in the 2021 UCS Republic Gunship. But nope. Despite all the fan votes for this figure – LEGO still didn't include it. I'm honestly glad because then we would have to pay £329 GBP for a Commander Cody Minifigure, so there's potential that he will come in a cheaper set now. But I digress. 
Firestar Toys produced an amazing Custom Design Minifigure SW Dutiful Commander, aka Commander Cody, retailing for £29.95 GBP. The helmet is amazing. It is iconic. It is Cody. The printing all throughout is seamless, and every line is perfectly printed. His unique visor is also included as an attachment for the helmet which just looks amazing!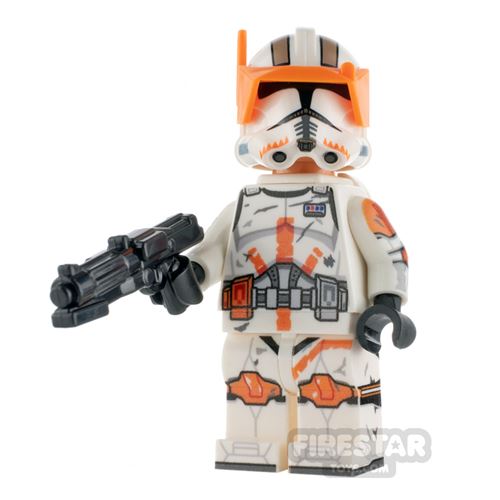 Under is a dual-sided faceprint. This time, the colour of the face is accurate, and I'm so glad we got a unique faceprint to accurately match the Clone. It was based off the new 2020 clone face, but the eyes, eyebrows and mouth were changed bit. Also, there were a few scars printed onto his face, to match his appearance from Star Wars: Revenge of the Sith.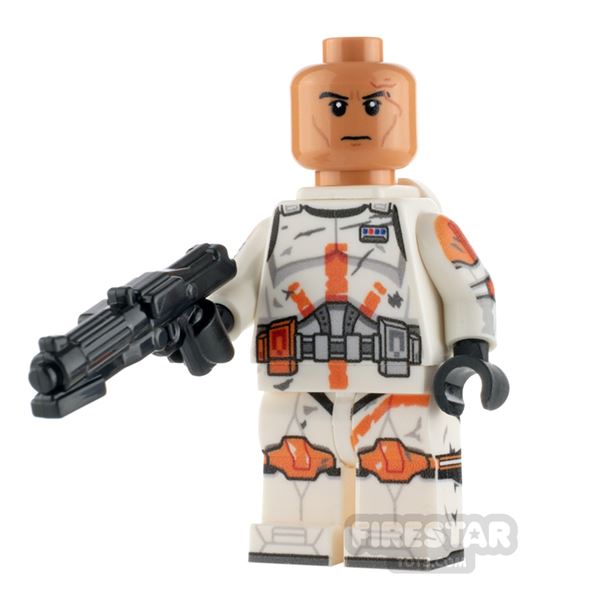 The torso is just awesome. The yellow markings and the different detailing overall really bring this figure to life. I especially love the wear and tear printed throughout. And yes, Firestar Toys gave this figure their custom 212th arms. The detailing carries into the legs, and even the side which really finishes off this figure.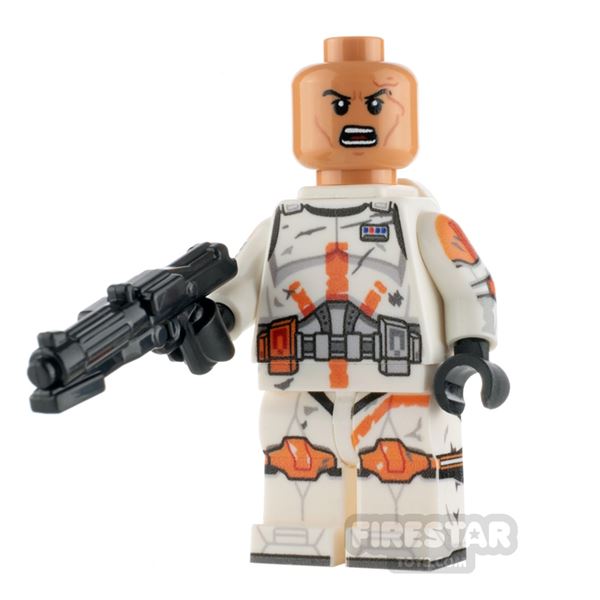 Finally, behind his equally-as-amazing back torso print, the Minifigure was equipped with a custom printed Jetpack. And yes, he was given a Brickarms DC-15 blaster. Overall, this is such a great figure – and I would recommend him over Rex.
Get the Latest LEGO Sales & Deals
Custom Minifigure SW Jes White:
And finally, the Custom Minifigure SW Jes White aka Jesse Minifigure. This was actually the first Firestar Toy Minifigure that I received as an ambassador. I remember looking at this figure and instantly wanting it. Especially after the final season of the Clone Wars, this character became very popular. It retails for £24.95 GBP
The helmet is the only exclusive part of this Minifigure. The printing is that of a regular 501st trooper. However, it dawns the iconic republic logo in the middle – just like the character in the show. Again, this Minifigure comes with a visor.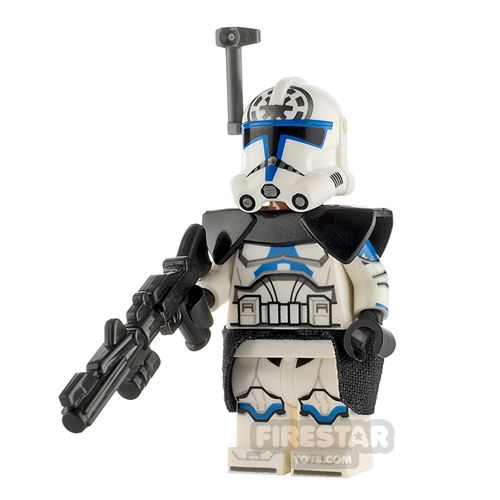 The head underneath has the same faceprint as the 2020 501st trooper. However, I wished that Firestar Toys made a custom face print for him. Jesse is one of the only clones to have a unique face, as he has the Republic logo tooted onto his face. So it's a bit disappointing that we didn't get that.
The torso is the official 501st trooper print from 2020. It works here for this variant of the character. This one also comes with the custom printed 501st arms sold on the website. He is equipped with a custom moulded pauldron piece, and a waist cape. The figure also comes with the generic 2020 501st trooper legs. Finally, the Minifigure comes with a nicely moulded rifle.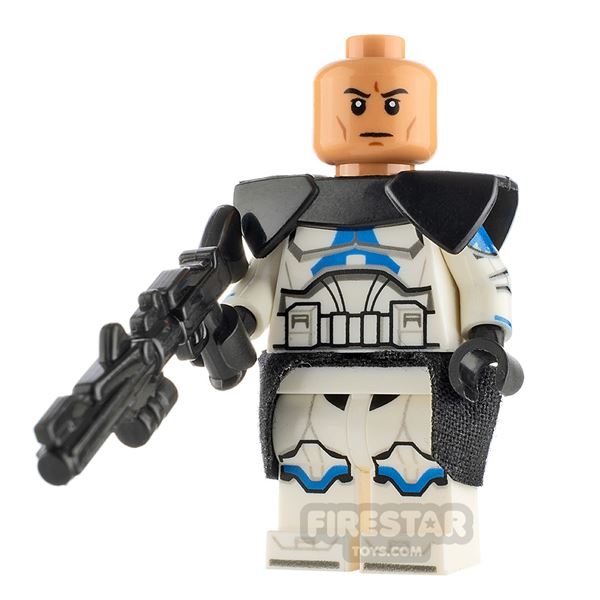 And that's it for today's article! I hope I can write more about different Firestar Toy custom Minifigures! There's so much to unpack about them, and with the volume of Minifigures released every year, there will always be plenty of stuff to review! I can't believe I spent a whole article talking about three Minifigures! Many official LEGO sets come with the same amount or even more. So think about it. The detail here in these customs are worth talking about! I hope I'm able to do a second part soon. I'll see what I can do because I feel like I could make a whole series on these. Just stay tuned! Enjoy your day and I'll see you next week!
All images from (firestartoys.com)