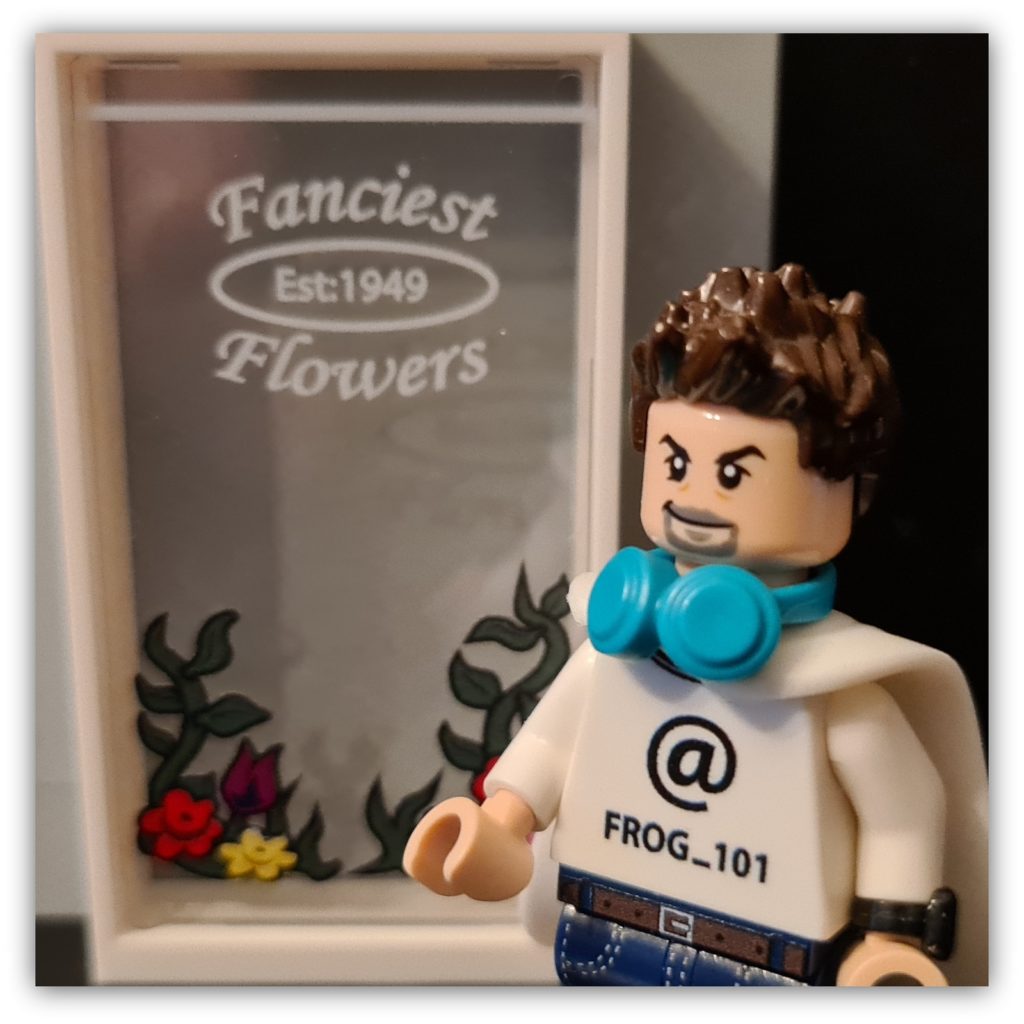 Today I'm looking at LEGO flowers. Not the small minifigure displays, but the new full-sized flowers that were released this year. I had hoped to write this earlier in January, but the sets were incredibly popular, and I had to wait for LEGO to restock
before I could fill my vase with these wonderful creations.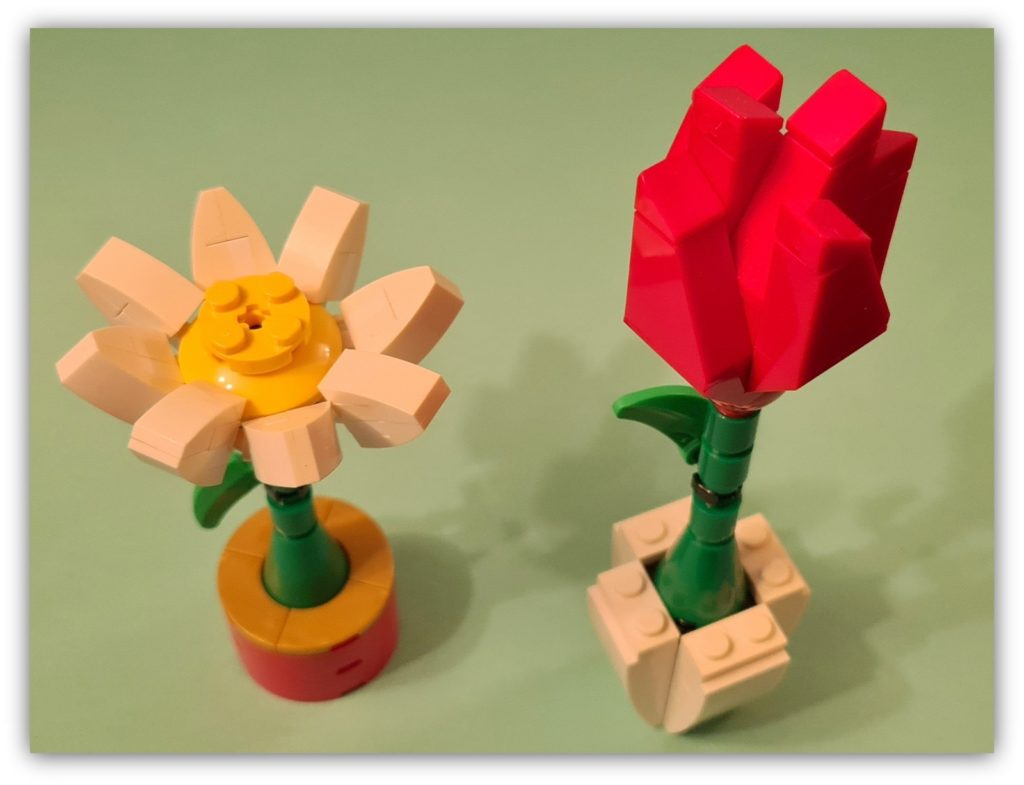 LEGO released four flora-based sets, the Bonsai Tree (set 10281), the Flower Bouquet (set 10280), Tulips (set 40461) and Roses (set 40460). For completeness, I should point out that LEGO had released set 40187 "LEGO Flower Display" back in 2018 which featured a Rose and a Daisy, but they were quite clunky compared to these new blooms.
Bonsai!
(Image from Brickset)
Much as I would have loved to have bought the Bonsai Tree I had made a promise to myself to consider how much display space I actually had left in my home office; my two display cabinets were already looking overly crowded with multiple cool builds
occupying shelf space. But I did manage to get agreement that if they looked nice enough, the LEGO flowers could be displayed outside my den, so in the morning of January first I tried to buy the bouquet, the Tulips, and the Roses. Even at 10am the Tulips and Roses were already on back order!
The Flower Bouquet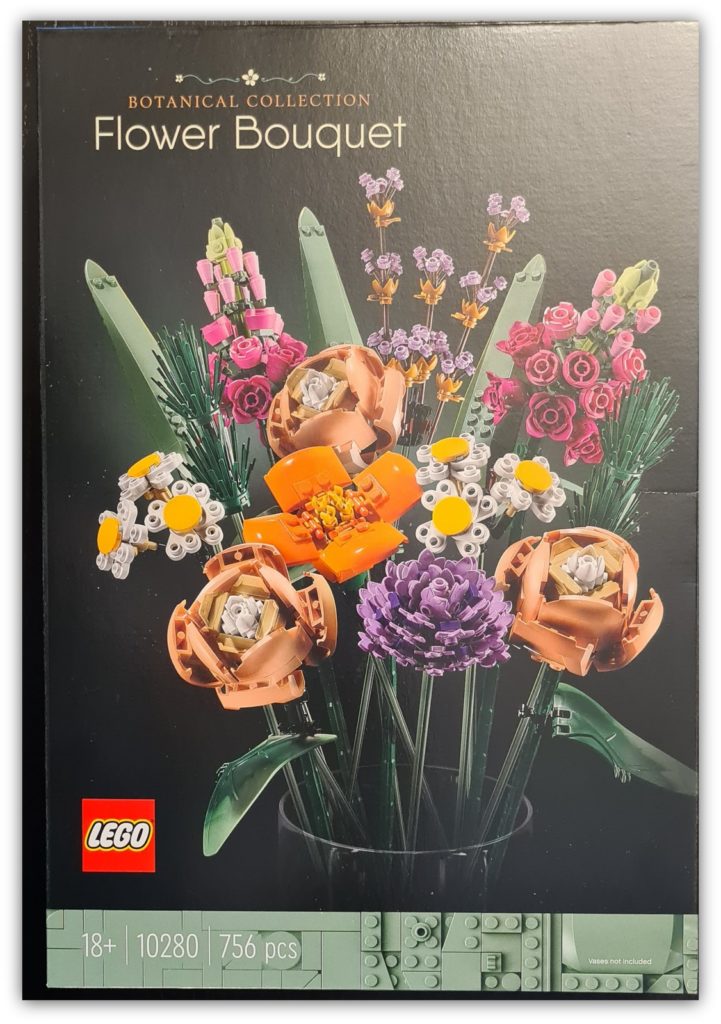 The first thing that struck me about this set was the packaging. Much as I love the very colourful standard boxes, the back box with that lettering highlighted that this was going to a set not aimed at children; these were not things that you could zoom around the living room! However, as with every LEGO set, the box is merely the container for the fun stuff inside, and the desk was very quickly covered in numbered bags! I was INCREDIBLY happy to not find a sticker sheet in the box!
The instruction manual was equally impressive. It didn't jump into building from bag 1, but instead took the time to describe each of the flowers in the set, where they would have come from as well as a little about the designers. It was very much like the Ideas and Architecture themed books.
Daisy, Daisy, give me your answer, do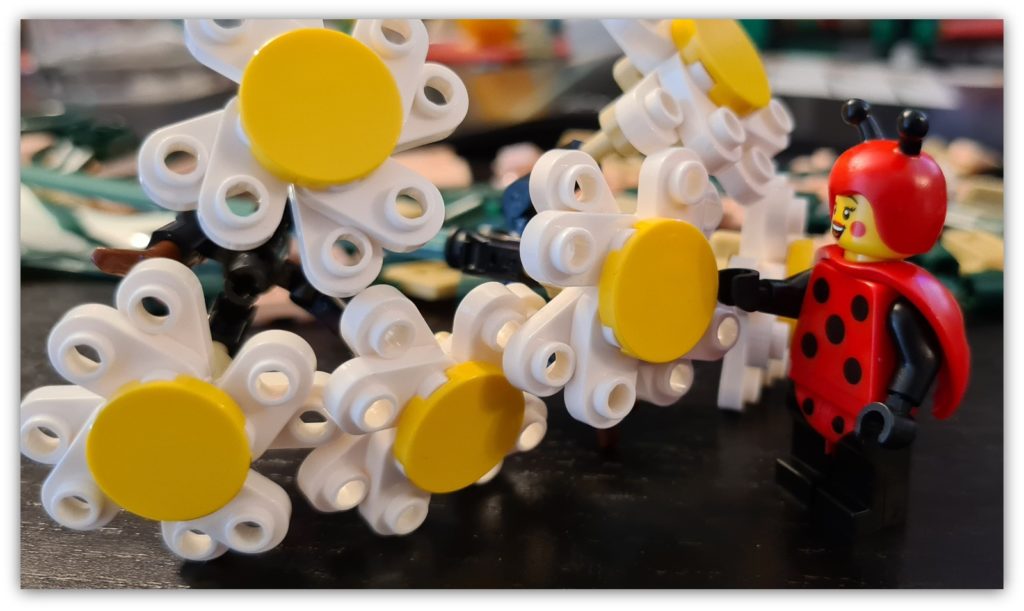 The first flowers to be built were the Daisies. What I realised very quickly was there was going to be a lot of repetition in the build, so I ended up building all the flowers heads at once, rather than completing them one at a time. Comparing these to the Flower Display daisy is just not worth it – the stems alone put these into a different class.
I also realised very quickly that once built, the stems were quite long, so I needed to get permission to get a vase to start building my display. The set does not have any bricks to make the vase, so you'll either need to get creative, or use a real one, but I think it looks much better in a proper vase.
Every Rose has its thorn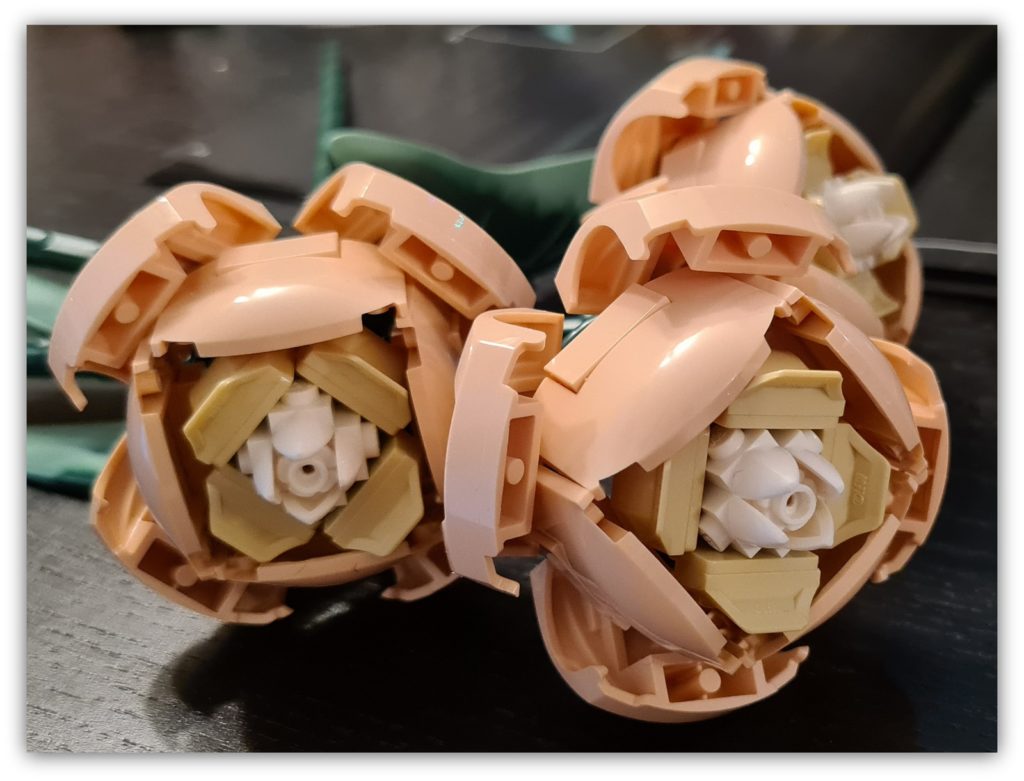 Fortunately, I didn't get scratched or pricked like I do when I prune our rose bush, so I like these a lot more than real ones already! One thing that I do know about real roses is that there are hundreds of varieties and that the heads of them all have different names. These ones for example are very typical of the "globular" bloom form, with an almost rounded form, but it could be argued that with the petals opening up they are more of a "cupped" form.
Get the Latest LEGO Sales & Deals
From a LEGO perspective, some of the flowers in this collection have parts made from plant-based plastic material. The image above is a collection of tree and bush shapes some of which date back to the 1970s; what I thought was interesting was that apart from a colour difference between each it was not possible to easily determine which was full plastic and which was the more sustainable version.
A Pocket full of Posies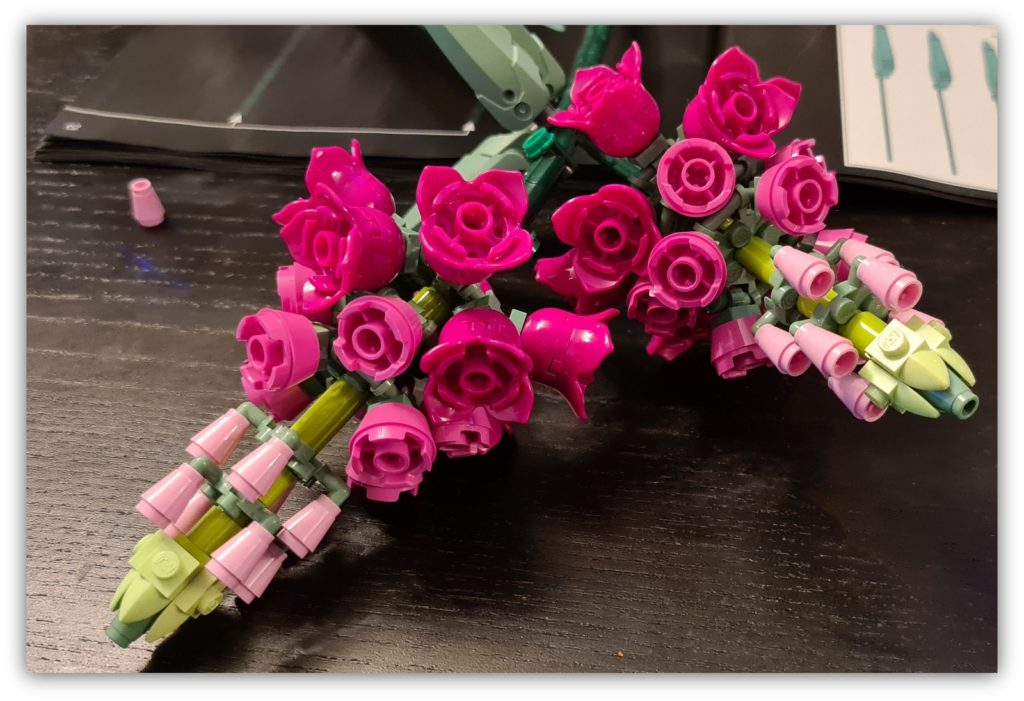 It would be very easy to go through each flower and describe its build but to some extent I think that will ruin the fun of building this set. Yes, there is a LOT of repetition (the Lavender is a brilliant example of that) but then to have a proper bouquet there are a lot of duplicate flowers.
It is also worth noting that a lot of the builds rely on single connection clutch grip to maintain the connection. Whilst it may be two studs, there is little reinforcement. This means that the result is more realistic, but it does make the flower just a little more sensitive to heavier handed use.
I did like the fact that the bouquet also included some leaves and "space filler" as you would get in a proper bouquet. I also loved that not all the stems were straight, some were already starting to bend giving yet more realism to the set. Given that one of the designers, Astrid Sundorf Christensen builds LEGO flowers that are in the reception halls and offices in Billund, I guess this shouldn't be a surprise.
But I feel I do need to be balanced and pick up on one annoyance for me. The build book has images printed onto glossy black paper; this made it challenging to see the images clearly and there were a few times when I needed to go to another room in the house to see what I was supposed to be doing.
Tulips from Amsterdam
The box for the Tulips was far more colourful as if it was aimed at a younger market although for me, it fell within the same theme range. Like the other flower builds there was a lot of repetition, but with the much lower part count (111 pieces) these came together very quickly and easily.
What I should point out as well is that the stems for these aren't as long as the ones in the proper bouquet. That's fine if you are planning to display them separately, but if you are looking to add to the bouquet you may want to rethink the vase that you are using; alternatively do what we ended up doing which was adding marbles into the vase as we arranged the bouquet; a bit like something we do with normal flower arrangements!
Roses are Red, Violets are blue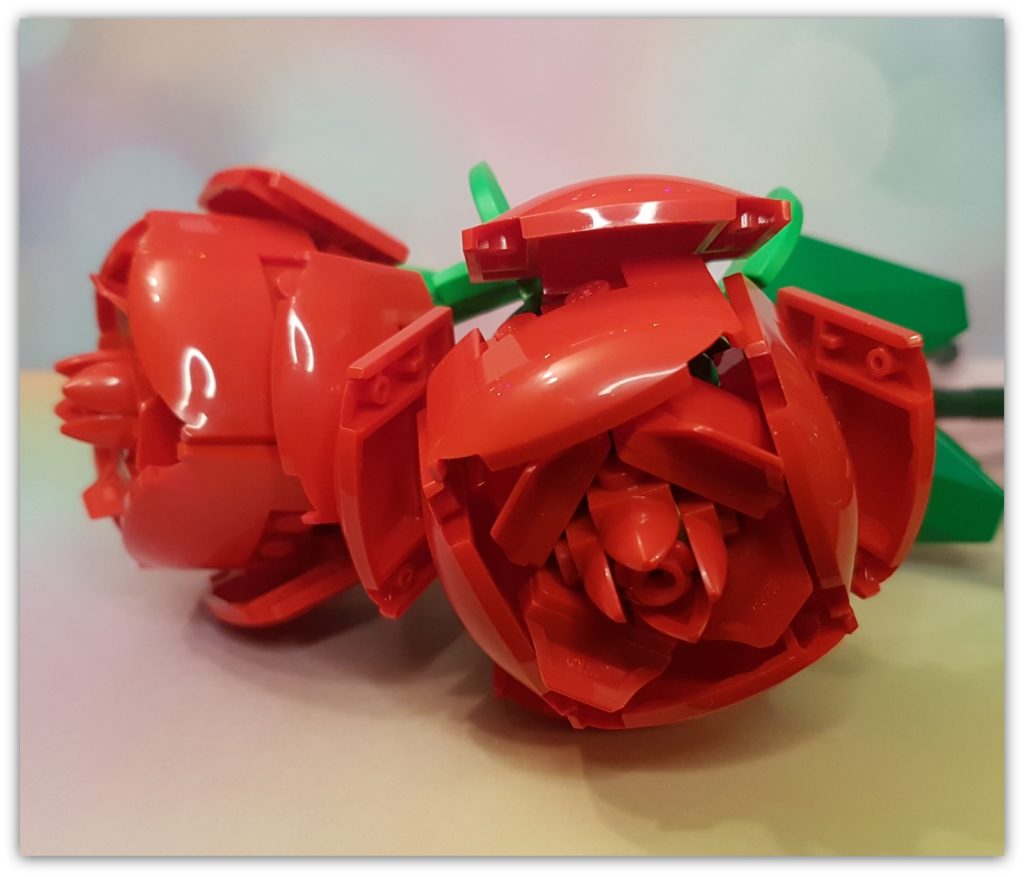 Roses come in a wide variety of colours; violets are blue but that's because in the gardening world the word blue covers any flower that is in the range of blue and purple. But these roses are red. The ones in the flower bouquet are an interesting light nougat tone; apparently this isn't a new colour but already existed in the LEGO palette although not widely used.
Although the actual builds of the heads were the same, there are subtle changes to the green leaves, so putting aside the colour differences, these are not the same variety. Like the tulips, the stems are shorter than the bouquet roses, so needed to be propped a little to be included in the vase.
I did read that there had been a conscious decision not to make the bouquet roses red. It was felt that this could reduce the year-round appeal of the bouquet where a red rose would be linked to a particular day in February. Whether that is true or not I'm not sure, but I can see their thinking and it made sense to release a rose-only set. But if that was the case, I'm surprised that LEGO didn't use a less bright and colourful box design.
But is it worth to get these LEGO Flowers?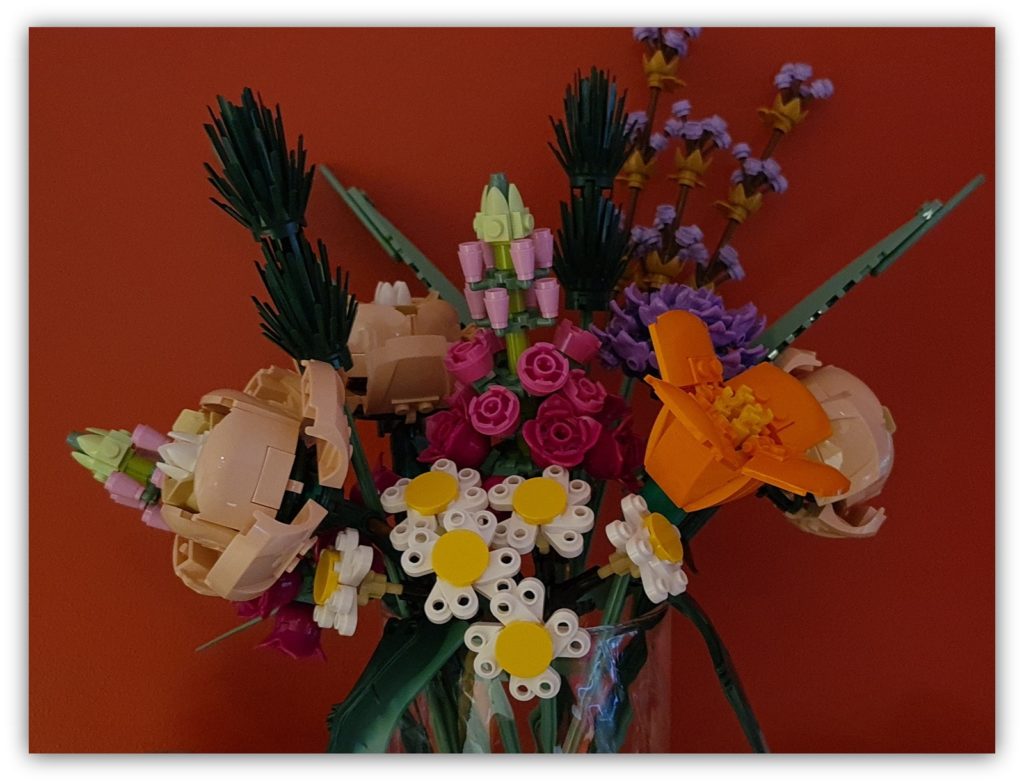 The Bonsai Tree and the Flower Bouquet are priced at £44.99 each; the Tulips and Roses cost £8.99 and £11.99 respectively. Looking past the price count for these sets though, I would argue that they aren't your standard LEGO set; these are sets that are to be built and just displayed. They are meant to look like something, not just a reasonable attempt if you close one eye and squint a bit. And to me, they meet the brief. My bouquet of LEGO flowers, including Tulips and red Roses, currently sits in the centre of my dining room table; we realised that you really needed to give it a full 360-degree space so the flowers could look in all directions. It looks amazing and I'm so pleased I was able to add them to my collection!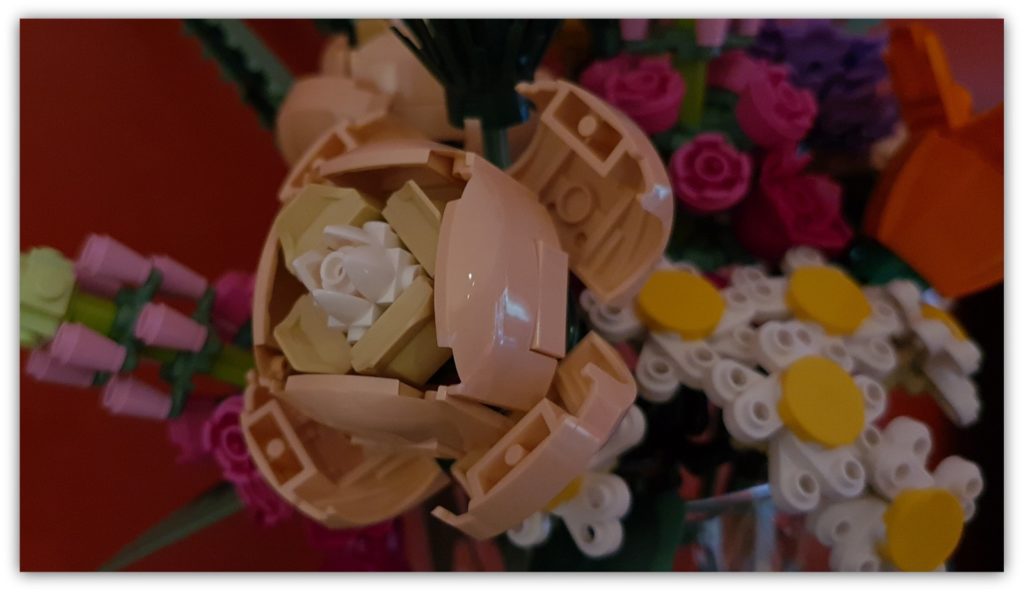 Get the Latest LEGO Sales & Deals